1970 Dutch Grand Prix race report: Sharp end of the wedge
Jochen Rindt takes a first win for Lotus' radical new Type 72
After a certain amount of alarm and despondency the Dutch organisers managed to raise the finance necessary to organise their Grand Prix, and, in fact, they did better than expected in that they could afford to take 20 starters according to the Geneva agreement of the Formula One constructors.
They had 27 entries inscribed on their list, of which 24 turned up for practice, and the system of qualification was quite simply a matter of taking the fastest, after the "chosen 10", and all times recorded in the three practice sessions were to count.
There was more than enough time for practice, with two hours on Friday afternoon, two hours on Saturday morning and a final two hours on Saturday afternoon, added to which many teams had been testing on the circuit during the early part of the week.
Many of the teams who rely on Cosworth Engineering for their power plants were muttering and grumbling about a shortage of engines, those who are well organised with Cosworth were more or less all right, those who are not so well organised had cars without engines, the V8s following post haste by air transport, and those who are at the back of the queue or out of favour with Cosworth had "what they stood up in" with little to spare.
With 16 runners relying on Cosworth engines, four spare cars amongst them, and everyone expecting to have two engines per car, and the more affluent and successful having three engines per car, it means there are more than 40 engines mulling around within the Grand Prix "circus", so it is not surprising that Cosworth Engineering sometimes stumble and fall.
On the other hand, the Yardley BRM team were in a fairly happy position, for having three drivers who accept what they are told is good for them, without fuss or bother, the racing department have been able to get on with some useful work and the result was that they had four complete cars at Zandvoort, Rodriguez with 153/02 and a brand-new one 153/05 as spare, Oliver with 153/04 and Eaton with 153/03, now painted in the Yardley Perfume colours.
Ferrari had three cars, all flat-12 cylinder models, with Ickx driving 312/001 and 312/003, both carrying number 25, and the Southern Swiss driver Regazzoni making his Formula One debut with 312/002. However, during the three practice periods various troubles with fuel systems, fuel pumps, exhaust systems and a seizing engine caused the two drivers to ring the changes on all three cars, the racing numbers of 25 and 26 being changed around freely.
The Matra team of Beltoise and Pescarolo had their usual two V12-cylinder cars, the former having no windscreen, merely a raised deflector lip to the front of the cockpit, and the latter having a dark perspex wrap-round screen.
In addition to the new BRM there were other new cars. The Alfa Romeo VS special McLaren of de Adamich had been rebuilt onto a new M14 (1970) monocoque chassis and suspension, Tyrrell's second March, number 701/4 had been completely rebuilt using a light-gauge monocoque and all the latest suspension modifications, Stewart having it as a spare to 701/2, and the little Swiss driver, Silvio Moser, arrived with his brand-new one-off car by Guglielmo Bellasi, an Italian Formula Three exponent. It used the Cosworth V8 engine and Hewland gearbox from Moser's old Brabham, as well as Brabham wheels and drive-shafts, but the basis of the car was a riveted aluminium monocoque, rather large in cross-section, but very tidily executed, with the engine/gearbox aggregate forming the rear half of the car in typical British style.
After much speculation Tyrrell produced a substitute driver for Servoz-Gavin, who has given up racing of his own volition, and this was the French Formula Three and Formula Two driver Francois Cevert, well known to be a blue-eyed boy in the eyes of the Elf petrol company who have a large stake in the Tyrrell Racing Organitation. He was given the Tyrrell March 701/7 that Servoz-Gavin last drove.
The McLaren team were back in the field with Dan Gurney making a welcome return to Grand Prix racing, taking over Bruce McLaren's car M14A/1 and being nominated as the team's "chosen" driver, for Hulme was unable to take part in this race as his left hand was still heavily bandaged following his Indianapolis practice accident. His usual Formula One car, MI4A/2, was being driven by Gethin, so although Bruce McLaren Motor Racing Ltd. were back in racing it was with a very different team of drivers.
Since the Belgian GP, where the very much revised Lotus 72 in its C-version only did a lap or two in practice, Team Lotus had been very busy and had made so much progress that their entry consisted of the two new cars, with Rindt driving the 72C and Miles the 72B and unofficial practice had shown the C-type to be well and truly developed and race worthy, Rindt displaying great confidence in the car. The entry of an old 49C for Soler-Roig did not materialise. During private testing Brabham had upended Stommelen's car, so when official practice began it was still being assembled after a pretty major rebuild, while Brabham himself was in his usual car. The works March team arrived in a disorganised shambles, with three cars and only one engine, Amon and Siffert retaining the cars they had driven in Belgium, with the "lightweight-development" car as a standby. The STP Oil Treatment Special, or March 701/3, should have arrived back from America, where the Granatellis have been working on it, but the Cosworth engine shortage made them decide to stay away. The rest of the field was made up by the regular singleton entries of Hill (Lotus 49C/R7), Surtees (McLaren M7C/1), Peterson (March 701/8), Lovely (Lotus 49C/R11) and Courage (De Tomaso 38/2).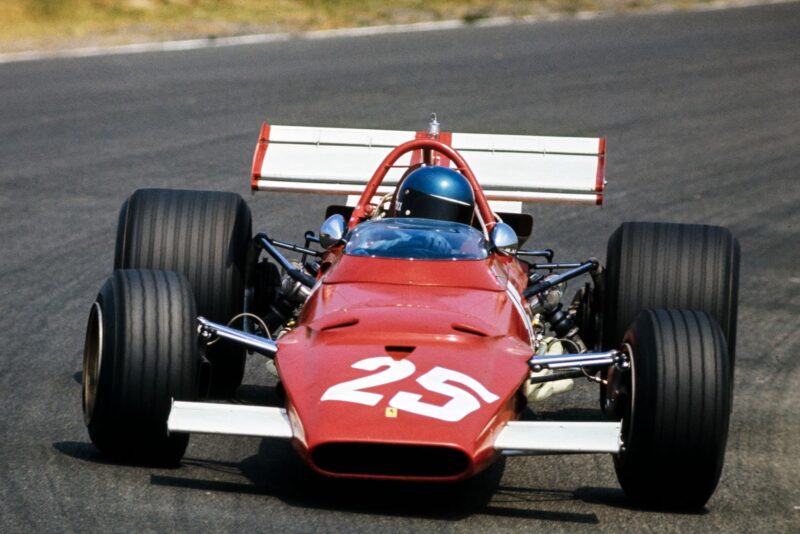 Although the practice sessions were long for such a short circuit there was seldom a dull moment, for apart from the 24 competitors making the pits road more crowded than at Brands Hatch, and that is saying something, there was excitement in all directions. Things had barely got under way when Rodriguez flew off into the undergrowth on one of the 150 m.p.h. comers on the back part of the circuit. He demolished the BRM 153/02, having recorded one of the fastest laps at the time, and returned to the pits completely unscathed and convinced it was not his fault, and he was right for it later transpired that a tyre had punctured on something sharp picked up off the track. Brabham bad suffered a similar occurrence earlier in the week on the same part of the circuit. Amons practice ended early also, but for a different reason, one of the rubber fuel tanks inside the monocoque sprung a leak and filled everywhere with petrol and it took a long time to remove the offending bag and clean up the mess. Stewart practised first in his old well-raced March and later changed to the newly rebuilt one, running under number 5T, and was well pleased with it, recording second fastest time, but it was already obvious that the new Lotus 72 was beginning to uphold all the claims made for it earlier, for Rindt was fastest with a lap in I min. 19.48 sec., to Stewart's I min. 19.98 sec., without even looking as if he was going fast. However, some brake pad trouble caused him to spin off at the Tarzan hairpin and take the wedge nose cowling off the Lotus in the melee, but no serious damage was done. The Ferraris were being plagued by fuel pump troubles, but even so Regazzoni showed up well with a best time of 1 min. 21.71 sec., fastest of the new boys, for Gethin was finding a Formula One car called for much more finesse in driving than a Formula 5000, and Cevert was out of his depth and still wondering why people say there is no Father Christmas, but doing a steady job and not doing anything stupid.
On Saturday morning the weather was fine again, a lot of engines had been changed, as had suspension units, and everyone was at it once more. Pescarolo's Matra went bang and there was a hole in the side of the engine, Siffert's rebuilt Cosworth engine lasted no time at all before it broke and Rindt's Cosworth in the 72C would not run right. Ferrari 003 developed a serious oil leak from somewhere within the mechanism and the De Tomaso rear suspension had been converted from wide track to narrow track. Courage was pressing on hard, trying to make up for the time wasted the day before, and was braking desperately late past the pits for the Tarzan hairpin. He finally over-cooked it and spun off into the sand, wisely leaving the car there for his mechanics to retrieve as there was sand all over everything. There was an embarrassing moment in the pits road when the overcrowding caused Stewart to crumple one of the nose fins on Brabham's car as he was trying to squeeze his March through a gap to get out and practise. This was in his old car as his new one was being re-engined ready for some serious motoring in the afternoon. After the performances of Rindt and Stewart on Friday afternoon the bogey time for serious fast laps had to be 1 min. 20 sec., and during Saturday morning Amon joined the elite with 1 min. 19.70 sec. and then Ickx, in 312/001, did 1 min. 19.50 sec. By the time the last practice session took place a heavy sea mist had come swirling in over the sand dunes and a gloom seemed to settle over everything, but it did not prevent some fast motoring taking place. There was quite a battle for the front of the grid, all-important at Zandvoort, as passing is difficult on the twisty circuit, and Rindt, Stewart, Amon and Ickx were setting the pace. Those with guaranteed positions on the grid were content to circulate, while among the also-rans there was keen competition to avoid being in the last four. Stewart took time off to show Cevert the way round, his guidance into various corners improving the young French boy's lap times by two seconds instantly. Lapping at 1 min. 21 sec. Stewart was just cruising round, but Cevert was having to work hard and be brave, so his admiration for Stewart's laps at 1 mm. 19 sec. was very great.
The fact that Team Lotus had got the 72C well and truly sorted out was rubbed in when Rindt did an effortless 1 min. 19.1 sec. with full petrol tanks and new tyres. They then set the car up for a really quick lap, with minimum fuel and worn tyres and Rindt did I min. 18,50 sec., without using all the road or indulging in any opposite-lock heroic driving. The whole performance was most unlike the normal Rindt and was smooth and polished. Stewart was just the opposite in his efforts to get pole position, his new March 701 was adopting all sorts of angles as he threw it round right on the limit of tyre adhesion and using all the road and some of the sandy edges as well. The result was a best lap of 1 min. 18.73 sec., second fastest time of the day, and nobody knew better than he did that the combination of Rindt and the Lotus 72C was something to be feared. Siffert appeared at the end of practice, his March having had an old tired engine installed amid the dust and sand of the paddock as it was all that March Engineering had got left. Oliver put in an incredibly quick lap, getting himself among the under-1 min. 20 sec. elite, thanks partly to the use of some special Dunlop tyres, of which BRM only had one set, and had earmarked for Rodriguez. After writing off 153/02 Rodriguez had taken over the brand-new car, but it was never really on full song and the Mexican had to be content with second-best BRM time, and failing to join the elite by 0.07 sec. With no fuss or bother and raising very little comment from anyone Regazzoni got well below the top-class bogey-time, putting himself just behind Oliver on the grid in this his first Grand Prix race. That the Ferrari flat-twelves were getting themselves sorted out was shown by Ickx, who was right up there with Rindt and Stewart in the under-1 min. 19 sec. bracket. Timekeeping was being assiduously done to two places of decimals by means of a beam mechanism, but as any timing system is only as faultless as the people operating it and using the given data, the outcome at the end of practice left a lot to be desired as regards those who had qualified and those who had not. After two attempts at making up a grid it was decided that de Adamich, Stommelen, Lovely and Moser were the four slowest and therefore would not start, the remainder being arranged on the grid as shown. It was fortunate for Hill that he had a "Geneva agreement guaranteed start" or he would have been out in the cold at the expense of de Adamich, and Gurney would have been scratching away to avoid being last on the grid instead of next to last.
Race
By the time it was all sorted out the North Sea mist had covered everything, and any building more than three storeys high was fast disappearing. It was an evil-looking mist and obviously did not bode well for Sunday and the whole of Zandvoort took on a heavy and gloomy atmosphere. During the night the words "Welcome Back Dan Gurney" in large white letters appeared on the track in front of the pits, but Gurney's well-wishers must have wondered about his position on the back of the grid. Perhaps the competition in USAC racing is not of a very high standard compared with European Formula One and he has got out of the habit of being the "charger" we used to know.
Although the mist had receded back into the sea the sky was overcast and dull, but everything was dry and ready for racing as the cars assembled in front of the pits at lunch-time. Setting off one by one they did a lap of the circuit and assembled on the "dummy grid", some of the drivers doing a practice start as they left the pits, notably Amon, Hill and Peterson, all of whom played "dragsters" down to the first corner. Somehow the Dutch always manage to introduce something unusual at the start, like the time there was a marshal standing amongst the cars when the flag fell. This time the starter stood in the centre of the track as the cars moved forward onto the starting grid and was still there when the 30-second sign was shown. With only a few seconds to go he turned and ran for the edge of the track, this sudden action on his part causing a lot of left legs to tremble on the clutch pedals. By the time he reached the barriers and climbed onto his rostrum both Stewart and Rindt were creeping and as he did not raise and lower the flag instantly, they had to check their cars and get "on balance" again. This slight hesitation of only a second or two was sufficient to allow Ickx to make the best start from the front row and, though Rindt dived for the inside of the all-important first corner, Ickx carved across in front of him and was away. Behind them there was some confusion for Amon had cooked the clutch on his March and those behind had to dodge round him, and this let Oliver and Miles follow the leaders into the first corner, Oliver driving into the corner behind Rindt, across the bows of Stewart, who had made the poorest start of the front row. As they screamed down the straight at the end of the opening lap the order was: Ickx (Ferrari), Rindt (Lotus), Oliver (BRM), Stewart (March), Miles (Lotus), Rodriguez (BRM), Courage (De Tomaso), Beltoise (Matra), Regazzoni (Ferrari), Pescarolo (Matra), and Gethin (McLaren); old hands like Brabham, Hill, Gurney and Surtees were just not in the picture. After they had all gone Amon cruised slowly into the pits to retire with a slipping clutch. Ickx still led on lap 2, and Rodriguez had got past Miles, but already the first four had opened up a gap on the rest of the field. As Ickx went into the Tarzan hairpin to start lap 3 Rindt ran round the outside of him and took the lead as though he was passing a back-marker, and from then on it was all over, for the Lotus 72C was untouchable and with no strain at all the Austrian ace just motored away from everyone. Gurney only just got round the Tarzan corner to start lap 3 when his Cosworth VS8 engine broke and he crept quietly away wondering what had happened to Grand Prix racing since his days with the AAR Eagle. At the end of lap 3 Stewart made it clear that Oliver was in his way and holding him up, elbowing his way by in a ruthless fashion at the end of the straight, about the only place for overtaking unless a driver deliberately gives way and moves over. If Stewart in the March was to be competitive now was the moment, but strangely enough he made very little impression on the Ferrari in front of him and none at all on the flying Lotus. Rodriguez had shaken himself free of the major part of the field, who seemed to be queuing up behind Miles in the Lotus 72B, and was closing rapidly on Oliver, having no intention of remaining behind the BRM number two driver for long. On each lap as Miles appeared down the fast straight he had a string of cars nose-to-tail behind him, in what some misguided people were calling "slipstreaming", whereas it was actually "follow-my-leader" and the sad thing was that the leader was not really fast enough to justify being in front of them all, but at Zandvoort overtaking is virtually impossible with nearly evenly-matched cars. Behind the Lotus were Regazzoni, Courage, Beltoise, Gethin, Pescarolo, Brabham, Surtees and Siffert, while bringing up the rear were Cevert, Peterson, Hill and Eaton. On lap 6 Regazzoni got by Miles, and in one lap had got completely clear, obviously having been held up, and Courage was next in the queue awaiting a chance to get by. It was not until lap 12 that he managed it, and then, like Regazzoni, he was away, but by this time those in front were a long way ahead.
Way out in front Rindt was lapping comfortably at under 1 min. 20 sec., setting new lap records, and though Stewart had closed up a bit on Ickx it was clear that he was not going to catch the Ferrari, and as these three were out on their own ahead of the two BRMs it was already a case of stalemate, with Rindt having plenty in hand. Regazzoni was in sixth place, but Courage was catching him, and Miles continued to hold eighth place, with Beltoise, Gethin, Brabham, Surtees and Siffert lined up behind, Pescarolo having dropped back as his Goodyear tyres were giving him violent understeer on the sandy track. As the line of cars started their 20th lap Rindt was in sight behind them, little knowing what a mob he was going to have to lap shortly. Before the end of lap 20 Gethin spun off in a big way on the fast back section of the circuit, escaping unhurt, and this put a bit of a gap in the line-up behind Miles. At this point Rodriguez got by his team-mate to take fourth place and then Rindt lapped Hill, who promptly stopped at the pits to see why his car did not handle properly. Stewart lapped his young French team-mate who was running next to last and then a hush fell over the grandstands for across the sand dunes could be seen a column of smoke and flame that could only spell disaster. It came from the mid-field runners during lap 23 and the De Tomaso was missing, Miles going by as usual with four cars in tow, for Siffert was also missing. The De Tomaso had crashed and caught fire and young Piers Courage had not survived the accident, while Siffert's engine had already broken and he had stopped before the fast bends where Courage crashed.
The leading three cars were picking off the tail-enders one at a time and Rindt was getting nearer and nearer to the Miles, Beltoise, Surtees, Brabham, Pescarolo group. As Oliver passed the pits at the end of lap 24 his BRM engine broke and he posted up another retirement in his Grand Prix career, and two laps later Eaton retired his BRM with the rear-mounted oil tank adrift, while Hill was in and out of the pits with the Walker Lotus 49C. By lap 29 spectators could see that a "moment of truth" was about to happen for Rindt, for he was right behind Brabham, who was hard on the rear wheels of Beltoise, Surtees and Miles, none of them being at all concerned with what was going on behind them. Rindt did a masterly job, picking them off one per lap, and losing very little time, even though none of them showed any signs of moving over and waving him by. He did Brabham on sheer speed along the straight, dived inside Beltoise going into the Tarzan hairpin next lap, ran round Surtees at the same point on the following lap, and one lap more saw him pass Miles on speed past the pits. By now Stewart was quite close to Ickx, though not dangerously so, and it was their turn for playing leap-frog and lapping the fearsome foursome. Whereas Rindt had got through the traffic in four laps, it took Ickx five laps and Stewart seven laps and it was very noticeable that no-one moved aside for him, in spite of blue flags being waved. What little he had gained on Ickx was now lost again, while Rindt was back to his normal untroubled cruising gait, the Lotus 72C looking so steady and unpressed that it seemed ridiculous. While all this lapping of the mid-field runners had been going on Rodriguez had stopped at the pits after 31 laps with his nose cowling drooping due to a broken mounting, and while it was being wired up Regazzoni went by into fourth place, a truly commendable effort in his first Grand Prix.
The lappery by the leaders had reached its height at the half-way point, which was 40 laps, and soon after this things settled down again, except that Brabham headed for the pits at the end of lap 44 with his left front tyre punctured, and got going again just as Rindt lapped him for the second time. At 50 laps the order was still Rindt, Ickx and Stewart, and the Ferrari driver had now lapped his team-mate. On the same lap Rodriguez stopped again to have the temporary repair removed and another nose cowling fitted, and on lap 51 the Ferrari pit nearly exploded, for Ickx was heading towards them with a punctured rear tyre, letting Stewart go by into second place. This stop put Ickx back to fourth place, a lap behind the leader and a bit behind Regazzoni, who was now up in third place. Seeing the punctured Firestone on the Ferrari the Lotus pit got tyres and jacks out at the ready in case Rindt suffered the same thing, but all was well and the revolutionary torsion-sprung Lotus that many people said would not work, continued to dominate the race without straining. As Rindt disappeared over the hill from the Hunzerug hairpin, to start the fast back section, Stewart was passing by the pits, so at no point could he actually see the Lotus any more, only his pit signals telling him the depressing story that he was well and truly beaten. It did not take Ickx long to overhaul Regazzoni and take third place, although a lap behind the leader, and the new Ferrari recruit did not do anything silly like trying to stop his team-leader from going by, as some number two drivers tend to do. Almost unnoticed, apart from a cloud of smoke, Stewart's new young team-mate had long since disappeared when his Cosworth engine broke, and on lap 58 Brabham was back in the pits with another puncture.
The queue behind Miles had finally faded to two, and when the Lotus driver spun on lap 49 these two had gone by at their leisure, and Surtees had got ahead of Beltoise. However, the McLaren driver then spun on the corner behind the pits and Miles went by him, and Surtees had to start work all over again. He worked away at the Lotus valiantly and finally got by with just five laps to go, to take sixth place overall and gain himself a point on the Championship table.
Rindt just went on and on, never putting a wheel wrong, and his lead over Stewart increased to well over a minute, the Scot having settled for a miserable second place, and at the end of the 80 laps these two were the only ones to complete the full distance. As everyone was flagged off and pulled into the pits they realised that what they had thought since lap 23 was true, Courage was dead inside the blazing wreck they had to keep passing on each lap, and the race ended on a very sad and unhappy note, all prizegivings and festivities being cancelled. Rindt was quite unable to enjoy his victory and the knowledge of the superiority of the new Lotus over all the other Cosworth-powered cars, though he did admit he had only extended its roadholding to the limit on one occasion and that was when he took the lead from lckx on lap 3. A long overdue technical step forward indeed.—D. S. J.
Norisring "200" (June 28th)
The annual race round the great Stadium in Nurnburg was run once again in two heats of 100 miles each and was open to sports cars from Groups 5, 6 and 7, which meant that 5-litre production sports cars, 3-litre sports-prototypes and unlimited capacity Can-Am cars could enter. Of particular interest was the first appearance of the March 707 powered by a 7.6-litre Chaparral Chevrolet V8. This Can-Am car was on loan to the Deutsche Aldo Zeitung team and driven by Kelleners, but while it proved to be the fastest car on the circuit it did not figure in the results. In Heat 1 cockpit heat overcame the driver and in heat 2 the gearbox gave trouble. The race was left to private owners with 917 Porsches, chased by Rodriguez in a 908 Porsche on loan from the Swedish driver Brostrom.
Sales for the First Quarter
The SMM & T publication of New Car Registrations for the three months of 1970 ended March (Vol. 3–i, £10) shows an improvement. British Leyland sold 3,089 more private cars than they did in the same period in 1969, Ford sales were up by 8,507, Rootes' by 2,709, but Vauxhall sales fell by 3,022. Of importers, Audi sales rose by 385, Mercedes-Benz by 67 but, surprisingly, Fiat sales fell by 660. Volvo improved by 666, Renault very substantially by 2,176. Toyota dropped by 7 cars but VW, with an increase of 3,321, remained the leading importer. Alfa Romeo sales here were up by 33, Citroen showed a good improvement (404), Simca did even better (536), Honda increased by 193 on the-strength of the air-cooled small saloons, but Opel, with an improvement of 44, was unexpectedly poor, and Skoda up by 20 cars. Sports cars remain popular, with MG-B sales up by 294, Spridget sales by 114, Triumph sports-car sales fell slightly, by 54 cars, but Jaguar disposed of 79 more E-types than in the first three months of 1969 and Lotus sales increased by 37. Mercedes-Benz, however, were down with the 280SL, by 29 cars, Honda sales of the S800 dropped by 21. Of new models, a couple of Fiat 130s and 296 Fiat 128s were sold thus early and Rootes had found buyers for 8,145 Avengers.
The things they say…
"Many of us, with long association with road racing, used to hold the view that any course, anywhere, is as safe, or as dangerous, as a driver cares to make it—a view obviously not shared by the RAC."— W. A. McMaster writing about the closing of Dundrod circuit in 1955.