There's always pressure around Ferrari, good times or bad. But there's a vortex of it at this stage of the season, as it has become increasingly evident that the SF90 is not made of the stuff that can contend for titles, unlike its two predecessors. That this should unfold as the Scuderia is under its new leadership – and as the thrusting young Charles Leclerc comes on board to disturb the equilibrium of Sebastian Vettel – has just added energy to that riptide.
"Well, at least this is Monaco where anything can happen," said Vettel, looking on the bright side on the Wednesday before the race. "If we had to do another race at Barcelona, I wouldn't be feeling too positive."
The Spanish race had revealed the depressing reality that, on a conventional track rather than low-drag specials like Baku or rear-limited oddities like Bahrain, the Ferrari was about 0.7sec per lap slower than the Mercedes. So apart from the 'anything can happen' nature of Monaco, that left only Montréal, Spa and Monza as venues where the Ferrari might be competitive. Ferrari arrived at Barcelona hoping it had unlocked something in the car, only to find there was nothing there to unlock. No further answers. It was from that baseline that Vettel tried to reorientate himself coming into Monaco. "It's important that we stay on course and be positive about what we can control and not miss out on the gains we might make in the short term, as in this race or the next one."
Having Monaco and Montréal as consecutive races at least allowed Vettel to try to enjoy the moment, to try to release the stress. But then the pressure ramped up anyway… Thursday suggested the Ferrari to be about half a second adrift of Merc around the streets and roughly on a par with the Red Bull. So even more than usual, wringing the absolute maximum from the car was going to be crucial. Into Saturday morning practice, the preparation for qualifying, Vettel – wearing his '70s-era Niki Lauda helmet in tribute to the late champion – was pushing very hard, trying to find his groove. But it was a groove from which the Ferrari's traits made it easy to fall. It had a particular tendency to lock its inner front tyre.
The tyres are effectively an energy store. The downforce presses upon them, forcing the rubber into the surface's asperities (ie the gaps between the peaks of the Tarmac granules). The further into those gaps the downforce forces the rubber, the greater its energy store, the greater grip there is available as that energy is converted into braking and cornering force. But with this year's thin-gauge Pirellis there's less rubber to force into those gaps – which means that extra downforce buys you even more lap time than it did before. This change in rubber was decided many months after the basic concept of the SF90 – as a design focused on aero efficiency (a previous weakness) rather than high drag… Just as Mercedes had gone in the opposite direction.
So anyway, coming into Ste Dévote during practice, Vettel's inner front locked. A bit like with Leclerc in Baku, the car was still responding to steering and so he was encouraged into not bailing out into the escape road. Too late. It hit the barriers pretty hard, took the front-left corner off. There was no damage to the tub, but the time pressure to get it ready for qualifying two hours hence was not ideal.
Then there was Leclerc. Arriving at his home town as a Ferrari driver, still awaiting his first victory, it was difficult for him to keep the pressure off himself. He'd gone quickest on Saturday morning, but had fallen foul of the virtual safety car – imposed as a result, ironically, of Vettel's accident. There was a worry that this would earn him a grid penalty and, although in the end he got off with a reprimand, it just added to the edginess within the team.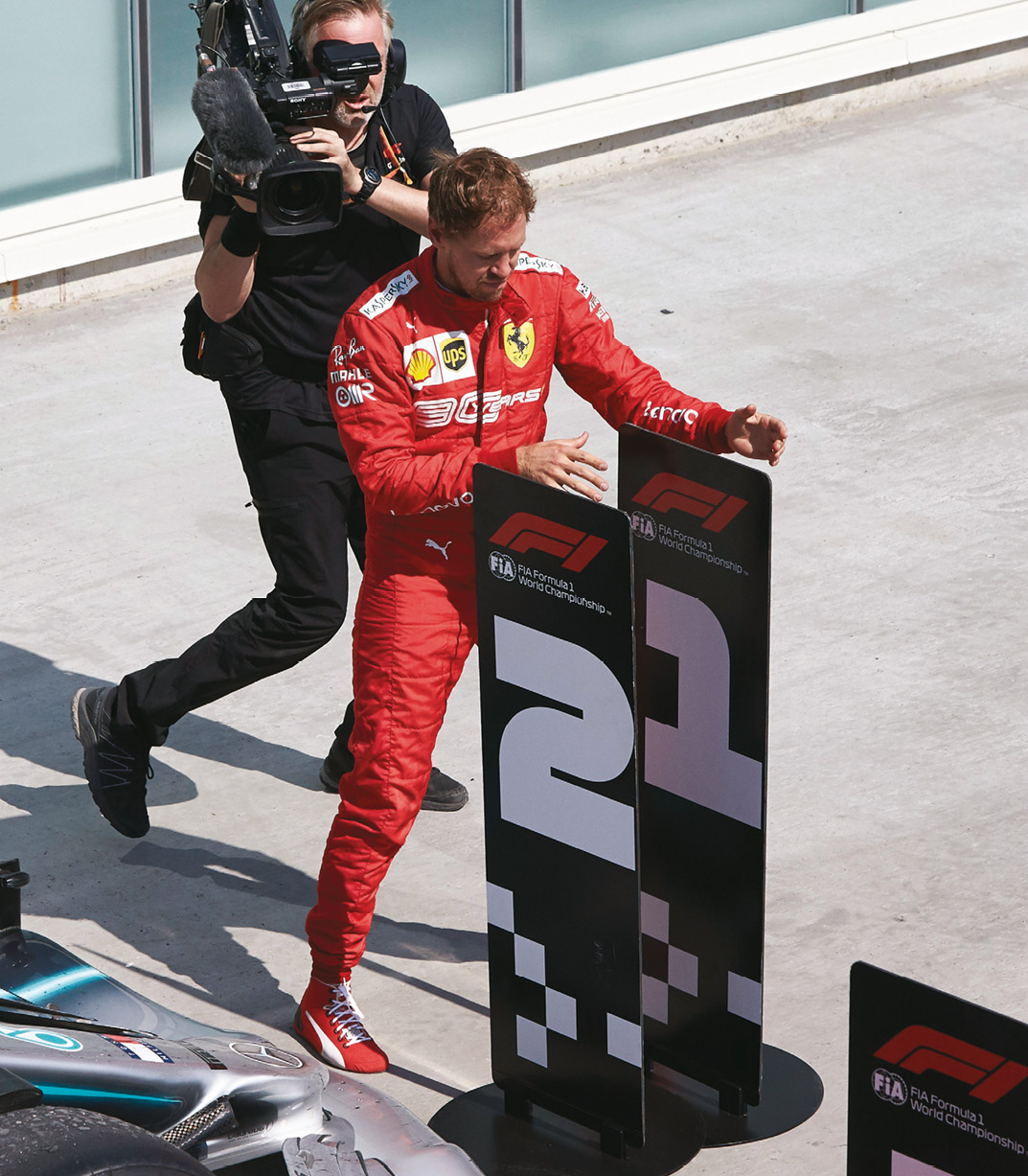 Then that inner front locking came back to bite both drivers in Q1. Leclerc suffered into Rascasse, flat-spotting. He completed a lap on them which was P6 at the time he set it, but with track grip improving quickly. As he pitted he failed to notice the weighbridge request and drove straight to his crew, but the team spotted the error and pushed the car back.
Just as this drama was unfolding, Vettel also locked up into Rascasse. He had no need to do a time on the flat-spotted tyres because he had a spare new set courtesy of missing some of that morning's session because of his accident. In he came to have them fitted, but without a time yet on the board and the session counting down. It was all getting a little fraught. So, with one eye taken off the ball by ensuring Vettel got out again, Ferrari believed its computer when it told them there was no need to send Leclerc back out, that his flat-spot lap would be enough. It wasn't – and that much was obvious to anyone not locked in the virtual world as some much slower cars began setting better sector times than Leclerc had managed. Vettel got to the line in time and promptly recorded best lap of Q1 – and this was the lap that pushed Leclerc out of the top 15.
A shambles, and an angry and frustrated Leclerc, who'd twice asked the team if they were sure he shouldn't be going back out.
It's in such times that Vettel can be the rock upon which the team rests. It was important he calmly deliver in the wake of all the fuss. He delivered P4 on the grid – about what the car deserved – but it came with a few barrier-shaving moments. In the race it was only about track positioning, not pace. So he took third across the line, second in the official results after Verstappen was penalised from P2 for an unsafe pit release. Hamilton took his fourth victory out of six, on the wrong tyres and under severe pressure from Verstappen. Leclerc, predictably, crashed out trying to make up ground and, as such, Vettel's second place points were a valuable bit of stability.
"We know we have a lot of work to do, we know that we are not yet quick enough compared to these guys…" he said. "The lesson is that we are not yet where we want to be, the pace isn't there."
Montréal would be different. Mercedes was genuinely concerned about the Ferrari threat around the Canadian track, where the SF90's low drag and powerful engine would buy it a lot more lap time. So it proved. Vettel scorched to his 56th career pole, a couple of tenths clear of Hamilton's Mercedes. Unlike Baku, no practice crashes, no losing out on towing tactics. Vettel's Ferrari was making up 0.6sec on the Merc down the straights and only losing 0.4sec of that in the corners. Leclerc was about 0.7sec adrift of Vettel this time and third fastest, admitting he'd done a bad job with the set-up of the car in anticipating how the grip improved.
But it was going to be a much tougher race for Vettel than his pole margin made it look. In race mode the Ferrari no longer carries a power advantage over the Merc – and it tends to use more fuel. If he was to convert this, Vettel had to win the start then accept he was going to be defending for large parts of the race. He won the start, but Hamilton retained second and wasn't passed by Leclerc – which would have allowed Ferrari to use the second car to control the Merc while Vettel built a gap. Instead, it was going to be gloves-off, mano a mano.
It was a fascinating ebb-and-flow contest for 57 of the 70 laps. Vettel had to monitor his fuel allocation carefully while Hamilton had to keep his engine temperatures under control, so the two were fast and slow at different stages. On lap 49, with Hamilton in full attack mode, Vettel took a little too much speed into Turn Three for his worn rear tyres and a big oversteer slide ensued, obliging him to open out the steering and take to the grass to avoid spinning. He rejoined on dusty tyres, correcting the sliding car towards the exit kerb of Turn Four – just as Hamilton was looking to go around his outside. There wasn't room and Hamilton had to brake to avoid contact. Just a racing incident. Except the race stewards didn't see it that way. Vettel was deemed to have rejoined in an unsafe manner and he'd have 5sec added to his race time. Which meant all Hamilton had to do was stay with him – which he did quite comfortably for 'victory' number five from seven.
To say Vettel was incensed would be understating it. But, of the three tracks so far where Ferrari could – should – have won, it has failed to deliver.
---
DIGITAL EXTRA