1970 British Grand Prix: Duel of the Fates
Rindt and Brabham's epic battle at Brands Hatch in the 1970 British Grand Prix was almost destined, but it was a step on the way to a tragic ending, as Mark Hughes explains
Jochen Rindt and Jack Brabham, the combatants of the 1970 British Grand Prix, shared a star-crossed history. In their intertwined tale lies much of what shaped that tragic season. Their race-long dice around Brands Hatch on that day 50 years ago was the last time they'd get to go at it wheel-to- wheel. In hindsight, it makes that race, in which so many parallel and significant stories unfolded, all the more poignant.
Britain's 1970 summer was long and hot. Brands Hatch was in gorgeously lush form in mid-July and on the sun-kissed morning of Saturday the 18th the car parks were already filling with Capris, Hunters, Vivas, Minis, Escorts, Zephyrs and the odd Jag, the crowds gathering for their home grand prix as the holiday season approached. Mungo Jerry's paean to carefree indulgence in the glorious weather, In The Summertime, number one in the UK charts at that moment, might have been playing from those few cars fitted with radios as they were directed to the fields surrounding the ancient woodland through which the track picked its crazy off-cambered way. But beneath the happy scene was a dark undercurrent. This was already one of the sport's most tragic seasons; F1 had recently lost Bruce McLaren and Piers Courage, the latter in an obscenely brutal and public way. Jackie Stewart and Rindt were increasingly militant in leading the GPDA, trying to drag F1 to a more civilised place, but against the grain of the entrenched old guard at the circuits and the governing body.
The contrast between the happy summer scene as F1 gathered at Brands and the psychological stresses of the drivers were profound. Stewart later talked of how he had lost all interest, how he was waking with fists clenched, how, "I'm in a state where other people's compliments, their consideration for me doesn't matter and I find myself wanting to stop. But I don't have the guts." Even tough old Jack Brabham, in what he and his family knew was his final year before retirement, was struggling with the stress and under considerable pressure from his wife and father to stop in the wake of the recent fatalities. Rindt had raced past his friend Courage's dead body, entombed in a burnt- out car, for lap after lap at Zandvoort in giving the Lotus 72 its first win. His wife Nina had begged him to retire. In the immediate aftermath, he'd resolved to do so, but had since changed his mind as his winning streak seemed to be putting him on course for the world title he craved.
Rindt and Brabham, psychologically two of the toughest guys ever to sit in a racing car, wrestling with their angst. Their personalities and images could hardly have been more different; almost a generation apart, yet their respect for each other was total. Brabham, 44 years old, the engineer-driver with his workshops and garages, slicked-back '50s-style hair and unpretentious ill-fitting, unfashionable clothes. Rindt, 28, with his pink shirts, velvet suits, flowing locks, fashion model wife, poolside in his Swiss residence by preference, and with not the slightest interest in camshafts. He was a fast gun-for- hire, the racing driver as a rock star. Yet they shared the same indomitable toughness of spirit and shared an unlikely frequency. They'd operated like a dream together in '68 when Brabham had employed Rindt to race his other car – except that the four-cam Repco engine was horribly unreliable and therefore an impediment to Rindt's man-in-a-hurry quest to win the world title, and then stop. He wasn't in love with or immersed in the sport in the way of Brabham, who would happily have continued in it indefinitely were it not for the pressure of others. Rindt wanted the authenticating stamp of F1's biggest prize, then he had other things to do.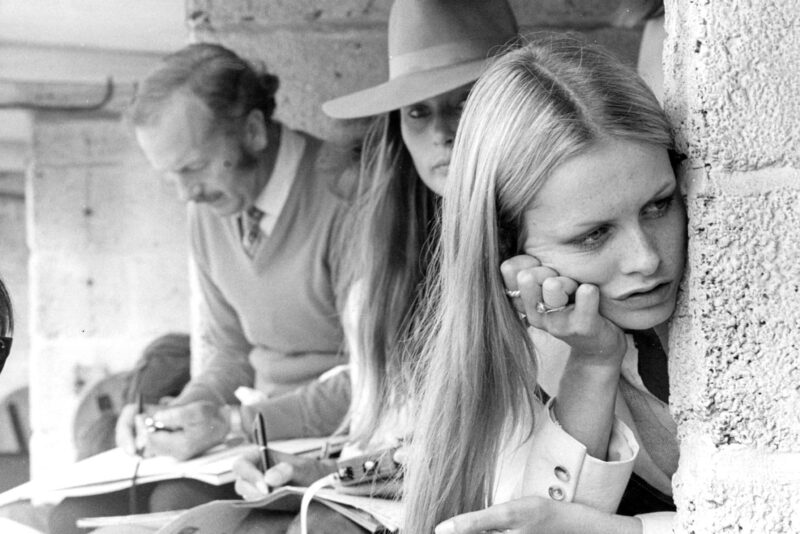 So he'd left Brabham for Lotus in 1969 and clashed with Colin Chapman just as profoundly as he'd meshed with Brabham. Chapman had him messing about between the old 49 model and the four-wheel-drive 63, adamant it was the future, Rindt dismissive of it as a piece of junk. Chapman wasn't used to not having his employees jump when he said jump. Rindt was no mere employee. But they each had what the other needed. Chapman was the most likely to deliver the machine to match Rindt's skills and bring him that title, even if it hadn't happened in '69, distracted as Lotus was by the ill-fated 4WD project.
"In Chapman's wedge-shaped wondercar, Rindt was looking unstoppable"
As Rindt and Chapman bickered their way through 1969 in between scintillating pole laps and smoky retirements, Brabham was laying a plan to bring Rindt back into his fold for 1970. Jack was going to retire from the cockpit but stay on to run the team, with Rindt doing the driving and Cosworth DFVs providing the power. From the perspective of having just been cut out of a metal ball of a Lotus in Montjuïc after Chapman's skinny wing stalks had snapped and sent him airborne, the invitation to return 'home' to a fast and solidly-engineered car run by his good friend sounded good to Jochen. He gave Jack his verbal agreement: he'd be rejoining Brabham for 1970. Jack told Betty she could stop worrying, that he was going to hang up his helmet at the end of '69.
But Chapman had the mercury. The quicksilver stuff. He had it in his personality, the way he could convince people with a mixture of charisma and speed of thought, and he had it in his engineering brain too. For 1970, he told Jochen he was going to provide him with a revolutionary (but two-wheel- drive) car that was going to make everything else instantly obsolete. It was going to waltz them to the title together; no-one would even see which way they'd gone. Sure, he could have a pay rise. Sure, he'd arrange some sponsorship money for his Formula 2 team and provide him with cars. Now Rindt was torn. He asked his commercial manager Bernie Ecclestone what he thought. "You've a better chance of winning the title with Lotus, but you've a better chance of staying alive at Brabham," Bernie counselled.
Yes, thought Rindt. But if he could win the title immediately at Lotus, he'd only need to be risking himself for a year, then he could stop. Maybe, therefore, he'd be faster and safer by staying at Lotus. So that's the way he'd called it. He reluctantly told Jack he wouldn't be coming back after all. Jack told Betty he wouldn't be retiring, at least not for another year.
And that's just the backstory to their epic duel at Brands. They'd already had a similar one at Monaco where Rindt was able to put enough pressure on Brabham that the old man made a crucial last-lap error, allowing Rindt through to win. But that was in the old 49. Now driving Chapman's wedge-shaped wondercar, the Lotus 72, Rindt was looking unstoppable. Chapman had promised him this, even if it had taken a lot of re-engineering and a lot more arguing between Rindt and Chapman to get there.
The weather was very hot at Brands, and the Brabham was on Goodyears, the Lotus on Firestones. There's no way the Brabham BT33, with its front-radiator, toothpaste tube shape should have been as quick as the now-sorted side-rad, wedgy Lotus and its inboard brakes and compact torsion bar suspension. But the Firestones didn't work as well as the Goodyears when the track got hot, and Brands was scorching. Rindt had set the pace on the first day of practice, and that lap would stand as pole – but Brabham had equalled it the next day to put himself in the middle of the three-car front row. Jacky Ickx would start from the outside in Mauro Forghieri's ever-improving 312B.
Elsewhere, stories abounded. The March 701 with its short wheelbase and heavy extremities was at its worst around a bumpy off-camber track, and Jackie Stewart only qualified eighth. "It's charging round Brands like a wild horse out of control," Stewart recorded in his diary, "leaping from one side of the road to the other and knocking the hell out of me." The rookie, Clay Regazzoni, in just his second grand prix, qualified the second Ferrari two places ahead of Stewart, albeit 0.7sec slower than Ickx. John Surtees became an F1 constructor for the first time as he gave his Surtees TS7 its grand prix debut. It had been a rush to get it ready, it wasn't draining all its fuel so had to be loaded with some extra gallons and was only 20th fastest, but Big John liked the feel of it, and it looked beautiful in Ferrari-red and blue plexiglass cockpit surround. The other debutant was a driver: Emerson Fittipaldi, 23-years old and driving Rindt's old Lotus 49. He qualified it 22nd, 0.3sec faster than Graham Hill in the similar car entered by Rob Walker. This was Graham's comeback season from the leg injuries incurred at Watkins Glen in 1969.
Another backstory. Brabham mechanic Nick Goozée set Brabham's fuel metering unit to full rich, for the lap to the grid. This was the normal procedure, and it would then be put to its proper setting once the engine was fully warmed and the car was sitting on the dummy grid. As he drove that out-lap, Brabham sensed the track was much grippier than before. The pace was going to be significantly faster. He reckoned, therefore, he was going to need more fuel than he'd calculated for. So as he pulled up to the pre-grid, there was a big commotion as the mechanics churned in some extra Esso. In this break from routine, Goozée forgot to reset the mixture. He'd remember when the race was underway. Brabham would effectively run this race with the choke on.
"Eventually Jochen missed a gear and I got close enough to outbrake him
That's how it was poised as the flag fell and Brabham surged into the lead from Ickx and Rindt. Ickx was notoriously adrenaline- edgy in the early laps, and he aggressively made for Brabham's inside on the run to Druids. Brabham made a discouraging lean, but Ickx just hooked his inside wheels on the grass to take the lead. For the next seven laps, Ickx was a starring cameo before a broken differential handed the narrative over to the main stars of the piece, Brabham and Rindt. That cameo foreshadowed glories to come for Ickx and Ferrari; soon, just not yet.
As Ickx slowed on the approach to Paddock Bend, Brabham was presented with a dilemma. Did he go for the gap or back off ? In that moment of indecision, Rindt jumped him – sliding the Lotus into the gap to pass them both in one move.
Brabham thought he had just lost the race to Rindt. But the further on they went, the more confident he felt. The Lotus was quicker down the straights – it had a lower-drag shape and a more powerful engine thanks to the innovation of two inlets either side of the roll hoop feeding the engine higher-pressure air, the precursor to the airbox – but it was, if anything, slower in the corners. The more the race went on, the more certain Brabham was that he had way more grip. Only one small thing was bothering him: the engine response was a bit fluffy when he got on the throttle.
Goozée reported his mixture adjustment error to Brabham's chief mechanic Ron Dennis. There was nothing to be done but wait – and hope the extra couple of gallons Jack had asked for would save them.
But Brabham made himself big in Rindt's mirrors for 60 laps, sometimes dropping back to cool off, then pushing right back up very quickly, making it obvious he was potentially quicker – if only he could get by. "It took a long time to happen [60 laps], but eventually Jochen missed a gear coming out of Bottom Bend and with this I was able to get close enough to outbrake him." Once the Brabham went by into South Bank, it pulled away at over 1sec per lap. As they crossed the line for the penultimate time, Brabham led Rindt by 13sec. It was all over. Except, it was the Lotus that came into view first out of Dingle Dell and towards the final corner. Brabham's engine had spluttered, as it began to run dry – and Rindt powered past to take his third-consecutive win. Brabham had enough momentum to coast over the line a devastated second on what he knew was his last time around his favourite track.
As he stopped on the straight, he saw Ron Dennis running towards the car. Brabham reckoned he knew what had happened. The mixture hadn't been reset after the formation lap. He was determined to see the metering unit before Dennis, so he could know the truth. As he did so, it was confirmed. The unit was still set to full-rich. Brabham didn't make anything of it, but he suspected that Dennis was at fault, as it was Ron trying to get to the car. Ron was trying to protect Goozée – who revealed the truth 40 years later, after retiring from his position as MD of Penske Racing.
But should Brabham have been awarded the win anyway? Probably. The Lotus was running an illegally high rear wing. Lotus mechanic Herbie Blash was told to get up on the victory parade truck with Rindt and the Lotus with instructions to bend the wing stalk sufficiently to lower it. "There was no real shade of grey," Blash said in 2013. "The wing was too high, and I bent the supports to bring it down by half-an-inch or so." The stewards, suspecting the wing had been tampered with, initially disqualified Rindt. But eventually, Chapman used his quicksilver charm by showing them how to measure it correctly, and all was smoothed over.
"I wish I had insisted Jochen honoured his verbal contract," said Brabham in his later years. "If I had done that, he'd be alive to this day." At Hockenheim, two weeks after Brands, Rindt won his fourth-consecutive race. A month after that he was killed during qualifying at Monza. In hindsight, the Hockenheim victory sealed his ambition of becoming world champion. But he didn't survive to know this. In further hindsight, if he had taken Brabham's offer, he'd have had a car that was competitive from the off, he'd have had Jack spending more time ironing out reliability bugs, and would probably have had a handy lead in the championship by the time the Lotus 72, driven by whoever Chapman would have replaced Rindt with (Mario Andretti?), was sorted. It's not much of a stretch to imagine that Rindt could have become the 1970 world champion had he driven for Brabham – and survived to tell the tale. Especially with no Brabham to beat…