Michael Schumacher: Nigel Roebuck's Legends
It's been an astonishing career, but as Michael Schumacher heads into the sunset there remain a few clouds...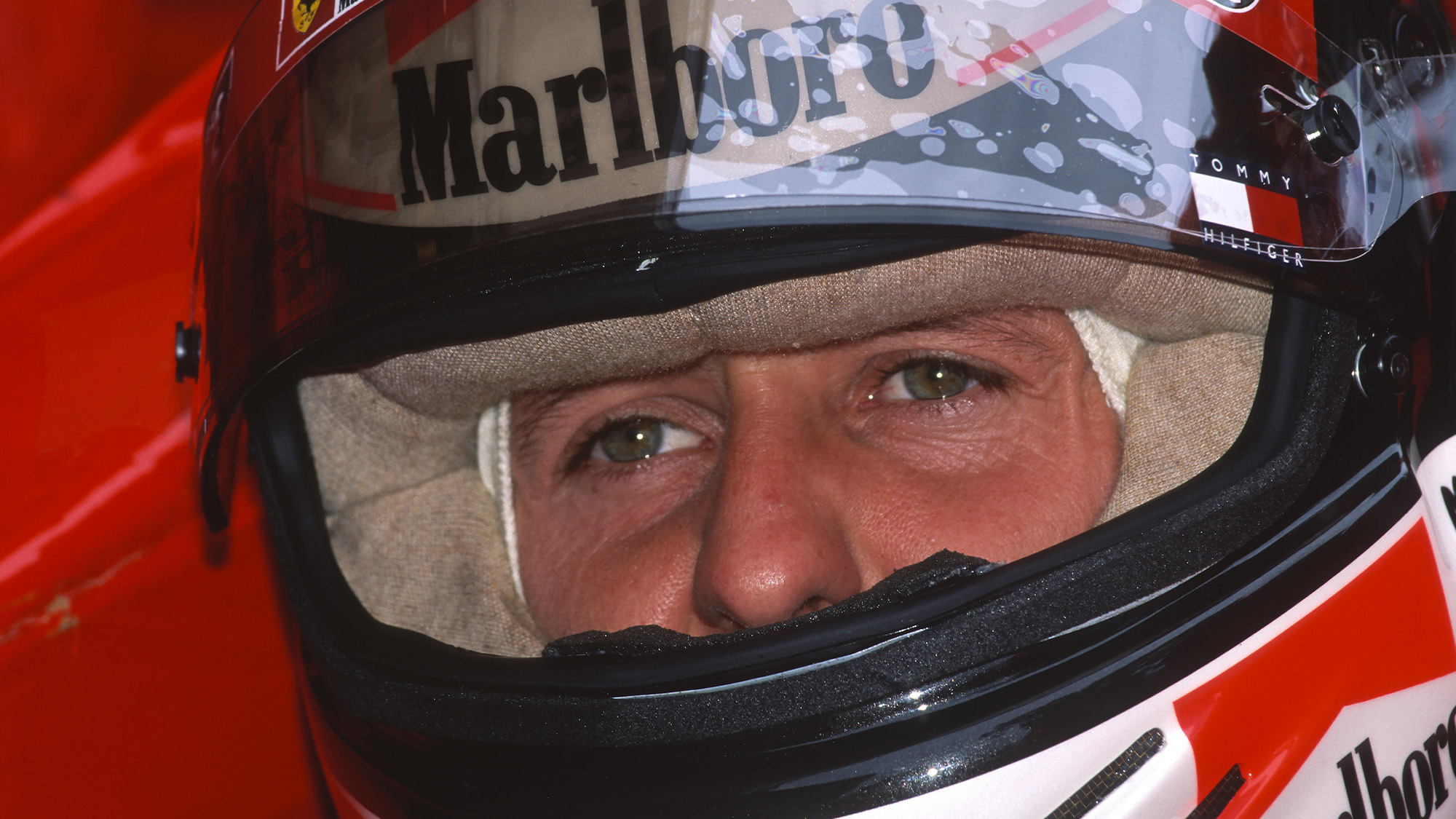 As I write, two races in the 2006 F1 season remain, and Michael Schumacher, on the brink of retirement, is fighting for his eighth World Championship.
As ever with Schumacher there have been controversies along the way, most notoriously his decision to park the Ferrari at Rascasse during qualifying at Monaco, which thwarted Fernando Alonso's efforts to take a last-minute pole.
On this occasion the biter got bit. Rightly judging his tactic unacceptable, the stewards put Michael to the back of the grid, and although he then drove a fine race to fifth place, he could only have done better if he had started near the front. Maybe that brainstorm will have cost him another title?
Schumacher's has been an extraordinarily long career — why, he won his first World Championship back in 1994. And there were more controversies that year than even this.
At that time Benetton was contracted to Ford, and while most other manufacturers were committed to V10s, Ford stuck with a lighter V8, the new Zetec-R.
At Interlagos the B194 was thoroughly sorted, where the Williams FW16 was emphatically not, and even Ayrton Senna could not compensate for the gulf between the two cars. Once Senna had spun, Schumacher won by more than a lap.
Michael then won in Aida — and then again in the tragedy that was Imola, where Senna crashed to his death, striving to keep ahead of the faster Benetton.
That evening the 'black box' from each of the first three cars was taken by the FIA. It would be nearly three months before we heard more of this, by which time Schumacher had scored another 36 points. It was a mystery that his team-mates were so far from his pace: JJ Lehto and Jos Verstappen, while not slow, were nowhere near Michael's class.
Whatever, Schumacher certainly made the most of what he had. Monaco surrendered to him from the green light, and at Barcelona he was gone until his gearbox jammed in fifth. One might have expected a speedy drop down the order, but Schumacher swiftly adapted. At the end he had only Damon Hill's Williams-Renault ahead of him.
Thereafter, he strolled it in Canada, then again in France, giving him 66 points from a possible 70; Hill, in second place, had 29. This was domination such as we had never seen before.
At Magny-Cours Hill and temporary team-mate Nigel Mansell had the front row to themselves, yet their theoretically more accelerative Williams-Renaults were left standing in the first five seconds. Hill said, "That was some getaway Michael made".
We remembered that when, three weeks on, the FIA announced their Imola black box investigations. This revealed 'launch control' — an automatic start system permitted in 1993, but banned for '94.
All in all, it was a damning report, if you took into account that launch control was not visible among the options, and that its activation required the driver to work through an elaborate sequence of gear-change paddle, clutch and throttle positions.Benetton's explanations were, first, that the system was there only for use in testing, and, second, that the activation sequence was deliberately complicated in order to prevent its accidental engagement.
According to the FIA, the 'best evidence' was that Schumacher had not used the launch control system at Imola. Well, murmured the paddock, maybe not at Imola…
The suspicions of Benetton's rivals were hardened, as much as anything, by the team's own ludicrous explanations. Why was a launch control system desirable 'for testing'? Why the need for rocket starts from the pits at Paul Ricard on a Tuesday morning?
By their own foolishness, therefore, Benetton personnel merely strengthened the belief that their car had contravened the regulations, and in the paddock that belief — right or wrong — persisted. If launch control et al never were used in 1994, it was crass incompetence on someone's part that it had been left within the system at all, let alone 'invisibly'.
By this time Benetton had other problems. At Silverstone Schumacher had overtaken pole man Hill on the formation lap, and had the stewards been aware of the correct procedure, they would have put him to the back of the grid. As it was, they later penalised him with a 10-second stop/go. When Benetton did nothing to bring him in within the required time, Schumacher was black-flagged, and three times ignored it — presumably with the agreement of his team, with whom he was in radio contact.
To this the FIA reacted strongly, disqualifying Schumacher from his second place, and suspending him from two further races. Sure enough — not for the first time, nor the last — the murmurings began that the World Championship was being manipulated, that this was an attempt to breathe life into a season becalmed.
Obviously Schumacher was not about to miss the next race, in Germany, and opted instead to forgo Monza and Estoril. At Hockenheim, he had a rare mechanical failure. The Ford Zetec expired, and Michael was lucky that Hill, too, failed to score.
Normal service was resumed in Hungary, howeve4 with another consummate victory, and Schumacher also won at Spa. Later, though, he was disqualified, his car's `skidblock' found to be unacceptably worn, indicative of a ride height too low.
For Monza and Estoril, Lehto returned to the team, partnering Verstappen, but in Schumacher's absence Benetton made absolutely no impression, which again caused tongues to wag. Was it that Schumacher, as Niki Lauda said, was "the talent of the century", or was it that, as Senna had believed, that some Benettons were more equal than others?
Whatever, there was little wrong with Michael or his car at Jerez, where he made his return, and won again. But in the rains of Japan, Benetton's race strategy went awry for once, and it was Hill, not Michael, who took a crucial victory, whereupon Adelaide became a showdown for the pair of them.
For these late GPs Schumacher was partnered by Johnny Herbert, but he, too, was bewildered to find he could not get near Michael.
In Australia Schumacher took an immediate lead, but as Hill began to reel him in, he became ever more ragged, and eventually clouted a wall, rebounding into the track. As Hill went to pass the stricken Benetton, it was turned into his path. Both cars were out — and Schumacher's one-point advantage was enough to give him the title.
Deliberate or not? Schumacher always maintained his innocence, but in light of subsequent events, most notably his attempt to shove championship rival Jacques Villeneuve off the road in their title-decider at Jerez in 1997, most observers have their doubts.
For all Schumacher's brilliance in 1994, his tactics against Hill at Adelaide, together with doubts about his team's activities that year, meant that his first title was clouded. Ross Brawn was adamant that Benetton "would never have used a system that was illegal", so it was sad that, among their rivals, suspicions remained. In the case of some, they do to this day.