Nice one, centurion: Hamilton hits 100 wins at 2021 Russian Grand Prix
Hamilton reached his 100th win at the expense of Norris's first, but the weather had a say in both races, says Mark Hughes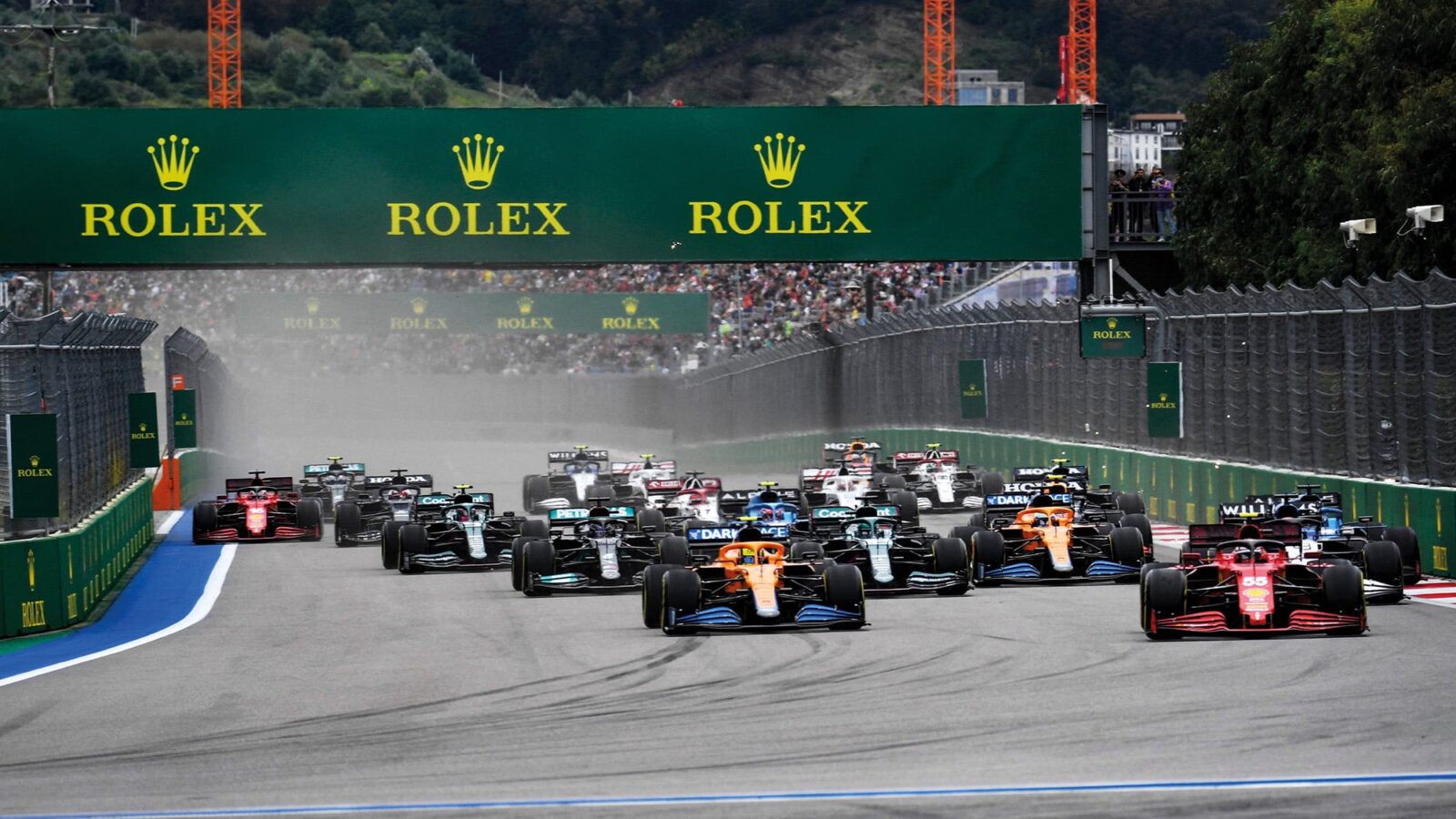 2021 Russian GP | 2021 Turkish GP
There was a remarkable synergy about this pair of races out beyond eastern Europe. Each of the two title contenders took grid penalties for power unit changes – Max Verstappen in Russia, Lewis Hamilton in Turkey – defining their tasks in those respective races as points damage limitation. Furthermore, the outcome of each race was randomised by the weather forcing late agonising decisions on pitting or staying out. As that process played out in Sochi, Lando Norris lost out on what was shaping up into his first career victory – and it passed instead to Hamilton, for an historic 100th time. In Turkey, with Hamilton gridpenalised and Red Bull less competitive than usual, Valtteri Bottas took his first victory of the season.
Verstappen, second in both races, and six points in the lead of the championship after Turkey with six rounds remaining sounded a note of caution about his prospects in light of Mercedes' relentless performance. "We have been at tracks that naturally were a bit better for Mercedes but then this track was a bit unknown and clearly they were ahead of us. I do think we need to step it up a bit to be in the fight until the end of the season."
But maybe it won't be decided on outright pace. Reliability has to be a major concern for both as the power units get towards the end of a long season. Red Bull opted for Sochi to introduce a complete new Honda power unit for Verstappen (given that he was taking a three-place penalty anyway for his collision with Hamilton at Monza). This decision had, of course, been hastened by the damage one of his units took in the British Grand Prix accident with Hamilton. But Mercedes had concerns of its own. Two weeks before Sochi, in Monza, Bottas had taken penalties for a new PU. But there were concerns about that brand new unit and for qualifying in Russia he was running with one of his old original engines. After qualifying it was decided he would take his fifth new internal combustion engine, turbo and MGU-H and he'd start from 16th. What were described as 'strange noises' were being heard but not fully understood, hence the precaution. With Nicholas Latifi's Williams also taking a grid penalty for a new Mercedes PU it seemed just a matter of time before Hamilton would be taking one too.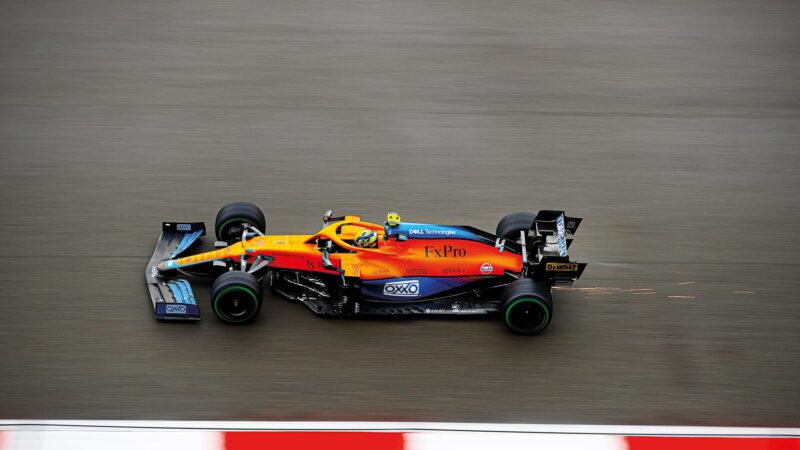 Russia was all about the jeopardy of the damp track – once in Q3 and again in the last six laps of the race. With Max Verstappen starting from the back the way looked clear for Hamilton and Mercedes in qualifying and indeed they were dominating proceedings in the wet conditions right until a dry line began to go down in the closing moments of Q3. The decision whether to stay out on inters or pit for slicks (which took at least two laps to reach working temperature) was not a clear-cut one. Mercedes played conservative and as a consequence Norris's McLaren, Carlos Sainz's Ferrari and George Russell's Williams all outqualified Hamilton.
Late in the race, the decision was the opposite one of whether you could get through those last few laps on slicks or whether inters would be so much faster that you'd more than make up the 24sec pit time loss. That's where Norris lost what was shaping up into his first grand prix victory the day after taking his first pole – and how Hamilton scored his 100th win. Hamilton's joy at that was tempered slightly by the fact that Verstappen with his fresh PU for the rest of the season had used the opportunity of the late rain to vault from seventh to second. A loss of only seven points to title rival Hamilton after starting from the back of the grid counted as a huge result for him and Red Bull-Honda.
"Norris stayed out, which turned into a disastrous choice"
Norris's pole position actually worked against him at the start as the other side of the grid, from where Sainz was starting, had much more rubber down, enabling the Ferrari to slipstream into the lead on the long run down to Turn 2. Hamilton, also on that grippy side, was getting a run on Norris too until the McLaren moved right to block him. This boxed the Mercedes in, as Hamilton had cars to his left and he completed the opening lap only seventh and though he quickly passed Fernando Alonso's Alpine, further progress proved impossible for the time being. Hamilton's title rival Verstappen, meanwhile, was quickly making up places, including an easy pass on Hamilton's Mercedes team-mate Bottas.
Russell ran his over-qualified Williams an early third, holding up a queue behind him in which Hamilton was stuck as Sainz and Norris escaped out front. Sainz's front-left tyre began to grain and Norris was able to overtake and put his McLaren in the lead, and Sainz pitted. The queue behind Russell was finally broken as he too pitted, but still Daniel Ricciardo stayed out and Hamilton was unable to find a way by him. Soon, the Red Bulls of Sergio Pérez and Verstappen were nudging ever-closer to the trapped Hamilton. If Pérez was able to undercut past the Mercedes, it was a potential serious blow to his chances.
Finally Ricciardo pitted out of his way and Hamilton was able to quickly pull himself out of the reach of the Red Bulls and set chase for Norris. He was within about 1.5sec of him with 10 laps to go, with both having pitted for fresh slicks. But there was a black cloud approaching. Hamilton had caught the McLaren but didn't look as if he was going to be able to pass it, just as had been the case when behind Ricciardo's sister car. Norris appeared to have it all under control. But that black cloud represented jeopardy – or, in the case of Hamilton, opportunity.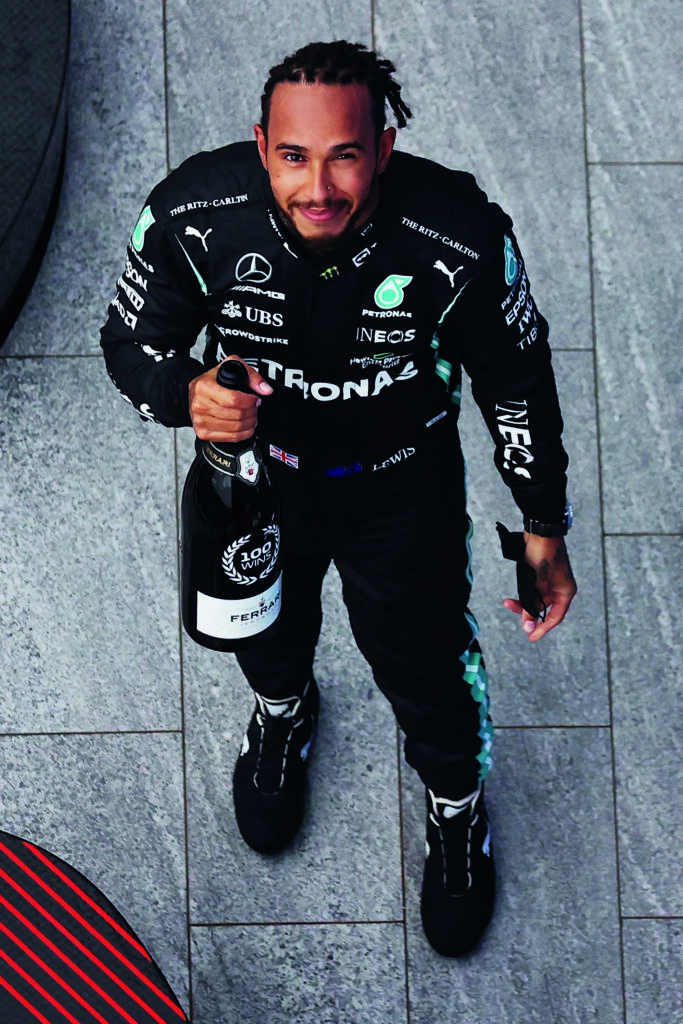 Verstappen from his early charge had not made any progress after his pitstop. The front-left was very susceptible to graining, partly as a result of the low downforce level chosen from the back of the grid. Suffering with this, he'd been passed for sixth by Alonso. But he made his own decisive call to pit as soon as the rain first began falling with six laps to go. On this lap, McLaren was urging Norris to pit and Mercedes was asking the same of Hamilton. Both rejected the call, feeling they wouldn't make up the pitstop loss if they came in, especially as the rain seemed to be subsiding. Mercedes explained there was another rain front just 30sec behind the first one and insisted Hamilton pit next time – which he did.
McLaren was less insistent and Norris stayed out, which turned out to be a disastrous choice. He spun to a brief halt two laps later just as Hamilton was set to pass anyway, having made up all the pitstop loss as the rain intensity increased and Norris's slicks were useless. Verstappen's early stop vaulted him to second and Sainz benefited similarly to take third. Norris was an enormously disappointed seventh.
Two weeks later in Istanbul it was Hamilton's turn to take the penalty, a new internal combustion engine (but not the associated components) bringing that 10-place grid drop, which translated to 11th after he'd narrowly got the better of Bottas in qualifying.
As the team's engineering director Andrew Shovlin later explained, "We'd started to see a bit of a drop-off with Lewis anyway and on the [race-sim] planners, suddenly we were seeing that those places we would lose by doing the stop we were going to lose anyway on track – and there was even a risk from further behind if he'd really dropped off the curve. So it was really just a case of cutting our losses, not getting too greedy."
Verstappen's Red Bull was not in a happy place around the super-grippy Istanbul Park circuit, which had been pressure water-blasted to ensure it had more grip than last year when drivers said it was like driving on ice. The increase in grip messed with the Red Bull's balance, gave Verstappen understeer throughout the weekend, but with the team reluctant to come down on rear wing level because of the need to protect the tyres on the very aggressive surface. He was always a vital few tenths off Bottas, both in qualifying and race, the latter held in damp, drizzly conditions, which meant the whole field started on inters.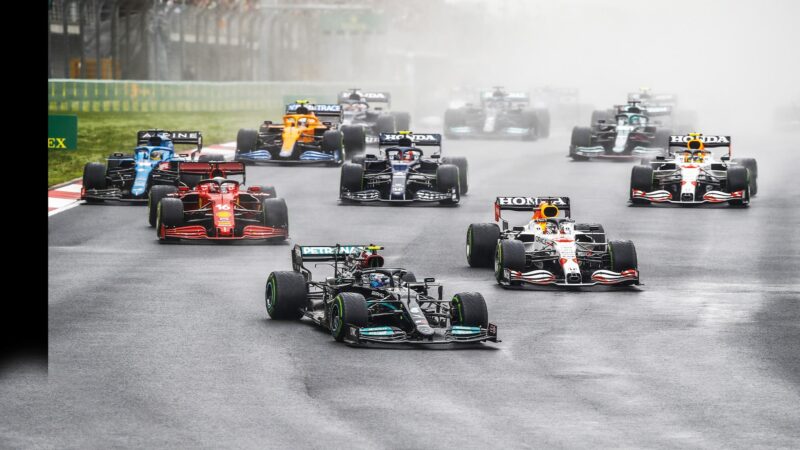 Bottas was clean away and never looked back, able to keep Verstappen a handy distance behind even while giving the tyres an easy time by backing off to the tune of around 0.5sec through the fast, multi-apex Turn 8. Hanging on impressively not far behind Verstappen was Charles Leclerc's Ferrari in lower-downforce trim. Hamilton – without the benefit of DRS, which had not been enabled because of the damp conditions – was stuck behind Yuki Tsunoda's eighth-place AlphaTauri for many laps. He eventually found a way by on the eighth lap but it had cost him around 12sec. He had seemed reluctant to force the issue with the rookie from the opposing camp. Certainly, a non-finish would be potentially disastrous for his title campaign.
"The track and its tight-pored surface was taking an age to dry"
It was a similar story later as he caught Pérez and tried to relieve him of fourth place. Alongside the Red Bull on the approach to Turn 12, it looked as though he'd done enough, braking on the drying line that was going down there now that the rain had stopped. But Pérez refused to surrender and they were side-by-side through the following switchback turns onto the pit straight, with the Mercedes just ahead as they crossed the line but Pérez placed on the inside so as to re-pass into Turn 1.
This dice had created a space for Red Bull to drop Verstappen into, to get a fresh set of inters with 22 laps to go. Everyone's tyres had long since become bald but the track and its tight-pored surface was taking an age to dry even as the rain ceased.
Verstappen's stop created the cascade of several others, including Bottas. Aston Martin's Sebastian Vettel tried a set of slicks – and it was a disaster, it being all he could do to keep it on the track on his way straight back to the pits.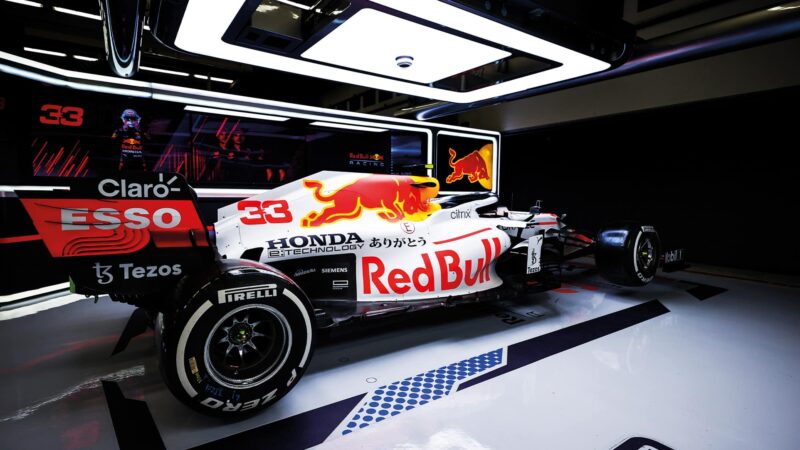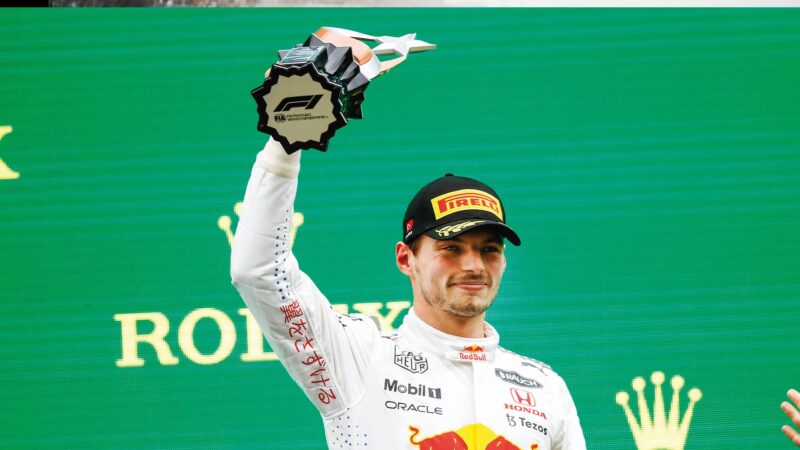 But staying out were Leclerc (now leading) and Hamilton (in fourth behind the fresh-tyred Bottas and Verstappen). On a track which was semi-dry in parts, the new inters and their fresh treads were extremely prone to graining and so had to be brought up to speed very gently. So for a few laps there really wasn't much difference in speed between them and the old tyres – and Ferrari began to think about the idea of stealing a left-field victory by staying out on a non-stop strategy. Hamilton was thinking he might be able to hang on, too. When Mercedes called him in on lap 41, he said he'd prefer to stay out. It was a gamble which would rest upon his rear tyres holding out.
The omens for that weren't good when Leclerc's rears finally used up the last of their rubber gauge and he began suffering locking-up moments. Bottas was swiftly upon him and passed back into the lead. Ferrari brought Leclerc in before he lost any further positions. So Hamilton was a distant third but not setting particularly fast times now that everyone's fresh inters were up to speed. He was about to be devoured by Pérez – who had quickly passed the rejoining Leclerc after the latter abused his new tyres trying to stay ahead. Worse than that, his rear temperatures were dropping fast, indicating that he too was about to reach the canvas. Mercedes brought him in just before Pierre Gasly would have been in his pitstop window. He was dismayed to find out he'd surrendered two places by coming in and was convinced the team had called it wrong. Angry, he too destroyed his new inters on his out lap and so lost any chance of at least passing the struggling Leclerc.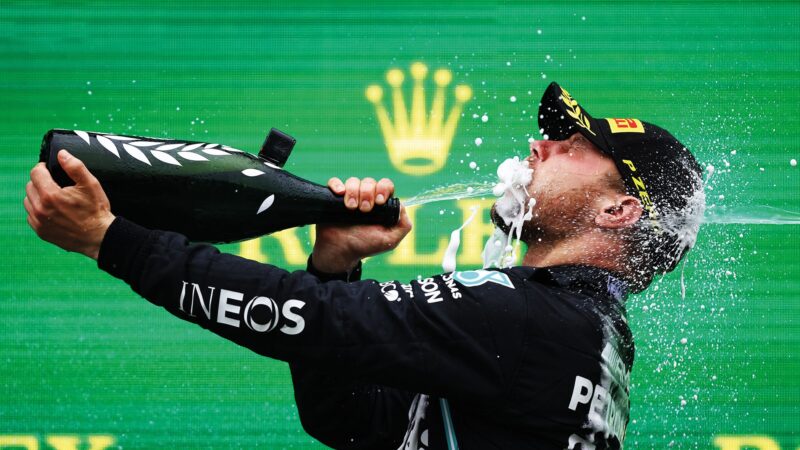 Later, upon seeing a picture of the right-rear which came off his car at the stop, Hamilton accepted it probably would not have done the remaining eight laps. Bottas, untroubled throughout, reeled off two super-fast laps at the end, just rubbing in the extent of his superiority. Verstappen had every reason to be satisfied with second place, the maximum achievable on the day and enough to put him back into the lead of the championship. But as F1 looks ahead to the remaining races, there's a real concern at Red Bull about Mercedes' pace – and a few furrowed brows of worry at Mercedes about reliability.