Red Bull's balancing act gave Verstappen pace to overtake in Sochi
Verstappen required an innovative mix with a low downforce rear wing in Sochi, says Mark Hughes
Max Verstappen's strategy from his penalised back-of-the-grid start in Sochi had to encompass many variables, far beyond just the usual tyre choice and pitstop timings.
The Sochi track gives good lap time reward for downforce, but the complication is that from the final corner, through the flat-out kink of Turn 1 and down to Turn 2 is one of the longest stretches of flat-out running the cars see all season.
So you need the downforce for the lap time but low drag for overtaking, which is always the case of course but at Sochi that conflict is particularly acute.
Red Bull has two families of rear wing, a relatively conventional higher-downforce one and the low-downforce spoon-profiled component with the outboard ends of both main plane and flap heavily cut away where the greatest drag is created. The natural Sochi wing is the higher-downforce one and it was with this that both Verstappen and Sergio Pérez ran during Friday practice. Even on Friday, the weather forecast for Saturday qualifying insisted on a 95% chance of rain, so pushing teams even further towards loading up with downforce. But in FP1 Verstappen had encountered the Williams of Nicholas Latifi on track, a much slower car, but could find no way past it, even using the Red Bull's DRS. Not a good omen.
It was this which triggered the rethink on Verstappen's car and a switch to the low-downforce wing from Saturday onwards. Because he would be starting from the back for the power unit and driving penalties (three places for Monza) he had no need to take part in qualifying, so the additional downside of a low-downforce wing in the wet ceased to be a factor.
He completed just a routine out-lap back to the pits in Q1 just to check the car worked. Race day began dry and Verstappen chose the C3, the hardest of the three available slicks, in anticipation of a long opening stint in which to make up as many places as possible. The degradation rates of this tyre were very low, calculated at less than half-a-tenth per lap by Pirelli. The limitation for all three compounds would be graining of the left-front. There was a potential complication for Verstappen's low rear wing in that the front wing flap angle would need to be relatively flat to balance the car. This in turn would afford that vulnerable left front less protection. For the laps to the grid the Mercs and McLarens had front flap angle added for that very reason, but Verstappen's options for doing that were more limited.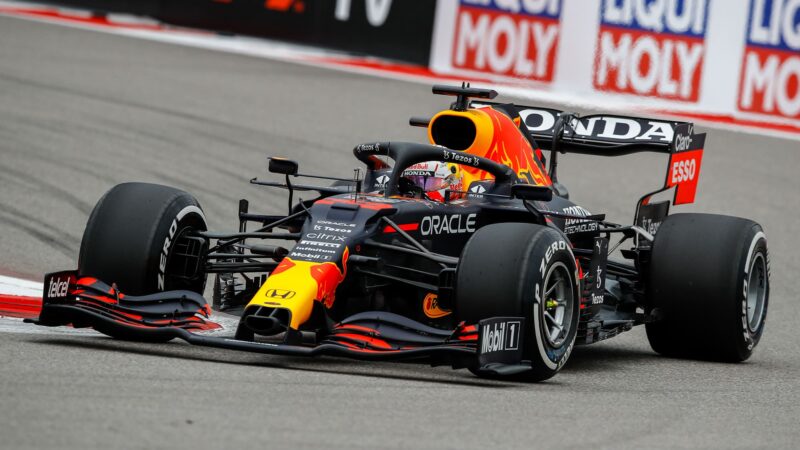 With such a low-downforce rear wing just the smallest of front flap angle increase could have a disproportionate effect on balance. Verstappen made very strong initial progress through the field and even with the lower wing setting the car retained good downforce. After 15 laps he was already up to sixth, just three behind Lewis Hamilton, who'd started from the second row.
This was where Verstappen's team-mate Pérez came into play. He was fourth on a set of hards and within undercut range of Hamilton (who was behind Daniel Ricciardo's McLaren). But he couldn't do it yet because the C4 mediums he'd be switched to had a range of only 25-30 laps and there were another 38 to go.
Having Pérez undercut Hamilton depended on Ricciardo staying out for long enough to enable Pérez to get onto mediums if/when he tried the undercut.
Unfortunately for Red Bull, Ricciardo pitted on lap 22 – and Hamilton, in free air, had enough pace to pull well out of the undercut reach of the two Red Bulls. The Mercedes driver pitted when his front left medium tyre was beginning to die, on lap 26.
At just this time Verstappen's front left was in the same state, despite being of the harder compound. That was just the penalty for his necessarily busier early race and that lower downforce level.
They rejoined separated by three places and 6sec, both intending to run to the end, Hamilton now on hard tyres, Verstappen on mediums. But as Hamilton took off in chase of the race-leading Lando Norris, Verstappen's progress hit a brick wall. As he tried to move forwards he succeeded only in graining that left front to such an extent that he was overtaken by Fernando Alonso's Alpine. Seventh looked the limit of the imposed combination of grid place, wing level and tyre choice. The late shower came to his rescue and he conjured that second place.