"I was able to get everything I wanted out of the car, and it just felt really great to drive. It was doubly exciting that we were right up there near the top of the list. It was a very responsive car to set up. There was an opportunity to push everything out as far as I could. It's always fun when you can turn things on their head. The minnows were having their day, and I was having a great time!
"But I didn't have great hopes for the race. Up to that point, the car had been terribly unreliable, so there wasn't much hope that it would last."
Hill passed Villeneuve's Williams at the start and slotted into second. Most observers thought he would soon drop back, and even the man himself didn't expect too much.
"I remember thinking, `Great, we've got a good start', but I expected Michael to disappear. I did what I was used to doing — hang onto his gearbox as much as I could and try to not let him get away.
"But as we went on I could see his tyres beginning to go. He was starting to slide around more and more. I couldn't believe it: he wasn't getting away, and he was really struggling. The Goodyears were just too soft and they were graining up like hell and causing him all sorts of grief. So he was a sitting duck, really. Except that this was Hungary, a track virtually impossible to pass on."
Which is why Schumacher was as stunned as the rest of us by what happened next.
"On lap 10 he came out of the last corner and was really struggling. I managed to get a tow from him down the straight and took a lunge down the inside. I knew that he had much more to lose than I did, and I squeezed through. I couldn't believe it! There I was, in an Arrows, leading a grand prix, having just overtaken Michael. It was the closest you can get to actually laughing while racing!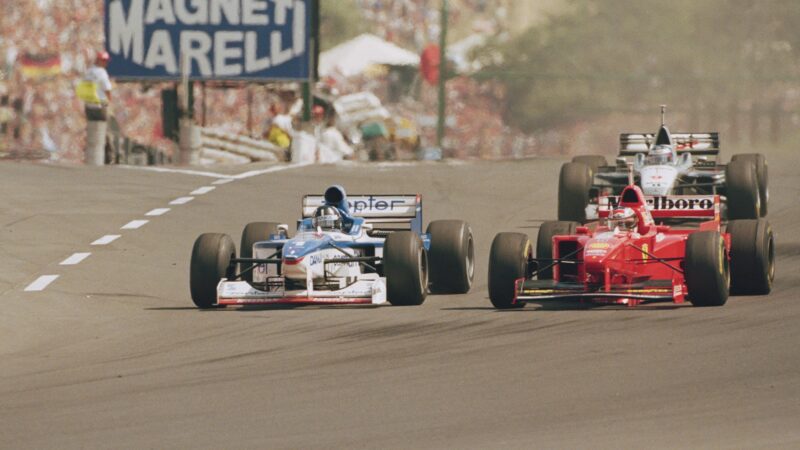 "Once I got past, I got into the same mode as if I was driving a Williams, which was, `Put the hammer down and get out of here, because we're going to need every bit of advantage.' I was pulling further and further into the lead. After lap 20, I thought, `If the car breaks down now, I've had a really good day, and I'll just be very thankful for what I've had.'
"But it just kept on going and going. I can understand why everyone was suspicious because it just did not fit the form book at all, but it was really just down to the tyres: Goodyear were too adventurous, Bridgestone had a better compound, and the track and the conditions suited our car perfectly."
Alas, the dream did not last On the penultimate lap Hill slowed suddenly, and former team-mate Villeneuve began to reel him in.