"I don't know," answers Charles Leclerc to the question of whether he is a tiger or tactician, a Villeneuve or a Prost as an earlier generation might have termed it. "As soon as I'm in the car I have that killer instinct, yes. I don't want to finish second or third, fourth or fifth; those places don't matter. I think it's a strength but it can also be a weakness. Some of the mistakes I've done this year are part of this mentality because I gave it all in moments that I could have just taken less. Not everyone will like me, but it's the way I am. This mentality has some positive aspects but can hurt in some other moments. I need to control it. With experience it will come."
Which is his 2019 season in a nutshell, a thrilling swoops and dives campaign in just his second year in F1, ecstasy and agony as Ferrari's youngest-ever grand prix winner, often the eye in the storm of controversy as he's delivered a performance that has out-shaded that of quadruple champion team-mate Sebastian Vettel.
One of the highlights of that season was his rescuing of a massive oversteer moment on his final Q3 lap in Singapore, as he turned the Ferrari into Anderson Bridge. It looked like the prelude to disaster yet he somehow scooped it up like a bike racer having a high-sider, but without the loss of momentum. Still he pressed on, to what would become the ultimate white-knuckle pole lap of the year. There were seven of them in total – two more than anyone else – but that was by far the most dramatic.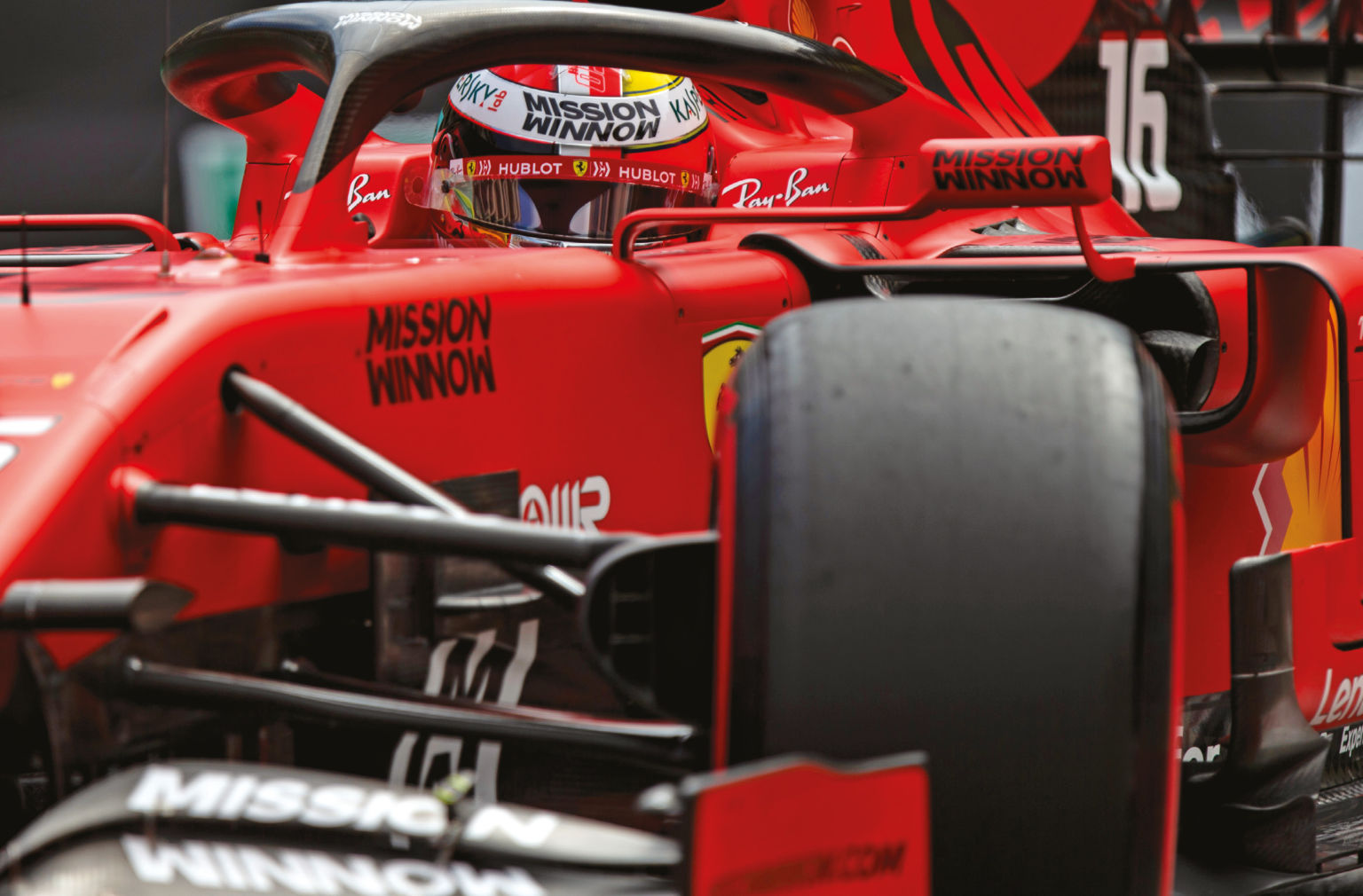 That's been his 2019; sometimes flying by the seat of his pants as he stretches himself against the world's best while still learning F1, but sometimes beating them regardless. Even ignoring the inconsistencies of the Ferrari SF90, his form has been variable as he fills up those empty data banks, but you sense he's in absolutely his natural place fighting at the front of F1, even at such a young age. He was 21 when he made the breakthrough to victory in Spa. He followed it up seven days later with another – at Monza, of all places.
In that Italian victory was seen the other component of Leclerc – other than his raw speed – that makes him such a captivating performer: steel. Behind the shy smiling charm, there is an assassin of a driver. Tough enough to fight his own corner in the team to grab an advantage over Vettel in qualifying. A 21-year-old kid who was then sufficiently immune to the subsequent censure from the heavy-hitting management of F1's highest-profile team to go out and deliver a flawless victory drive, happy to make wheel-to-wheel contact with an attacking Lewis Hamilton to preserve his place. When informed of the subsequent black/white warning flag, his innocent, "What for?" response fooled no-one. But this is exactly how we'd expect anyone with the right stuff to have reacted to someone trying to steal such a momentous achievement from him. This is what raw, competitive desire looks like up close.
Would Hamilton have fought the Roggia Chicane moment out with Leclerc in the same way – i e by driving partially off the track in avoidance – had he not still been chasing the championship? "No," Hamilton replied. "I'd have stayed where I was and we'd have crashed." But then Leclerc almost certainly had Hamilton's situation figured as he made the split-second judgement call. He's arrived in his natural place, fighting Hamilton – or anyone else – on equal terms, no quarter given.
"Deep down, I thought we had the edge on Mercedes this season"
Even as he received the news last year that he was being promoted from the Ferrari satellite team Alfa to the Scuderia, he seemed far from overwhelmed. "Yes," he answered in whether he could fight for the world title immediately. "If they have the car good enough, why not? I know I still have much to learn, but yes, absolutely."
There is no self-doubt within him. "My target this year was to improve as a driver, but arriving at the first race I think we all felt we had a shot at the title… We were trying to convince ourselves that we didn't have the edge that it had looked in testing. But deep down inside I thought we had an edge over Mercedes. It was a surprise to be behind them, and by quite a bit, at the first race. So it's been a good season; my first wins, the most poles. On the one hand I'm happy to take it but you always want more."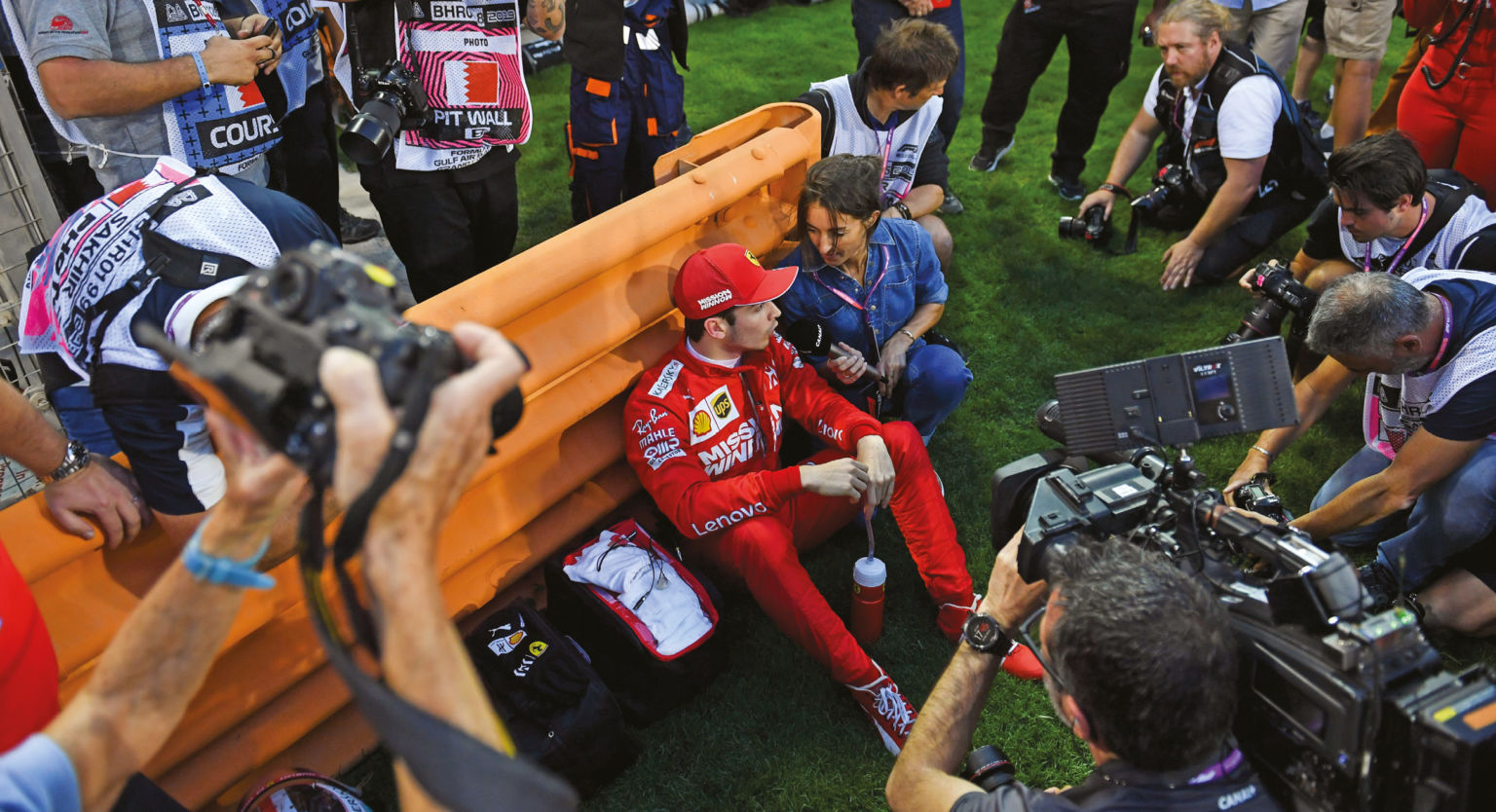 Two weeks after that difficult season-opener, he got to within 11 laps of a dominant victory from pole in Bahrain – until a short circuit intervened. Two snapshots from that weekend: with his car placed in its pole position slot, TV crews, cameramen, photographers surrounded him as he sat on the ground, leaning on the pitwall, totally calm as team members stressed at the difficulty of getting near him. The fuss was going on all around, with him serene in his bubble, everything under control. The second snapshot: a few minutes later, a couple of laps into the race: after losing the start and falling to third, he'd quickly picked off Valtteri Bottas and had rushed up to the back of the race-leading car of Vettel. "Guys, I'm quicker," he called to the pitwall. Which was Vettel's whole existential problem condensed into one radio message. Leclerc was told to wait a few laps and await further instructions. Five corners later, he took matters into his own hands and breezed by, apparently on his way to a dominant win.
Such big moments, yet he plays them as just incidentals. Momentous is just how it looks from the outside. His recounting of such moments is matter-of-fact, without rancour or emotion. "It's quite difficult at the beginning when you're told that on the radio especially coming from the junior formulas where you have none of that; you're never asked to do anything for your team-mate – it's yourself and that's it. But it's also clear F1 is a team game. So I understood the team orders situation, which we had a few times this season. But in some situations like Bahrain I was right to not accept it because I had more information in the car than people had on the pit wall. But I think now we understand, Seb and myself – and it was clear after Sochi – that we need to stick to the team orders. This will be the case now." The Sochi reference relates to Vettel not giving Leclerc the lead back after covering off the Mercs into the first corner, as arranged beforehand. It's clear team orders should be followed, he says – now it's established that he, not Vettel, is the team's cutting edge. Tough words, sweetly spoken, he walks the tightrope even as he talks.
That steely core is founded upon his inner understanding of his true level, the knowledge that he need fear no-one, that all he has to do is learn the specifics of the job – of F1, of Ferrari – to fill in the missing pieces and if the car is good enough, there is nothing out of his grasp. He has within him the stuff of legend. In years to come, his performance in the 2017 Baku F2 race will seem like just another fable in a career littered with them. Just a few days after the death of his father, he dominated the race from pole, immediately flew back to France for the funeral, then returned in time to win the top-eight reversed sprint race the following day. Of course he did, the story will go then – he was Charles Leclerc. Just like the legend will say 'of course he out-performed Vettel straight away'.
But it wasn't straight away. Over the first seven races, Vettel out-qualified him 6-1 and it was only in the subsequent part of the season that Leclerc's edge in raw speed was more consistently translated. "Yes, in the first five or six races I was just not driving well," he recounts. "I worked quite a lot on my qualifying pace, then the race pace – and I got better."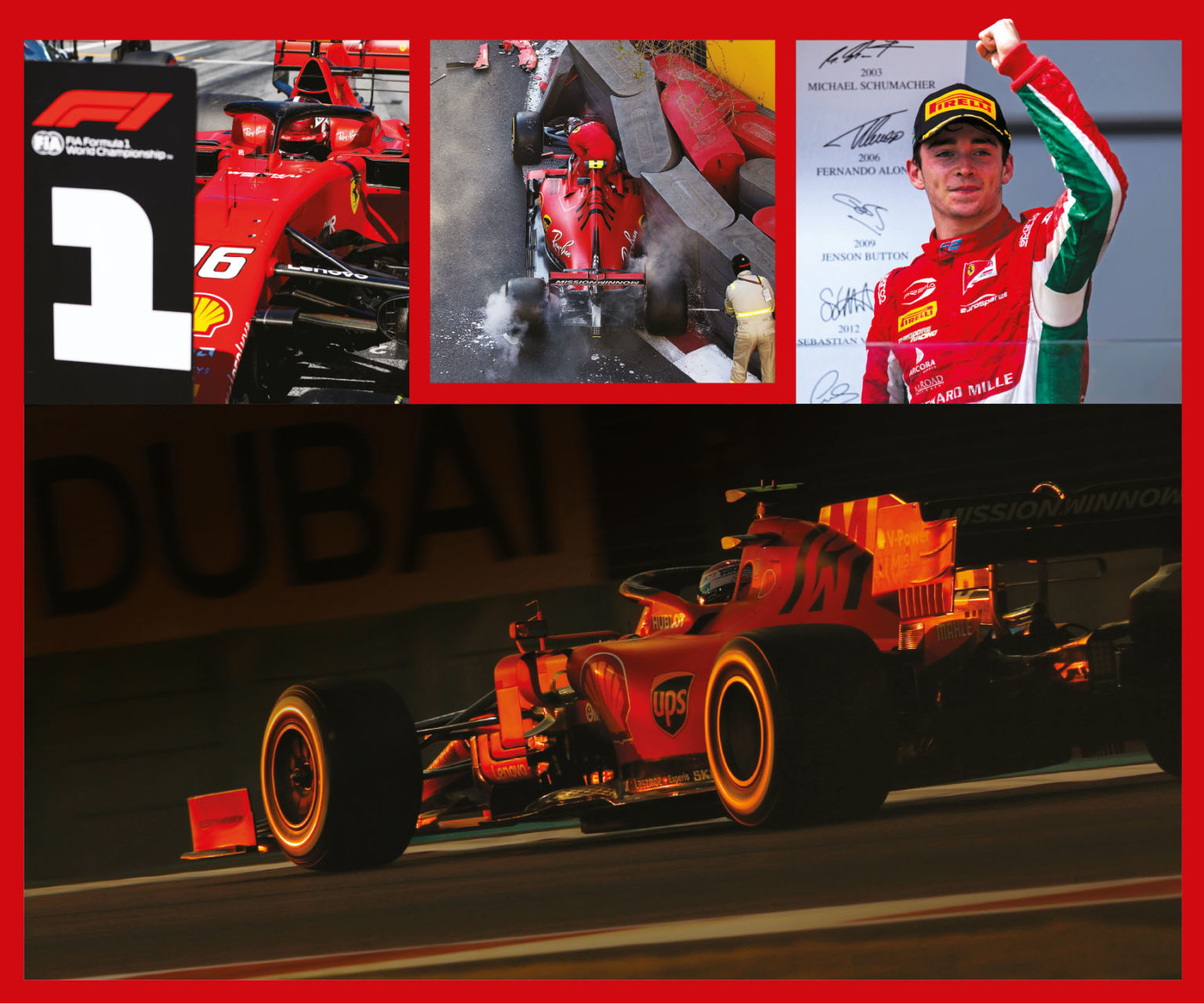 Drilling down a bit deeper into that initial phase, what was it that he felt he wasn't doing well? "Just knowledge and understanding, the things you need to get the best from yourself. It changes at each step as you go up the ladder. So initially this year, I was quite intimidated by how big Ferrari was and its historic standing, but I was trying to adapt myself to the car rather than pushing for the changes I felt I needed. But I started to get confident with the people and it helps you understand better what you want from the car. Last year when I came into F1 [with Sauber-Alfa Romeo] I didn't really know what I wanted from an F1 car, which has a lot more downforce. I was initially trying to drive it with too much oversteer, but at the speed it slides with such downforce, you have to accept a less responsive car. This year, with already an F1 season behind me, I had the idea more clear about that, but I wanted to adapt myself more to the car before asking for changes. I got a bit more confident than at the beginning of the season to ask what I wanted instead of trying to adapt. From that moment we made some good steps."
Anticipating how the car's behaviour would change during qualifying from Q1 through to the last laps of Q3 and setting it up accordingly was key to this, and where he learned from Vettel. Once that was achieved, his ability to be less affected than Vettel by rear-end instability made him more at home in the car.
But there were other lessons that were more brutal. Crashing out of Baku qualifying, having shown scintillating pace up to that point, was the most so.
"Yes, that was a tough lesson," he says. "Now I'm taking it more step by step from Q1 to Q3. I'm now giving it all in Q3 whereas before I was giving it all right from Q1. But Q1 and Q2 for us is not the most important."
The Azerbaijan track has a special resonance with him. As well as that double F2 victory in harrowing circumstances, it was also the venue at which, in his rookie year, he arguably showed his full potential for the first time in F1. His drive in the unfancied Sauber, running in the top six, hassling Kimi Räikkönen's Ferrari for a time and lapping up to 2sec faster than his team-mate, was probably what secured him the Ferrari seat. That was the event at which he learned he needed a calmer car than what he'd been trying to drive up to that point. This year, he learned he needed to be a calmer driver – up to the point in Q3 where he could unleash it all.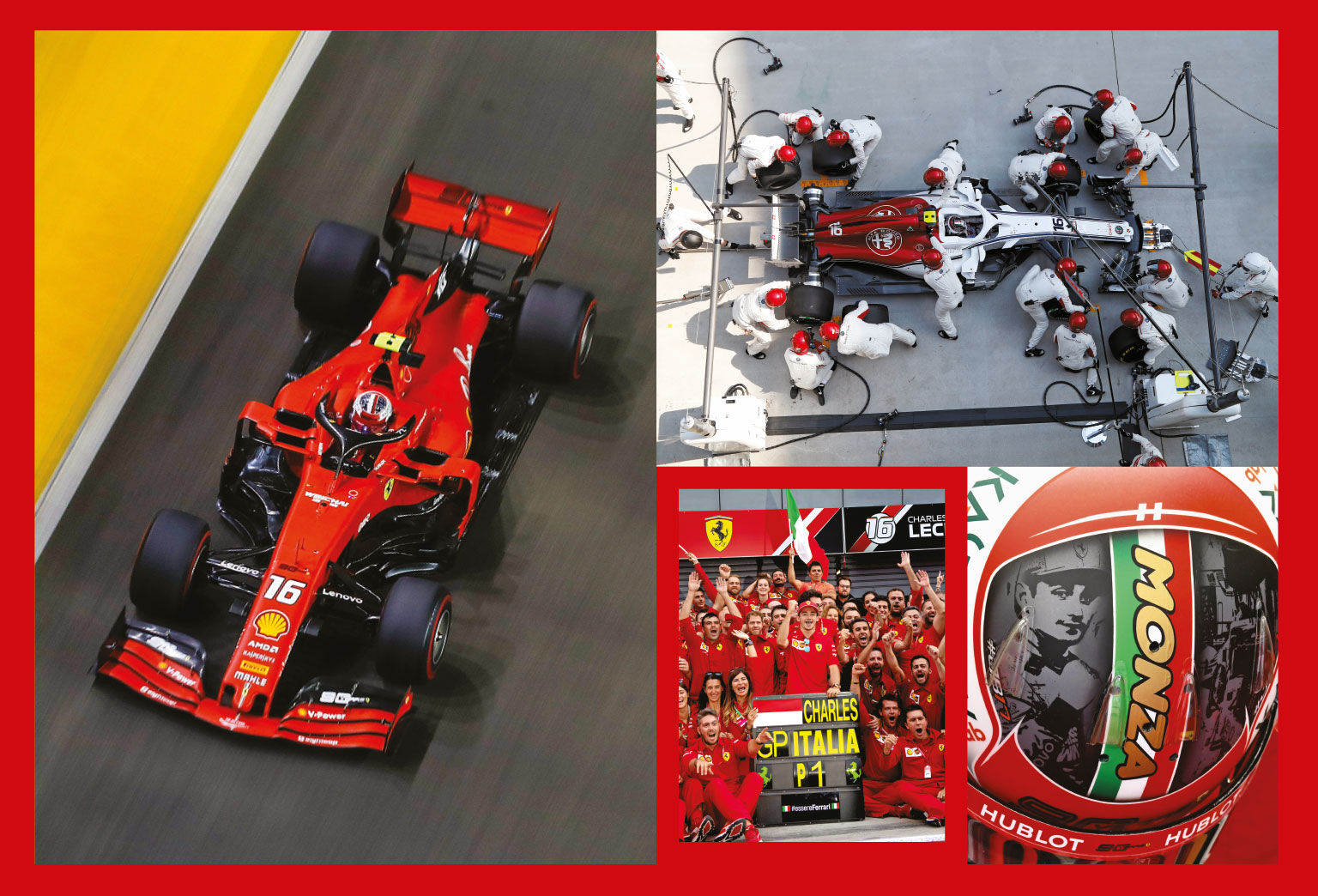 With those set-up and discipline lessons learned, he was accessing all his speed by the time of Austria, where he took a dramatic pole but lost out on victory a few laps from the end to his old nemesis Max Verstappen. The way Verstappen aggressively held him out to dry after passing down his inside, forcing him to either back down or make contact, put in place the final place of Leclerc's armoury. "After that I understood that was how we could race, and it was OK. Before that, my understanding of what would be allowed was different. No problem." As he showed in their thrilling dice one race later at Silverstone. They've been racing each other since kids – and look set to be thrilling F1 in wheel-to-wheel battles for years yet.
His racecraft, just like Verstappen's, is near-perfect. There's hardly ever a flustered moment where they put their car in the wrong place under pressure. Which has only added to the pressure he's piled onto older statesman, but still intensely competitive, Vettel. Two crashed Ferraris in Brazil was where that ultimately led. Leclerc's determination to dominate his senior team-mate has arguably at times compromised the team – as has Vettel's reaction to that. What began as niggly radio messages about who was holding who up, ramped up in Monza when Leclerc, having been towed by Vettel in the first Q3 runs, didn't reciprocate the favour – as pre-arranged – in the final runs.
There were extenuating circumstances, sure, but Mattia Binotto very much took Vettel's side and heavily censured his younger driver. When Leclerc drove that perfect victory from pole the next day, Binotto said, "All is forgiven." It was difficult not to think a new hierarchy had been established. Earlier in the year, when asked of Vettel's nominal team-leader status, Leclerc had cleverly said: "I think there should be priority, yes. At the moment it's him, but it's up to me to prove my performance to change that situation."
The incidents since – the team orders controversy in Russia, the Brazil collision – have been about Vettel fighting back, but not prevailing…
"As a team, we need to be less aggressive with each other. We need a balance"
"I don't know," says Leclerc to whether he has now done enough to be given priority. "This question should be asked to Mattia. On my side I'm very satisfied with how my season has gone. I've grown a lot; there's still a lot to learn, obviously. But I'm satisfied with what I've shown. I hope to grow still as much as I did in this season.
"I still think it's a team sport, especially when you are fighting against another very strong team; you need to have the two cars available to help each other. On the other hand there are certain situations where the driver needs to be a little bit aggressive. Brazil was very unfortunate, because the touch was extremely small but had a big drama. But as a team we should probably try to be a bit less aggressive with each other. You need to find the right balance."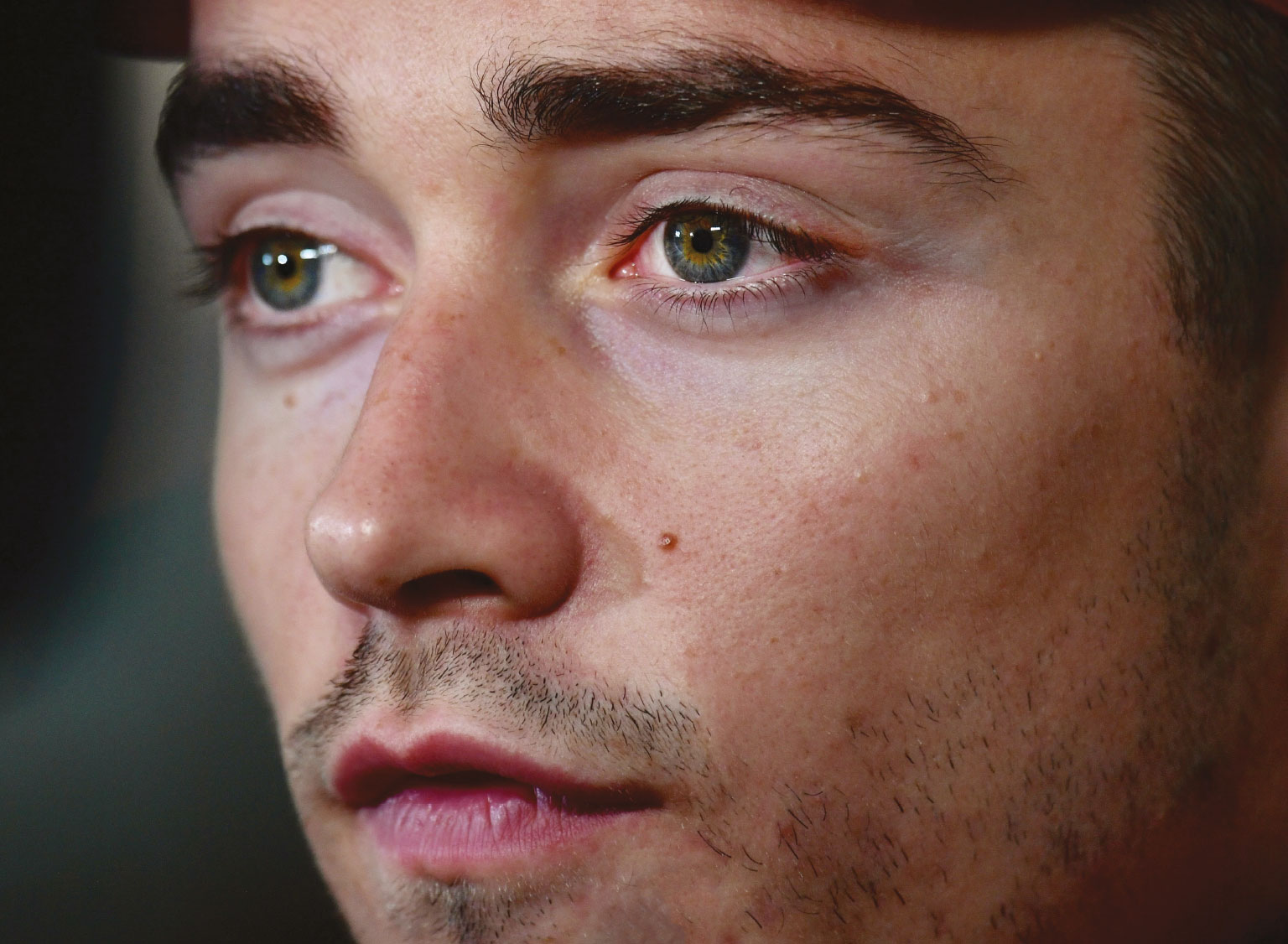 But that balance is a tightrope – between personal ambition and being part of a team. That's where the fault line always is at times of maximum stress, and Leclerc's performance has applied that stress virtually every time out. It's tough situation for Binotto to manage.
"Mattia looks very calm. He is, but he also knows how to be hard in the difficult moments like after Sochi for example, or Singapore. There are many examples. Whenever he says something he strongly feels it. I believe it has been respected after he's asked for something."
Leclerc's walking that tightrope even in his answers. Just as he will always do in the car. The tightrope walker is set to have the crowd thrilled and gasping plenty more.