F1 2021 season review: Down to the wire
There hasn't been a Formula 1 year like it since the 1970s, and even then that title fight could barely hold a candle to the dramatic twists and turns that 2021 treated us to. It had the lot: rivalry, heartbreak and brutal racing – and it held us spellbound. Mark Hughes looks back at a classic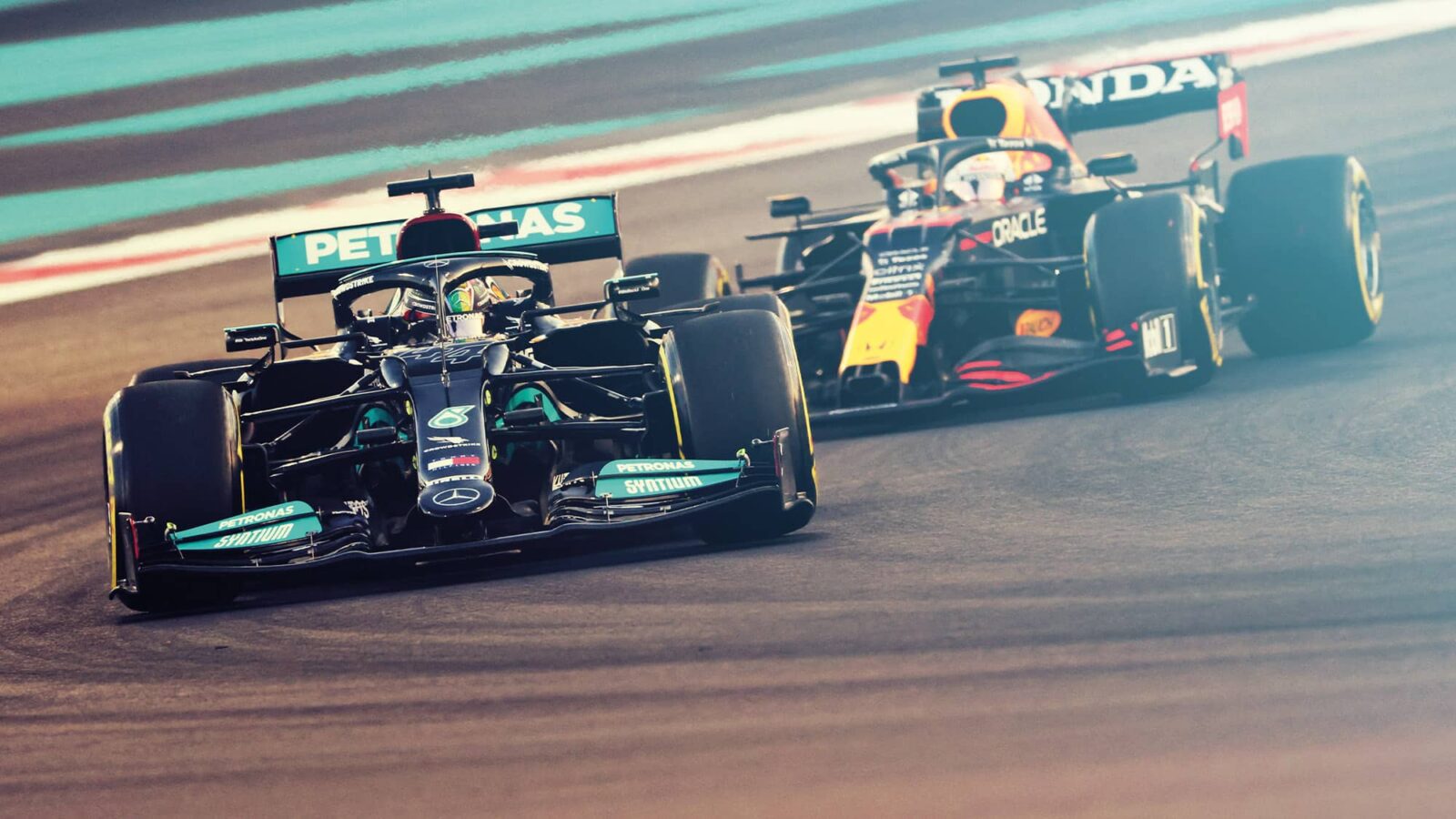 Forget for a moment, if you can, the way the outcome of the Abu Dhabi finale – and therefore of the whole championship – was decided. Let's just focus on the incredible season up to that point which brought Max Verstappen and Lewis Hamilton to that decisive weekend on an identical points score.
It was a story with so many points of significance: the king of the pride finally facing the full ferocious onslaught of the young pretender. The full-on intensity of Verstappen's attacking style, his fearless no-compromise wheel-to-wheel style versus the measured, wary, multi-dimensional approach of Hamilton, who still had the sting of stunning pace within him when required. Their year-long duel made it the season of yield/no yield, of building tensions and the inevitable flashpoints from conflicting codes of on-track conduct, of a whole new fan following and how it clashed with the traditional. In the age of Netflix the circus kept rolling along, gathering new followers, doing much-needed great business after the commercial disaster imposed on it by the first year of Covid. All this while continuing to transition itself from an exclusive celebration of conspicuous consumption to something more everyman and carnival, something which could stake a claim to a future in a new, more environmentally and socially aware age.
The traditionalists might hate that even their beloved sport has incorporated what they see as 'woke'. But woke literally means being alert to injustice and that's a major preoccupation with the generation F1 is seeking to engage with. But simultaneously F1 was trying to save its commercial bacon after the disaster of 2020, so laying itself badly open to charges of hypocrisy as it took big money from regimes with poor human rights records. But for any of that to have much meaning, there needed to be a contest on track and boy was that delivered this year.
We need to go back to September 2020 for the seeds of why '21 was such an epic contest after years of Mercedes domination.
Ferrari had not liked the ruling on Racing Point's (aka the pink Mercedes) rear brake ducts – a fine and the loss of a few points – and so was pressing ahead with its appeal of the decision. Suddenly, it wasn't. Ferrari never lets such things drop unless there's a compensation of getting what it seeks elsewhere. Just as Ferrari dropped its appeal a new addition to the aero regs restriction for '21 was revealed. This suited Ferrari very well, very well indeed. For two reasons…..
This tweak to the '21 regulations came several months after the original one – a floor trim for a tyre construction that was never meant to see another season of car development, but which Covid had made necessary. Was that a glint in Ross Brawn's eye when ways were being discussed of keeping the load off the rear Pirellis? A floor trim, you say? Which may hurt a low-rake car (Mercedes) more than a high-rake one (Red Bull) and thereby maybe give a more even contest just as F1 badly needed a great season? Not such a bad outcome as collateral damage goes.
But the early feedback from simulation was that the teams were more than recovering the downforce loss resulting from the reduction in floor area and the ban on the floor slots and louvres. Perhaps those Pirellis – which were of a stronger construction for '21 anyway – needed a bit more help? Maybe along the lines of what Ferrari was pushing for.
Suddenly the airflow link-up between the strakes on the rear brake ducts and those on the diffuser was cut by limiting their length. Not so damaging on a high-rake car, of course, where the diffuser comes up with the car on its suspension to get closer to the brake duct. But very definitely a further blow to any low-rake car, as that little aero tool had just lost a whole lot of its power with a snip of the regulatory scissors… So Brawn's former team, Mercedes, took a bit of a hit. Imposed but for the good of the sport and arguably rebalancing the scales which had been in low-rake's favour since the 2017 advent of the wide cars.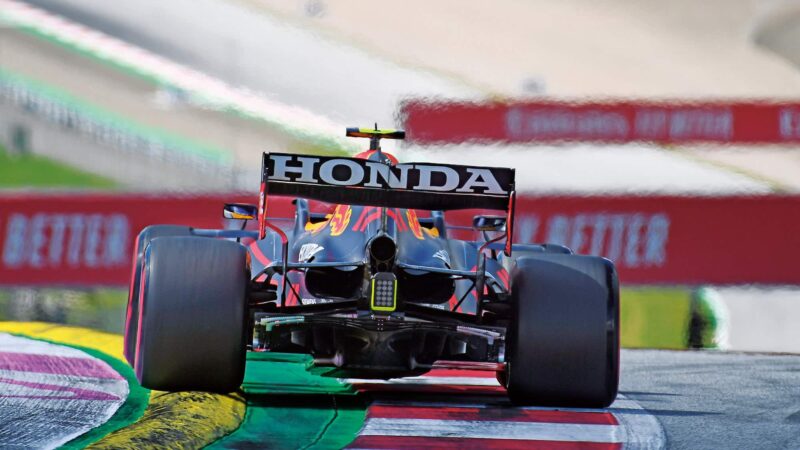 Meantime, back at Milton Keynes, an aero department believed it had figured out exactly where it had gone wrong with the 2020 car and had it understood earlier what it had since discovered, it could have beaten Mercedes even in 2020. It seemed like a bold claim. But regardless of how Mercedes was impacted by the regulation change, Red Bull was able to make a big jump in evolving last year's RB16 to 2021's RB16B, despite the regulatory requirement of teams having to retain existing chassis, with only two development tokens for prescribed areas available to use. Red Bull used its tokens to create a new gearbox casing, which mated up to a radically more swept-back rear suspension (taking its cue from the 2020 Mercedes), ingeniously achieving this through using the regulation existing mounting points, but for different purposes.
Honda meanwhile – in its final year of official participation and determined to go out with a bang – brought forward what had been intended as its 2022 engine (before the board had decided to pull out). It was a big step, with bigger valve angles allowing a lower cylinder head and a redistribution of engine power and recovered energy. Also, the RA621 unit was tiny. Tiny and Mercedes-potent.
All those things combined to give Max Verstappen a car fully competitive with Lewis Hamilton's Mercedes for the first time in his career. A battle for the ages was thus set in place and their differing attitudes wheel-to-wheel ensured it played out with sparks and Netflix-enhanced bangs. Never more so than at Silverstone, Copse lap 1 where Hamilton's attack met with Verstappen's resistance and speared the Red Bull into the wall. That 51g point of impact marked a competitive fulcrum upon which the rest of the season pivoted.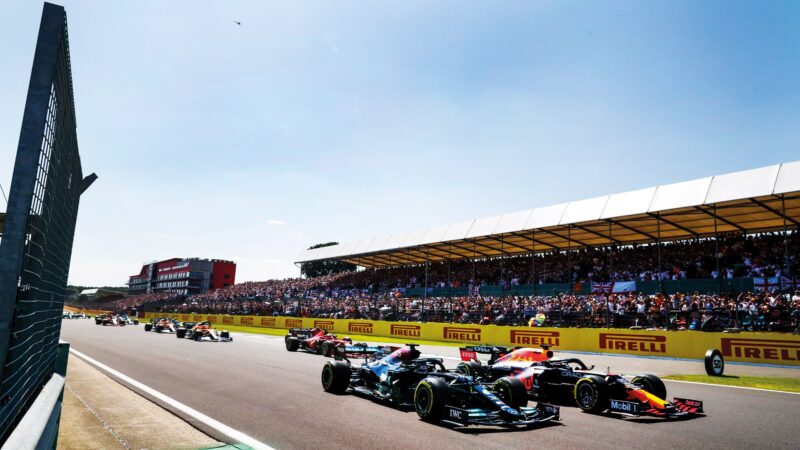 Red Bull had gone to Silverstone holding a 42-point lead in the constructors' championship and with Verstappen 32 points ahead in the drivers'. The team left there with a wrecked car and power unit, Verstappen's lead reduced to just eight points and the prospects of racing a Mercedes which was suddenly around 0.3sec faster than it had been.
This was the race at which Mercedes introduced its only big upgrade of the season before devoting the tunnel full-time to the 2022 car. It was a powerful upgrade which changed the competitive dynamic between the two teams. As a very broad generalisation, and with exceptions, the Red Bull was the faster car in the season's first half, the Mercedes in the latter half.
---
Lewis v Max neck & neck
Not since 1974 had two title contenders gone into the season finale level on points at the top of the championship. Here's a recap of how Verstappen and Hamilton made history
---
The Red Bull, with its high-rake concept, could be loaded up with more downforce. The low-rake Mercedes was more aero-efficient, could combine good downforce with much lower drag. But it was nowhere near as balanced as the 2020 car, as far as Hamilton was concerned. He'd spent the previous few years nudging the aero guys to see if they could move the aero balance ever-more rearwards in the car's basic concept while retaining the targeted efficiencies. That way, he could attack the corner entries hard and know the rear wouldn't be upset. The 2020 car was the ultimate evolution of that process – one which the 2021 floor restrictions destroyed. So there was the basic shortfall in aero performance inflicted by the restrictions and on top of that the way the changed balance no longer allowed Hamilton to fully exploit his ability to take crazy-high entry speeds into a turn and make it work.
The Silverstone upgrade was a powerful step back towards what both Hamilton and the car needed. It was all about enhancing the diffuser stall once beyond a pre-set aero load so that the car would sink upon its rear suspension to such an extent that the diffuser would stall, significantly reducing the drag and enhancing straightline speed. This allowed bigger rear wings to be used for a given level of drag, and even for a greater degree of rake to be used for more downforce, given that the extra drag was now compensated for by the stall. All cars use diffuser stall, but it was made into something much more effective on the low-rake Mercedes. From there, Red Bull was generally on the back foot. Only high downforce-rewarding tracks such as Zandvoort and Mexico allowed it to dominate like it had in the first half (Red Bull had taken five consecutive victories between Monaco and Austria) and occasionally the demands of a track might favour its superior ability to control rear tyre temperatures (such as in Austin). But generally, Red Bull was fighting a rear-guard action right up to and including that Abu Dhabi finale.
Throughout it all, whether attacking or defending, Hamilton had to keep a wary eye on Verstappen. After stealing an opportunist victory from him in the Bahrain season-opener through a bold early stop/defensive late stint strategy, Hamilton was under aggressive attack from Verstappen into the Imola first corner, the Red Bull inside and edging the Mercedes over the kerbs. It was to become a Verstappen motif: yield or we crash. Hamilton yielded – and later crashed all on his own, the trip into the gravel being Hamilton's biggest blunder of the year, albeit rescued by a subsequent red flag. Portugal was won through Hamilton's smarter use of the tyres allowing him the traction to give him the entry speed onto the straight with which to overtake the Red Bull. On actual straightline performance at this stage of the season, they were very equally matched as the Merc needed more rear wing than it would do post-Silverstone. Spain was won by the Mercedes' better end-of-stint tyre performance. Then began the Red Bull streak, with Verstappen victorious in Monaco, France, Styria and Austria. Only a tyre blow-out while dominating Baku (giving team-mate Sergio Pérez his only win of the year) prevented Verstappen from winning five on the bounce. Charles Leclerc underlined his brilliance and Ferrari's big improvement with consecutive poles at Monaco and Baku but the car couldn't conjure such form on the faster tracks despite the great driver combination of Leclerc and new recruit Carlos Sainz.
Hamilton won Silverstone with Verstappen in hospital for check-ups and that's when the niggle between the two camps ramped up. It only intensified two weeks later in Hungary when a Valtteri Bottas misjudgement at the first corner took both Red Bulls out of contention. The Merc pitwall made its own misjudgement in not pitting Hamilton at the end of the re-started formation lap, opening the way for the feel-good victory of Esteban Ocon's Alpine. In Spa it was never safe enough to race and Verstappen's pole effectively ended up being awarded victory half-points, and George Russell's truly astounding second-fastest lap in the wet for Williams rewarded, too. Poetically, Zandvoort's return to the calendar gave Verstappen the perfect track layout for his car and he dominated – just as Mercedes should have done at Monza, but didn't, as a run-on consequence of Hamilton blowing his start in the sprint race and laying the foundations for a great McLaren 1-2, Daniel Riccciardo from Lando Norris (very much against the seasonal run of play between them). This was the race where Verstappen's car ended up on top of Hamilton's as they each refused to yield, just as at Silverstone. Norris took a brilliant pole in Sochi and looked to have the attacking Hamilton under control until a late rain shower deprived him of his first win. Turkey was Bottas's day with Hamilton only third after a 10-place drop for a new power unit, reliability beginning to worry Mercedes, with a batch material problem around the bottom end.
Austin and Mexico were Verstappen all the way, the Merc not in a happy place at either venue. A fundamental re-think on set-up prior to Brazil seemed to release the full potential of the Silverstone upgrade for the first time. That and another fresh PU for Hamilton put him in spellbinding form: last on the sprint race grid to victory in the main event, making 24 overtakes along the way. It was like the new set-up had released the full irrepressible Hamilton for the first time. Even Verstappen's Turn 4 refusal to be passed by driving off track couldn't stop him. Qatar and Saudi Arabia fell to Hamilton too, the latter under highly controversial circumstances as Verstappen seemed uncaring about whether contact was made, including braking at 2.4g while ostensibly giving Hamilton the place back after an earlier illegal pass. Then to Abu Dhabi and Hamilton's apparent drive to victory in the dominant Mercedes, in full control and imperious out front. Then came Latifi's crash and from there it all went crazy and Mercedes had to be content with only the constructors' title. But we enjoyed sustained brilliance from two of the all-time great drivers in opposing camps in very different cars, which lifted this season beyond the norm. Beneath the carnival surface, it was something very special.