1959 United States Grand Prix race report: Brabham gets it over the line
Cooper's Jack Brabham pushes his car over the line to become the World Champion whilst team-mate Bruce McLaren becomes F1's youngest ever winner
The first Grande Epreuve to be held on United States soil was organised by Alec Ulmann of the Automobile Racing Club of Florida at his semi-aerodrome-cum-road circuit, at Sebring in Florida. The circuit, which is 5.2 miles round, consists of fast runways with artificial corners lined with rubber tubs, and a section of road which is the only bright spot on this circuit.
The course is a fairly winding one, which is heavy on brakes and tyres. From the start a concrete runway goes straight for a short distance, then there comes a left-hand tub-marked corner, followed shortly by another such left-hander; at this point there is a change of surface, from concrete to tarmac; a short straight brings the drivers to the esses, which is one of the few tricky parts of the circuit.
Next is a short straight leading to a sharp hairpin followed by a much longer straight between hangars to a sharp right and left, back on to the concrete perimeter where through two tub-marked right-handers the course comes back behind the pits to a wide radius 180deg turn 200 yards from the startline. This is the lap, and the most difficult thing for the drivers in the featureless open spaces in the middle of this aerodrome is to find a fixture for braking points and lines through corners. In fact parts of the circuit resemble a driving test layout at a small British club meeting.
Qualifying
Practice started on the Thursday with Brooks taking out each of the four Ferraris in turn before the other drivers were allowed out. Two of the cars were the normal length F1 cars while the other two consisted of a 10cm longer F1 car and a F2 frame with a 2.4-litre single overhead camshaft per bank engine. The F2 car had conventional rear-end but the three F1 cars had new independent rear suspension, with double diagonally braced wishbones and coil spring damper units; drive was through sliding splined universally jointed half-shafts. Brooks and von Trips took the two shorter independently sprung cars, Allison the longer car, while Phil Hill drove the blue-and-white-painted F2 framed car.
"Moss finished up with a 3min dead, which was 3sec faster than any other driver"
Rob Walker's two cars to be driven as usual by Moss and Trintignant were quickly out practising. Trintignant's car was unaltered since the last outing but Moss' car, the same one that he used to win at Portugal and Monza, now had coil rear suspension, basically designed by Stirling himself. To mount the coil springs, a squared-up tubular frame was mounted vertically on the two heavy curved chassis members which come down to the rear of the gearbox. This frame is mounted over the line of the drive-shaft and the coil spring damper unit runs from a point just above where the half-shaft enters the hub carrier and goes up through the top wishbone to the new vertical bracket. Any doubts as to whether this would work were soon removed by the ease with which Moss lowered his times, finishing up with a 3min dead, which was 3sec faster than any other driver.
The Cooper team were only running two cars, to which there had been little or no change since Monza. These were driven by Brabham and McLaren, their third driver Masten Gregory was still medically unfit after his dramatic flying act in the TT at Goodwood.
Team Lotus were represented by Innes Ireland and Alan Stacey. Ireland was driving as No 1 in place of Graham Hill, who will be driving for BRM and Porsche next season. The only other serious Grand Prix competitors were Harry Schell with his F2 Cooper which had been fitted with a 2.2-litre engine, and Roy Salvadori driving Tommy Atkin's Cooper-Maserati.
The rest of the field was made up of the motliest collection of "also-rans" that ever graced a Grand Prix circuit. First Bob Said was driving a toothpaste-tube Connaught, which was the C-type, one of the last cars they built. Unfortunately for Connaught Engineering Company's reputation this car was down as an official works entry. The time of 3min 27sec was obtained only after many single lap runs with much popping and spluttering.
Next came de Tomaso in a very nicely-finished 1½-litre OSCA fitted in an old Cooper F2 chassis but with a slightly different and very pretty body, but against F1 cars it was completely outclassed. Mike Taylor's Cooper-Climax was looking very old and battered, and was to be driven by Constantine, who had just returned from winning the Nassau Trophy race in a 4.2 Aston Martin. Constantine who is a top sports car driver over here found a single-seater Formula car a lot more difficult to drive in a polished way.
The Tec Mec driven by Fritz d'Orey did not run in the first practice because there was no compression on Nos 1 and 2 cylinders when it came off the ship, and its very slow progress in the second practice indicated to the faster drivers that, if by some miracle, it kept going, they would be required to negotiate yet another mobile chicane. Phil Cade's 250F Maserati fortunately for all concerned wore itself out after a few practice laps and was unable to start. Blanchard was running a single-seater Porsche RSK which was slow but consistent.
Steve Wilder withdrew when his F2 Lotus failed to turn up on time and the Venezuelan-entered Maserati also failed to turn up. This leaves us with the last of this almost record number of "also-rans" and that is Rodger Ward's 500 Leader Card midget speedway car, powered by a four-cylinder port injection Offenhauser engine with solid front axle, torsion bar rear suspension, two-speed gearbox, and two-speed differential, external lever-operated Hali-brand disc brakes, adjustable radius arms to each corner, so that it can be set up for different tracks, and Firestone 12in 4.50 front and 12in 5.50 rear tyres. Though Ward drove with great skill and nerve he was completely outclassed by all other cars, even the Tec Mec.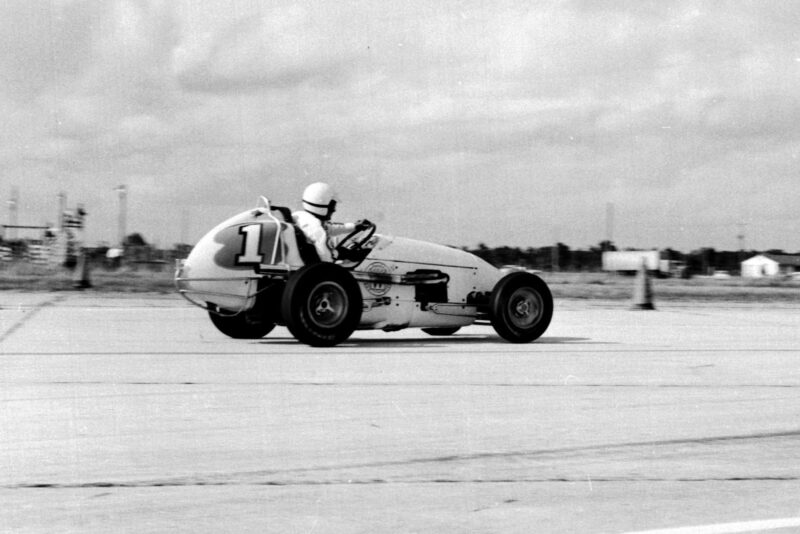 After all the cars that were capable of practising finished this first training period, Stirling Moss was way ahead of all opposition, with a time of 3min dead, a speed of 104mph. This was quite an eye-opener to most Americans as it was 20sec faster than his own previous Aston Martin-held record. Behind him came Brooks, 3min 5sec, driving von Trips car; Brabham, 3min 5.2sec; Trintignant, 3min 6sec; von Trips 3min 6.2sec. Phil Hill 3min 7.6sec; McLaren 3min 9.6sec; and Ireland 3min 12.1sec.
After first practice Lotus mechanics changed their gear ratios up by 2 cogs, while Coopers dropped theirs. Ferrari were also wrongly geared although this was one of Maranello's lesser worries; the most important was still the handling qualities. The drivers were complaining of over and understeer, and compared with the Coopers, which are at least consistent in behaviour, they were very ragged on all types of curve.
On Friday the temperature was up quite a lot and most European drivers were enjoying the warm weather. The Porsche failed to turn up for practice, no doubt happy with its previous day's time. In his place, however, the Tec Mec trundled round slowly to the annoyance of the faster cars. The Ferrari team were trying to get their times down and there was hardly any one time when all the cars were in the pits.
Brooks managed to reduce the time for his own car from 3min 8.9sec to 3min 5.9sec, but was 0.9sec slower than the previous day's time in von Trips' car. Both Brabham and McLaren improved on the previous times, Jack clipping off 2.2sec, to give him a time of 3min 3sec and McLaren 1sec, to give him a time of 3min 8.6sec. The change of gearing improved both the Lotus times by approximately 5sec, Ireland to 3min 8.2sec, and Stacey to 3min 13.8sec.
The Walker equipe seemed happy with the previous day's times and made no effort to improve them. Rodger Ward's car was running in an engine, the previous one having thrown a rod at the end of the Thursday's practice. So with the end of practice and announcement of the final times, all was set for the Saturday's race. Several moans were heard from the faster drivers who were complaining about the "also-rans," whose erratic behaviour as they were being lapped was disconcerting. Coopers swapped over cars as there was some obscure water trouble in Jack's car, and in the last stages of practice McLaren broke the drop gears on his car, but this was easily repaired in time for the race.
Race
Race day was sunny with a very strong wind blowing. Before the start, there was confusion on the grid as Harry Schell insisted that he had a better time than he was given and somehow forced the officials to put him in the front row of the grid in place of Brooks. A counter argument by Ferrari's livid team manager Tavoni was unable to succeed in altering the decision, so with a High School band and Majorettes marching up and down in front of the grid, prayers were said, the National Anthem sung and the utter confusion on the start line manually sorted out, the PA system fortunately having broken down so that "your No. 1 commentator" couldn't bawl people off the line. Bob Said in the Connaught, unable to start like any normal driver, had to drive two warming up laps of the starting area. This was all the car was capable of, as it didn't complete the first lap!
When the flag fell it was Brabham who shot away first, but Moss had taken the lead before the first corner, with Brabham and McLaren, who came through from the fourth row of the grid, behind them came a complete mass of red, green and blue cars.
"Somewhere out on the first lap von Trips rammed his team leader, Tony Brooks, damaging his nose cowling"
Somewhere out on the first lap von Trips rammed his team leader, Tony Brooks, damaging his nose cowling. Brooks pulled into the pits at the end of the lap to check the damage.
At the end of the first lap the order was Moss, Braham, McLaren, Hill, Ireland, Trintignant, Allison, Salvadori, Schell, von Trips, Constantine, d'Orey, de Tomaso, Ward, Brooks, Blanchard and Stacey. Bob Said was already out, as on the next lap was Stacey's Lotus with a burnt-out clutch. After the Ferrari mechanics had checked Brooks' car he started off to climb through the field and in fact he moved up from 15th place on lap two to sixth place on lap 10. lnnes Ireland was having a real go in the remaining Lotus and on the second lap he passed Hill into fourth place only to be repassed by Allison, whom he pushed very hard for many laps.
On the fifth lap Moss was leading by 10sec from Brabham and McLaren, when his gearbox packed up and he coasted to a stop in the esses, his chance of the World Championship shattered for yet another year. Brabham, on taking the lead, slowed up and McLaren closed up on him, and these two ran in convoy until the last lap, giving a demonstration of high-speed Cooper driving.
On lap six Constantine retired followed in the next few laps by Schell (clutch), P. Hill (clutch and brakes) and de Tomaso. So by the 11th lap the field had been reduced by almost half to 10 cars. At this point the moderate crowd started to go home, as the racing they were used to is closer and more spectacular, and 10 cars spread over 5.2 miles, with the leaders, quite rightly, touring home in convoy for first and second places, must seem dull to the ordinary spectator.
For the next 10 laps the order was unchanged, while Trintignant was making half-hearted efforts to pass Allison; Moss, who had walked back to the pits, began signalling for him to go faster, and on lap 24 he passed into third place and began closing very slowly on the two leaders. Back on lap 20 we saw the passing of Ward, with clutch burnt out, and on lap 24 Allison who had sounded very rough for some laps pulled into the pits and retired, while on the opposite grass verge, Salvadori retired with transmission trouble.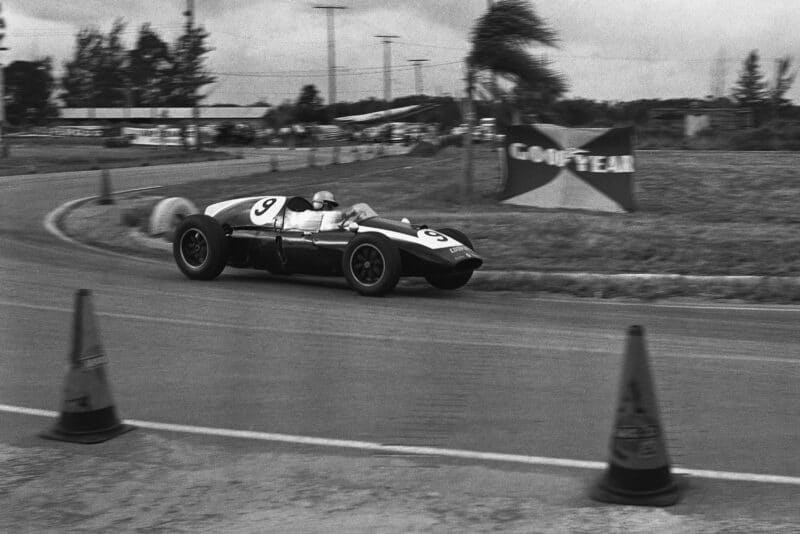 And so with only seven cars left the race settled into its final stages. The four leaders, Brabham, McLaren, Trintignant and Brooks were the only ones on the same lap. Trintignant, to the encouragement of his pit staff, was putting the pressure on, and closing the gap at about 1sec a lap. In doing this he succeeded in getting the fastest lap at 101.11mph in 3min 5sec which was held till then by Moss.
As the leaders started their last lap, von Trips parked his Ferrari in readiness to push it over the line. Trintignant was only 4.8sec behind Brabham and McLaren, then came drama a mile from the end. Brabham ran out of fuel, loose carburetters tapping the body giving a rich mixture, being the reason given for this unfortunate incident. McLaren swept past into the lead and took the chequered flag by half a second ahead of Trintignant.
"So surprised were the organisers and officials that there was no cheering, only a confused mumbling"
So surprised were the organisers and officials that there was no cheering, only a confused mumbling and it was some time afterwards before some people realised what had happened. In the meantime, Jack Brabham had started pushing his car towards the line, 400 yards with a very slight uphill gradient. Before Jack could reach the finishing line Brooks passed him into third place, Ireland came fifth three laps down, while von Trips pushed his Ferrari over the line, but was not allowed his lost lap, as it had taken longer than the time laid down by the FIA, so he was sixth, four laps behind the winner. Seventh came the Porsche RSK, and still Brabham was pushing towards the finish, and when the World Champion did eventually cross the line he collapsed, to the cheers of the crowd.
So ended the first American GP, and though the circuit isn't any good as it stands for Grand Prix racing, nor the organisation up to European standards, I hope this is the start of Grand Prix interest in the USA.
Sebring Sayings
During practice the PA commentators kept up a continual barrage of words, advertising, backchat and a little information. Fortunately on race day the system had broken down which gave one day of peace.
Stirling Moss had his usual brush with the police, his wife said their trip to Sebring would not be complete without being arrested at least once. The Sebring police are as bad, if not worse, than any other police force, fortunately they don't allow them on the circuit.
Pit area marshalling was very amateurish and was annoying to most pit staff.
During practice a car knocked over a number of markers, and three laps later Brabham was still slowing to ask marshals to re-erect them. These tub-lined runways make this circuit very unsuitable for Grand Prix racing.
When Moss' car arrived it had a picture of Brabham cornering hard pasted on to the mirror, which for five laps was applicable.
During the National Compact car race before the GP a Fiat, No 74, was running. The timekeepers were a little confused by this number as it didn't exist in their official lists, but it wasn't till the end that the organisers found that it was some joker who just painted numbers on the car and went racing. I wonder if this would be possible in the saloon car race at Silverstone.
In the formula Junior demonstration on the day before the GP the Stanguellini's dominated to such an extent that no other car got a look in. Although in Europe we hope to keep Formula Junior for the up-and-coming drivers, some top American sports car drivers are driving in Formula Junior events over there and no doubt will continue to collect all the best prize money.