Lunch with... Christian Horner
In seven seasons, Horner has led Red Bull Racing from struggling F1 outfit to the dominant force in the pitlane. And all because he could admit to himself that he wasn't going to be the next Vettel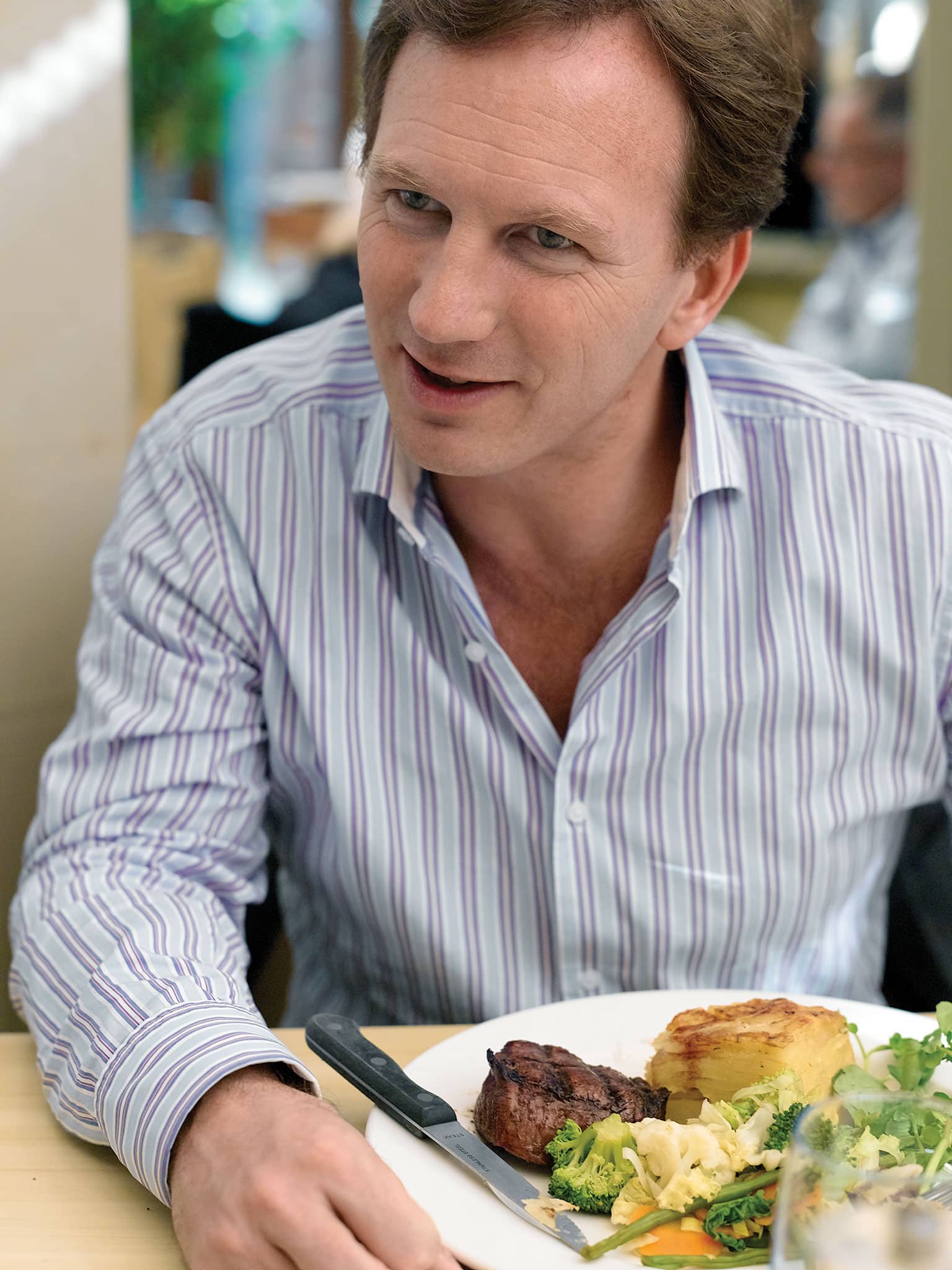 In the business world, management is all. The best managers earn the biggest salaries; companies with good profit growth are said to be well-managed. Management is studied at universities and business schools, and on countless courses. Bookshops' shelves are stuffed with textbooks claiming to help the reader become an effective manager. Management, they say, is what lies between success and mediocrity.
Christian Horner heads up today's most successful Formula 1 team, managing 550 staff and budgets running into hundreds of millions. Yet he has benefited from neither university nor business school, and I very much doubt if he's ever read a management textbook. When I ask him what a manager actually does to make his racing team win, he finds the question difficult to answer.
But if anyone knows, he should. He has run Red Bull Racing for seven seasons. He came in at 31 years of age, with no previous F1 experience, just after energy drink billionaire Dietrich Mateschitz had bought the ailing Jaguar team. Despite having the might of Ford behind it, Jaguar's F1 record was feeble. In five seasons the team had a succession of high-profile managers, including Bobby Rahal and Niki Lauda, but never won a race. In 102 F1 starts it achieved a couple of third-place podiums – and 74 retirements. Its best placing in the constructors' championship was seventh.
Christian's first four years at Red Bull were tough, but his single-minded vision never wavered, nor did the belief and backing he received from Mateschitz. In year five his team won six Grands Prix and 10 podiums, and finished second in the drivers' and constructors' championships. Year six brought real glory: World Champion driver, World Champion constructor, 10 victories and 11 podiums, defeating the might of Ferrari and McLaren in a closely-fought season. And in 2011, year seven of Christian's reign, it has been near-domination. As these pages went to press the last two rounds were still to be fought, but Red Bull already had both championship titles done and dusted. In 17 Grands Prix Sebastian Vettel had started from pole 13 times, taken 11 victories, and only been off the podium once. Mark Webber had added nine further podiums to that tally.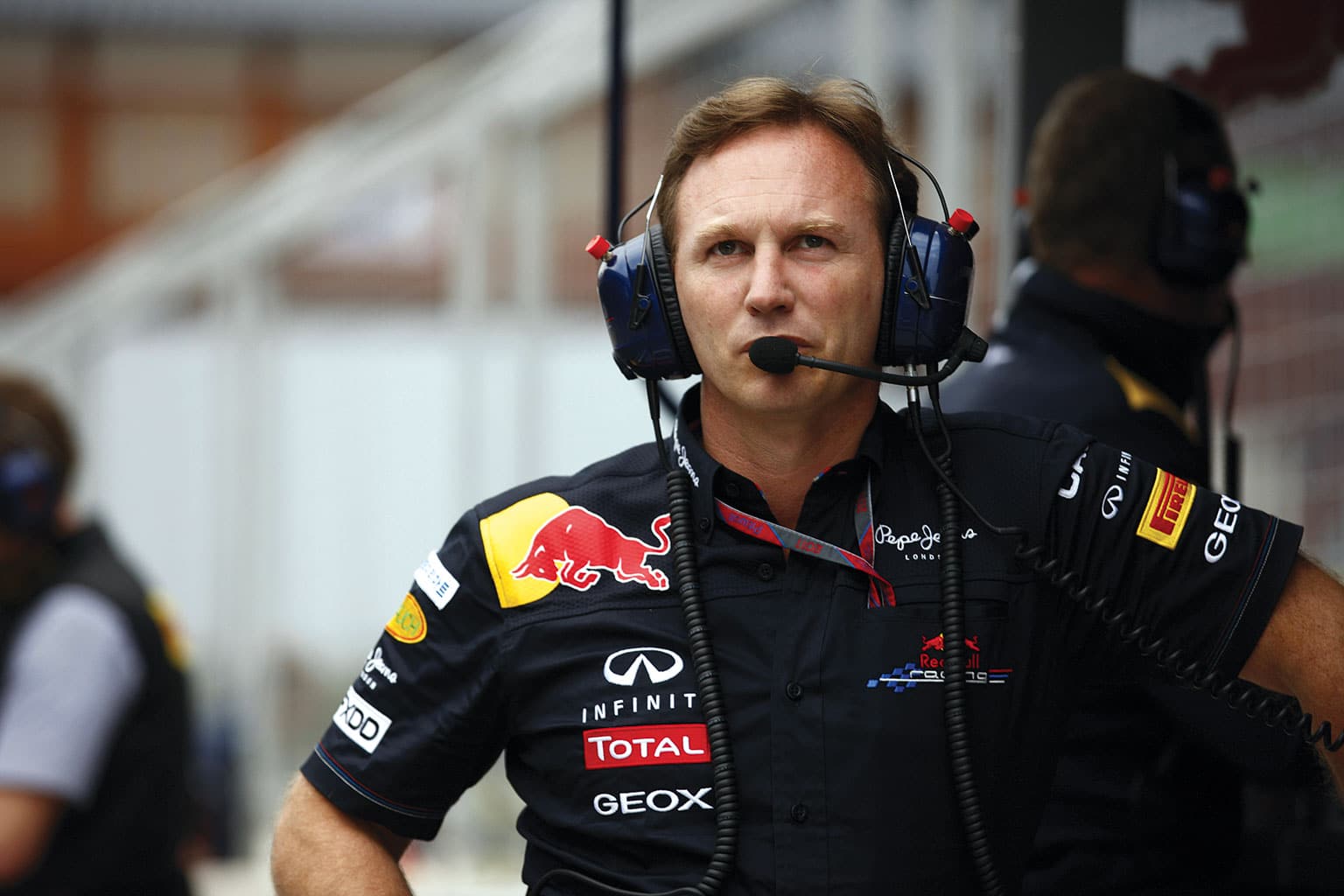 Key to this extraordinary success was the arrival at Red Bull's Milton Keynes base at the end of 2005 of Adrian Newey as chief technical officer. Christian's management skills were crucial in achieving this coup, for he had to persuade Adrian that he'd be happier at Red Bull than he'd been at McLaren; and he had to persuade Mateschitz to foot the bill for the world's highest-paid racing car designer.
Like most people who are very busy but very well-organised, Christian proves surprisingly easy to pin down. He agrees to fit in lunch between flying in from Korea – another win, another constructors' championship – and jetting east again to India and the next win. As I arrive in Red Bull's gleaming, trophy-lined reception area, hidden speakers are quietly playing Queen's 'We Are the Champions'. Christian and I start our chat in his airy office, lit by standard lamps fashioned from stainless steel exhaust manifolds. Then a company driver whisks us to a pleasant gastro-pub, The Birch at Woburn.
Christian was born in Leamington Spa in 1973, one of three brothers. Motor racing wasn't in the family, but car manufacture was: his grandfather was purchasing manager for the old Standard Motor Company in Coventry, and then set up an agency with Christian's father for component suppliers to the big factories in the Midlands. "As a kid I pestered my parents for a kart, just to drive around the garden, and my mother found one in the local paper for £25. In time I managed to get something better, and ended up racing in a category called Junior Booster. In 1991 Renault offered scholarships to help kids move up from karts to Formula Renault, and I won one. Part of the deal was a free engine – so it's ironic that Red Bull is now with Renault in F1! Things went quite well for me in FR, I won a championship round and got some poles, and F3 teams started calling. So for 1993 I did F3 Class B with Roly Vincini's P1 Engineering. I had five wins, and finished second in the series.
"I persuaded my parents to let me take a year out after my A-levels to see if I could make a career in racing. My side of the deal was that I'd apply for a university place as a fallback if it didn't work out. I chose somewhere at random and filled in the forms, but I never had any intention of going. I don't even remember which university it was.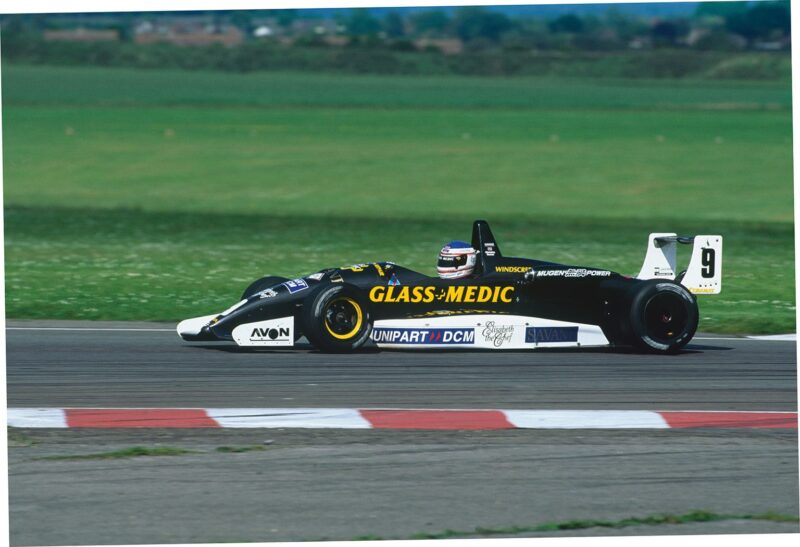 "For 1994 I moved to Fortec doing F3 Class A. I was still focused on my goal of making it to Formula 1, but at the end of that year I had no money left. I was determined to stay in racing, so I banged on a lot of doors and hustled together enough for a drive with Alan Docking alongside Warren Hughes and Gonzalo Rodríguez. And for 1995 I set my sights on moving up to Formula 3000. But of course I didn't have the budget to go to a decent team and buy myself a seat. Finally I decided that if I could buy and run an F3000 car myself, at least at the end of the season I might still have the car left and something to show for it. It was a bit brave, but I thought I'd give it a go.
*
"I sold everything I had, borrowed as much as I could from the bank, from my father – who helped me on condition that I paid him back at some point – and from everywhere else I could think of. That got me a chassis. I leased two engines, persuaded Roly Vincini to be my race engineer, and based the car in a shed behind Roly's house in Norfolk. I called us Arden International. I was team manager, money hunter, secretary, cook and bottle-washer, did all the paperwork and the hassle. As mechanic we had a part-time lad who worked at the local Thresher's off-licence. He's with McLaren now.
"We needed a trailer, and for some reason I decided the best deal was one I found for sale in Austria. I took a cheap flight to Graz to look at it. The owner, a guy I'd never heard of called Dr Marko, drove a hard bargain, but I said I'd buy it if he delivered it to Calais for me to pick up. When I told my father I'd given the cash to a complete stranger in Austria on a handshake, and I hadn't even got the trailer yet, he thought I was mad. But Dr Marko's handshake was good, and the trailer duly turned up at Calais. By now I'd found out he was the ex-F1 driver Helmut Marko, and he was running two F3000 cars for Juan Pablo Montoya and Craig Lowndes, so I soon got to know him better.
"Our tiny little team operated on a wing and a prayer. We didn't have a single spare part. If I'd had a shunt it would have been, 'Do we pay the wages, or do we buy the bits to mend the car?' I was the only guy running around paying the bills, so if I'd been in hospital with a broken leg it would have ground to a halt. I was tenacious, and I did get in the points in the last race of the season at Jerez. But my trouble was I thought too much about the consequences – I knew I simply had to end the season with the car intact – so I couldn't help building in a subconscious safety margin. In any case, I was a long way from being really special, and I was on the grid with people like Montoya, Ricardo Zonta and Tom Kristensen. But I really worked out how to deal with motor racing, not just from inside the cockpit, but with organisers, suppliers, travel companies, sponsors if I could find them. In 1998, to share the overheads, the Belgian driver Kurt Mollekens came under the Arden umbrella. Kurt was quick, and actually led the F3000 championship at one point, but he had a big accident at Hockenheim and his campaign rather fell apart.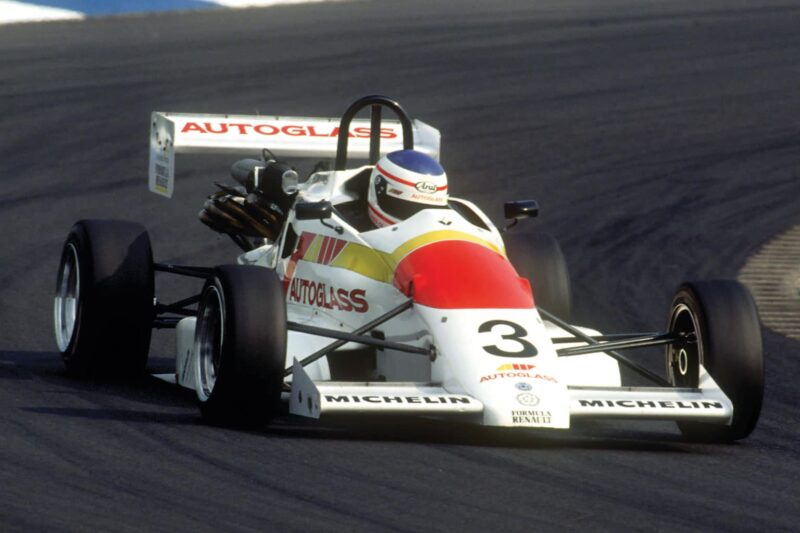 "Before the end of 1998 I made my big decision to stop driving. I'd loved all the racing I'd done, but I was honest enough to recognise that I was simply not at the same level as the best guys. I'd learned a lot, and motor racing was all that I knew. I felt there was an opportunity to build Arden into a team that was a viable business. Money was still the problem: I ended up borrowing again, from banks, from my dad, leveraging everything I possibly could to come up with the budget to run a two-car team.
"Then David Richards called. Prodrive had been working in touring cars with the Russian oil company Lukoil and the boss's son, Viktor Maslov, wanted to go racing in F3000. David asked how much it would cost for Prodrive to become a 50/50 shareholder in Arden. At that point Arden consisted of an entry ticket for two cars, a leased truck and a few bits of old pit equipment. I made up a number that seemed totally ridiculous, David was happy with that, and I moved the team into the Prodrive premises in Banbury. For 1999 we ran Marc Goossens and Maslov.
"That season was a bit of a disaster, so I bought back the half-share from Prodrive, paid David rent for the workshop space, and put Darren Manning in our number one car. But to move the team to the next level in 2002 I knew I had to take the risk of moving away from the Lukoil funding, saying goodbye to Viktor, and taking on two really quick drivers. The Czech Tomáš Enge was a proven F3000 race winner, and the Swede Björn Wirdheim looked a very promising rookie. Suddenly we were winning – four victories for Tomáš, one for Björn – and after a season-long battle Tomáš beat Sébastien Bourdais to the title by four points. We also won the team title.
"But unfortunately it turned out Tomáš had been enjoying himself outside the cockpit as well. In Hungary, scene of one of his victories, he was selected for the standard random drug test. And he failed. It was marijuana – it wasn't as if he'd been putting something serious up his nose – but six weeks later he was summoned before the FIA World Council in Paris. He apologised, and all they did was give him a suspended 12-month ban and dock him the points for that race. But it was enough to lose him the title. More seriously, the test offers he'd had from BAR and Newman/Haas melted away at once. Tomáš was a good guy, and very fast. He's doing sports cars now.
"Meanwhile Björn was getting better and better. He won the F3000 title for us in 2003, and we were top team again with the American Townsend Bell as number two. Now Helmut Marko comes back into the story, because he'd sold his team and was running Red Bull Junior. He was looking after Vitantonio Liuzzi, who looked very strong. So I did a deal with Helmut to run him with Red Bull backing in 2004, the final year of F3000 before it was replaced by GP2. Helmut did a really aggressive deal – just like when I'd bought the trailer, seven years before – with a very cheap base line and good win bonuses. If Liuzzi hadn't done well Arden would have gone bust, but he won seven of 10 rounds and the championship, plus our Dutch number two Robert Doornbos had a win, and we were team champions again.
*
"After three winning seasons in F3000 it was time to raise my sights, and I started thinking how I could make a move somehow into F1. I'd got to know Bernie [Ecclestone] a bit, representing the F3000 teams when we needed to talk to him, and I asked him what he thought. He told me Eddie Jordan was keen to sell, so I went to see EJ. But his numbers were just ridiculous. I mentioned it to Helmut, and he said, 'That's interesting. Dietrich is thinking about changing Red Bull's F1 involvement.' At that point they owned a chunk of Sauber, and were sponsoring Christian Klien at Jaguar. So Helmut set up a meeting in Salzburg and I met Dietrich for the first time. It was all very amiable, he gave me plenty of time, and we seemed to get on well. His understanding of F1 was very acute. We had a chat about Jordan, but he said, 'That doesn't look interesting for us. We might have an opportunity with Jaguar, we're looking at that.' After that I heard nothing more for a while."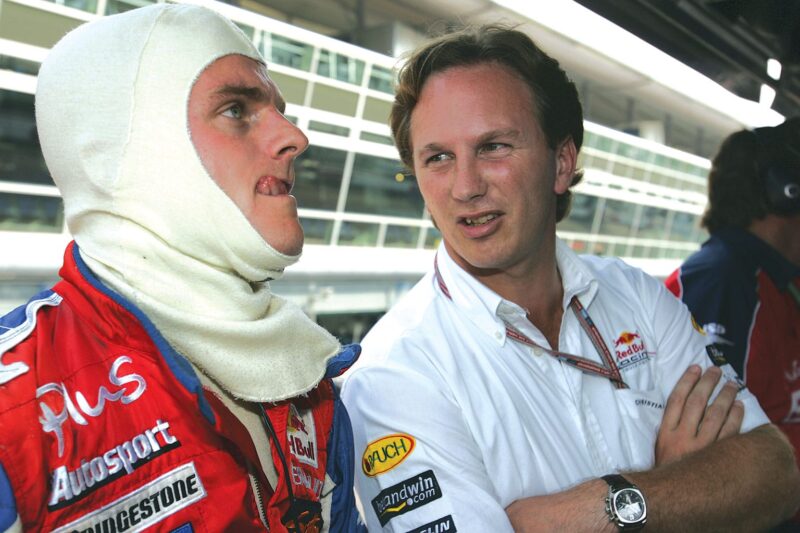 Ford had put Jaguar F1 up for sale on September 17 2004. On November 15 entries for the next year's F1 series had to be lodged with the FIA. Negotiations between Mateschitz and Ford were protracted, but in the early hours of Sunday November 14, with barely 24 hours to go before the FIA deadline, the deal was done. Six weeks later came the announcement that David Coulthard, his nine-year relationship with McLaren at an end, had been signed as Red Bull's number one driver.
"I continued to talk to EJ, but that just became more and more frightening and improbable. I was also putting Arden's GP2 programme in place, and I'd signed Heikki Kovalainen and Nicolas Lapierre. Then, just before Christmas, Helmut asked me to fly to Salzburg and see Dietrich again. I detected he had a degree of frustration with the senior management he'd inherited from Jaguar, team principal Tony Purnell and managing director David Pitchforth. Very quickly he outlined his vision for Red Bull in F1, and he offered me the role of team principal. It was a huge thing for me, that he was prepared to put his faith in me to deliver that vision. Of course I said yes.
"My first day, January 7th, was quite interesting. Helmut Marko and Dany Bahar, who was a consultant to Dietrich then, flew into Heathrow, went to Milton Keynes, informed Tony Purnell and David Pitchforth that their services were no longer required, and asked them to leave the building. Then Helmut and Dany got all the staff together, announced that I was the new team principal, and departed for Heathrow. I found myself sitting at Purnell's desk with his half-opened post and his half-drunk cup of coffee thinking, 'Where on earth do I begin?'
"The workforce – it was about 450 people then – had long been subjected to revolving-door management, and now they were really confused. F1 is pretty insular, so I'm sure very few of them knew anything about F3000 or had even heard of Arden. They probably thought, who is this 31-year-old whippersnapper? Are these Austrians mad? And the first Grand Prix of the season in Australia was eight weeks away.
*
"The first thing I did was get the factory manager to take me round. I wanted to know what the facility consisted of, but most of all I wanted to meet the people, sit down with all the senior managers, and try to understand what was in place. Straight away I could see that there were pockets of real skill within the team. But also there was a serious lack of confidence after all the constant changes going back to the Stewart days, and a lack of technical direction and co-ordination. On the shop floor there was genuine quality, but a poor infrastructure. No one seemed to be clear what the real goals were. I spent the first few weeks learning how the team operated, identifying the strengths and weaknesses. And then we had to go and do some racing. We had to be in Melbourne.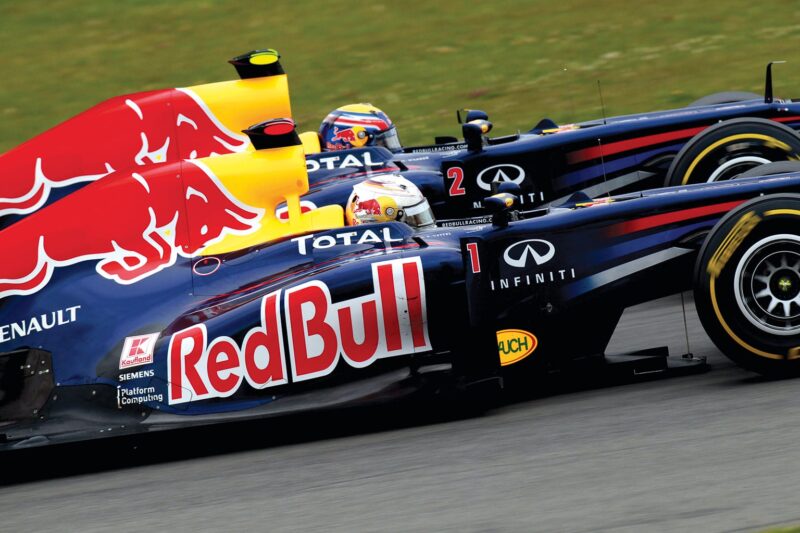 "Early on that January I met David Coulthard for a quiet meal, here in this very pub. I had known him since karting, and I was absolutely delighted he'd been signed, because he was a winner, and he was bringing us 11 seasons of experience with two top teams. I could draw so much out of DC in terms of bench-marking, telling us how things compared with what he'd been used to at McLaren. He was already fairly dismayed by what he'd seen at Milton Keynes, but I really wanted to get the best out of him, because when he left McLaren people thought his career was pretty much at an end. He'd been written off. I wanted to regenerate his self-belief. As it turned out, he was a crucial factor in our first year. In our first race, even: he qualified fifth in Melbourne, was second for a long time, and after his second stop finished a brilliant fourth. And Christian Klien in the other car finished seventh. It was a real morale-boosting start: after that race we were lying third in the constructors' championship.
"Our goal for that first season was to concentrate on the basics, make sure we finished races, and score more points than the nine Jaguar got the previous year. In fact we scored 34. David was in the points in six of his first eight races. As well as that, the Red Bull recipe for having a good time had arrived in the paddock. That came from Dietrich. Inside the stiff, corporate environment that F1 had become, he wanted to display the core values of Red Bull, wanted his team to be non-conformist. The Energy Station, which arrived at the first European race of the year, was his idea."
This was the immense three-storey Red Bull motorhome and hospitality centre, which needed a gang of 25 people to erect and dismantle it and 11 trucks to take it from race to race. It thrummed with loud music all weekend and, unlike most Formula 1 motorhomes, it had an open-door policy, so you didn't need a hen's-teeth pass to get in.
"Dietrich wanted to inject fun, give good access to the drivers, and allow them to say what they liked without PR-speak limitations. Even DC grew designer stubble and stopped talking corporate-speak. Dietrich wanted the team to be successful, but in a Red Bull way: because it's no good having fun at the back of the grid. You need to be winners. In that we were every bit as serious as any other team."
What signalled to the F1 world just how serious came with the shock news in November 2005 that Adrian Newey was leaving McLaren after eight years to become Red Bull's chief technical officer. "That first time in the Imola paddock we were next to the silent grey McLaren motorhome – I'm not sure what Ron Dennis made of our loud music – but I found Adrian outside, looking up at the Energy Station. He was curious, and he'd come to have a look. I'd never had a conversation with him before, but in my mind he was absolutely the best in the business. I took him in, showed him around and gave him a drink. He couldn't help but see the contrast between McLaren's way and our way.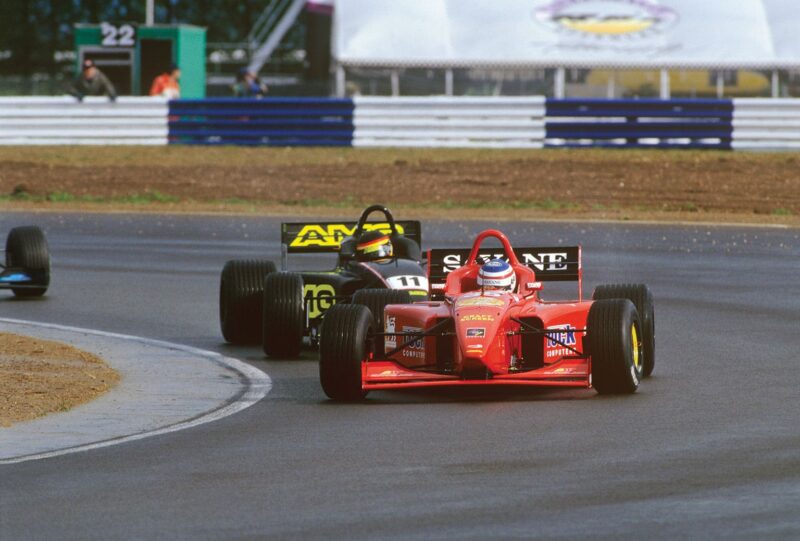 "At Monaco we had the Energy Station floating on the harbour, we had a Star Wars thing going, and Adrian was inquisitive. So he came on board to see what we were doing. I confided to David, who of course had worked most of his time at McLaren with Adrian and knew him very well, that I'd like to have a crack at getting him to join us. David said, 'Here are his phone numbers. Let's see if we can sort out dinner.' So in July David and I had dinner with Adrian and his wife at the Bluebird in the King's Road. David exuded enthusiasm about Red Bull and the team, but we didn't talk about the prospect of Adrian joining, we just had an enjoyable, relaxed evening, and he and I really hit it off. I could sense that he was frustrated at McLaren. They hadn't treated him particularly well, and it didn't seem like there was any magic between him and Ron. And his contract was about to expire.
"I told Dietrich I thought we had a chance of getting him – although I didn't tell him at that stage how big an investment I thought it would be! Dietrich said at once, 'Let's see if we can make it happen.' So in October we flew Adrian to Salzburg, helicoptered him into the mountains for a casual lunch with Dietrich, and then we showed him something of what Red Bull is like. Among other things, we stuck him in our Alpha Jet fighter and he went inverted over Kitzbühel at 500ft.
"That evening I broached the subject: 'Adrian, we'd love to have you. Do you want to come?' He stated a figure which caught my attention, because it was about 70 per cent higher than I'd warned Dietrich we might have to pay. I called Dietrich, he went quiet for a few seconds, then he said, 'Let's go for it.' That's the great thing about Red Bull. It's his company, it belongs just to him and one other person in Thailand. No board meetings, no shareholders' approvals, just an instant decision. By Sunday evening Adrian and I had shaken hands, and he flew home to deliver the message to Ron.
"Adrian started with us in February 2006. That year's car, the RB2, was already set, of course. For the new 2.4-litre V8 regulations we'd switched from Cosworth to the customer Ferrari engine. It was a difficult year: the engines were unreliable and overheated, and they bore little relation to Adrian's design philosophy. We had a meeting with Jean Todt in Bahrain before the first race, and Adrian asked what the development programme was for the engine. Jean made it clear that we were just customers, there would be certain upgrades during the year, but we shouldn't expect anything else. That was something new for Adrian, and even before that first race he was telling me it wouldn't do. Fortunately at the end of the season we were able to swap engine deals with Toro Rosso, which Dietrich had also bought, and that gave us our relationship with Renault.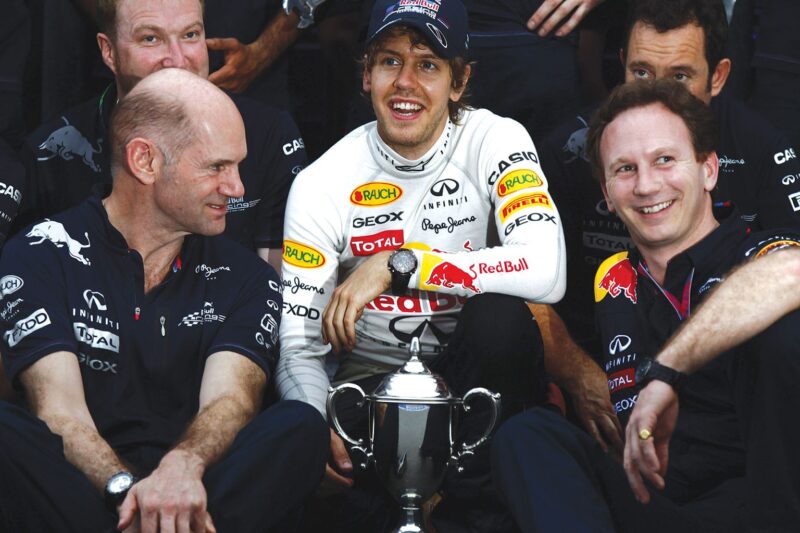 "At Williams and McLaren Adrian had been in established teams with an established infrastructure, and he'd just had to bring his creativity and technical direction. We had unstructured departments, an out-of-date wind tunnel, no CFD [computational fluid dynamics], no simulator. We had to start from scratch, get the right people, the right equipment. Coming from the bottom actually appealed to Adrian, but I think even he underestimated the scale of what there was to achieve.
"Meanwhile I was making other key appointments. Rob Marshall joined as chief designer: he came from Renault, as did team manager Jonathan Wheatley and chief mechanic Kenny Handkammer. Peter Prodromou, head of aerodynamics, had worked under Adrian at McLaren. Paul Monaghan had been at Renault and then Jordan, he's now our head of car engineering, and Mark Ellis runs vehicle dynamics. Ciaron Pilbeam, son of race car designer Mike Pilbeam, came from BAR and is Webber's race engineer. Guillaume 'Rocky' Rocquelin was at Newman/Haas. I'd wanted him at Arden in my F3000 days, but I couldn't afford him then. He's now Vettel's race engineer.
"Adrian forced a change of culture on us, because the way he works is completely different. We weren't prepared for the amount of detail he gets involved in. For starters, he still uses a drawing board. I had to do a deal with Martin Whitmarsh and make a payment to charity to get McLaren to release his beloved board, which had followed him there from Williams and is now in his office at Red Bull. In F1 nowadays a technical director is usually a technical manager, someone who chairs meetings and agrees philosophy and strategic direction, but isn't involved in the actual architecture of the car. Adrian draws the surfaces of the car himself and then passes that over to the aerodynamicists and designers. He stimulates and encourages them, they feed off him, and he feeds off them. You'll see him perched on the edge of somebody's desk, looking at a component or a piece of bodywork. He is a total perfectionist: he has a very nice manner, but he's utterly uncompromising. But just because something isn't his idea, he's not afraid to say, 'Your idea looks stronger, let's pursue that.'"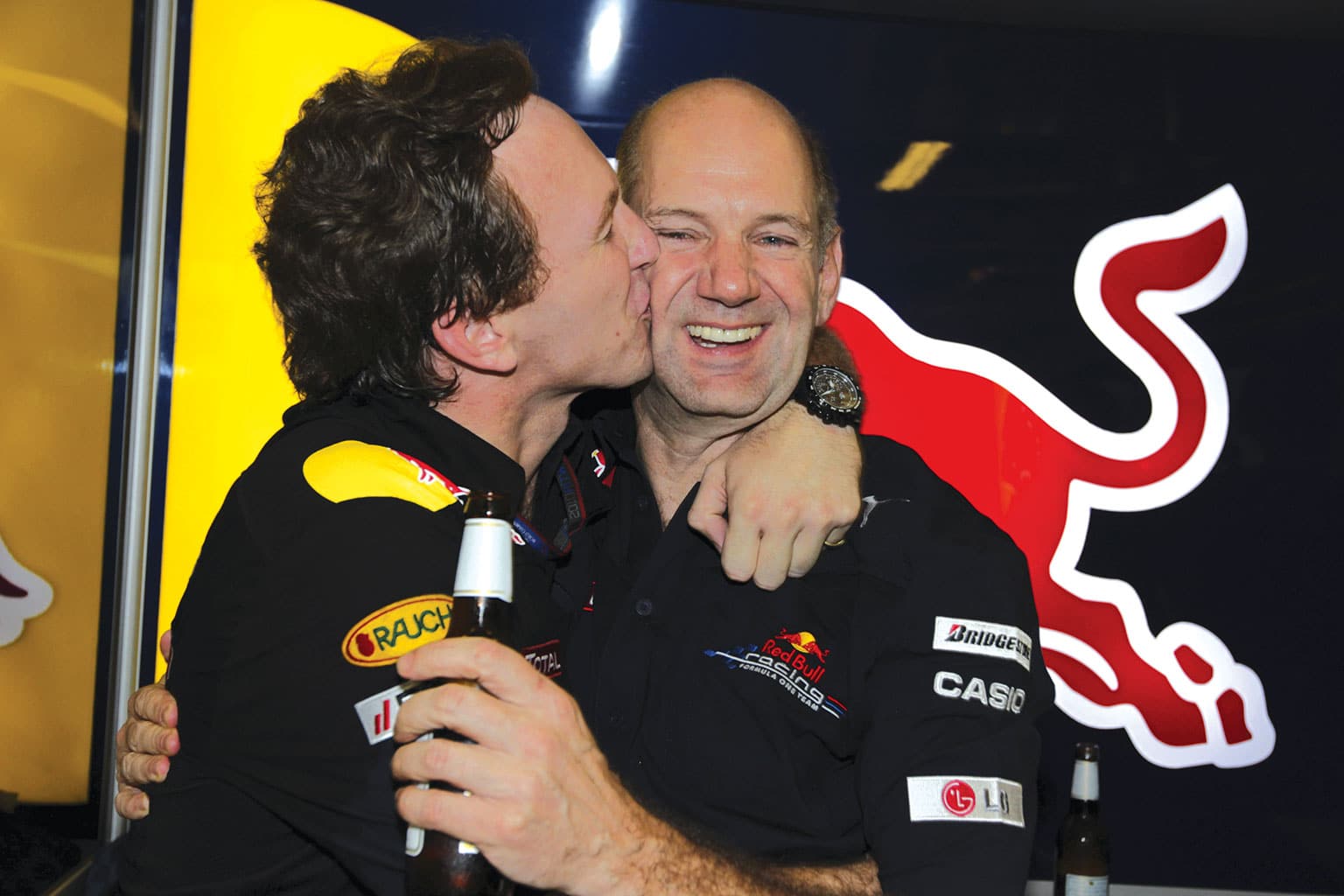 Adrian's first car for Red Bull, the 2007 RB3, coincided with Webber's arrival in the team and the switch to Renault engines. The learning curve was steep: there were 14 retirements that year and just one podium. In '08 the team slipped to seventh in the constructors' championship. For '09 Vettel moved across from Toro Rosso, and DC hung up his helmet and moved into a team consultancy role. And with the RB5 the team really started to come good.
"For 2009 F1 had possibly the biggest regulation changes in 20 years: new front wing, narrower rear wing, losing a lot of aero appendages and cleaning the cars up. And back to slick tyres. The double-diffuser debate lost us some time [during the design stage Newey had considered and rejected it, believing it would be declared illegal] but once we'd introduced that our car was very strong." Vettel and Webber ended up with six wins between them, second and fourth in the drivers' table, and the team beat McLaren to second in the constructors'. Then came 2010. After a glorious battle down to the wire, Red Bull took the drivers' and constructors' titles. And now we've had the back-to-back repeats in 2011. For those who like statistics, Red Bull has won 23 of the past 39 Grands Prix.
Clearly Vettel is as much of a key ingredient as Newey. "He's been part of the Red Bull family since he was a 12-year-old karter. His car control is phenomenal, so he has no inhibitions about the car being 'on the nose', being loose at the entry or exit of a corner, which might unnerve other drivers. His ability to carry that off has been accentuated by the Pirelli tyre. It's all down to the set-up: Mark drives the car in a classic style, whereas Sebastian may be happy to wind on more front wing to chase front-end performance and just deal with a looser rear.
"In 2010 he had a tough year. He was publicly criticised for some of his actions, and unreliability cost him three wins. But he never gave up, and it all came right for him in Abu Dhabi. Once the championship was on his CV that pressure was gone, replaced with a new confidence, and he's stepped up a level this year. Based on 2011, you have to say Sebastian is currently the best driver in the world. He works harder on his own performance than any other driver in the pitlane. He'll be in the paddock later than anyone on Friday and Saturday night, even if he has pole, trawling through his data and Mark's, soaking up information like a sponge. He has the speed, the racecraft, the intelligence and the technical sympathy to understand what the car is doing and what it requires. He can create strategic options and opportunities by the way he drives the car.
"One of his stand-out races for me this year was Monaco. It must be the hardest thing to be leading a race and know we'd made a mistake and he had the wrong set of tyres on the car. He thought it through: if he kept pushing he would run out of rubber, so he purposely slowed to back up the others and make the tyres last. He had the confidence to dictate that race. The other stand-out was Barcelona, when he had all sorts of KERS issues. When your KERS fails it alters the brake bias significantly. He had Lewis Hamilton breathing down his neck in probably a quicker car. He dealt with Lewis, he dealt with the brake bias, he didn't make a mistake, didn't flat-spot a tyre, didn't give Lewis any opportunity by running deep into a corner. That was hugely impressive for me.
"It helps that he is a very nice young man. He's a wise head on young shoulders, but he has a sense of fun, and he's humble. He just sees himself as one of the team. He doesn't have a manager, he's a shrewd guy who does his own deals. He and his girlfriend live in Switzerland, but he doesn't bring her to the races, he protects her from the media. He's got a thing about statistics, likes to tot up the wins, the poles, the fastest laps, the percentages. I'm always giving him grief about fastest laps. He'll be leading comfortably into the last lap, nothing to be gained by taking any risks, and on the timing screens the first sector goes purple [indicating fastest of the day]. Rocky's telling him to take it easy, stroke it home. Second sector goes purple. As he takes the flag, the third sector goes purple. So he's got fastest lap. He's doing all his celebrating on the slowing-down lap, and he comes on the radio: 'Did I get fastest lap?' Rocky says, 'No, you missed it by a tenth.' 'I can't believe that,' he says, 'that can't be right.' So then Rocky says, 'Yes, you did get fastest lap. And you're a bloody idiot.'"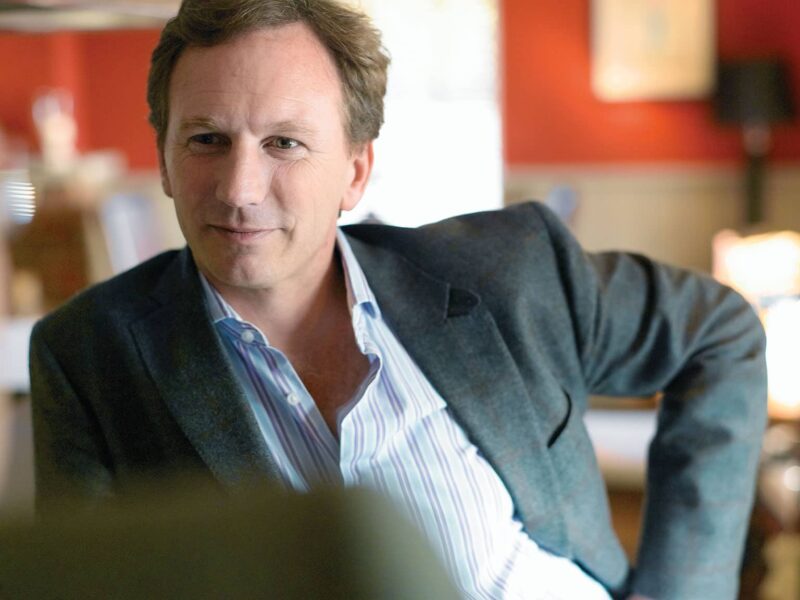 How does Webber deal with being team-mates with the man who, according to his team principal, is the best in the world? "That's a tremendously difficult thing for any sportsman, and Mark deals with it admirably – in a similar way, probably, to how Jenson Button has dealt with Lewis. Mark is world-class, over a lap and over a Grand Prix, but he knows that to beat Sebastian he's sometimes got to take a slightly different approach. Last season he was quite wily with that. This year it's been more difficult for him, certainly in the first part of the season when he had to adapt to the new tyre. We've signed Mark again for 2012: he's tremendously fit and he absolutely still has the mental hunger. But we've both decided that, now he's 35, we'll take it one year at a time. As for Sebastian, he's tied up for a minimum of three more seasons.
*
"Adrian very much has an input into driver choice, he's involved in all major decisions. Dietrich will have the final say on the big things – choice of driver, engine, strategic investment – but Adrian and I run the business day-to-day. We're now to all intents and purposes Renault's works team in F1. Adrian has won seven of his eight constructors' championships using Renault power, and he has a key input into the architecture of the new engine."
FOTA rules now restrict the number of car-involved personnel travelling to each Grand Prix to 47, although trainers, marketing people and others swell that number to 75. But Red Bull's bonus scheme means that every one of the 550 staff, from designers to office cleaners, share equally in the team's success. "For winning the constructors' championship in 2010, every employee got £10,000, and it'll be the same this year. That was something Dietrich insisted on." So the constructors' title alone will be adding £5.5 million to Red Bull's wage bill. "But then, we've clocked up over 100,000 hours of unpaid overtime this year. That's the commitment of a workforce that wants to see our cars running at the front, people who are proud of what they do. You've only got to walk around the factory and the offices to feel the vibe here. It's tremendously stimulating. It epitomises the cultural change we've gone through in seven years."
In the business world, success is measured when the annual, or half-yearly, or maybe quarterly results are published. In F1 the whole world can see graphically, on a billion TV sets, whether you're doing a good job or not – every couple of weeks. It's the most public measurement possible of whether a team is well managed. "Yes, at every race you get measured again. And what happens on the track is effectively measuring every area of the organisation – not just the race team but R&D, design, production, logistics, planning. F1 moves so fast now. The timing to get a component from Adrian's drawing board through all the processes and onto the car is unbelievably tight, and at every stage there's a deadline to hit. At Jaguar I think they had three update packages a year. We'll be looking to introduce something significant at every race."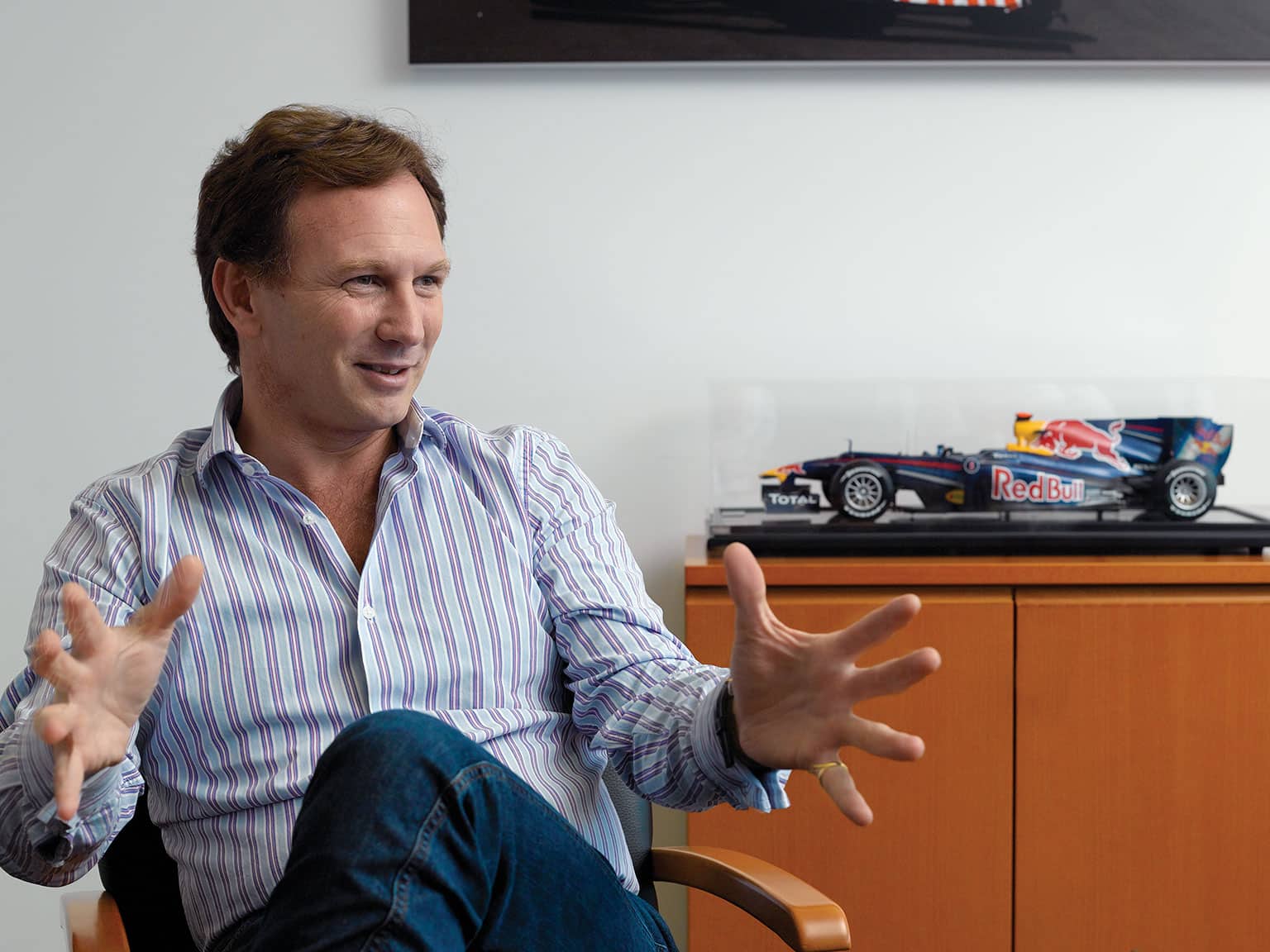 So, back to my first question: how has Christian's management of Red Bull raised it to the top of the Formula 1 ladder?
"My aim is always to try to get the best out of people. We've tried to create a culture in which people have the confidence to express themselves. Sometimes they need an arm around the shoulder, sometimes a push. But there's no point in employing a specialist and then trying to tell him or her how to do the job. So: hire the right people for each role. Give them clear objectives. Then empower them, put them in an environment where they can do whatever they do best really well. And have some fun doing it. That's what we intend to go on doing at Red Bull."