His name is the stuff of legend, as it should be for a driver who notched up four championships during what was arguably the most competitive era of the World Rally Championship. He battled with the greats – McRae, Sainz, Kankkunen, Burns – and still Tommi Mäkinen has a twinkle in his eye and a grin on his face when reminiscing about his days of "flat-out maximum".
As well as the silverware that his name has been etched forever into, there is a Mitsubishi – the Lancer Evolution VI Tommi Mäkinen Edition, now a sought-after future-classic – while an emerging generation of gamers cut their teeth drifting through Swedish snowbanks and jumping through Finnish forests, playing Tommi Mäkinen Rally on the original PlayStation.
Much has changed in the 23 years since everything clicked into place and he lifted his first drivers' trophy. Mäkinen is into the second part of his career, running his own team. He spent more than a decade building up a squad that prepares Group N rally cars before Toyota came calling.
We meet on home turf at the Finnish round of the WRC with the noise of Ott Tänak's Toyota Yaris WRC in the background.
Mäkinen is in good spirits having placed his team within striking distance of Hyundai in the WRC manufacturers' title chase. Tänak would go on to win the drivers' title, only to dramatically announce that he would leave the team and join rival Hyundai. To rub salt in the wounds Hyundai would also clinch the constructors' title when the last rally of 2019 is cancelled due to Australia's devastating bush fires. But for now, all that is in the future.
Over a simple lunch of chicken Caesar salad accompanied by an almost continuous flow of black coffee for Mäkinen, I start by asking about the past: how did Akio Toyoda, the most powerful individual in the motor industry, the man who leads Toyota, first get in contact with Mäkinen?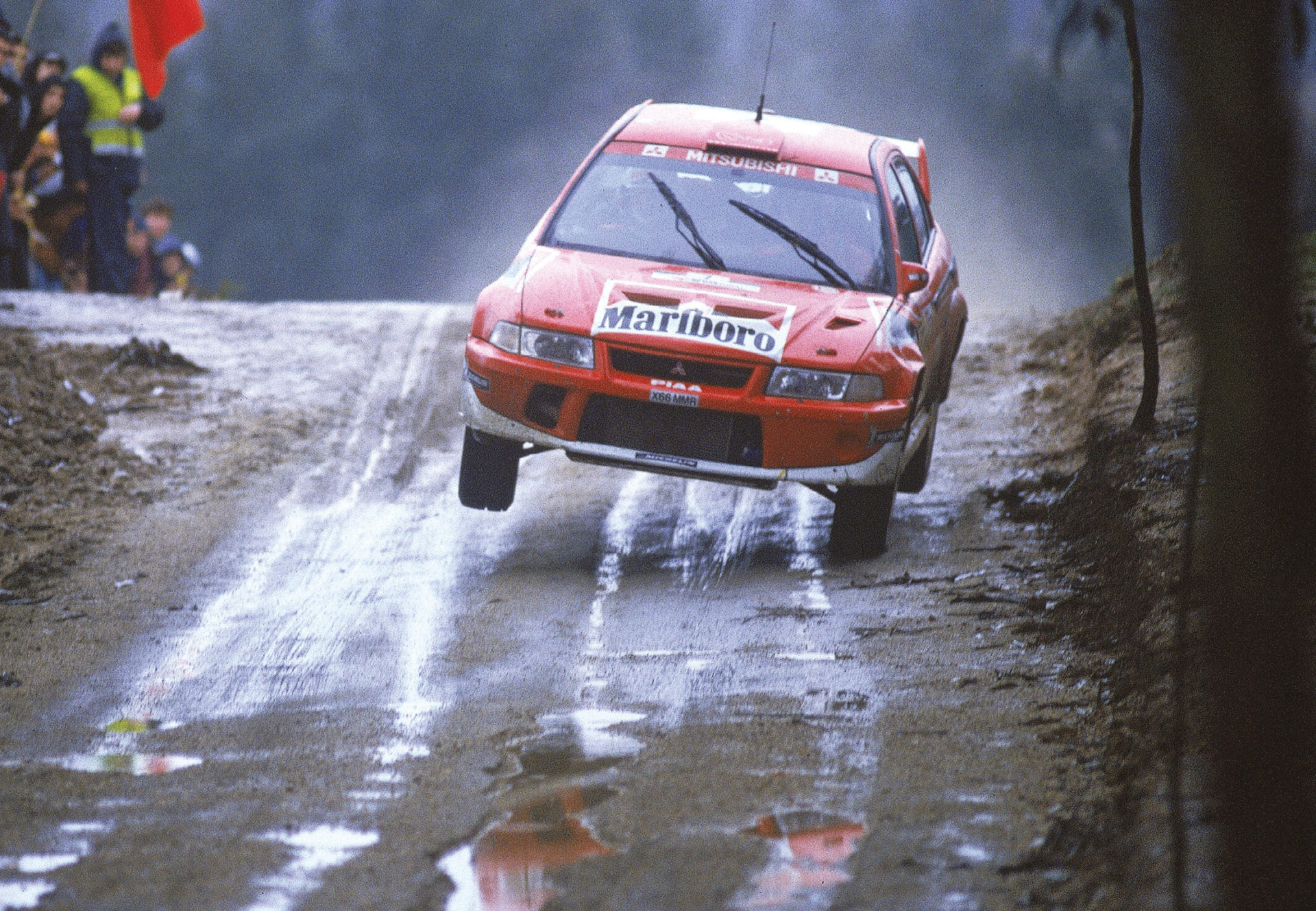 "Basically, Hiro Sato [Kazuhiro Sato, Toyota Operating Officer] knew Akio wanted to do some driver training," remembers Mäkinen. "Hiro called me and asked if I would be able to drive with him, and I was in Japan at the time, doing some projects with Subaru, so I stayed on and went on to Toyota's annual motorsport conference, in Tokyo."
The idea was for the two parties to have a quick meet and greet so that Toyoda could explain what sort of driver coaching he wanted, and Tommi could decide if he was the man for the job.
"In the morning, they said Akio wanted to meet quickly before the press conference. It was planned for us to talk for 15 minutes but we stayed for nearly one hour, and straight away it felt like we had known each other for a long time. It's amazing how quickly the chemistry can come."
Often, car industry executives have decidedly less interest in their company's product, car culture and motor sport than outsiders might imagine. But Toyoda is the antithesis of a bean-counter or marketing wonk, says Mäkinen.
"He does a lot of rallying and racing, and is responsible for test-driving all new [Toyota and Lexus] models. It comes from his grandfather [Kiichiro Toyoda] who started the business. His method was that you need to know very well your production and that you supply the best quality equipment for the customers. And they have kept that philosophy very deeply in Toyota."
He claims not to know whether Akio was a fan. Clearly, though, he held Mäkinen in high enough regard to have the Finn tutor him, not to mention entrust him with the minor matter of running a multi-million pound WRC project. Toyoda is chairman of the Toyota Gazoo Racing World Rally Team and even found the time to drive the new Yaris WRC during its development.
When Mäkinen speaks, he will repeat parts of sentences three or four times, something every journalist has to edit out of any transcription, yet he isn't particularly forthcoming with detail. By his own admission, he is an intensely private man.
"If I'm looking during my career I would say Ott [Tänak] is very similar to me. I was pretty much concentrated on myself. I hated to do interviews; that was the moment that I didn't like it because it disturbed my concentration. I wanted to be quiet as much as possible. It's very personal, but it was natural for me to do it that way.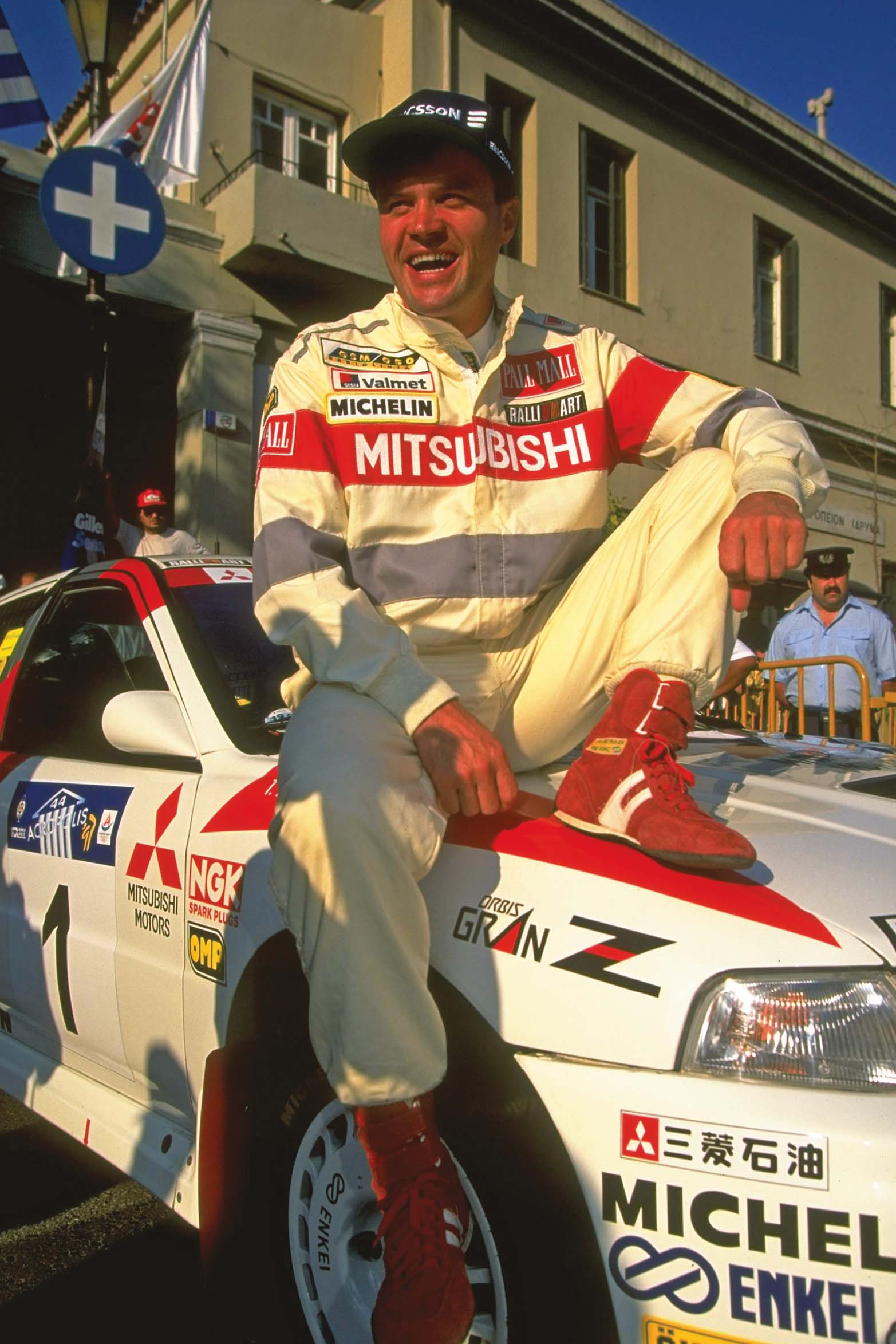 "Some drivers want to be here and there and want to put energy into different areas, but some want to keep their energy just there quietly [pats his stomach] and be alone."
His transition from driver to team manager looked seamless. At least, it did from the outside. He retired from driving in 2003, but says it took a long time for the adrenalin to subside. "I remember the moment when I stopped driving, it took one and half years to settle down from that when I was there doing the championship.
"Now we travel a lot but it's different. I can stay on the side. There's no pressure. To look from the other side of the windscreen has been interesting. I'm happy that I can continue doing that; it keeps me motivated."
Motivation is not something Mäkinen was ever short of during his career. But which is tougher, I wonder: winning the drivers' world championship, or having the pressure of creating and managing a world rally team and ensuring that it delivers the success that a manufacturer such as Toyota expects?
"Of course, winning the titles; it's far, far harder work. You have to give so much."
Kris Meeke, the Ulsterman driving for Toyota, says having Mäkinen as a team boss is a tangible advantage. Why does Mäkinen feel that is? "I know what they [the drivers] are thinking and what their needs are, and I can support them and also the whole team. It is just because I have seen it from inside and outside the sport; it helps a lot."
Mäkinen has spent a lifetime immersed in motor sport. But as a young boy, growing up on the family farm in Puuppola, near Jyväskylä, he says there was never a defining moment when he knew it was his calling.
"It's hard to say why I loved rallying, it was just around me"
"Growing up where we lived, the 1000 Lakes Rally [predecessor of Rally Finland] was one of the highlights. There was always big interest when I was growing up for rallying, I don't know why it is.
"It's hard to say why I loved it. With all things, all equipments, machines, cars, bicycles, go-karts, everything interested me. Then rallying, finally, I think it was because the 1000 Lakes Rally was really one of the highlights. It was just around me.
"I started in autocross, and had quite a lot of experience from different cars and things. My first rally car was a Ford Escort RS2000. The famous Ford Escort!"
Mäkinen began rallying in 1985, inspired by watching the likes of Juha Kankkunen tearing it up in RS2000s and Manta GTEs.
A question any Finnish rally driver is always asked is why the Finns seem to make some of the best rally drivers. So, naturally, I'm obliged to ask Mäkinen to share his views one more time.
"It's hard to say why the Finns are drawn to rallying, where it comes from and why it's somehow so interesting to so many of us. Rallying is very much about the individual. Your cooperation has to be very good with your co-driver, but remember that somehow you are there alone, making the final decision. Whatever you do, you decide it yourself, you have to understand well what do you need to do next and you have to be very fast. But mentally you need to be very strong to compete against the other rivals. There are so many different small elements.
"When you decide, 'I want to do it this way' you have to trust yourself and you have to succeed with that," he adds. "And even if the decision is not correct you have to stay there, trust and do your best. That needs quite a strong self-belief; you have to believe in what you are doing. And mentally, it might just be that the Finns are strong characters."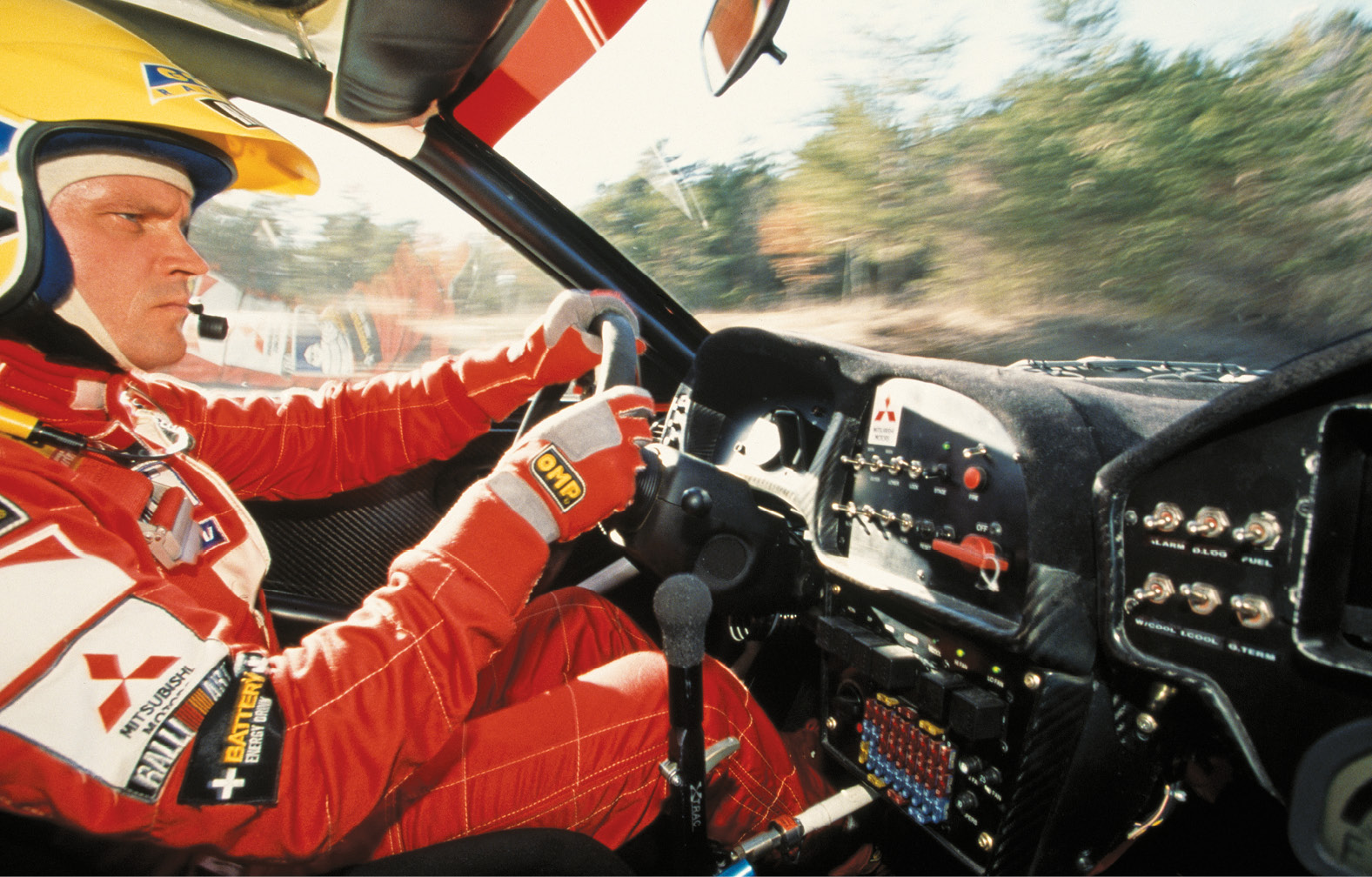 His countrymen first started to sit up and take notice of Mäkinen in 1988, when he took the Group N class honours in the Finnish Rally Championship. His car was a Lancia Delta HF 4WD, but who was behind the scenes?
"In 1988, it was a very small operation. We did it with some of my friends who knew what to do and support me for servicing. It was still kind of a hobby, guys were helping and nobody was being paid."
Was that first moment of elation, his first taste of title glory, some sort of turning point? "I wouldn't say that. When I look back at my career, everything was going somehow automatically forwards, step by step.
"Maybe 1990 was one important year. Juha Kankkunen and Timo Jouhki, who became my manager, were important when we started in some world championship rounds with a Group N Mitsubishi, and we needed a lot more budget. That was when we employed someone to look after the project; it became more serious and we had a clear target.
"Then in 1991, Hannu Mikkola helped me to get the Mazda works car, the 323, for the 1000 Lakes Rally. I had a good result so I got the car for the RAC. That was the last year of Mazda. Mazda retired and that was the moment where I made a mistake.
"I had good offers from many different teams at the time: Toyota, there was a possibility for Lancia, there was an offer from Subaru. And then there was Nissan.
"Nissan was a new team and we were thinking, 'Okay, it's good to go to a new team to learn…' But we had an inexperienced driver with an inexperienced team. We thought that as a new team they would continue for a long time; we didn't realise they would give up so quickly and during the first season they said, 'Okay, we pull out'. That was bad."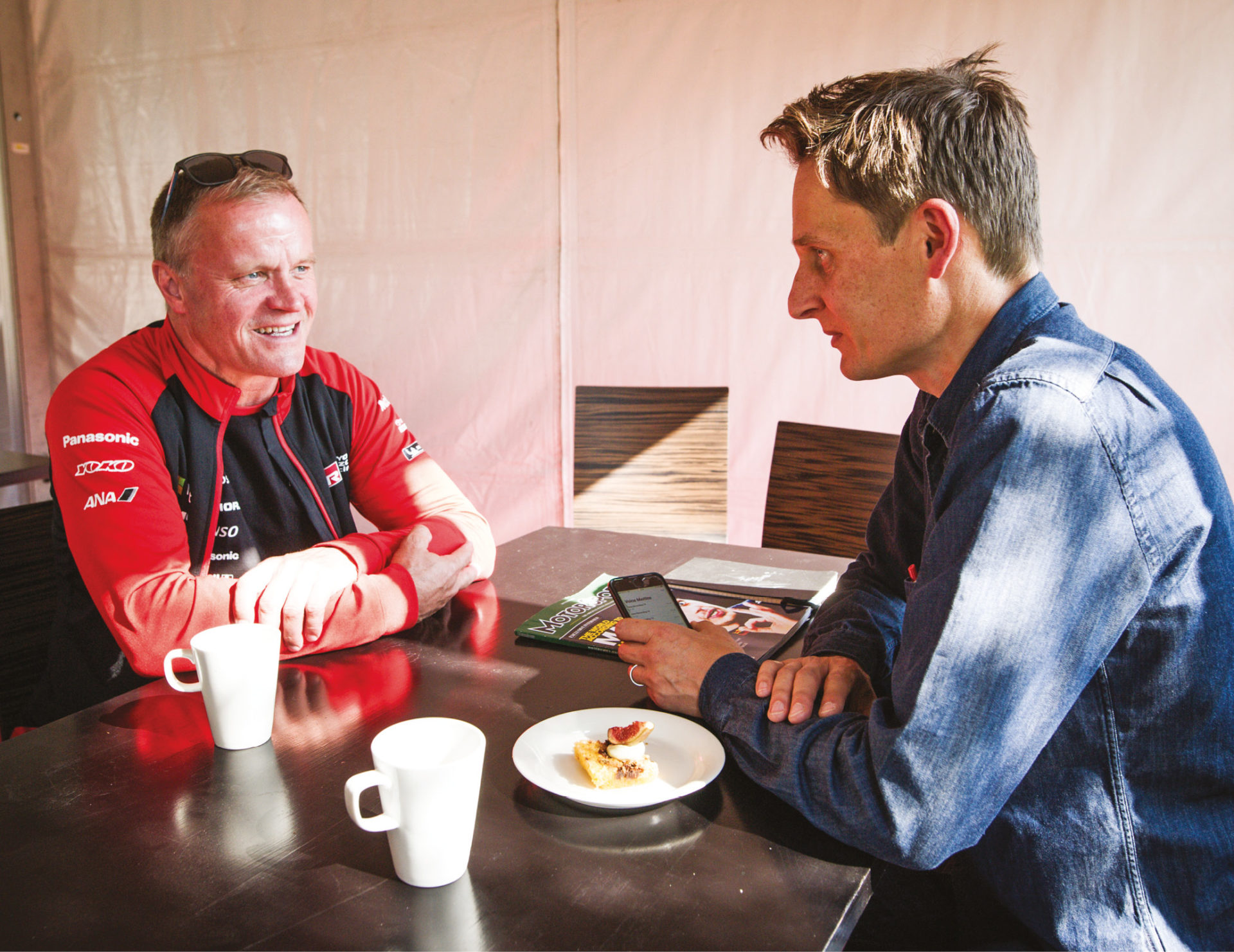 At the end of 1992, Nissan's lack of commitment to its Sunny GTI-R programme meant Mäkinen found himself up rallying's proverbial creek.
"At the time there was no teams, not so many possibilities any more. We were discussing already for '93 with Mitsubishi but instead of me they chose Armin Schwarz.
"Luckily, I got the opportunity to do development work with Nissan, and a front-wheel-drive car. That was the year I grew up a lot. I understood much better after that.
"In '94, the target was to rent a car in the 1000 Lakes Rally, then Ford asked me to drive a works car because Massimo Biasion wanted to come to Finland. I did a test rally in Finland, which I won, and then I did the 1000 Lakes Rally, which I won."
The performance was a high point for the Escort Cosworth in the WRC, and made up in some small way for Tommi's rotten year. More importantly, though, they impressed everyone on the WRC circuit. In particular, Andrew Cowen of Ralliart, the team behind Mitsubishi's assault on the sport, and RAS Sport, the private outfit from Belgium that took Patrick Snijers to victory in the European Rally Championship, with Boreham-built Escort Cosworths. Both teams made approaches to the flying Finn.
"The Ford was brilliant to drive, better than the Mitsubishi"
"I drove on the Sanremo Rally with Mitsubishi and then we negotiated a contract for '94 and onwards. We knew Mitsubishi was a works team, but they'd never done a full season and I didn't like it a lot. There was also an offer from Ford. But it was a private team, RAS Sport, from Belgium, who ran the Boreham cars. But it was not so trustable to be there.
"But I loved far more the Ford. That was a brilliant car to drive, brilliant behaviour, a far better car compared to the Mitsubishi. I don't know the difference performance-wise but it was a very easy car with a good feeling and I wanted to be there. But then we decided to go to Mitsubishi because it was a works team and the future was looking a bit better."
So what was it about Mitsubishi's Lancer that Mäkinen didn't like, compared with the Escort Cosworth?
"You couldn't feel so precise the wheels, and the front wheels when you're into the steering, there was far less feedback. And then the transmission layout was really different. That makes the car have strange behaviour. Geometry-wise, the Ford was giving a lot of feedback and that makes the car easy and nice to control, and you could understand it's turning in well, better than the Mitsubishi. The Mitsubishi was lazy and under-steering.
"But that was when Armin Schwarz was testing and he was driving on the Sanremo. They took me on for the second car, and I jumped in after the Schwarz car was tested and set up and said, 'Hey! Come on. I cannot drive this car. It's absolutely impossible to drive. I have no chance to do anything!'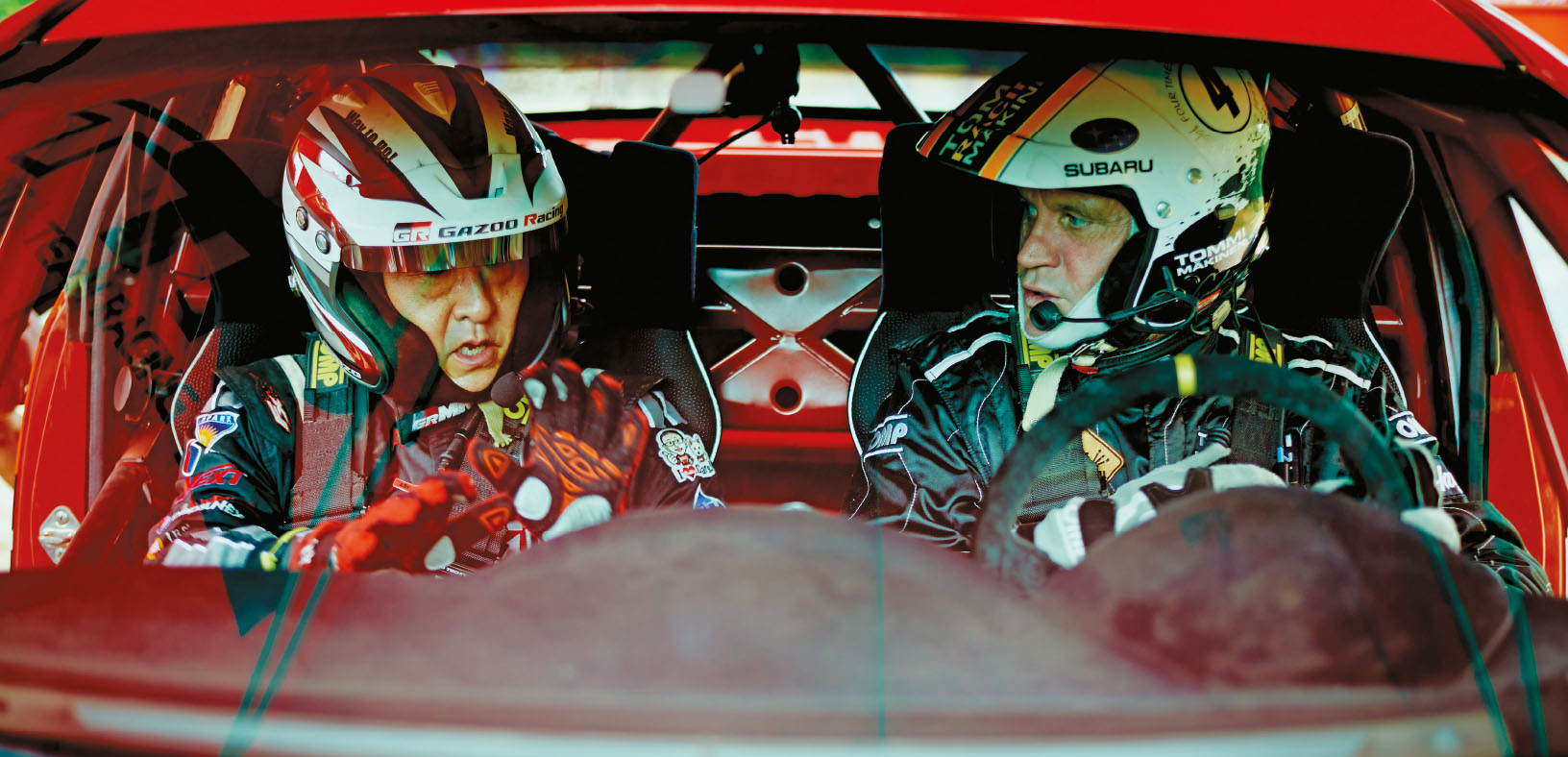 "But they had a test driver, the Finn Lasse Lampi, and he had a very different set-up which was more neutral. They returned the car back to his set-up and straight away I felt 'Now we start to be okay. I can drive the car!'"
He laughs loudly at the memory of really not having to do much ahead of the event, just borrowing Lampi's set-up. The car retired but Mäkinen's stage times spoke volumes about his potential.
"Straight away I did good stage times which they noticed and then they make a contract with me."
He says he rated the Lancer Evo III as better than the Evo IV, but adds that continual development meant the Evo IV got better over time. "The nicest and best car to drive was the 6.5. That slowly got less trouble and the set-up was improving step by step."
Mäkinen owns just one of his old Mitsubishis, an Evo III that he drove to first place on the 1996 1000 Lakes Rally, which is kept in Juha Kankkunen's private collection of rally, race and road cars.
He ranks Colin McRae as his toughest adversary during his time in rallying, but says he respects all competitors at that level. "There was good times, with many big battles with Colin. Often when we had a fight together either he retired or I did, or sometimes both! It was more than 120 per cent flat out!"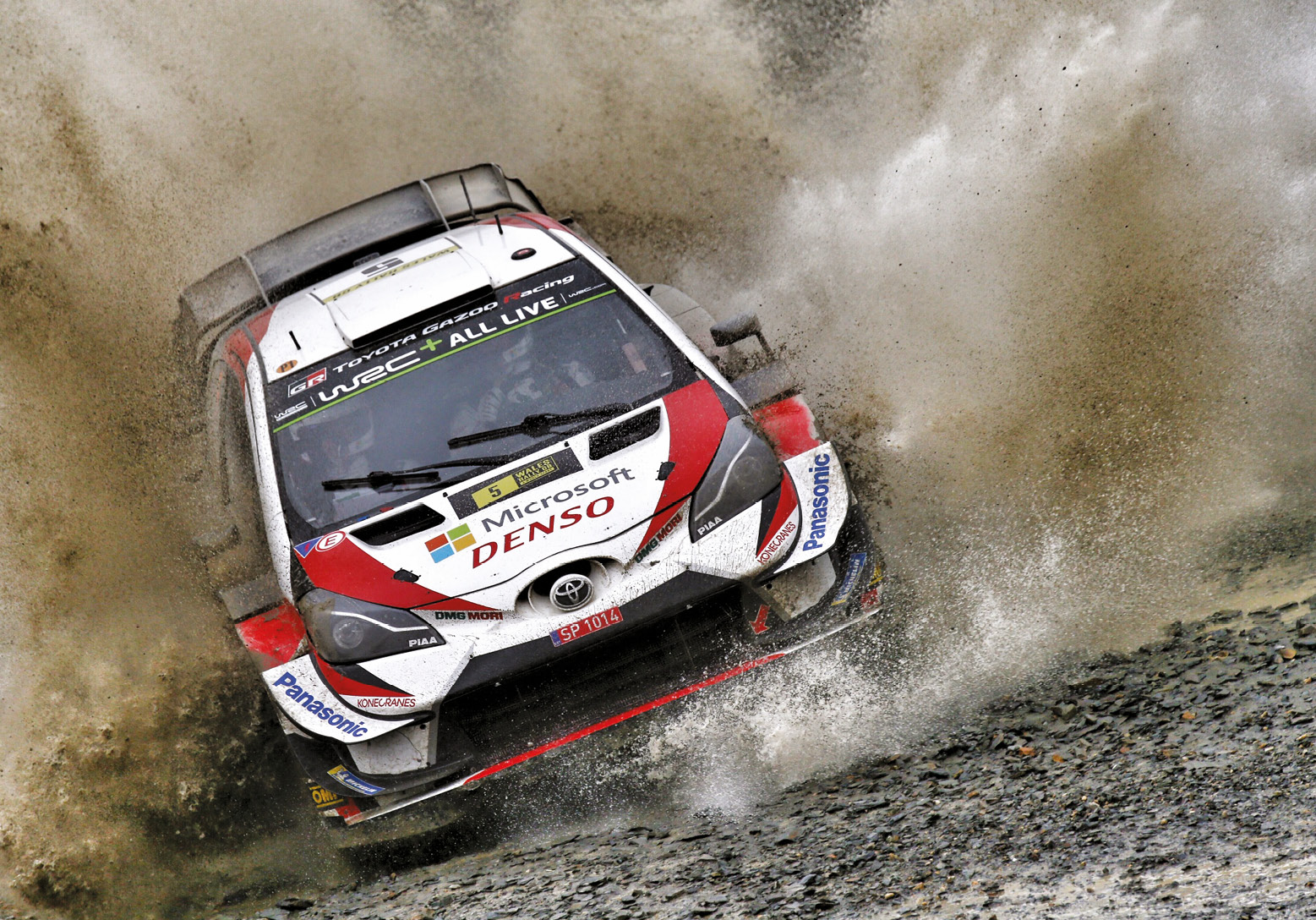 Does he think about McRae, who perished in a helicopter accident in 2007? "It's very unfortunate. I don't know if it's a reflection of his personality. This equipment [McRae was flying his helicopter] stays so dangerous, that whatever happens it is so sudden that you cannot do anything."
How about the battle with Sainz in 1998? The storyline reads like a fanciful fable from a Hollywood studio. Mäkinen gets a terrible start to his season, Sainz doesn't miss a beat. Then the Finn claws it back with three wins and the championship goes down to the wire at the last round, Rally GB.
During a special stage at the Millbrook proving ground, in Bedfordshire, the organisers had run a classic rally ahead of the main WRC event, and a Hillman Imp had lunched its engine, dropping oil on a right-hand bend that was lined with temporary concrete kerbstones. Sand was poured over the oil, but nobody thought to tell Tommi, who – running in P1 – was the first WRC driver to reach the corner. His Mitsubishi slid wide, the offside rear wheel caught a concrete kerbstone and was ripped clean off.
"It was one of the worst moments," recalls Mäkinen. "We had no hurry to make the title; I just needed to drive and finish the rally, and that's it. And it was looking easy."
Mäkinen begged his team boss to let him go home. He couldn't bear to stand by and feel powerless to do anything about Sainz's inevitable championship victory.
And then… Sainz's Toyota Corolla was as good as within sight of the finishing line when its engine suffered a catastrophic failure, 500 metres from victory. Famously, and perhaps not surprisingly, the Spaniard threw his helmet through the Corolla's back windscreen.
"My brother phoned me. At first I thought it must be a bad joke and then he was shouting down the phone, and I finally realised Sainz must have had an accident. But it was not funny. It was not the way to end the season. I had a good lead before that. It was purely the organisers' mistake. They didn't inform us [about the oil spill].
"It is so awful when you when you realise that you are there and you cannot do anything. You've been working flat out the whole year and then suddenly everything – poof! – everything is taken from outside."
Is he a religious man? Does he ever feel there was some sort of divine intervention? "Not really. I don't have much belief in anything, I don't have any traditions."
"Mitsubishi was a family team; friends working together"
Perhaps surprisingly, given he was raised on gravel and snow, and his fondness for the Monte Carlo and Sweden, Mäkinen says the highlight for him was tackling Tarmac events. "I won two times Sanremo with Mitsubishi. When the car was behaving and working well it was more like sensitive driving, not so sideways and just control the grip."
And now here he is, running Toyota's rally team. He put a simple ground rule in place with Toyoda – "flat-out or nothing" – but won't reveal the budget Toyota is investing in the project, which runs to the end of 2021. He strives to recreate the atmosphere he enjoyed with Ralliart and Mitsubishi, because "Mitsubishi was kind of a family team; it was smaller, with lots of friends working together and there was a warm feeling inside. Subaru was a bigger team and people were more like working and only doing their job.
"We are bigger than Mitsubishi was at the time. The biggest difference is that we are doing design ourselves; we have 50 designers and engineers working together but somehow I want to keep the family feeling like Mitsubishi had; the openness and information sharing.
"We are still, I would say, lots of good friends working together. And that's my dream. This is really a result of teamwork. What we have done in such a short period. Without strong teamwork and good relationships, together with the engineers and drivers, we wouldn't be able to do that."
To fast-track development of the Yaris WRC, Mäkinen decamped his team to Spain in 2016 for six months, without the need to return to base in Finland to make changes and design new parts. The car was able to run almost daily, clocking up 20,000km, with Mäkinen personally putting in 5000km (3100 miles) of development driving. It paid off with a manufacturers' title in 2018. So who better to ask about this era of rally car?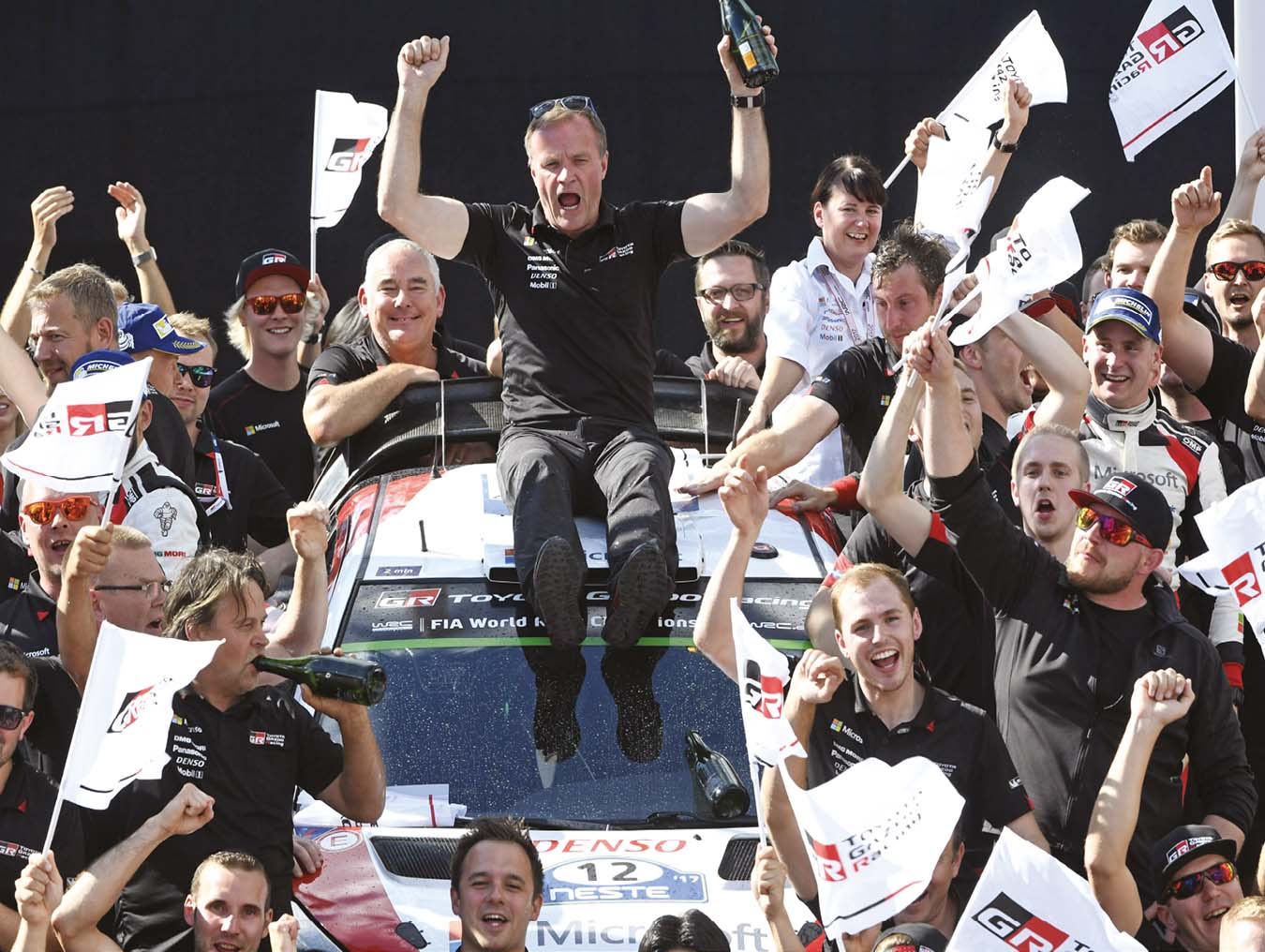 "They are far faster. The suspension has improved so much. Plus the aerodynamics, the power, the transmission; the package is incredible. You feel you can go faster and faster, and you gain more grip all the time – it feels like it's never-ending."
It is well known that Toyota is not happy about planned changes to the WRC rules in 2022, which will bring about the introduction of hybrid powertrains. The company feels it has nothing to gain, having led development of hybrid technology for two decades.
Mäkinen mentions alternatives such as "biofuels, recycled materials, as much green energy as possible" but that is unlikely to please Citroën and Hyundai. Both are said to have favoured the regulation changes.
Curiously, Mäkinen reveals there is no common ground in the WRC. "It's difficult. I am speaking with the other manufacturers because in my opinion we should have a manufacturers' association, then we could inform the FIA what we want to do together. But they [rival manufacturers] didn't want it." He laughs in an exasperated fashion.
"Individual relationships don't help if everybody has a different vision and a different message to the FIA. When we go together, we would find the best compromise, and bring ideas that everybody supports."
"I'd like more young drivers in the team, they bring new fans"
He rules out electric rally cars, saying the battery weight is too great and the energy density isn't there yet for flat-out driving on 60km stages, and when Formula E is mentioned he simply observes how, "it's funny when you look at the back of the service areas and there are big generators supplying power. I'm not sure is that the way?"
His priority is securing drivers for next season. Tänak is gone, but the likes of Kalle Rovanpera and Takamoto Katsuta have his attention. "I would like to see more young drivers in the team. Kalle is one young, bright star. I would like to see Takamoto also be on a higher level. They can handle the social media, they can bring new fans of their own age. We need new fans to keep the interest."
As for Toyota's commitment beyond 2022, he says that is still to be decided. "We are investigating already the new regulations, what it means. We are looking to develop that area, but ultimately it's for Japan to decide if they want to continue."
It is hard to imagine rallying without Tommi Mäkinen. Even if Toyota were to withdraw, the Finn has, for the second time in his career, made his mark in the WRC – this time as a team principal. Other car companies could come calling. Mitsubishi, anyone?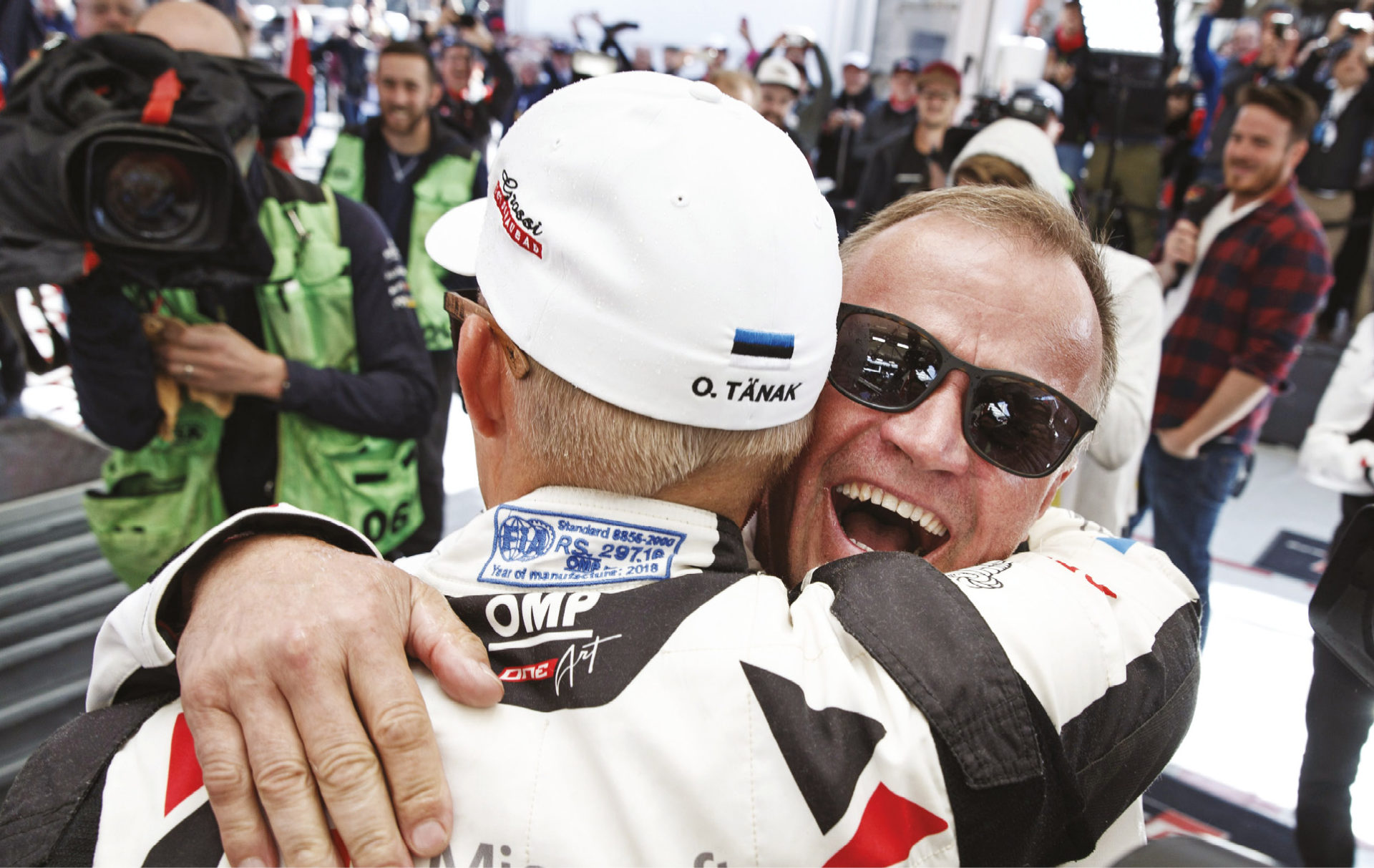 If he were to step away, though, what would he do with his time? "It's been very rich. Many things have happened. Sometimes things that are better not to talk about! But generally good and positive. I could have been a farmer, I suppose. My cousin and I have two farms. We grow seeds, arable. The harvest starts soon. It was a very dry June, which destroyed a really good harvest. The last three years have been challenging, because last summer it was nearly every day over 25 degrees, not much rain. The unsteady weather makes a farmer's life tough."
And with that, one of the most private men in motor sport is off. He has drivers to motivate, a team to manage and a car company to keep happy. He might be out of the driver's seat but it's still flat-out maximum all the way.
---
CV:

Tommi Mäkinen



Born: 26 June, 1964, Palokka-Puuppola, Finland
• 1985 Starts rallying in a Ford Escort RS2000
• 1987-89 Has WRC debut at Finland '87 in a Lancia Delta HF 4WD, but retires. Tackles rounds in Finland, Britain and Sweden, but fails to finish.
• 1988 Finnish Rally Champion, Group N, in a Lancia Delta HF 4WD
• 1990 Five WRC rounds in Group N, driving a Mitsubishi Galant VR-4
• 1991 Switches between private teams, driving a Ford Sierra Cosworth 4×4 and Mitsubishi Galant VR-4 before joining Mazda in a 323 Turbo 4×4. Team then leaves WRC
• 1992 Switches to new entrant Nissan in a Sunny GTI-R. Team cancels further development of the car at the end of the season.
• 1993 Development work with Nissan's front-wheel-drive Sunny GTI. Competes in three WRC rounds in a Lancia Delta HF Integrale and is fourth in Sweden and Finland
• 1994 Wins 100 Lakes Rally in Ford Escort Cosworth, which leads to Ralliart deal
• 1995 First full season with Mitsubishi in a Lancer Evo; second on Swedish Rally
• 1996-99 World Rally champion with Mitsubishi. Four consecutive titles in Lancer Evo III, IV, V and VI
• 2000–01 Fifth and then third in WRC with Mitsubishi
• 2002-03 Moves to Subaru, finishes eighth both seasons
• 2003 Retires at year end
• 2004 Forms Tommi Mäkinen Racing, a private rally team
• 2016 Secures contract to run Toyota Gazoo Racing World Rally Team
• 2018 Toyota wins WRC manufacturers' title
• 2019 Ott Tänak wins
---
digital extra