Lewis Hamilton: the seven-time Formula 1 champion
Fresh from clinching his seventh Formula 1 world championship title to stand equal with Michael Schumacher – a feat most thought impossible just a decade ago – Lewis Hamilton knows he has proven himself to be one of the sport's greatest ever. But this year has been about more than just on-track success. The champion has well and truly found his voice and is using it to call loudly for change. Mark Hughes looks at his efforts on and off the circuit, and how Hamilton, through his work, could even be the sport's saviour.
Does the true significance of Lewis Hamilton's seventh world title stretch beyond just the record-breaking sporting achievement? For it is not just the statistics which are unprecedented, so too are the circumstances in play as he's finally broken the all-time record of Michael Schumacher (with an equal number of titles and greater number of race wins). Hamilton's transition from F1 star to global influencer is perhaps the most significant thing to have hit the sport at a time when almost all of its traditional values are being questioned.
The 'nothing as it was' circumstances of the global pandemic have played their part in Hamilton stepping up his role of global campaigner in 2020. "Not being at work this year has given many people more time to realise the magnitude of the situation and allow them to protest," points out Hamilton. His environmental campaign was already well established before this year but was low-key compared to his embracing of the Black Lives Matter movement.
His leading of the drivers in taking the knee pre-race and his imploring of the sport to follow in the equality message to the world in the post-George Floyd age has cast him in a new light as an icon who transcends the sport.
In so doing he has of course irritated the purist element of the sport's following, those who believe such causes should not be mixed with sport. But actually, at a time of social revolution in which long-accepted values are being questioned more than ever before, Hamilton just might be showing F1 the way forward, giving it a chance of not being seen as an irrelevant dinosaur by the coming generations.
"Hamilton just might be showing F1 the way forward"
For many, Formula 1 has passed the moment when it had the choice of operating outside that consensus as an outlaw sport, celebrating excess in the way it always
used to back when Marlboro Man was the very embodiment of individual, libertarian choice. F1's pursuit of the corporate dollar to feed its competitive zeal has led to it having to accept whatever values the automotive companies wish to market.
The values that sell in that world are, increasingly and inevitably, environmental sustainability. Hamilton has embraced those but in addition this year taken on an entirely new issue – really the only other global campaign issue besides environmental that matters: human rights. F1 goes wherever the money is – but has never dared go here before. Hamilton is the first to stick his head above the parapet.
Such is the enormity of his profile that he's pulled F1 into that issue, effectively challenged it not to be involved. Maybe against its instincts, certainly earlier than it might have otherwise done, F1 has been dragged into the emerging new world by Hamilton's activism.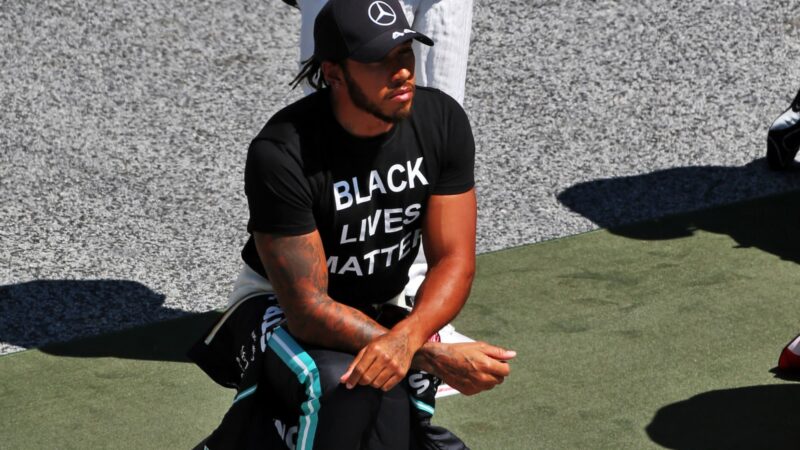 Formula 1 could easily stand accused of hypocrisy in both the environmental and human rights issues. It's a tricky line to walk. But trying to remain in isolation of them seems a sure way of being increasingly seen as an irrelevance – with all the negative commercial implications of that. In using the sport as his platform, Hamilton is forcing it to confront that reality now; forcing it to choose sides, in effect.
"The drivers' title doesn't necessarily impact people's lives," he said on the eve of clinching it for a seventh time. "Trying to improve conditions for people around the world – equal human rights – that's the most important thing to me." It's maybe the most significant thing about Hamilton's success for F1 too, even if it doesn't fully realise it yet.
The circumstances of the pandemic have played their part here. Not only in terms of world events, but even in how much time it has allowed Hamilton to reflect. "I was already planning to get involved in the black lives movement. I'd started planning that last December. But when I saw that [George Floyd] video I was so angry. I could not stay silent. I got to go on the march in London; amazing to see people of all colours and different walks of life supporting it. This is not a battle of one race against the other. This is asking for equality. Martin Luther King was fighting for this 60 years ago. It's crazy that 60 years later it's still happening."
His call on social media in the immediate aftermath to stand up, his 'I see you' comments were taken as implicit criticism of other drivers and caused a flurry of stated public support for the cause by many of them, but some resentment from a few. "It wasn't a call to the drivers, specifically," he told Sky F1's Martin Brundle. "It was everyone, not only in my sport. I've got friends in other businesses, other sports, leaders in those sports with massive platforms who are saying nothing. I have friends in the music industry who are saying nothing. We need every single person's voice. It doesn't matter how big or small your following, you still have a voice. What I want is that we all use our voice together because collectively we can make a huge impact. I think we all have a responsibility with our platforms… It's not just about taking a moment out of your day by posting something. Many black people don't have the time to just take a moment. They have to stay on this every day of their lives otherwise it will never change."
But he's had so much more time to be active in that campaign, whether that be in setting up the Hamilton Commission ( which seeks to improve black representation in motor sport) or in planning his various publicity campaigns. It's the pandemic which has given him that time.
Because of the risk of Covid threatening his title campaign, he has lived a pretty lonely, isolated life this year. "I haven't gone out, gone to dinner, I just stay in my room, get room service every day, just stay in my bubble. That's been because I had a championship to fight for and didn't want to take any risks. I think I've sacrificed more this year than before."
Even in the euphoria of clinching that seventh title in Istanbul, his campaigning thoughts were never far from the surface. Asked what came next after title number seven, he replied, "I feel I still have a lot of work to do here. We're only just beginning the push to hold ourselves accountable as a sport, realise that we have to face and not ignore the human rights issues around the countries we go to. How can we help those countries in parallel to really change, not 10 years from now or 20 years, but now? Also moving to something more sustainable. As a sport, the whole thing needs to be more sustainable and I want to see if I can be part of that, at least the initial phase of it."
"You have to dream bigger than you think you can dream"
Yet Hamilton's natural habitat remains the cockpit of his Mercedes. The team's competitive advantage increased significantly this year, which was bad timing for the sport when it desperately needed to retain interest, but meant that those records fell to Hamilton all the sooner. This was a further evolution of the complete Hamilton in evidence since 2017, the driver who has worked on his weaknesses to become pretty much impregnable. But it's built upon the improvisational brilliance he previously relied upon and which is still very much there.
The obvious pride he has in his own achievements is there, but it's offset now in an urge for it to mean more. "Matching an icon like Michael; I'd be incredibly proud of that," he said just before he'd achieved it. "But it's more the message it sends to not just kids, but mostly kids, that you have to dream bigger than you think you can dream and don't let anyone tell you you can't go for that.
"I love this planet. It is so beautiful. There's so much beauty around us. I don't want my time here just to be for fun. I want to help and have some positive impact, even if it's just helping one kid get through the shit stuff. The other day I was talking to some young guy – he was saying, 'I've really struggled with depression this year.' And I messaged him and he's perked up. I just want to make sure that while I'm here, I have a positive impact. And the racing is all good and everything. But there's a lot of issues and there's a lot of things to do."
Is the racing now just a prelude to his future as a global campaigner? Maybe, but one doesn't get the sense he feels racing is over yet. "It's weird," he said after climbing from the car in Istanbul, having just finished half a minute ahead of the field. "I feel like I'm just getting started. The more I race, the more I feel like I'm getting better. I think I'm understanding myself more."
Earlier in the weekend, talking with Motor Sport, he went into more detail about the racing side of his 2020 season. "It definitely feels like the most all-rounded, highest level I've been at. You can't always get it right. This year, being as we've also had Covid, we've had more time to focus on areas of weakness. I would say last year the racing was strong, qualifying wasn't so great and I came into this season trying to make sure I kept the strengths but worked on the weaknesses. But in improving in qualifying I have managed to improve the racing, which was a bit of a surprise. I was not expecting that.
"My understanding just continues to evolve in terms of how you utilise the tyres. As the years go on, and particularly this year, I've been able to invest more in understanding the car, understanding the technical side, understanding the set-up, and on the weekend there are so many things to change and you can easily miss these. Before you get to qualifying, you have not got through the lap and checked all the diff settings; you're trying to cover as many bases as possible but sometimes things are missed and you almost run out of time when you get to qualifying. You're trying to make really quick decisions. This year I have been a lot more efficient with that and that comes down to communication with the guys I'm working with also."
But that's about his campaign, rather than his campaigning. Formula 1 itself, and Hamilton's place in it, gives his campaigns the platform they have. He could carry a profile for a few years without it, but it would surely steadily lose its power. But continuing to race means he is the only driver who could single-handedly change F1's engagement with the coming generation in a way that might allow it to survive. The sport's management probably feels he sometimes puts them in an awkward position. But actually the positions he's putting the sport in, in his striving for a better world, may turn out to be its saviour.