2020 McLaren 765LT road test: How to train your McLaren
Far from friendly? Decidedly unsettling? Andrew Frankel throws a lasso around the wild 2020 McLaren 765LT and offers it a sugar lump
You will be forgiven for being somewhat confused if you'd read elsewhere the early reviews of this new McLaren 765LT. Some absolutely loved it, others had their admiration under far closer control, largely because they said they found it to be far from friendly on the limit which, in this kind of car, is a big problem. One even complained it had too much steering feel, which I found curious.
Initially it seemed that the reason was down to conditions, those who drove it on a dry, smooth circuit preferring it more than someone who drove it on a damp or bumpy track. And that would appear to be its fault: this, after all, is a car most owners will take on track and it should perform in that environment whatever the conditions. But it also has to perform
on the road too, which McLaren did not permit during launch activities.
I have now driven the 765LT in conditions ranging from perfect (warm, dry Silverstone) to diabolical (cold, wet Castle Combe) and hundreds of miles between the two so I am now in some position to give a reliable verdict.
First we should look at what we're dealing with, which is the third in McLaren's LT series, after 2015's 675LT and the 600LT of 2018. It is based on the 720S, but through various measures including the fit of some carbon-fibre body panels, thinner glass, a polycarbonate rear screen, a titanium exhaust, lightweight seats and making the air conditioning and nav systems optional, its weight has dropped by 80kg, making it lighter than any comparable car. Just 765 will be built, followed by an unspecified but no larger number of Spiders.
It's an interesting proposition, not least because the 720S was and remains the most broadly capable supercar I've driven, and I wasn't sure if messing with that formula was necessarily a good idea. But at Silverstone, where I drove the car before anyone who turned out to have a contrary view, it was magnificent. In track ability it's closer to a Senna than a 720S, despite costing little more than one third of the price and being entirely usable on road. It only weighs a few more kilos and only has slightly less power. What it lacks is Senna levels of downforce which, in the context of a road car, turns out not to be such a bad thing after all, because it is the mismatch between racing car levels of aerodynamic grip but street car amounts of mechanical grip that puts an artificial limit on what the Senna can do. The 765LT with presumably modest (because it is undisclosed) downforce capability has no such problem.
Even using the slow approach from the International Circuit, the 765LT will show over 170mph before braking into and all the way to the apex of Stowe. Stability even without huge downforce is breathtaking for a road car, and traction out of the corner always impressive, despite not having a limited slip differential. On and over the limit it slides quickly, but can easily be gathered by the linear steering.
I did wonder what its detractors were going on about until I drove it in terrible conditions at Combe. After that I wondered even more. Yes it now sensibly wore standard Pirelli P Zero tyres rather than the dry weather track day Trofeo R, but I could scarcely credit the confidence this powerful supercar imparted around this wet, notoriously bumpy circuit.
I did many laps in it, approaching the evil old Quarry corner through the right-hand kink at 140mph, kicking up vast plumes of spray and not once did it cause me a moment's concern.
I then went and did the thing that people like me don't write enough about when reviewing this kind of car. I sat in heavy traffic and churned some motorway miles. And it was easy. The 765LT is not only an outstanding track tool, it's an amazingly comfortable road car. It's noisy but so long as you've been smart enough to option back in (at no cost) the air conditioning and infotainment system, this is a simple car in which to do 100 miles. I'd be happy to drive it 1000 miles. You could go on holiday too, because it has a capacious boot.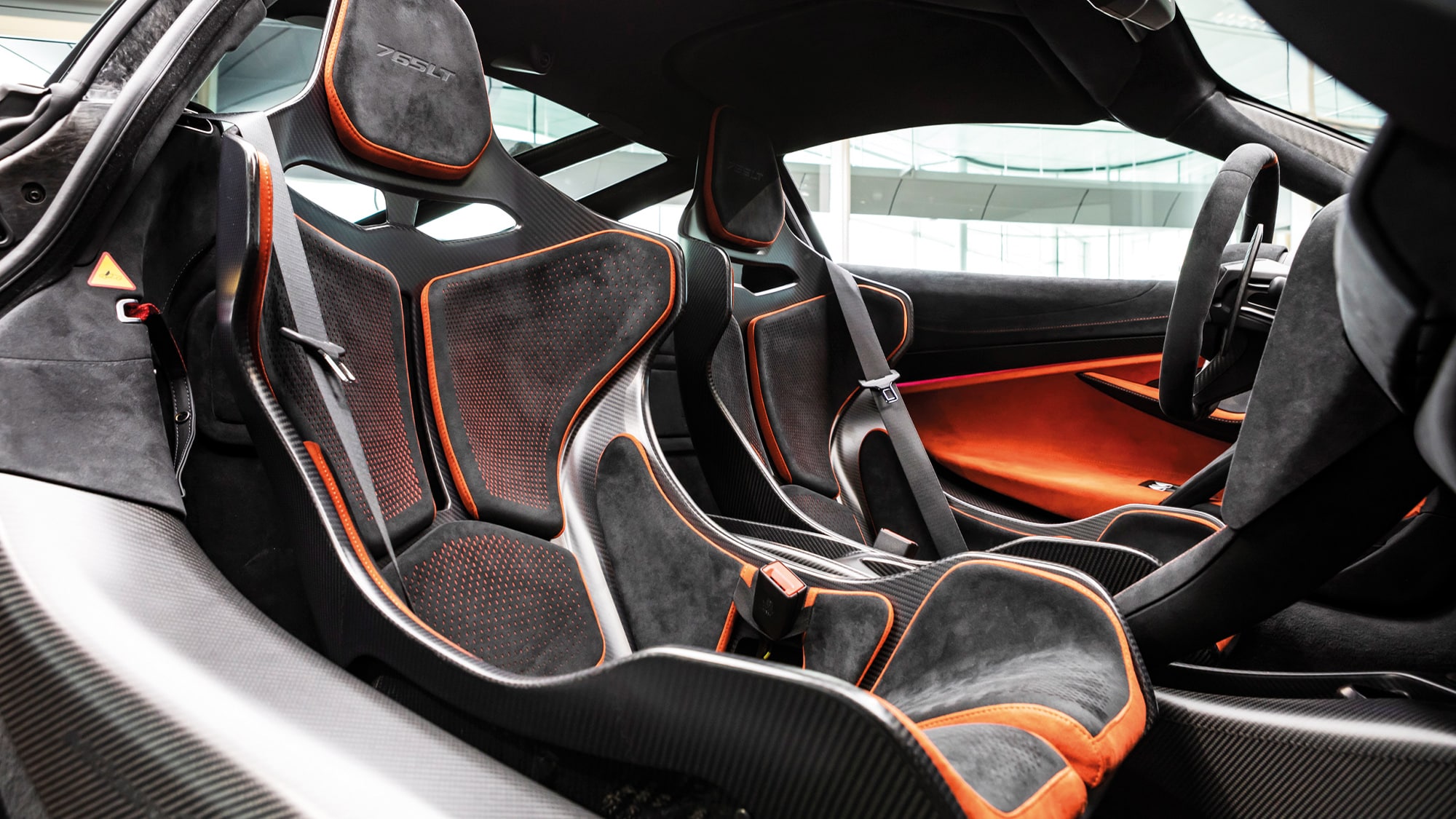 All of which made me ponder what it was that turned some of my colleagues against this car. These people are not idiots, least not the ones to which I am referring: they're intelligent, experienced, extremely capable in their driving and considered in their writings. Yet they appear to have experienced an entirely different car to me despite the fact that at least one of them has driven precisely the same car.
The only thing I can think of is that we have different driving styles and mine happens to suit the characteristics of this car. I don't spend as much time as possible at 45 degrees. I like cars with a neutral to slightly oversteering balance but a drift merchant I am not. And those who are would find the limitations of the 765LT's open differential at best frustrating and at worst possibly unhelpful and unsettling.
I am aware that the kind of car that McLaren likes building – lightweight; prioritising driver engagement – is the sort I like driving, yet even in this context the 765LT is special, a far more enjoyable car than a Senna.
In 2021, McLaren Automotive launches its first new car since 2010, a hybrid with its own carbon tub made in Sheffield. The 765LT, then, is the last of the old guard. What a way to sign off the otherwise troubled 2020 and help reset the business for the future to come.
2020 McLaren 765LT statistics
Price £280,000
Engine 4-litre, 8 cylinders, turbocharged
Power 755bhp
Weight 1339kg
Torque 590lb ft
Power to weight 564bhp per tonne
Transmission 7-speed double clutch, rear-wheel drive
0-62mph 2.8sec
Top speed 205mph
Economy 23.0mpg
CO2 280g/km
Verdict A supercar for all occasions, and more likeable than a Senna