Formula One: 1991 Canadian Grand Prix
Broken Spells
Montréal, June 2: After the first four Grand Prix races of this season, in the USA, Brazil, Italy and Monaco, the domination by the combination of Ayrton Senna, McLaren and Honda with the strong support of Goodyear tyres, Shell fuel and oil and many other branches of the motor racing industry, had the Formula 1 world spellbound. Four pole positions, four race victories, 1st and 2nd at the Imola race, it was all becoming too much domination by one team and some people were ready to give up and start thinking about next year! Fortunately there were some who were not prepared to accept this domination as inevitable, not only drivers, but car designers, engine specialists, fuel companies and even tyre manufacturers. The fact that Gerhard Berger, in an identical car to Senna, could be beaten, and frequently was beaten, gave hope to many, though there were few who were prepared to say how Ayrton Senna was going to be beaten.
Alain Prost seemed to have unwittingly destroyed what morale there was in the Ferrari team, just as he nearly did with the turbo-Renault team and then the McLaren-Honda team, but the only other truly front-running team, Williams-Renault was totally unaffected by the little Frenchman, and were actually encouraged by the fact that Ferrari were opposition that could be dealt with comparatively easily. The Senna/McLaren/Honda combo was something else altogether, but not invincible as far as Patrick Head, the leader of the Williams car-design team, and Bernard Dudot, the leader of the Renault engine design team, were concerned, and these two have been working well together for a long time. A quick look back at the previous four races shows that the Williams FW14 and its Renault V10 power unit could almost match the McLaren MP4/6 with its Honda V12 engine and there was not a lot missing from the efforts of the two Williams drivers. Nigel Mansell we know always gives of his best, and Riccardo Patrese was surprising everyone by his quiet application to the job in hand and lure of possible victory, which was occasionally within sniffing distance.
It would be nice to record that the Frank Williams team beat the McLaren team soundly and won the Canadian Grand Prix, but this did not happen. They beat the McLaren team in qualifying and led them in the race, but before the chequered flag they stumbled and fell, but this time there was no McLaren to pick up a lucky win, nor even any Goodyear-shod runners who could benefit. The result was a win for Nelson Piquet in a Benetton B191 running on Pirelli tyres, and powered by a works Cosworth V8, fuelled and oiled by Mobil, thus breaking a lot of established 1991 spells.
After the Friday early morning pre-qualifying session, in which the Dallara-Judd V10 cars of Pirro and Lehto, and the Jordan-Cosworth V8 HB cars of de Cesaris and Gachot had little difficulty in taking the all important top four places, the serious business of the Canadian Grand Prix began to unfold. The interesting surface in the island in the great St Lawrence river had been resurfaced for much of its length, a number of iron covers over inspection pits of the underground electrical system of the island were moved, and the very fast ess-bend running from the final straight onto the straight past the pits had been transformed into a much tighter and slower ess-bend, calling for some pretty heavy braking from nearly 190 mph, all of which seems to satisfy the majority of the Formula One world.
The morning was grey and dull, with threatening rain which did actually arrive before the morning test session was over, which caused a bit of an unreal situation in the tentative results of the morning. There were a few minor changes in the pit lane scene, with Stefan Johansson replacing Alex Caffi in the second Footwork-Porsche, due to the little Italian having been involved in a road accident in his home town of Brescia, and Johnny Herbert was taking the place of Julian Bailey in the second Lotus. Of more specific interest was Ford supplying the Jordan team with HB Cosworth engines almost to the same specification as those used by the Benetton team, and the Ferrari team no longer being managed by the publicity-conscious Cesare Fiorio, his place being taken by what almost constitutes a "committee".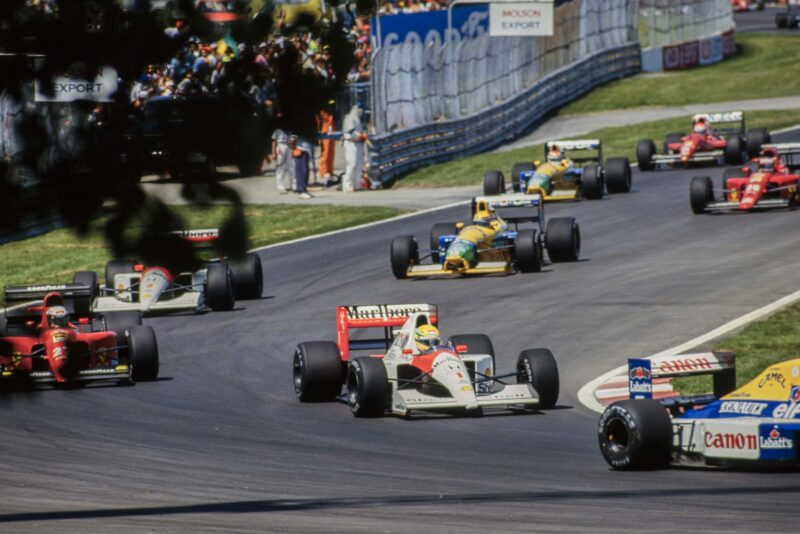 Everything seemed to be progressing reasonably well in view of the fact that there had not been any previous practice nor testing on this scenic public park circuit, when it was all brought to a halt by the red flag. Senna had come to rest on the far side of the circuit with his V12 Honda engine broken and a lot of oil about the place, and Piquet was heading for the pits with a trail of gearbox oil following him. As if that was not bad enough the unfortunate Patrese had been following Senna and slid on the oil and crashed heavily, giving himself a nasty pain in the neck, which prompted the F1 doctor to prescribe "rest". Ron Dennis took the blame for the Honda engine blow-up by indicting his own inspection department, which had caused a blockage to the oil system, because everyone knows that Honda engines don't "blow up". This lost Senna a lot of testing time as he had to change his programme to the spare car, and by the time he was ready to set a time on qualifying tyres a drizzle of rain had begun.
Up until the accident Patrese and Senna had been setting the pace, with Mansell in strong support, but just before the track started showing signs of dampness Roberto Moreno got his Benetton to the top of the list, where he stayed. During the break of one and a half hours between the end of morning testing and the start of qualifying, a time when those with nothing to do go and have lunch, there was a lot of engine changing going on at the top end of the pits, as well as repairing, and also at the lower end of the list, but as always, a day's work was accomplished in 1-1/2 hours by the hard-working mechanics and all was virtually ready for the all-important qualifying hour, all except one thing — the weather! The rain was coming down steadily and there wasn't a qualifying tyre in sight, everyone being mounted on heavily treaded rain tyres, because regardless of the weather, qualifying was going to take place, and all times were going to count for grid positions. If the rain was going to stay, and get worse the following day, a reasonable Friday time might be all-important. Though the lap times were 15 seconds down on what they should be the competition and effort was undiminished and it became clear that Williams-Renault had a better overall set-up of handling, traction, stability and engine management, which Nigel Mansell instantly made good use of, than McLaren-Honda or Ferrari. In a fair amount of pain Patrese did a valiant job but could not be expected to give much support to his team-mate at this juncture, and Jean Alesi was doing his utmost to lift Ferrari out of their own mire by nearly matching Mansell's performance.
Senna was a distant (eight-tenths of a second, which is distant in Formula One language) third, with the chirpy Moreno just behind him, and de Cesaris by far "the best of the rest". Overall the first day of the Canadian GP ended on a slightly gloomy note.
On Saturday morning the sun was shining, the roads were dry and things began to buzz. Lap times were better than last year, in spite of the slower ess-bend at the end of the lap, and continual improvement on all fronts was the real name of the game. Once again the Williams-Renault package was showing a marked superiority, and Patrese was back in front of his team-mate, regardless of any neck pains. Normally this would have put him second to Senna, but this time Senna was down in 3rd place. For a while it looked as though 1 min 20 secs was going to be a natural barrier to aim for, but as "testing" ended and everyone did a few laps to establish qualifying conditions in readiness for the serious business of the afternoon, Patrese, Mansell and Senna all got into the 1 min 19 sec bracket. Significantly Bertrand Gachot had his Jordan 191 in "best of the rest" position, ahead of all the B-teams, while in the Brabham team there was a good deal of Japanese concern over the Yamaha engines.
During the lunch break the sun began to get really hot, and by the time qualifying began it was almost too hot for efficient high-speed conditions and instead of the pace carrying on below 1 min 20 sec a lap, as the morning had indicated, it took half-a-second step backwards, but it did not make any real difference to the overall scene. The two Williams-Renaults still dominated the scene, the Renault V10 engines, with their new 1991 deep-throated exhaust and obvious impressive torque spread, were being used to the full by the Williams chassis, suspension, brakes and aerodynamics, to say nothing of the drivers; and the ELF petrol company mentioned that they had supplied Renault with some special "qualifying fuel".
Patrese was alone in breaking 1.20 on the first runs, Senna having set the ball rolling with 1.20.481, and Prost nudging it with 1.20.656, but Mansell was suffering his usual frustrations which always only seem to affect him! He was all set to go for his first run when the Williams suffered a fault in the electrical system of the gearbox operation and though Mansell sent a signal to the control unit that he wanted first gear the car sat there fatly in neutral gear position.
This was eventually sorted out and he roared off down the pit lane to the exit, where he had to stop for the mandatory tyre mark check, and at that point the electro-mechanical over-ride control of the clutch failed to function and the clutch did not want to know about freeing, with the result that the engine stalled. By the time Mansell had walked back to the Williams pit the mechanics had almost got his spare car ready, so he was soon into that and away. He put in a first class run with a lap of 1.20.295 and went on to another one in 1.20.954, so there was not much wrong with the spare car, but Patrese was holding pole position with 1.19.893. There are times when one is prompted to think that maybe the modern hi-tech racing car is getting too complex for the fiery Birmingham brain.
Looking remarkably unflustered, though still in some pain with his neck, Patrese did his second run and improved his time to 1.19.837 indicating quite clearly that his first one had not been a fluke, and the Renault engineers were looking very contained with the whole affair. Senna improved his time by over a tenth of a second, but it was not even quick enough to challenge Mansell's ruffled run, and when Mansell went out for his second run and improved to 1.20.225, the Senna/McLaren/Honda combination knew it was beaten fair and square. They were beaten by an all-round competent package, rather than one outstanding feature.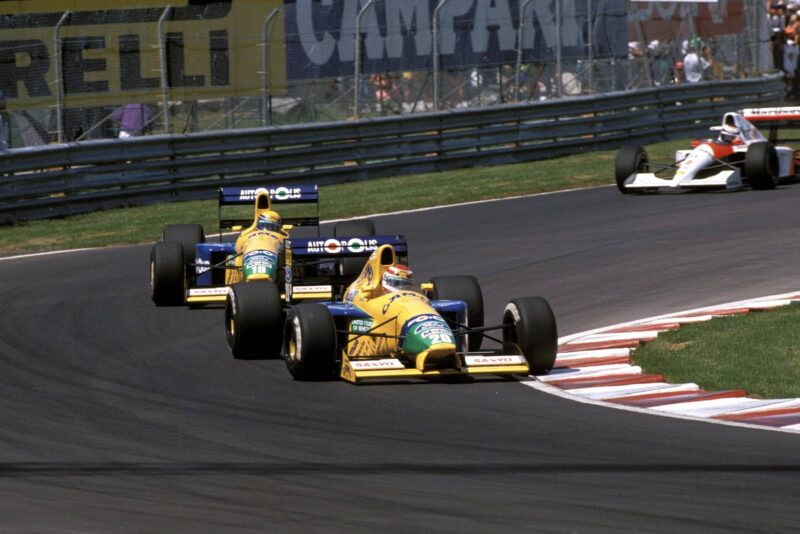 All this excitement for the front of the grid tended to overshadow anything that was happening at the back of the grid, barely four-and-a-half seconds away, but it might just as well have been four-and-a-half hours! The two Italians Tarquini and Barbazza failed to get their AGS-Cosworths onto the grid, as did the two British drivers Blundell (Brabham-Yamaha) and Herbert (Lotus-Judd). The Footwork-Porsche team were a little happier at getting both A12 cars in, and Eddie Jordan was well pleased with his two drivers being in the middle of the grid on this challenging circuit. Team Tyrrell would have liked their drivers to have been a bit nearer the front with their Honda V10 engines, but were not unhappy with actual race prospects.
Sunday was a beautiful sunny day, Canada at its best, and in spite of fairly high admission charges, a strong crowd assembled in anticipation of seeing something exceptional, especially with the Williams-Renault cars in first and second places on the grid and the reigning World Champion in third place; a very unusual position for Ayrton Senna, who was making no excuses, he was simply "out-speeded". As the morning warm-up half-hour started electrical trouble reared its head again in the Williams pit. Patrese's engine would not start, not due to engine trouble, but caused by a failure of the electrical system that deals with the collection from the tank and the distribution to the intake system. While this does not sound very much there are a lot of "gizmos" involved and by the time it was sorted out the test half hour was over, so there was no opportunity to run the car. Meanwhile Mansell was flying the flag valiantly by being fastest in race trim still leading the two McLaren-Hondas.
By 2pm when the race started it was very hot (by 1991 standards) and there was some concern over tyre wear and possible pit stops for fresh tyres, so the feeling was that there would not be a lot of furious motor racing in the opening stages of the 69 lap race. Before the parade lap got under way Martini's Ferrari V12 engined-Minardi was wheeled off the grid with brake problems and he lined up at the pits exit ready to start the race in the spare car, once the race was under way, according to regulations. By setting off the moment the pit lane had opened Patrese managed to squeeze in four laps before taking his place on pole position on the grid, now confident that his car was alright, but less confident about his personal stamina for what looked like being a hard race. Mansell was in a very buoyant and tigerish mood, and Senna was quietly viewing the whole situation, ready to improvise instantly as the opportunities arose, but not totally convinced that opportunities were going to arise.
As the field charged down to the first corner Mansell elbowed his way past Patrese and into the corner as if he was racing a deadly rival while Patrese, who has matured enormously in recent times, made no difficulties for his team-mate and settled into his own pace, leaving Mansell forging ahead as if he had Senna and Prost on his tail. In fact, Senna was on nobody's tail, following Patrese at a comfortable distance in third place, with Prost very close on the McLaren's tail. The rest of the field was fairly orderly except that Pirro had collided with de Cesaris and stopped at the pits for an inspection and new tyres. However, before the race settled down Alboreto was out, with Porsche engine trouble, and Suzuki was out of his Lola very smartly when a massive fuel leak had set the whole of the back of the car on fire. Berger was into the pits with electrical trouble causing a very flat-sounding Honda engine and after one more lap was out of the race.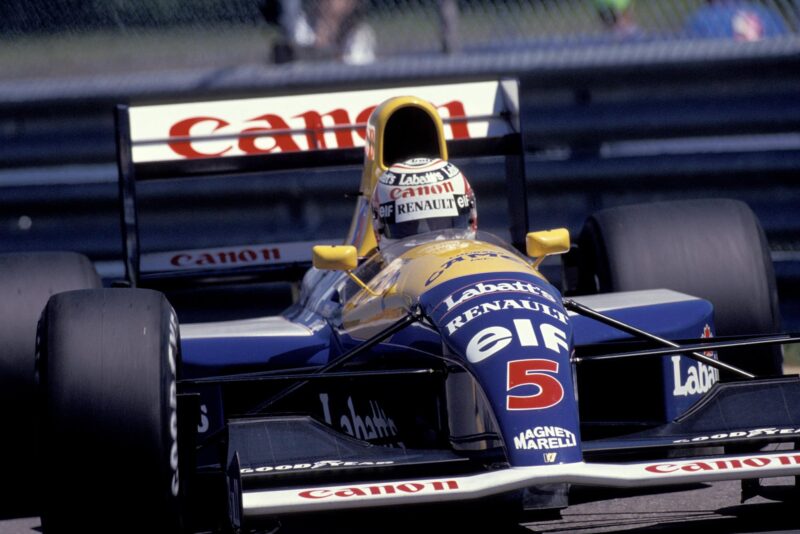 By 10 laps an interesting and satisfactory pattern had formed. True to practice portents the two Williams-Renaults were looking comfortable in first and second places, with Senna watching them from a safe distance behind, though Prost was anything but a safe distance from the McLaren and was showing signs of wanting to get by, something we don't normally see the little Frenchman doing. Alesi was leading Piquet for fifth place, but Moreno had disappeared down the field and into retirement after spinning at the ess-bend by the pits. This was the real world of Grand Prix racing, but the following world of miscellany showed a far busier situation with some good racing going on. The two bright green Jordan cars were going really well and by lap 10 had Modena's Tyrrell neatly sandwiched between them, de Cesaris leading and showing speed without his normal abandon. Both Jordans had started on softer tyres than proved wise, and had to stop for a change when the wear rate became unacceptable, which allowed Modena to get away. Mixing it with the Jordans was Capelli in the first of the Ilmor V10-powered Leyton House cars, with Lehto going well in the Judd V10-powered Dallara of the Scuderia Italia, both of their respective team-mates being far behind with unhappy feeling cars, Gugelmin in 19th place and Pirro in 21st place.
By 20 laps not a lot had changed, except that Martini had now climbed up to midfield from his pit-lane start in the spare Minardi. But shortly after that we lost Hakkinen (Lotus) and Morbidelli (Minardi) who both spun off and stalled their engines in separate incidents, and Brundle (Brabham) when his engine failed. Prost had suffered a malfunction of the electrical system of his gear-selection mechanism, and this unexpected pause in neutral allowed Piquet and Alesi to go by, but before 30 laps had been covered by the flying Mansell in his Williams-Renault something much more serious occurred. Senna's McLaren-Honda went quiet as it was accelerating away from the eastern hairpin, and it coasted to a stop with a lack of electricity in some of its vital engine areas, and before the spectators really got to grips with this unpalatable news there was another ominous silence, from Prost's Ferrari this time as it howled past the pits. An electrical gremlin had re-appeared in the gear-selection system and the car was left in neutral, so that Prost had little option than to park on the grass verge and walk back across the track to regain the pits.
It was beginning to look as if some anti-motor racing nut with a laser scanner, or something was beaming onto the hi-tech cars of Formula One, picking them off at random. The next to go was Alesi, but his retirement was a good old fashioned cloud of smoke, indicative of a piston breaking up. Then Patrese went missing, and Piquet and Modena went by into second and third places, but the Italian eventually appeared going slowly with nothing worse than a deflated rear tyre, punctured by something picked up on the track. New tyres got him back in the race, but the delay had dropped him to sixth place, one lap behind Mansell who was way out in front in full command of the situation. Both Jordans had been in for new tyres and were running splendidly and working their way up the field.
We were now past lap 40 and as a race not a lot was happening, but Mansell was doing a fine job out in front, even though it was difficult to believe, and more difficult to believe was the simple fact that he had been there since the first corner of the race. Piquet was securely in second place, thanks to failures of faster cars, but was doing all that could be expected of him in the underpowered Benetton, however brilliant the chassis might be. Capelli had hung on tenaciously and had climbed to fourth place, albeit a lap behind the leader, but even that comforting place was denied him when the Leyton House disappeared in a cloud of blue smoke emanating from the Ilmor engine. This allowed Lehto to inherit fourth place, but he did not enjoy it for long for Patrese soon caught him and went by. The Williams driver had been a bit worried about his personal stamina following his practice accident, but he need not have worried because he was feeling fine, and intent on getting back into second place. A pit stop on lap 47 by Modena for new Pirellis elevated Patrese into third place, but all thoughts of annexing Piquet's second place evaporated when the Williams gear-selection electronics missed a beat. Knowing all about the electrical system Patrese settled on nursing it in a secure third place, rather than risk trouble trying to get second place. Around this time Mansell had eased off and let Patrese go by to unlap himself, and the two Williams cars ran round in close company so that they would end the race together, even though they were only a few yards from being a complete lap apart. In first and third places, with second place man Piquet safely half a lap away, the Williams pair prepared for a fairly dominant end to a performance that they had maintained all weekend. Before the end of the 69 laps the warning "bleep" that the gearchange electronics had given Patrese manifested itself by causing a problem on downward changes, but Riccardo was in sympathy with it and eased off a lot and nursed it along, intent on keeping going to the end.
This allowed Modena to bring the Tyrrell-Honda V10 within menacing distance, with Mansell still between the two cars, following Patrese's slowing pace, but not knowing why. When it became merely a matter of time before Modena caught Patrese and took second place, Mansell wisely decided to get out of harm's way, rather than get involved and the easiest way to do that was to speed up and go past his sick team-mate, and disappear into the middle distance, especially as his car was running perfectly. Modena went by into third place right on schedule, on lap 67, at which point Mansell was on lap 68 and as he started his 69th and last lap "our Nige" began waving to the spectators. At the finish line the chequered flag was ready to be waved at the worthy Mansell, but it was Piquet's Benetton that appeared, and there was some confusion for a moment or two, but the circuit television showed Mansell had stopped coming out of the eastern hairpin. Modena (Tyrrell), Patrese (Williams), de Cesaris (Jordan) and Gachot (Jordan) were all flagged-off after Piquet, now being on the same lap as him, and though Mansell's car was stationary on the grass verge his time for 68 laps gave him sixth place, but one lap behind the winner. Nelson Piquet was delighted to drop into first place at such a late stage in the race, and made no attempt to hide his elation, nor to make any pretence that he had actually won the race. Yes, of course he was sorry for poor Nigel Mansell, but he was delighted with the result. Even more delighted was the whole Jordan team, from Eddie Jordan himself right down to the newest well-wisher, and the whole team were last seen trying to get drunk on 7UP. Fourth and fifth by sheer hard work and hard driving in their first half-season is something not many new teams have ever achieved.
Mansell came back to the pits on the side-pod of Patrese's car on the slowing down lap, and even that breezy ride did nothing to disperse the total disbelief that a car that had performed perfectly for 68 laps should suddenly peter out, without any prior warning. As he had changed down from fifth to fourth gear the gearbox suddenly went into a neutral between two gears and at that point the engine stopped. Unable to get into gear there was no way to try and bump-start the engine and the car had rolled to a stop surrounded by total disbelief. When it was retrieved it started up and everything worked! The only technical reason could be a random Beta particle among the chips; or was there really a maniac with a Laser Beam projector out on a boat in the mighty St Lawrence river?
With Senna not being on pole position, Honda engines blowing up in practice and failing in the race, all the front-runners having trouble, a V8-engined car winning the race, Pirelli tyres scoring first and second, and Mobil fuelling the winning car, not only were a lot of spells broken, but one left the Ile Notre-Dame looking over one's shoulder rather uneasily. But whatever it was about the Canadian GP it was not one to have missed.– DSJ
***
Results (top five): Canadian Grand Prix, Montréal, June 2
69 laps of 4.430 km circuit (305.670 km; 189.934 miles)
1. Nelson Piquet, BRA , (Benetton B191-Cosworth V8 EXP) 1h 38m 51.540s
2. Stefano Modeno, I , (Tyrrell 020 – Honda V10) 1h 39m 23.322s
3. Ricardo Patrese, I , (Williams FW14-Renault V10) 1h 39m 33.707s
4. Andrea de Cesaris, I , (Jordan 191 – Cosworth V8 HB) 1h 39m 11.700s
5. Bertrand Gachot, L , (Jordan 191 – Cosworth V8 HB), 1h 40m 13.381s
Conditions: Sunny and hot
Winner's average speed 185.520 kph (115.276 mph)
Fastest lap: Nigel Mansell (Williams FW14-Renault V10) 1m 22.395s on lap 65; 193.579 kph (120.284 mph)