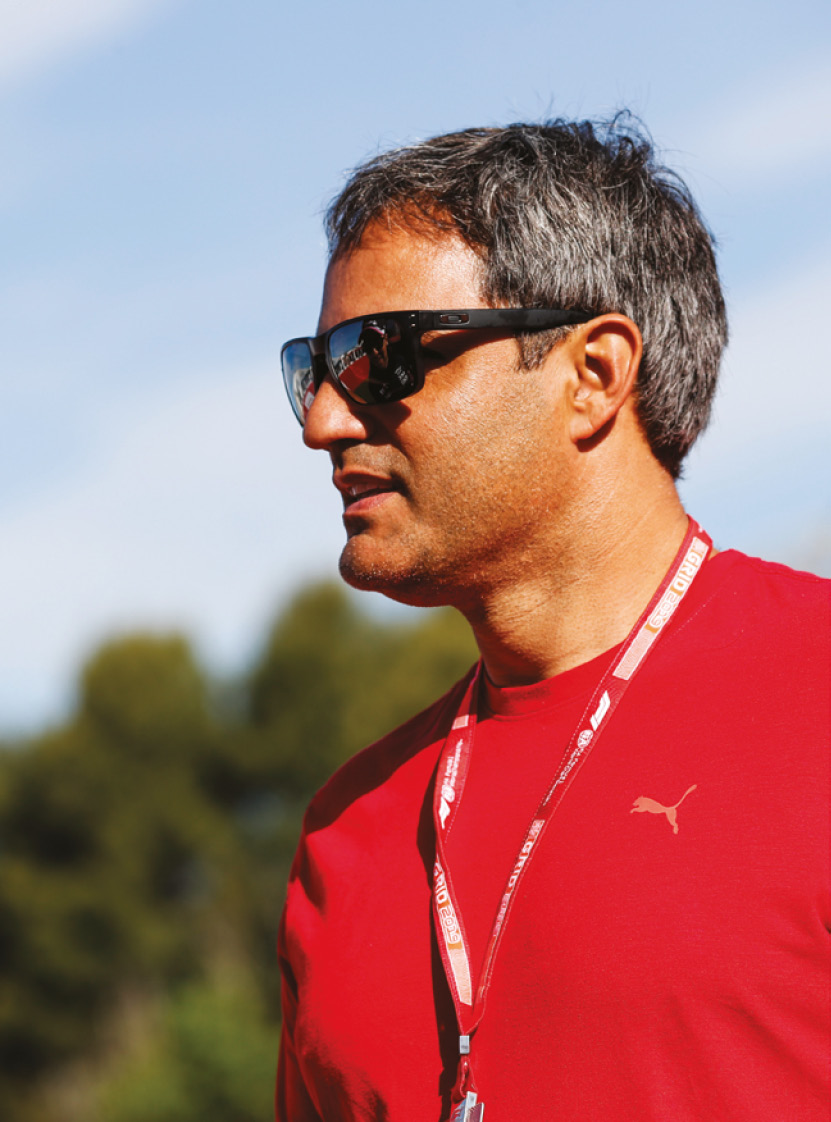 • In Barcelona, performing the role of Lance Stroll's driver coach for the first time, was Juan Pablo Montoya (left). Stroll crashed his Racing Point heavily at the fast Campsa corner during first Friday practice…
• The logistics of Williams' repairs after Baku – where George Russell's car was damaged by a manhole cover and Robert Kubica's by a qualifying accident – meant that Russell was in Kubica's old chassis for the Spanish GP, while Kubica was in a new one. Contrary to Kubica's earlier feedback, Russell reported no discernible difference between this chassis and his previous one.
• In Spain Ferrari introduced a new more powerful specification of engine, enabled by Shell lubricant advances being introduced two races ahead of schedule.
• Like Ferrari, Renault also brought a new engine specification to Spain ahead of schedule. This entailed also a new specification of mgu-H. The changes were made in the interests of reliability. Renault Sport's Cyril Abiteboul admitted in Baku that corners had been cut during the winter development programme, because the Viry factory tried to make big power gains in a hurry.
• Such is the limited amount of space at Zandvoort that teams will not be able to take their usual motorhomes to the revived Dutch GP. Instead, smaller purpose-built units will be erected by the circuit, as they are at long-haul races.
• The FIA and Pirelli jointly announced in Barcelona that, as of next year, the FIA F2 series will run with 18-inch wheels on low-profile tyres in place of the current 13-inch rims. This will give feedback to Pirelli ahead of the same change being introduced to F1 from 2021. Mercedes, McLaren and Renault will provide one car each for Pirelli to test the 2021-spec tyres later this season.
• Brakes and wheels will be standardised in F1 from 2021. The FIA has invited tenders to supply.
• In Barcelona, Mercedes team boss Toto Wolff stopped short of issuing an outright denial that he would be interested in taking on the role of running F1 for Liberty Media from 2021 onwards, as had been reported in the week before the race.
• We understand that the farmer who owned the field adjacent to Racing Point's Silverstone factory has had a rather unexpected windfall as part of Lawrence Stroll's plans to extend the team's base…
• Kevin Magnussen's very physical way of moving past Haas team-mate Romain Grosjean, after a safety car restart in the Spanish Grand Prix, resulted in clear-the-air talks between them and team boss Günther Steiner after the race. They'd been set for a 7-8 finish, but ended up with a 7-10.