1993 Spanish Grand Prix: Wheel of fortune
Prost survives vibro-massage to take 47th GP win — but only just…
The real stories of the Spanish Grand Prix, beyond lap 41, only became apparent when the event was over, and both scenes were played out in the Williams garage after Alain Prost had won the 47th victory of his F1 career.
"It was maybe," admitted the Frenchman, "one of my most difficult races physically. I don't usually have any problems, but I did today."
They began at the start, when his FW15C's automatic upchange refused to shift from first to second. As his Renault RS5 hit the rev limiter, he had to operate the gears himself. Damon Hill beat him to Elf, the first corner, and Ayrton Senna nearly followed through for second.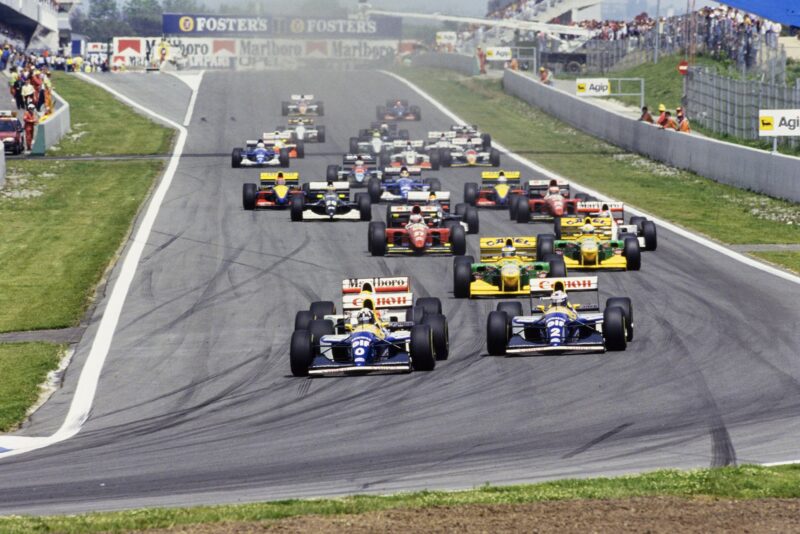 The start had been confused, to say the least. For some reason – unexplained by the stewards of the meeting or other FISA officials – when the green lights came on they temporarily activated the yellows which signal an aborted start. Eurosport commentator Mark Cole saw them from the opposite side of the gantry. So did German journalist Malte Jürgens. Several of the drivers admitted to seeing them too: those who didn't ignored them totally!
Andretti chuckled to himself as he hesitated, then surged ahead when he saw everyone else pushing on, for his Nemesis, Karl Wendlinger, had played it fairest. Having seen Johnny Herbert's Lotus sidelined on the warm-up lap by a load-cell failure that prevented his onboard computer reading the car's active suspension messages, he was perhaps more alert to the possibility of an aborted start. "There was never a green light until I passed the start and finish line," he complained, with no small justification. "The light changed from red to orange and at the first moment I accelerated flat out, then I hesitated. When I saw that everybody had gone I had already lost several positions." In fact, he went from fifth on the grid to 11th at the end of the first lap.
Hill also paused momentarily, but only mentally. "I was rushing towards the first corner thinking: 'Is this a race, or not?"
Senna had no doubts it was, and only just failed to take second in that first corner dash. Bit by bit, however, the Williams duo dropped their red and white shadow.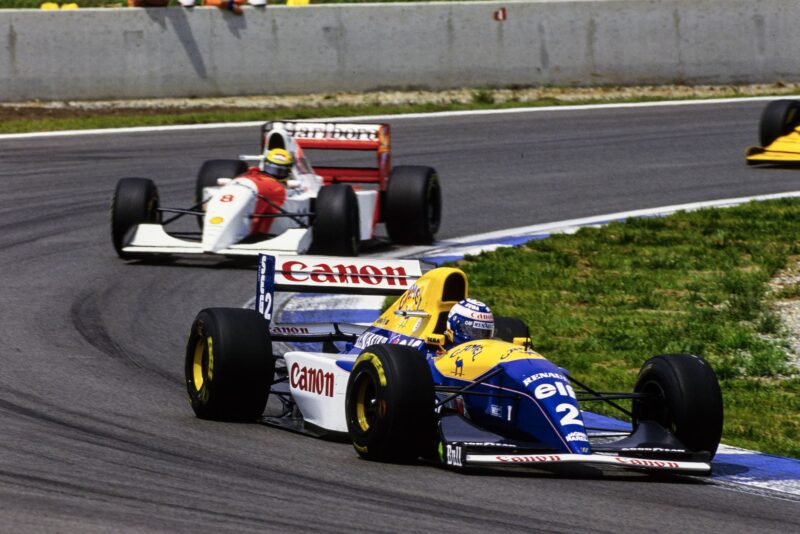 The Circuit de Catalunya provided Hill with another backdrop before which to endorse his growing status. Reflecting on Imola and the events leading up to his accident there, after qualifying on Saturday, he had suggested: "I can't do the right thing! I wanted to get some indication of what my lap times were compared to what Alain and Ayrton were doing, before I made my stop for slick tyres, but I wasn't getting them regularly on my dashboard display. It was my decision to come in when I did. A lap earlier would have been better . . . " It had, however, been only his sixth Grand Prix, and he was fighting the two greatest exponents of the current era.
Senna certainly had taken notice of his growing challenge as Hill had defended his Italian lead, and was unhappy about what he perceived as weaving. After that race, Damon had been summoned to his presence. There, Senna dressed him down and told him, in uncompromising terms, never to weave in front of him again. Never mind anyone else. Not in front of Him. Ever. Hill, to his credit, did not bandy the story around the paddock in Barcelona, but was prepared to discuss it if asked.
"I just told him that I didn't think I had done anything to him that I hadn't seen him do in his career," he said, with a ghost of a smile. A cool customer, Mr Hill, and one, it is fair to say, who pushed his team-mate a lot harder in Spain than Riccardo Patrese pushed Mansell for most of last year.
For much of the final qualifying session, in fact, it looked as if the Hill name would grace pole position for the first time since Graham parked his Lotus 49B on the front of the grid at Monaco back in 1968. Smoothly, and taking full advantage of an FW15C that, in stark contrast to his teammate's, handled very well on a light fuel load, he had managed a quick lap early in the session. Later, he trimmed it again. First time out, Prost couldn't quite match him. Then came one of the great pole laps, as the Frenchman wrestled his car around half a second quicker, literally tigering the time from it. It was highly uncharacteristic, for usually Prost looks so smooth as to be unobtrusive on the track; here, for once, he looked more like Senna, hanging it all out, right on the very edge.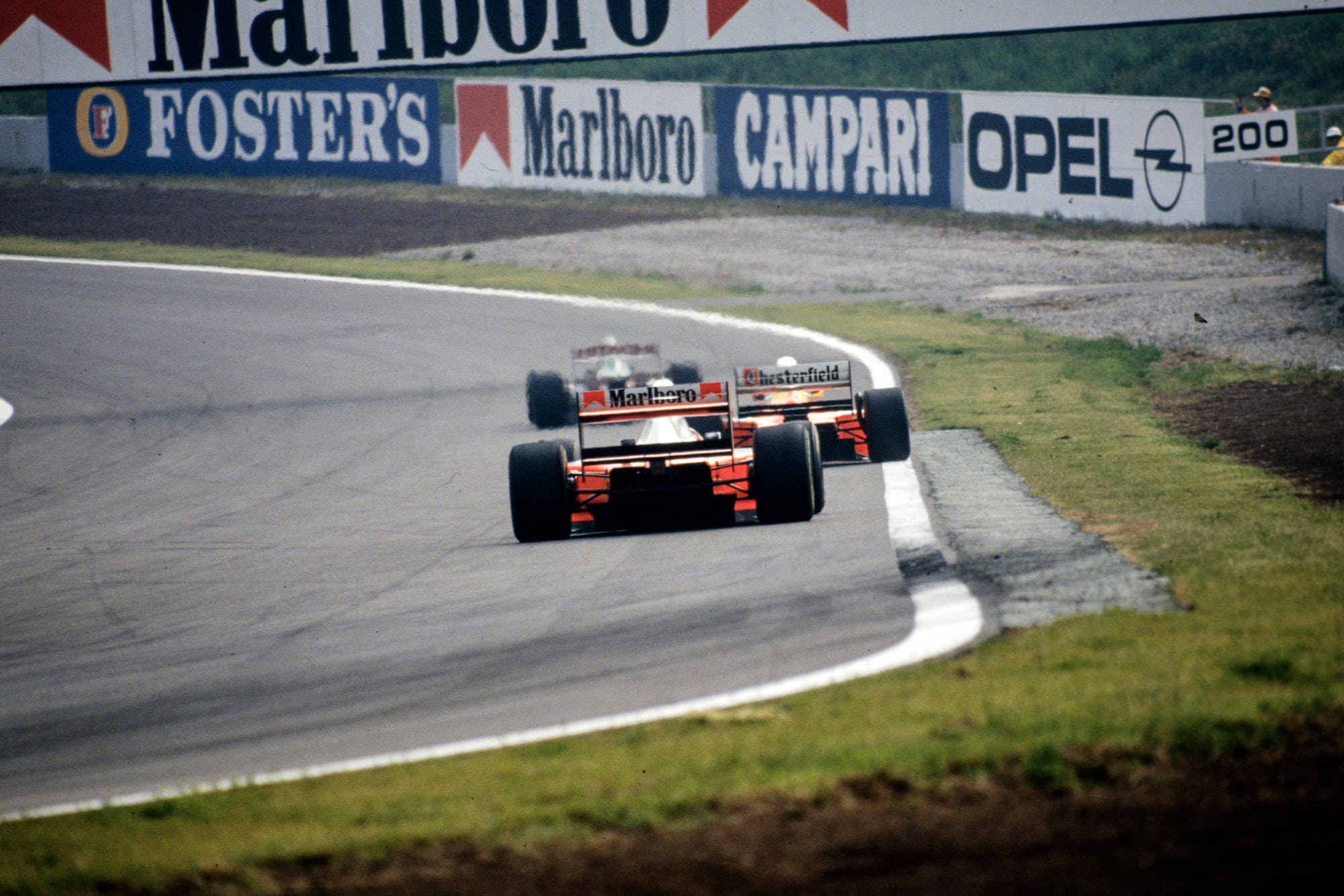 The two of them were in a class of their own as Senna himself languished in third place, almost two seconds adrift. His McLaren looked good in the fast corners, but lacked the sheer grunt of the Renault-powered cars.
Prost had been in Hill's wheeltracks once he'd recovered from his sluggish start, and though he could detect some liquid coming from the back of his team-mate's car, stayed with him, knowing he could brake later. On lap 11 he had a good look down the inside at the end of the straight, and Damon wisely let him through without aggravation. That should have been it, and indeed Prost eked out a 2.6s lead by lap 21. Then, on an afternoon not renowned for the vigilance of all lapped runners, he came upon Derek Warwick's Footwork. As Suzuki had shown at Imola, the FA14s are quick in a straight line and have good punch exiting corners. Prost caught Warwick towards the end of the lap, where passing was not easy, and in a moment his lead was down to 0.3s as Hill challenged again. After that they ran together, Hill apparently biding his time as Prost began to struggle. His car had developed a worrying vibration, which steadily wore him down physically. They remained nose-to-tail by lap 40, with Hill occasionally looking at gaps but at that stage still content to wait. "To my surprise, on one occasion when I decided to back off a bit and run in clean air," he said, "Alain backed off too. He seemed to be going as fast as he could to stay ahead of me."
He was, too. What team orders there were essentially called for the pair of them to be sensible, and not to risk an accident which might take them both out. By now Damon was asking himself a fundamental question: 'Are you going to try and win this race?' Clearly, he was answering himself in the affirmative. It was not to be, however.
From lap 30 onwards Williams had been ready in the pits with fresh tyres, but when one of its cars came trickling in at the end of lap 41, new Goodyears were the last thing it required.
"It was going fine, everything looked OK and the temperatures were all right," said Hill. "Then the engine made a terrible noise and that was it." Bernard Dudot later diagnosed a problem which had its roots in a con-rod which most certainly was no longer where he had designed it to be but that was of scant consolation as Damon rolled silently into the garage, scattering photographers and leaving a trail of Elf lubricant to mark his passage.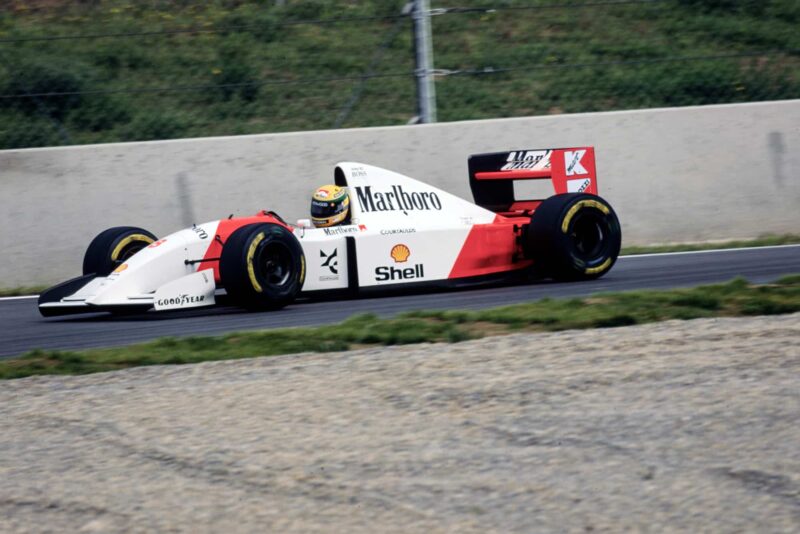 The pressure now off, a relieved Prost relaxed perceptibly. Senna, however, was forced to keep a wary eye on Schumacher. The German had steadily chipped away at the McLaren driver's advantage, but whenever he got within a couple of seconds he would run into the unyielding traffic. Once, on lap 27, it seemed his chance had come as Senna bounced up the inside kerb at Elf to avoid a closing Erik Comas. The Larrousse driver was leading a battle for 10th place once his team-mate had vacated the position with transmission failure, and simply failed to see the McLaren driver in his mirrors. Seeing he had been under pressure throughout from a nose-to-tail group which at one stage comprised Wendlinger, Zanardi, Barrichello, Blundell, Warwick and Brundle, this was hardly forgivable behaviour from the Frenchman.
Senna survived that little drama, and whenever he lost time to Schumacher, he got it back, partly because of the traffic and partly because the Benetton was misbehaving. From half distance it began vibrating badly and then the gearbox began shifting at its own whim. "It went down to first and then into third when I wasn't expecting it," said Michael. He dived in for fresh tyres on lap 37, in the hope of curing his vibration, but soon afterwards his gearbox gremlin came back. Whenever he tried for second it would go straight for first, obliging him to stay in third as his lowest ratio. For all that he mounted a mighty challenge in the closing stages, for Senna had also been obliged to pit, on lap 52. His rear Goodyears were worn and dirty, and beginning to affect the MP4/8's balance. "It's best to stop and be safe – though this was an unusual stop!" said the Brazilian. Indeed it was. The left rear wheel proved stubborn, and he sat for an agonising 15s before accelerating back into battle. Schumacher was now only eight seconds adrift.
Meanwhile, events were unravelling lower down the field, which would ultimately thwart Schumacher's challenge.
In the German's wake, team-mate Patrese was doing an unobtrusive job in fourth place, with Michael Andretti keeping out of trouble and heading for fifth, by his own admission driving at no more than seven-tenths. "It wasn't very exciting," he admitted afterwards, "but it feels as if a great weight has been lifted off my shoulders. I brought it home finally, that's what matters."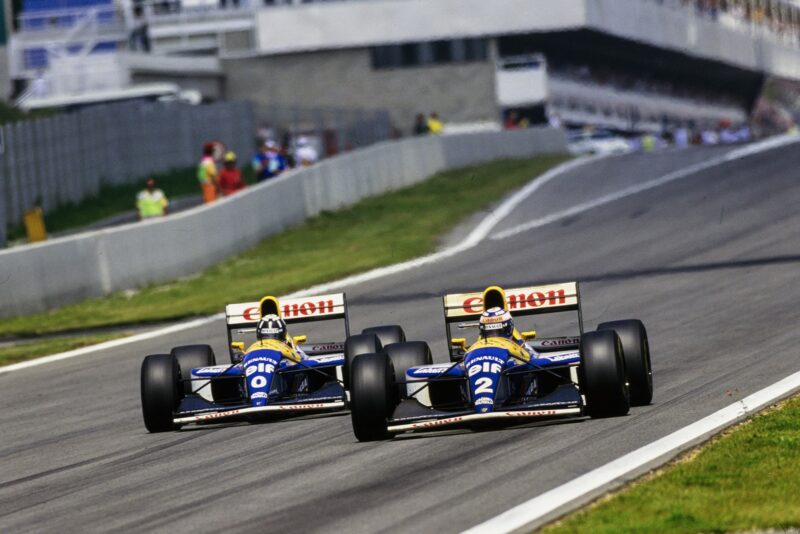 Behind them, the battle for 10th had become for sixth place and the final point. Initially Alesi had seemed the likeliest candidate, comfortably holding off Lehto's challenge as the Finn coped with with an Ilmor V10 that was cutting out intermittently. Then, just before Hill's demise, the Ferrari V12 grenaded. Lehto then moved up, chased at a distance by Wendlinger, the Austrian grateful to have at last passed Comas whose Larrousse was very quick on the straight. Neither Sauber made it home, however, Karl's losing its fuel pressure on lap 43, JJ's blowing up on lap 54. Thus, when Comas's oil pressure began fading, Zanardi came barging through into sixth for Lotus, hounded by Blundell and Berger, who'd recovered from a pit stop on lap 30 which had dropped him from ninth to 15th. He had insisted that his Ferrari race with the new gas actuators in its active suspension that he had tried in qualifying, and where it had been a handful on full tanks it was now running better.
Zanardi's luck held for five laps, but on lap 60 he trickled by the pits with his engine smoking. Like Herbert's in Imola, his Ford HB had thrown bits of piston into the airbox. The unit had actually let go in the last corner, and as he came up to lap the 107B Schumacher slid off course on its trail of Castrol and was very lucky that his momentum had carried him into – and through – the gravel on the outside. He lost time, but not his place, but the incident killed his chances of challenging Senna.
Blundell inherited sixth at Zanardi's expense, but there was a payback. Mark had the Lotus's lubricant all over his visor, and Berger was able to pounce with two of their laps (both were two laps adrift) left to run as Mark's vision was impaired. In that move, Gerhard doubled his and Ferrari's 1993 points score.
With Brundle unluckily dropping out in spectacular fashion when a right rear tyre deflated at the end of the straight on lap 12, eighth fell to Christian Fittipaldi who'd fought with great determination. He was 24th on the opening lap but clawed his way into contention with the 10th place group, despite losing 40s at one stage when trapped behind Andrea de Cesaris. As team manager Renato Capucci lamented afterwards: "He was only 11s behind Berger by the end . . . "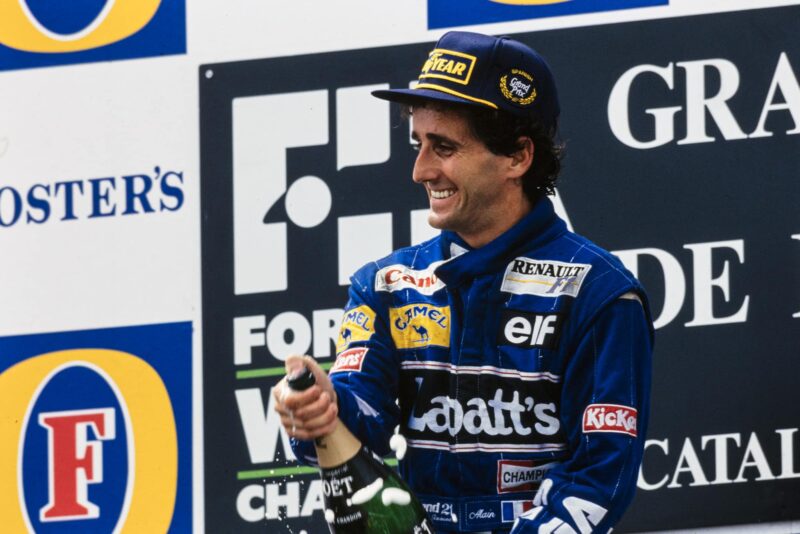 And so the Spanish GP wound down to its final scene. As Prost joined a beaming Frank Williams in the garage afterwards, Damon swallowed his own disappointment and proffered a handshake and words of congratulations. "And well done to you, too," replied Prost without affectation. "If you could have kept going as quickly as you were, for sure you would have won."
Prost himself, it transpired, was as lucky as Hill had been unlucky. As Damon had in Interlagos (but had not mentioned publicly), Alain struggled with a set-up that brought out the less forgiving side of the FW15C's nature. It was vibrating badly over the bumps, and kicking back through the steering wheel. Worse still was the worrying recurrence of the loose wheelnut nightmare in the very last laps. Since Mansell's Monaco disaster last year the wheel securing system has been redesigned, but here the team tried another totally new system for the very first time in a race – and found it slightly wanting. Prost would likelv not have made another lap at competitive speed.
With Monaco so imminent, the Return of the Loose Wheelnut prompted some rapid rethinking and rectification work at Didcot. D J T