Now that's what I call... F1 1990s, the decade's underrated cars
It was a decade that reverberated to the sound of naturally aspirated crowd-pleasers but alongside the hits were a raft of underrated classics. Peter Higham picks some of the best
For those of a certain age, the 1990s is remembered as a halcyon period of great rivalries, epic races and dramatic deciders. The decade began with the heated relationship between Ayrton Senna and Alain Prost, and ended with Michael Schumacher and Mika Häkkinen as two-time champions.
Turbocharged engines had been banned after 1988, and an intense period of electronic technical development culminated in the Williams-Renault FW14B that took Nigel Mansell to a title in 1992. The FIA then sought to slow the cars and restricted 'driver aids', a process that was hastened by the tragedies of Imola in 1994 and that traumatic summer which came to overshadow the decade.
But away from the headlines and blockbuster winners from McLaren, Williams and Benetton, there were a number of designs that showed glimpses of promise and speed without mounting a sustained challenge. After spending months categorising all the cars from the decade for my new book, these are my picks as the most underrated of them all. They make up in character what they lack in silverware – in fact they include just one race winner, and even that was due to circumstance on a chaotic day at the Nürburgring.
---
Tyrrell 019
The car that changed the shape of 1990s aerodynamics.
Year 1990 Engine Ford DFR V8 Races 14
Best result 2nd, Jean Alesi, Monaco GP Championship position 5th
This innovative design from Harvey Postlethwaite and aerodynamicist Jean-Claude Migeot changed the shape of Formula 1 when it was introduced at the 1990 San Marino Grand Prix. The anhedral front wing with raised nose improved aerodynamic efficiency and was crucial to the success of the nimble if underpowered Tyrrell-Ford 019.
Jean Alesi had already raced wheel-to-wheel with Senna and finished second at Phoenix in the 1989 Tyrrell 018 and he scored a point on his debut in the new machine at Imola. That was followed by an excellent second-place finish at Monaco when just 1.087sec behind Senna at the flag.
Now third in the championship, Alesi ran third in Canada and Italy but did not score another point all season. There were too many accidents and luck normally deserted him when points were on offer. Satoru Nakajima scored three sixth-place finishes during 1990 as Tyrrell retained fifth in the Constructors' Championship.
---
Prost JS45
Olivier Panis challenged at the front of the field in the JS45 until sidelined by injury.
Year 1997 Engine Mugen MF301HA V10 Races 17
Best result 2nd, Olivier Panis, Spanish GP Championship position 6th
Olivier Panis had scored a surprise victory in the 1996 Monaco Grand Prix and he was a serious contender during the first half of 1997. Ligier was taken over by Alain Prost in the winter of 1996/97 so Loïc Bigois's new design was rebranded as the Prost-Mugen JS45 before the season. It had a new monocoque with weight distributed further forward, while a hand clutch was a mid-season development.
The fastest Bridgestone runner at the start of the season and third on the grid in Argentina, Panis scored podium finishes in Brazil (third) and Spain (second). Now third in the championship, he suffered a 150mph accident on lap 52 of the Canadian Grand Prix in Montreal, breaking both legs. He was replaced by Minardi's Jarno Trulli who finished fourth in Germany and led the opening 37 laps of the Austrian Grand Prix until engine failure ended his race. Panis finished sixth at the Nürburgring on his return and was ninth overall despite missing seven races.
---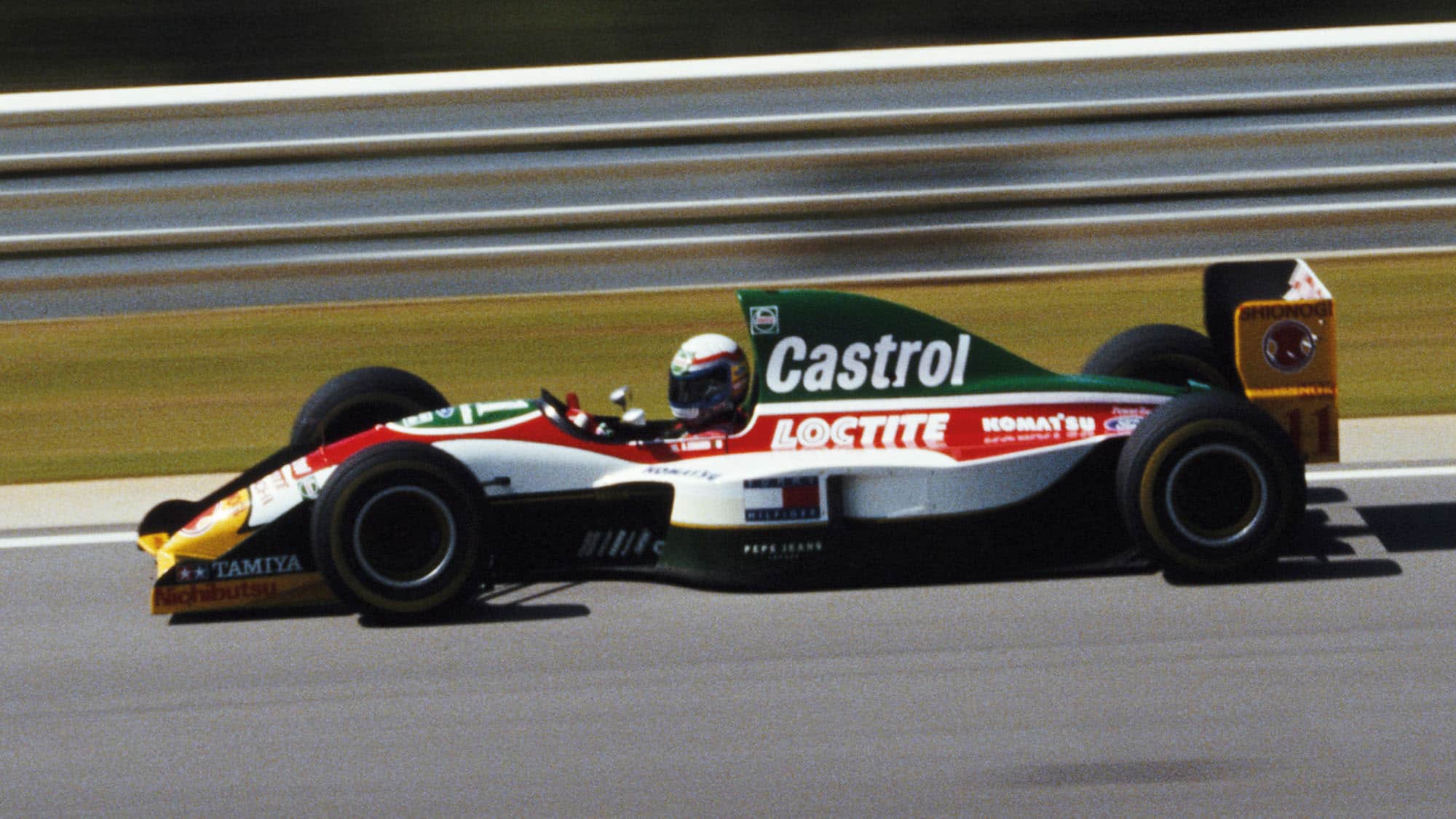 Lotus 107
Chris Murphy's 1992 design appeared to cement Lotus on the road to recovery, only for financial reality to intervene.
Years 1992-94 Engine Ford HB V8, Mugen ZA5C/ZA6C V10 Races 34
Best result 4th, Mika Häkkinen, 1992 French and Hungarian GPs,
Johnny Herbert, 1993 Brazilian, European and British GPs.
Best championship position 5th (1992)
The restructured Team Lotus enjoyed an upturn in fortunes during 1992 thanks to the driving talents of Mika Häkkinen and Johnny Herbert, and Chris Murphy's new Lotus-Ford 107. This employed semi-active suspension at launch, with a fully active solution plus semi-automatic gearbox and traction control all under development.
Both drivers had scored sixth-place finishes in the old 102D by the time the new machine was ready for the San Marino Grand Prix. Various teething issues initially restricted results but both scored points at Magny-Cours with Häkkinen finishing a competitive fourth. The Finn repeated that result in Hungary and enhanced his growing reputation as Lotus-Ford claimed fifth overall.
Progress had been made on and off the track during 1992, although that mood of optimism proved short-lived. Finances were increasingly tight and the famous old team struggled on for another two seasons before it closed. Mugen V10 engines were used in 1994 and the 107C was finally replaced part-way into that final season.
---
Arrows A18
A one-hit wonder, but Damon Hill took Arrows to within touching distance of victory in the A18.
Year 1997 Engine Yamaha OX11A V10 Races 17.
Best result 2nd, Damon Hill, Hungarian GP Championship position Eighth
Like the Jordan 193, the Arrows- Yamaha A18 is only included in this list for its performance in just one race. Tom Walkinshaw had acquired perennial underachievers Arrows in March 1996 and he had grand plans for 1997. He signed world champion Damon Hill on a one-year contract, negotiated a works engine deal with Yamaha and switched to Bridgestone tyres.
The largely conventional high-nose A18 initially lacked grip, power and reliability so the first half of the season only delivered frustration. With John Barnard now ensconced as technical director, Hill finally scored the team's first point of 1997 when he inherited sixth at Silverstone.
With horsepower less important than normal and the heat suiting the Bridgestone rubber, Hill qualified for the Hungarian Grand Prix in a surprise third position. He led by 35sec at one stage and appeared set for victory (on Arrows's 299th attempt) when the hydraulic pressure sagged on the penultimate lap. He was passed by Jacques Villeneuve but held onto a shock second position nonetheless.
---
McLaren MP4/9
McLaren's year with Peugeot was not a success but the MP4/9 delivered eight podium finishes and fourth overall nonetheless.
Year 1994 Engine Peugeot A4/A6 V10 Races 16
Best result 2nd, Martin Brundle, Monaco GP, Mika Häkkinen, Belgian GP
Championship position Fourth
McLaren's single season with works Peugeot engines was its first winless campaign since 1980. It was seen as a failure but emerging star Mika Häkkinen finished on the podium at six races (including second at Spa-Francorchamps) and was fourth in the World Championship.
He qualified on the front row in Monaco only to collide with Damon Hill at the first corner. Martin Brundle was chosen as Häkkinen's team-mate on the eve of the season, and equalled his career-best finish when second in Monaco. The Englishman scored another four top-six finishes that included third in Australia.
The MP4/9 had a two-pedal layout with the clutch operated by paddles on the steering column. "It brakes better than anything and handles well," was Motor Sport's mid-season assessment but the engine lacked power and there were initial cooling issues. The relationship between McLaren and Peugeot was dissolved by the end of the year.
---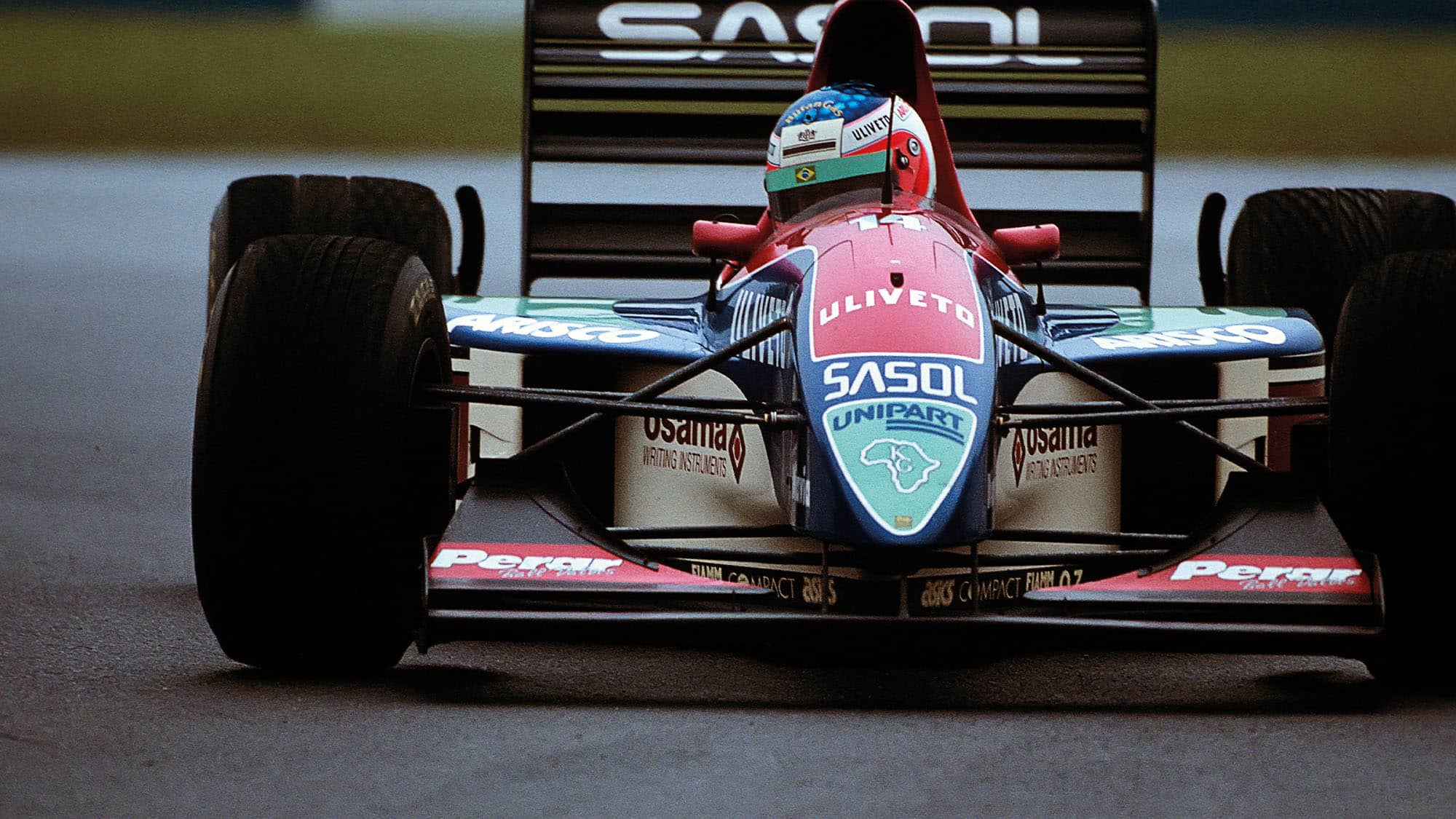 Jordan 193
The car that helped establish newcomers Rubens Barrichello and Eddie Irvine.
Year 1993. Engine Hart 1035 V10. Races 16
Best result 5th, Rubens Barrichello, Japanese GP Championship position 10th =
For its third season in Formula 1, Jordan replaced disappointing Yamaha engines with Brian Hart's new V10 unit and signed an all-new driver line-up that included the 20-year-old Rubens Barrichello. The Jordan 193 featured a flat front wing mounted underneath its raised nose. The wheelbase was 5in shorter than before although excessive rear tyre wear was only improved when it was extended with three races to go.
Barrichello showed promise, especially in the wet European Grand Prix at Donington Park where he lost third when his engine cut out with six laps to go. However, Jordan was without a point when they arrived at Suzuka for the penultimate race, where Barrichello had his fifth team-mate of the season.
Barrichello enjoyed the changeable conditions once more to finish fifth. Eddie Irvine claimed sixth on his F1 debut and even re-passed Ayrton Senna's leading McLaren-Ford after being lapped. That incident so angered the Brazilian that he confronted Irvine after the race.
---
Stewart SF3
The third and final Stewart-Ford that scored a surprise 1-3 at the Nürburgring.
Year 1999 Engine Ford Cosworth CR-1 V10 Races 16
Best result 1st, Johnny Herbert, European GP Championship position 4th
Outgoing technical director Alan Jenkins introduced a stiffer and lower monocoque for the Stewart-Ford SF3, with fins on top to comply with the height regulations. The sidepods initially had slanted intakes although these were eventually replaced from the British Grand Prix. A carbonfibre gearbox had proved troublesome in 1998 so was dropped.
Rubens Barrichello starred from the start of the season – leading in Brazil, third at Imola and on pole in France. He led for 44 laps of Magny- Cours and finished third once more. Paul and Jackie Stewart had sold their team to Ford by that time but they enjoyed victory before their team was rebranded as Jaguar in 2000.
The 1999 European GP at the Nürburgring was chaotic. Johnny Herbert changed to wets and then dry tyres and took advantage of Giancarlo Fisichella's crash and Ralf Schumacher's puncture to win, with Barrichello third.
Dallara F191
Reliability was compromised but the F191 delivered Dallara's second and final podium finish.
Year 1991 Engine Judd GV V10 Races 16.
Best result 3rd, JJ Lehto, San Marino GP Championship position Eighth
Without a point in 1990, Beppe Lucchini's BMS Scuderia Italia replaced the Ford DFR engine with a compact new 72-degree V10 from John Judd's Rugby-based Engine Developments. The Dallara F191 was a neat and conventional design with raised nose and push-rod suspension now front and rear.
Quickest at a six-day Pirelli test at Estoril, they qualified in the top 10 in the US although neither driver scored at the opening two races. Emanuele Pirro then failed to pre-qualify for the San Marino GP after his car caught fire but team-mate JJ Lehto climbed through the field and took third with nine laps to go. That finish was vital as it allowed the team to escape pre-qualifying after the British GP.
Pirro finished sixth in Monaco and qualified seventh in Hungary but Lehto endured eight retirements in nine races – including engine failure when running fourth in Canada.
---
Minardi M193
The Minardi that (briefly) led Ferrari
Years 1993-94 Engine Ford HB V8 Races 21
Best result 4th, Christian Fittipaldi, 1993 South African GP
Best championship position Eighth (1993)
After two years with heavy V12 engines, Minardi switched to Ford HB V8s that dated back to Jaguar's 1991 sports car programme. Aldo Costa and Gustav Brunner's Minardi M193 was a conventional design that lacked power and the electronic technology that was now commonplace. However, it was reliable and handled well, although the lowest budget in F1 and a lack of testing saw performances tail off. Christian Fittipaldi finished fourth in South Africa and Fabrizio Barbazza was sixth at Donington Park and Imola. Minardi was fifth in the constructors' points (ahead of Ferrari) when Fittipaldi claimed fifth at Monaco but they did not score again.
Pierluigi Martini replaced Barbazza from midseason and the Minardis clashed as they accelerated to the finish line in Italy, launching Fittipaldi into an aerial loop. Using updated M193Bs at the start of 1994, Michele Alboreto was sixth in Monaco and Martini fifth in Spain.
---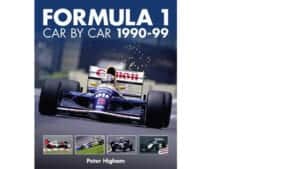 Formula 1 car by car 1990-99
Peter Higham's latest book in his decades series, published by Evro, is available at the Motor Sport shop, £50