VSCC Herefordshire Trial: scorching brakes and piping sausage rolls
Some braking drama may have hampered VSCC competitor Rebecca Smith on the recent Herefordshire Trial, but it didn't dull the joy of competing.
Before the Herefordshire Trial we had some maintenance to do on Bess, including fixing that broken window mentioned last month, plus assessing the fuel starvation issue. Luckily a fellow VSCC member had a Model A window in stock, then with carburettor filter cleared we were ready to go. I set off on Friday evening for the 85-mile trip, which is an adventure in itself as with the standard 6V battery the Model A's lights tend to have a mind of their own, but she didn't miss a beat.
In the morning we completed scrutineering and were off to our first hill, Pelham's Penyard 2, where we didn't make the best of starts. It was a tricky one with a steep decline before a sharp left turn around a tree stump and up a slippery and wiggly path adjacent to a forest. We gave it a good go, reaching marker 23, however a bit too much enthusiasm with the throttle caused us to skid and 'knock' marker 6, ended with a score of just five. Frustrating.
That set the tone for our day, and it didn't get much better with Pelham's Penyard 1 & 3 – we scored 0 on both, although we put on a great show trying to gain traction with bouncing off the line to cheers from a crowd!
"On her first trial, at the age of just 16, she'd 'driven like a legend'"
It was at this point I had suspected my brakes were sticking on, the rear left was scorching hot. After a quick inspection we couldn't see anything too obvious, so we cracked on… more on this later!
We were lucky with the weather, with only a small shower catching us out before Marcle Hill, a long, very rough byway. We reached marker 20 with a very steep decline to the finish. It was our first double-figure score of the day. Then lunchtime gave us a chance to crack open 'the oven', which we keep above the exhaust manifold and is stocked with croissants for brekky and sausage rolls for lunch. It's always a comfort on a wet day!
By the end of day one, we were bottom of the class with a measly 56 points. But my disappointment was Sophie Wiseman's delight – on her first trial at the age of 16, her father, John, reported how she'd "driven like a legend". After a debrief, it was back to camp to assess the brakes more thoroughly. Bribing some friends with beer, we reassessed the rear left, and found the handbrake had been seized on after all. We stripped it all and gave it a good clean and were back in the game.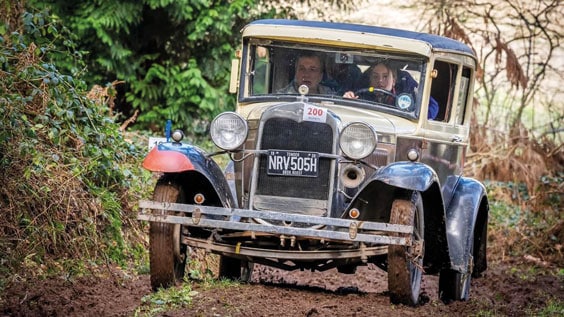 Day two was vastly improved. We scored our first 25 on the wiggly hill of Pinford Rocks and made a valiant effort bouncing (driver included) from marker 10 to 19 at James' Jolly up a very muddy section in the woods, and conquered a very greasy right-hander at Royal Bounty that I thought might stop us.
It was a fantastic weekend, and a big thanks to the organisers, marshals and pals who helped with the brakes. It also marked my final trial for this side of the year, with work commitments meaning I miss the next one in Scotland. Bess will be put to bed for a while and Mord, our Morris Minor Special, will be getting attention ahead of Silverstone Spring Start.
Next month: Springing into circuit racing at Silverstone.