Porsche heaven: inside the world's greatest Group C collection
These Porsche 962s and a 956 are steeped in motor-racing history, yet they have never been photographed together before. Andrew Frankel gets up close to the liveried Group C leviathans that lit up Le Mans, IMSA and global endurance racing
This was a little like digging priceless historical artefacts out of a field. First one emerged, a dream all by itself, more than I could have hoped for, beautiful, important and captivating. But then I caught a glimpse of another, and another…
More and more until no fewer than seven masterpieces emerged, all from the same creator, all similar in size and shape, yet no two truly alike. I simply didn't know where to look next.
My slightly embarrassing reflex reaction to seeing Henry Pearman's Historic Porsche Group C Collection is simply to start laughing, as the brain tries to process exactly what we have here. Which is more Group C Porsches in one place than anywhere else in the world and, yes, that includes the Porsche Museum. There are actually a double-digit number of 956s and 962s here which gives us the luxury of choice, so today we'll just be sticking to cars either raced by the works, or in just one case, by the official works-supported team.
Together they span almost the entire history of Porsche's factory involvement in perhaps the most fabled category of sports car racing. We start with the eighth 956, built to contest Le Mans in 1983, and end with the 962 that was the last car to win a Group C world championship race for Porsche in 1989. Between these lies the history of the world's most successful sports racing car.
Most enthusiasts know the story of the creation of the Porsche 917, how Porsche defied rules specifically drafted to ensure such a car never got built by making all 25 units required and insouciantly lining them up for inspection. The story of how the Porsche 956 came to be is less well known, yet even more remarkable.
When Porsche announced its return to Le Mans last month it gave itself three years to plan its campaign (the marque will line up in the LMDh class in 2023). Its previous foray into prototype sports car racing was announced in 2011, also allowing itself fully three years to design and develop the 919 Hybrid, which then took a further year to win Le Mans. By contrast, just one year before the 956's Le Mans debut in 1982, the project had not even been given the green light privately, let alone announced publicly.
And while the 917 was a car like no other seen before, there was nothing technically new about it. Indeed it wouldn't be that inaccurate to call it an evolution of the 908 with an extra cylinder attached to each corner of its engine. The 956 was not only a clean-sheet design, but incorporated two crucial technologies that were brand new to Porsche, one of which provided an enormous headache.
The attraction of Group C, at least to a company like Porsche, was that it was a simplified formula with a deliberately slim rulebook. You could, for instance, have an engine of almost any size, and cars with 1.4-litre four-cylinder motors to 7-litre V12s raced in the Group C era. The most significant rule was a finite amount of fuel allowed per race, which was seen as a profound limitation by some but a fascinating technical challenge to Porsche.
But in the time since Porsche had last developed a new prototype racer in the mid-1970s, the ground-effect era had begun in Formula 1 and it was quite clear the new sports car would have to incorporate the technology, too. This, combined with mooted new crash-test regulations, meant Porsche's traditional spaceframe method of chassis construction was out of the question. Monocoque sports cars had been around since the Jaguar D-type in the mid-1950s but Porsche had remained faithful to its ultra-light, but not terribly strong or stiff spaceframes – until now.
Gallery
The Pearman Porsche 956 and 962 collection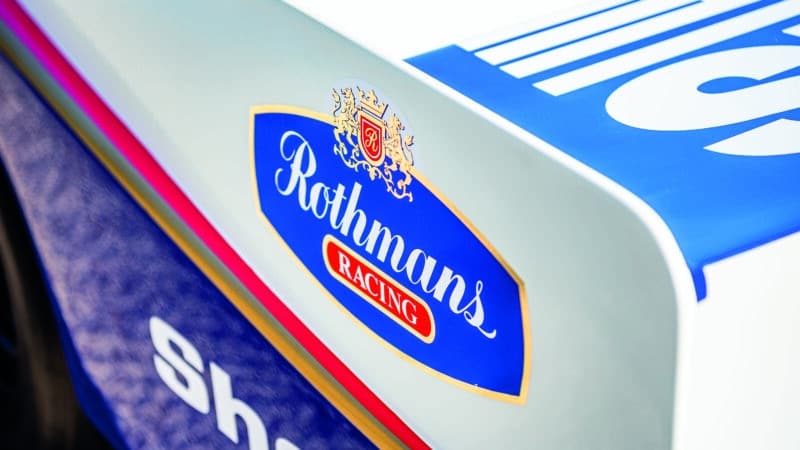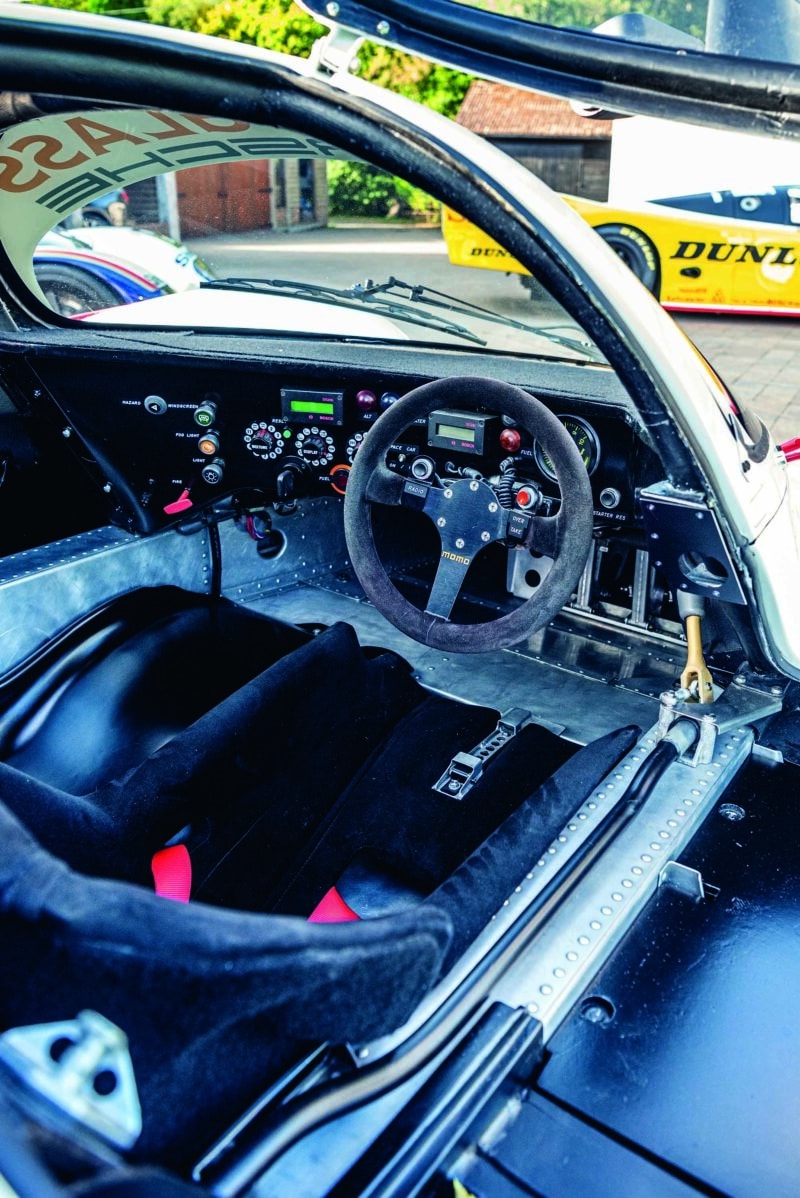 "There was a philosophy in Porsche that said a tube frame was the lightest chassis but that didn't take stiffness into account," says Norbert Singer, Porsche racing legend and head of the car's engineering team. "And with high downforce you need very stiff springs and also a very stiff car, which meant we needed a monocoque. On the safety side too, it was clear we had to leave the tube frame.
"We knew nothing about monocoques. We had to go and ask the aircraft industry what rivets to use, which aluminium to use, even which tools to use. We gave ourselves four weeks to figure it out, decided what was the best solution for us and it worked."
Singer was faced with developing the car from the drawing board to the race track incorporating untested technology and with a massive problem: he had the wrong engine. A flat-six motor may have many qualities, but few more prejudicial to your lap time than its ability to get in the way of the underbody venturi essential for the generation of ground effect. A new 'V' formation engine would be ideal but there was neither the time, money nor latitude in the rule book for it to be a feasible proposition. They would have to make do with the flat six from the predecessor 936.
But Singer, veteran of Porsche's motor sport campaigns from the 917 programme onwards, plays down the disadvantage. "The location of the flat-six engine did cause us some problems but only when we were trying to develop the car later on," he says. "We ended up making the tyres narrower so the [underfloor] tunnels could be wider because we realised you'd gain more in aerodynamic grip than you lost in mechanical grip."
"With high downforce you need stiff springs and a very stiff car"
To say time was tight is the understatement to end them all: as 1982 dawned, barely six months before Le Mans, not a single 956 had been built. Three months before not one had turned a wheel under its own power. And yet not only did it make Le Mans, the very first car made it to Silverstone, a month ahead of the French classic, with over 4000 miles of testing under its Dunlop tyres.
The race itself was a bad joke, because the new Group C regs were still ironing themselves out and failed to distinguish in the fuel allocation between a standard 1000km race and the six-hour race at Silverstone where the winning car actually covered 1132km. Jacky Ickx claimed pole with ease but then he and team-mate Derek Bell had to crawl around to eke out their fuel allowance while the Lancia LC1 of Michele Alboreto and Riccardo Patrese – entered under the previous Group 6 regs which had been allowed to carry over in this transitional year – was able to romp away to victory. So Porsche treated it as an economy run and left Northamptonshire armed with very encouraging fuel consumption data and happy in the knowledge that the car had run trouble-free. And despite its drivers short shifting on minimal boost, it had still come second…
"We could tell that the 956 was going to change the rules"
Then, at Le Mans, the three 956s came first, second and third, the winner a frankly ridiculous 30 laps ahead of the next car home behind the factory steam-roller. Unsurprisingly, Singer describes it as the "biggest moment, because with a new car you expect a lot of detail problems. We thought we might get one car into the top five. To win after that is nice, but there's nothing like that first win."
Derek Bell shared the winning car with Jacky Ickx following their victory together a year earlier in a 936. He says his memories are patchy, but for good reason. "You'd think I'd have great memories of 1982," he says. "But apart from a problem with fuel mixture early in the race, it was a re-run of the year before. I think we got back into the lead shortly after midnight and that was that: a straight run to the flag followed home by the other two works cars.
"We could tell even then that the 956 was going to change the rules of sports car racing. It had full ground effect and was electrifyingly quick on the track."
The following year was the one that got away for Bell, and the performance he rates as his best at Le Mans. "We so wanted the hat-trick in 1983 and it went wrong on the second lap," he says. "Jacky was dicing for the lead with Jan Lammers, they touched going into Mulsanne and Jacky had to take to the escape road. By the time he had regained the circuit, almost the entire field had gone through. It took us 14 hours of slog to make up the time we'd lost but on Sunday morning I slipstreamed past the leading 956 of Vern Schuppan and into the lead.
"It lasted just seconds before the engine stopped dead. I'm not mechanically minded but we'd been told that if this happened it would be one of three things. I managed to get the cover off, usually a three-man job, and change all three components. I then hit the button and heard the engine whoosh back into life. I got the engine cover back on – God knows how – and rejoined the race. We then got back onto the pace until Jacky brought the car in for the final stint and announced that the brakes were finished. It would take 10 minutes to change them so I just jumped in regardless and headed off." Bell would finish second, 17 seconds behind Al Holbert in another 956.
It's not the purpose of this article to detail all its subsequent successes, but it is worth mentioning that between them the 956 and 962C won five successive World Sportscar Championships and six back-to-back Le Mans (which would have been almost certainly seven had Klaus Ludwig not run 962-10 out of fuel in 1988). Outside Group C it won five championships in Japan and three IMSA titles in North America, despite not being eligible to enter for the first two years of its working life. In total it chalked up some 232 victories in internationally recognised motor races.
But the question that needs answering is how it stayed good for so long, even after rivals had clearly got ahead technologically.
The answer appears to come in two parts. First it was even better from the outset than many of the those closest to the project actually realised. Ickx once told me a revealing story about testing the early 956 at Paul Ricard: "There was a kink that was nowhere near flat in the 936, and I didn't think it would be flat in the 956. But as I tested the car my confidence grew enough to try taking it flat just once. And it was easy. I never lifted again."
Singer readily recalls the Ricard test Ickx refers to and recounts how quickly the team made progress with its new masterpiece. "To start I did some lap simulations, and when we started testing my simulations were faster than what Jacky or Derek were doing," he says. "Six months later they were going two or three seconds faster in exactly the same car! It shows the drivers had to really find a way with the downforce. At the fast chicane at Paul Ricard the simulations said it was flat but I could see the brake lights. So I told Jacky, 'This should be flat,' and he replied, 'If Jochen [Mass] goes flat through there, I will on the very next lap. But I will not be the first…'"
These days drivers of even GT3 are very familiar with cars that seem to gain grip as speed increases thanks to downforce, but to sports car drivers in the early 1980s, it was a new development. "It was only when you really started to push it that the ground effect began to work properly," says Bell. "Only then did we start to get an idea of just what an extraordinary car this was."
The other explanation for why it took so long for the opposition to beat the Porsche Group C effort was that while the fundamental design never changed (apart from the wheelbase extension required for IMSA that turned the 956 into the 'American version' 962), the detail development never stopped. So while Henry Pearman's earliest 956 and latest 962 both have aluminium tubs, flat-six twin-turbo engines and fivespeed synchromesh gearboxes, I doubt that there is a component that was carried over unchanged from first to last.
"When you look at the pictures you might think that not a lot of development took place between 1982 and '87 but under the skin a lot of work was done," asserts Singer. "It's all in the details. We never had the budget to make a completely new car after 1982 and the car was successful enough not to require it. But we still had to increase the downforce but reduce the drag, increase the power but reduce the fuel consumption… That was a lot of work."
At the beginning and because time was so short, the motor used in the 1982 956 was essentially the same as that used in 1981 in the 936, which meant a 2.65-litre capacity, an air-cooled block and a maximum output of around 620bhp. Compare that to the 3-litre motor built for the 1988 Le Mans effort, which was fully water cooled and in qualifying trim produced 880bhp.
But probably the most significant engine modification was the most subtle. It was the adoption of Bosch Motronic MP1.2 engine management for the 1983 works cars (made available to customers in 1984 in a car designated 956/84 but more commonly if unofficially referred to as the 956B), in place of the original Kugelfischer mechanical fuel injection. By using a computer to control both injection and ignition, the system provided a dramatic improvement in fuel consumption which meant the cars could run higher boost for longer durations for the same fuel amount of fuel burned. As the regulations evolved reducing both the amount of fuel available and its maximum permissible octane, the system was replaced in 1988 with the more efficient Motronic 1.7 system, utilising electronic wastegates.
Aerodynamically the cars changed all the time, with not just sprint and low-downforce bodywork being available depending on where the cars were racing, but also in every detail over the years as Porsche sought to optimise the car's drag to downforce ratio, with a team that was learning the rules of ground-effect aerodynamics on the job.
"In the wind tunnel we tried copying F1 and discovered that didn't work, so we had to find our own way," says Singer. "We did it all ourselves because if you hired people, in a couple of years they might leave and take their knowledge elsewhere. So we kept it in-house. It didn't always work, but more often than not it did."
"When you race for Porsche, you're not just driving a car, you're buying into the whole Porsche package – the history, the attention to detail, the Porsche way of doing things," concurs John Watson, who raced Rothmans Porsches in 1984 and at Le Mans in 1985, then later joined the rival Tom Walkinshaw Racing Jaguar squad. "Those cars had serious ground effect and with the level of downforce we were getting by the late '80s, you needed the most rigid construction there was, which meant the Jaguar was always going to have an advantage over the Porsche, particularly in high-downforce sprint configuration."
"Few of the changes were giant leaps, but with a car that good from the outset they didn't need to be," says Bell. "It progressed, step by step through its career, its chassis, aero and engines always evolving, never sitting still. At the end it was still the same concept of car as it had been at the start, just better in every measurable way."
The Pearman Porsche 956 and 962 collection
1 1989 Porsche 962-011
Porsche did not race as a factory team in 1989 but chose to be the support team for Joest Racing. Driven by Bob Wollek and Frank Jelinski it won at the Nürburgring, Silverstone and Dijon, the last of these being the final Group C race to be won by a Porsche. It was used by Joest as a privateer car from 1991-93 mostly in FATurbo Express livery when Porsche helped develop high-downforce bodywork. It is the ultimate factory developed 962.
2 1987 Porsche '962-087'
Perhaps the most intriguing car here; while believed to be an ex-works, lightweight development car, it is yet to be confirmed as such. It is referred to as '087' because all works cars had '0' numbers and it is a period correct tub. The problem is that no 962 tubs had chassis numbers, so identification is hard. It does, however, have the qualifying engine from the 1987 Le Mans winner, an ex-works gearbox and the Sprint tail from 962-008.
3 1985 Porsche 962-004
One of the first three factory 962Cs, and the first 962 used for IMSA testing. Made its debut at Le Mans in 1985 but retired after 21 hours. Used by Jochen Mass and Jacky Ickx for the rest of the season until damaged by Ickx at Spa in the accident that took Stefan Bellof's life. Raced by Mass and Bob Wollek in 1986, including pole at Le Mans before retiring. Sold to Reinhold Joest and used in Rothmans colours. Finally finished Le Mans in 1988 in fifth place as a Blaupunkt entry.
4 1987 Porsche 962-008
Derek Bell and Hans Stuck's car for the early part of the 1987 season, achieving three consecutive poles and finishing on the podium in every race until Le Mans where it secured pole and led the race before retiring with a holed piston. The following year, it was the car in which Mario, Michael and Jeff Andretti tried to become the first family to win Le Mans but only came sixth. This is also one of few 962s to run with a pioneering PDK gearbox.
5 1987 Porsche 962-007
One of the two lightweight 962s intended for Le Mans in 1987, raced that season until Le Mans, when it was damaged during a shakedown at Weissach by Stuck who would go on to win the race in the spare car (962-006, still owned by Porsche). Qualified in second for Le Mans in 1988 and led the race for many hours before retiring. Sold to 'works supported' Joest team and raced during '88 and '89. Now restored with Sprint bodywork and its Rothmans livery.
6 1988 Porsche 962-010
The ultimate works 962C, built to win Le Mans in 1988 in the hands of Derek Bell, Hans-Joachim Stuck and Klaus Ludwig. Took pole, but came second after it ran out of fuel with Ludwig driving and had to return to the pits on the starter motor. Equipped with high-boost qualifying engine offering 880bhp, the most power ever generated by a factory Group C Porsche. It's one of the least raced, most original 962s in the world.
7 1983 Porsche 956-008
Built for Le Mans 1983 to be raced by the all-German squad of seasoned campaigner Jochen Mass and young hotshot Stefan Bellof. Retired after 22 hours having been timed on the Mulsanne at 218mph. Used by Bellof to win the 'Money Race' at Norisring a week later. Loaned to Richard Lloyd Racing for Le Mans in 1984 and raced by, among others, Nick Mason before retiring. It was then used as the works camera car, with a podium finish in its final race, in 1985.
With thanks to Henry Pearman and the staff of the Historic Porsche Group C Collection for all their help making this feature possible.
The best book
The definitive history of the factory Porsche 956, Works Porsche 956 by Serge Vanbockryck, was published in 2019. Across two volumes and 800 pages, it includes every car, every development, every race and every driver in extraordinary detail, and is available from Porter Press for £450. Vanbockryck's book about factory 962s follows this year.