Marlboro in Formula 1: King size allies
In 1972, the colours of Marlboro were first seen on a Formula 1 car and its distinctive chevron design would become an intrinsic – some might say iconic – element of grand prix races. Mark Hughes charts the ties between F1 teams and the best-selling cigarette brand and reveals why their union proved a hard habit to break
Fifty years ago when a BRM P160 burst out of a giant cigarette packet at Paul Ricard to signify Marlboro's first F1 sponsorship deal, smoking was synonymous with glamour – and over the next few decades the sport played its part in meeting that aspiration. But as the Philip Morris title sponsorship with Ferrari comes to an end in 2022 the products of the tobacco companies are seen in a much more critical light. They have outstayed their welcome, out of step with the social mores of today and the fanbase F1 wishes to reach.
But in the 1970s and '80s Marlboro and motor racing embraced danger and hedonism together and achieved a symbiosis, each boosting the fortunes of the other. During that time Marlboro became the most popular cigarette brand in the world and when the researchers sought to find out why, there were two towering reasons evident: firstly, the free-spirited 'Marlboro Man' series of adverts, and secondly the association with the jet-set glamour of Formula 1. Rugged individualism trumped collective consensus back when the future seemed limitless.
It's not that the dangers of smoking and the direct link to lung cancer and heart disease wasn't known about then. More that people were prepared to accept it, that it wouldn't happen to them – just as the drivers assumed fate would not reach out its hand for them, but one of the others. Regardless, the authorities were coming, ready to save us from what we thought were our choices.
Marlboro's marketing ace John Hogan – a dyed-in-the-wool racing enthusiast from Australia by way of Liverpool (who died from Covid in 2021) – knew what the future would bring. "We could see that advertising was coming to an end and we needed [another way] to make ourselves visible. F1 was a way of doing that on the international stage. We were trying to do it before the black curtain came down." It took a few decades for it to come down completely.
Meantime, Formula 1 became as addicted to tobacco money as people were to tobacco itself and the day-glo colours of Marlboro came to be a defining part of F1 and its evolution – from the bright chaos of the BRM Marlboro World Championship Team in 1972, through the punk-brief halcyon James Hunt McLaren years by way of preparation for the more polished and sustained glory of Ron Dennis-era McLaren in the 1980s with its cutting-edge carbon fibre cars, which were piloted to world titles by Niki Lauda, Alain Prost and Ayrton Senna.
Hogan, who worked hand-in-glove with Dennis, was the crucial early benefactor. It was an evocative image – the Marlboro orange-red shimmering out of the heat haze,  first past the chequer again and again. And like that, Dennis built an F1 team which redefined the scale, leaving the rest spluttering to keep up, with Dennis leaving Hogey spluttering each year as he ramped up the required sum for his next conquest.
There was a mistress of course, scarlet and Italian whose allure was irresistible. Marlboro's visible presence on Ferrari was tiny at first, just the insignia around the driver's name. But it built over time as 'Hogey' sought to align Philip Morris's world's-biggest tobacco brand with the world's strongest brand. Parallel marriages couldn't be carried indefinitely – and the split with McLaren came at the end of '96. Philip Morris would become ever-more embedded in Ferrari even after Hogan retired in 2001. So vast were its resources it would come to effectively supplant Fiat as the race team's parent. The Scuderia Ferrari Marlboro's management often recruited personnel from Philip Morris's base and worked in conjunction with the company's management.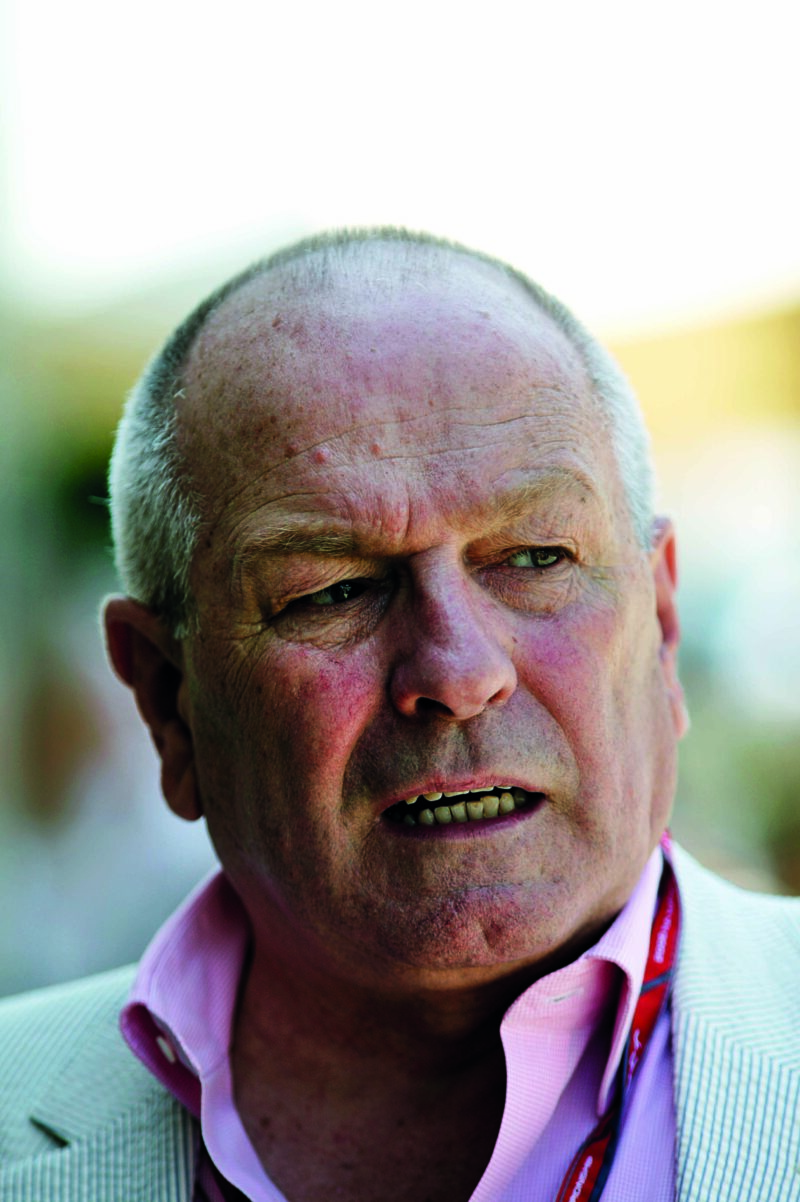 So strong was the visual association of  the Marlboro insignia that it almost didn't matter when tobacco advertising was banned from the cars in Europe in 2010. Strategic use of the Marlboro chevron and later of a barcode on the engine cover made the visual reference obvious without spelling out any name.
Eventually the tobacco company would lease the team's sponsorship rights, giving Ferrari a set sum (up to £155m a year) for space on the car which it would then sub-let to other sponsors for a profit even within a livery which encompassed those subliminal Marlboro visual triggers. The area of bodywork given over to other sponsors could be mixed and matched according to the tobacco advertising regulations in the relevant territories. Marlboro was a uniquely embedded partner, far more than merely a sponsor but an actual part of the management of the team.
But for 2022 it appears that the link may finally be severed. The team has dropped the logos for Mission Winnow, Philip Morris's peculiar campaign to promote a non-tobacco future, from its cars and apparel. It is understood that the move represents the end of title sponsorship by Philip Morris of the Ferrari team. And by extension the end of tobacco in F1.
---
F1's addictive alliance
The smouldering bonds between motor racing and Marlboro
1972

Marlboro BRM
A Marlboro BRM burst out of a giant Marlboro cigarette packet at a Paul Ricard launch in 1972 and a new epoch of motor racing sponsorship had begun. The original idea of up to five BRMs with drivers of different nationalities was a good one from a marketing perspective but quickly proved beyond the logistical feasibilities of the beleaguered team.
1974

The switch to McLaren
Marlboro transferred its sponsorship from BRM to McLaren in 1974 and as part of the deal enticed from JPS Lotus the 1972 title winner Emerson Fittipaldi. He promptly won McLaren its first world championship. The financial terms of Fittipaldi's switch were huge for the time but Marlboro readily coughed up. Here is Fittipaldi's '74 team-mate Denny Hulme. Ironically Fittipaldi would leave after two seasons for a yet-more financially lucrative deal.
1976

James Hunt
Forty-a-day smoker James Hunt's epic 1976 battle with Ferrari's Niki Lauda took the sport onto an entirely different level of popularity – and Hunt's Marlboro- liveried overalls and McLaren were right at the centre of the visual message. Hunt was the short-notice replacement at McLaren for the short-notice departure of Emerson Fittipaldi and Marlboro's John Hogan formed a closed bond with him.
1977

Gilles Villeneuve
The Quebec-born driver was barely known outside of the American and Canadian Formula Atlantic series when he was given his Formula 1 debut by McLaren in a third car at the 1977 British Grand Prix. His placement there was triggered by Villeneuve having thrashed Hunt when the latter guested in an Atlantic race at Villeneuve's home track of Trois Rivières.
1989

Ayrton Senna
Ayrton Senna's yellow helmet amid Marlboro dayglo and white became one of the most iconic images of F1. Senna's recruitment to McLaren was through his relationship with Honda, established at Lotus. Some years earlier Marlboro had part-funded him pre-F1, but he declined the initial offer of Ron Dennis to fund his 1983 F3 season in exchange for a first call on his F1 services.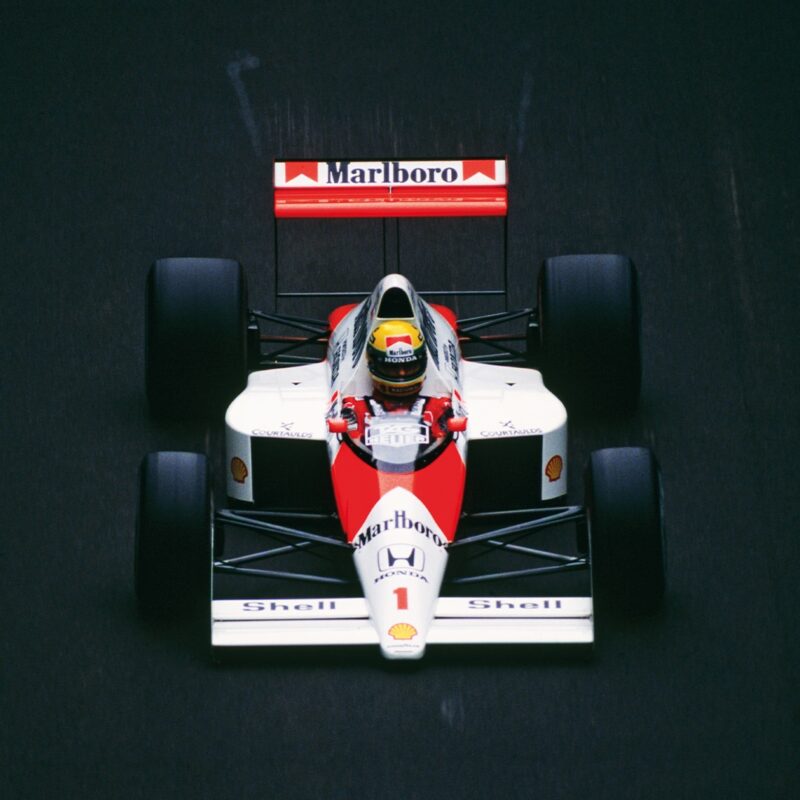 1972-94

Smaller teams
Although Marlboro is associated with McLaren and Ferrari, it has supported other teams. Aside from the BRMs, it has featured on Frank Williams' Iso cars of 1973-74, Alfa Romeo, above, from 1980-83, Scuderia Italia 1989-92 and Footwork in 1994. Hogan: "When I joined Marlboro in '73, Player's Gold Leaf had already come in, but they were a British company and happy to be at the British GP. We wanted to be global."
1994

Mika Häkkinen
The career of Mika Häkkinen – here in the MP4/9 of 1994 – was funded by Marlboro right from his junior days and it was a natural fit when he joined the Marlboro-backed McLaren team at the end of '93. By the time of Häkkinen's two titles with McLaren in '98 and '99, it was rival Schumacher who was Marlboro-backed; McLaren was sponsored by West. "As soon as I informed Ron [Dennis] we were not renewing," said Marlboro's John Hogan, "he had someone on the plane to Germany making a pitch to West."
1996

Schumacher joins Ferrari
Michael Schumacher's switch from Benetton to Ferrari was paid for by Philip Morris – owners of Marlboro – which by this time had expanded its visual presence on the Ferraris from an initial livery around the driver's name to full-on Marlboro chevrons and even a more Marlboro-like Ferrari red. The shift from McLaren was gradual but from the start of '97 was complete. It was the beginning of a staggering period of success during which Philip Morris became fully embedded within the team.
1997

Marlboro moves to Ferrari
Ferrari's link with Philip Morris – as represented by Michael Schumacher in '98 – set a new blueprint for commercial partnerships, with the tobacco company supplying the team budgets in excess of £70m and then selling on space on the car to other sponsors, sometimes even making a profit while the cars retained visible Marlboro livery even when the word was not spelled out.
2019

Mission Winnow
Charles Leclerc models the controversial Mission Winnow logo. The actual message is unclear but the lettering when applied to the rear wing of the car forms six white chevron shapes on a red background, invoking the Marlboro logo even though tobacco sponsorship has been banned since 2010. This has now been dropped as the Philip Morris title sponsorship has ended. Ferrari is still in discussion with the company about future collaboration.