The rise of Walter Brun, privateer Group C champion
We all like an underdog, and Swiss driver and team owner 'Walti' was a best of breed. He tells Robert Weber about his fast-paced youth, his Schnitzer years and beating Porsche at its own game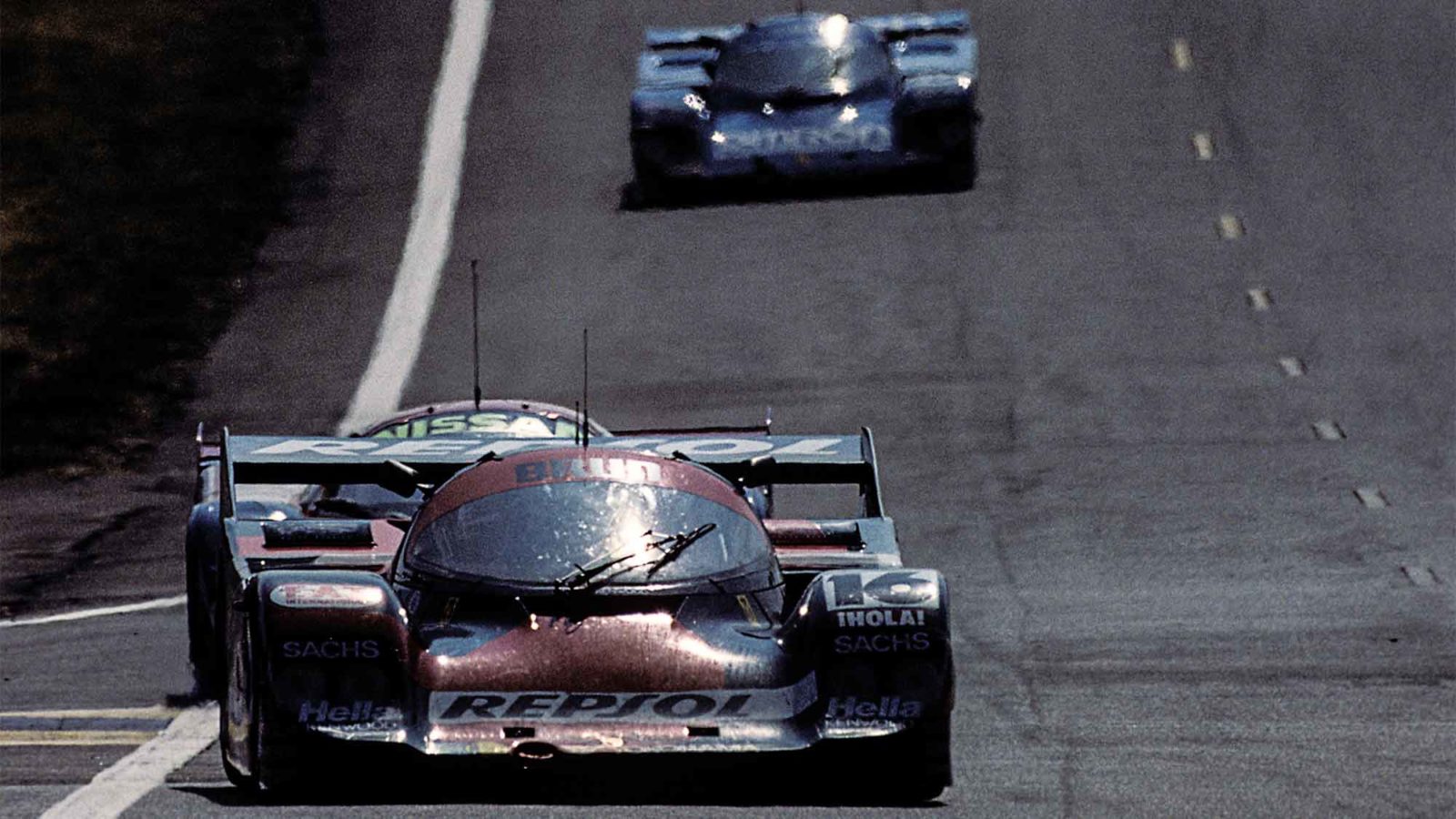 Joest, Kremer, Richard Lloyd, John Fitzpatrick… where would Group C have been without the great Porsche customer teams who were let off the leash to race, and sometimes beat, the factory 956s and 962s? Among the colourful throng, Swiss-based Brun Motorsport quickly established itself among the best in those heady days – and in 1986 even upstaged the works Rothmans cars, Joest and Jaguar to snatch a teams' World Sportscar Championship crown.
Founder Walter Brun has rarely been interviewed, especially for English publications, but now, age 80, he granted Motor Sport an audience to tell us how it all began for him first as a racing driver and then also as an entrant, why Stefan Bellof preferred racing for his team than the factory and how his short, ill-fated dalliance with Formula 1 almost sank him.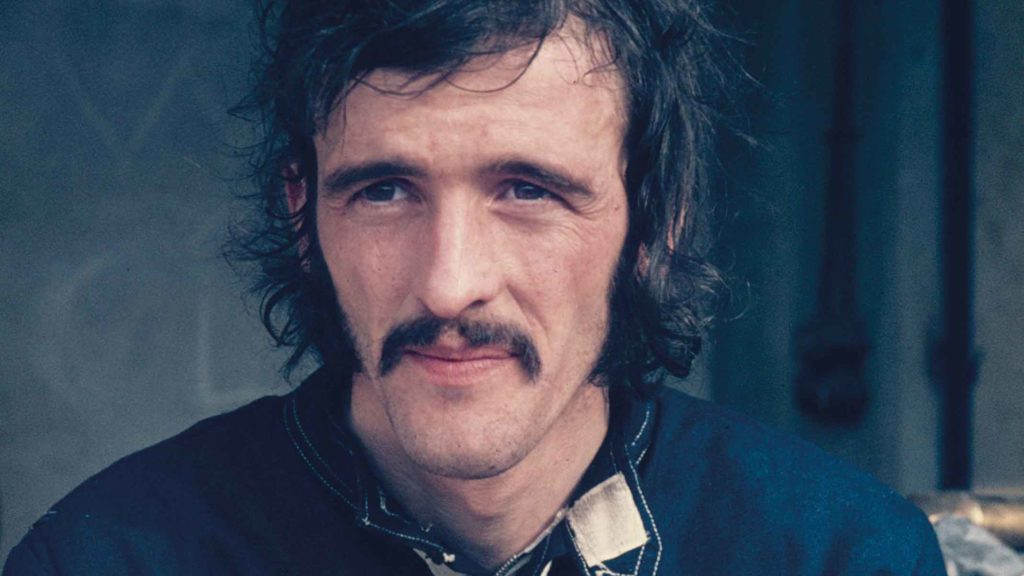 Motor Sport: Walti, you were a racing driver before you were a team entrant. How did it all start for you?
Walter Brun: "Well, I was a farmer's son. We had a farm with a shop and a post office. We had farmhands and milkers who I always helped. I was already driving a tractor at the age of eight and thus gained my first driving experience. When I was 12, I drove to school in my father's car. I parked right next to the police station and he didn't report me. He knew I was driving and I knew he was having an affair with one of our waitresses. Live and let live. That was the way it was in the country in the 1950s.
"Later I bought a Lotus Cortina from a dealer in the village. I drove it quite fast. There were no speed limits in our village. The other mothers said, 'Walti, you'd better go racing. We always have to get the children off the road when you drive around here.' So that's what I did and I went hillclimbing in a Lotus Cortina. But it soon became too slow for me."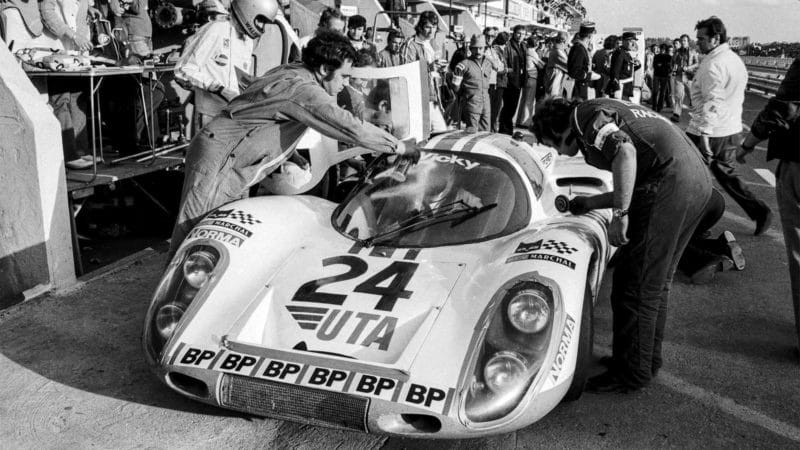 You first made your name in BMWs.
"Yes, I went to BMW Schnitzer and said, 'Give me a proper car.' I got one of their hot BMW 2002s. Until 1970 I only drove hillclimbs or slaloms. And then at some point the Schnitzers said, 'Walti, come out on the race track.' At first I had to get used to the fact that there was someone on the right, on the left, in the back and in the front."
But there was also a European hillclimb championship title, wasn't there?
"Yes, in 1971 I was European hillclimb champion in the touring car division. That was interesting. I drove the first races with the BMW 2002 and then switched to a coupé at Rossfeld. Before that, Josef Schnitzer trained me at the Salzburgring. I had to sit next to him; he drove over a dozen laps. Then he said, 'So Walti, now you drive.' After three laps he pulled me out and said, 'That's it, otherwise the engine will break.'
"Then I had to go to Rossfeld. We won, of course. In the same year event organisers sent us home twice in Italy because the Italians really wanted Alfa Romeo to win that championship. They didn't take our car at Trento Bondone and at Cesana Sestriere. So I had to win all the remaining five races. And that's what I did."
After that you took to the circuits in the Deutsche Rennsport Meisterschaft (DRM). Things got pretty wild, didn't they?
"Yes, there were a lot of wild ones racing in the DRM, but over time I counted myself among the group. You learn that attack is the best defence."
"At Le Mans at night I was absolutely fastest in my team, because I am a night person"
Your life as an entrant began when you took over GS-Sport. How did that come about?
"I drove two or three races for GS and we quickly realised the team was doing badly financially. At some point Gerhard Schneider's bank called me to ask if I would be interested in taking over the team. There were three interested parties and they probably liked me best. So we took over the GS team at the end of 1982."
You quickly plunged into Group C. How did you end up as one of Porsche's best-known and most-successful customer teams?
"First we still raced a Group 5 BMW 320 and M1, then GS took over the Sauber C6s, which unfortunately always broke down. The engines didn't last – and I flipped backwards at the 1983 Nurburgring 1000Kms.
"At Le Mans we had two Sauber C6s on the grid [in 1982]. One was mine and the other was from GS, so it soon belonged to me. But we lost both cars in a very short time because of technical problems. So I went to Porsche and asked them, 'Do you still have a car?' 'Yes, Walter, this is the last customer car, but you have to sign today, otherwise the car is gone.' I signed and we picked up the Porsche 956B in Weissach a few days later. That's how we became Porsche customers for many years."
"Josef Schnitzer trained me. After three laps he said, 'That's it, otherwise the engine will break'"
What are your memories of taking on Group C? Was it a big jump from running BMW and Sauber Group 5 cars?
"It wasn't so bad because the M1 and the C6 were also mid-engined cars. The Porsche was simply a bit faster and more reliable. The first two races I had a bit of trouble. You didn't dare to go to the limit at first because the car was much better than you expected. In your head you always had the thought that it was too fast – but the car could do more and had great reserves."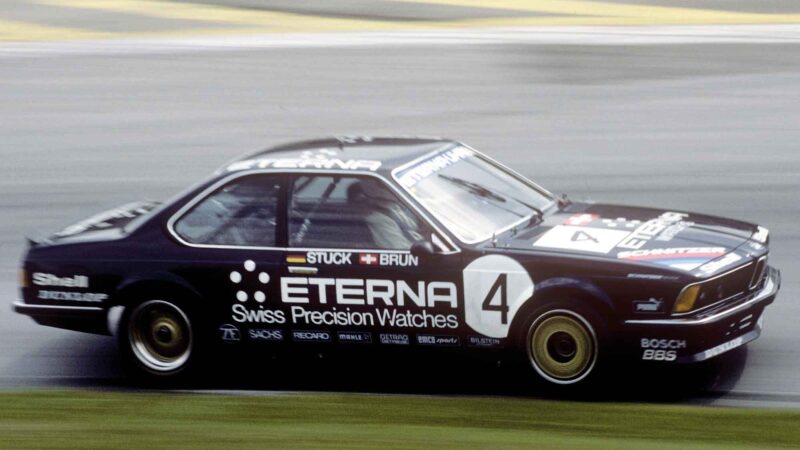 So there was always more in the car?
"Indeed. For example, at Le Mans at night I was absolutely the fastest in my team, because I am a night person. Most people somehow have difficulties at night in the dark. That's when most accidents usually happen. Yet I always drove between two and five o'clock at night, always with one set of tyres. In the pits the mechanics would show me the hammer and say we had to change the tyres. 'It's my car and my life, nothing will be done,' I'd answer. The tyres were still like new after three hours. Of course, you are faster at night, because the engine sucks quite differently and has more power with the cool air."
In Group C racing, Brun's 1986 season is your best known. Is it the most memorable for you too?"
"In 1986 I had so many good drivers and we improved the cars. That's how we did it"
"Yes, but I have to go back a bit first. We had so much bad luck in 1985. At the 1000Kms race at Hockenheim, [Stefan] Bellof and [Thierry] Boutsen were leading for Brun when suddenly there was water in the tank and the car stopped. And then Bellof – my best friend at the time – died so tragically at Spa. I really reached a point where I said I'm going to stop now. But Angelika, Stefan's girlfriend, who is now married to Harald Grohs, said, 'No Walti, Stefan would have wanted it to continue.' We pulled ourselves together and said, 'We've had so much bad luck – right now we're moving on.'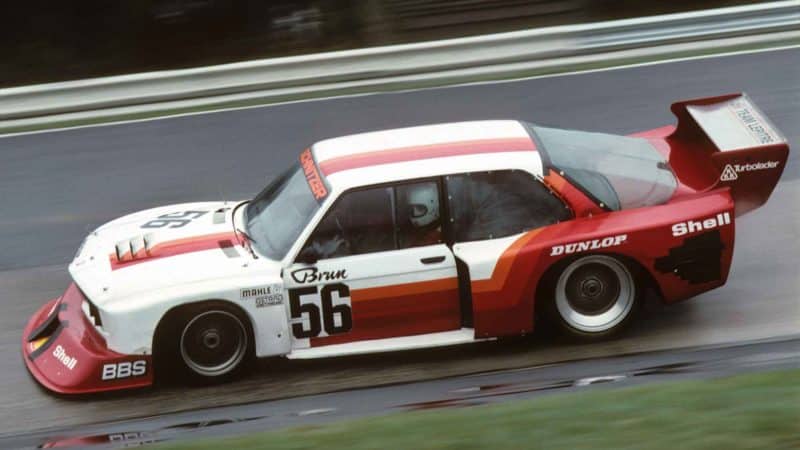 "Then in 1986 I had so many good drivers again [including Boutsen, plus others such as Oscar Larrauri, Frank Jelinski and Jesús Pareja] and we improved the cars a bit more, prepared them even better than before. And that's how we did it; how we became the world champions – ahead of Porsche, Jaguar and Sauber. For a private team that wasn't bad at all."
But the championship was decided at the last minute, wasn't it?
"Yes, indeed. But it's often the case that races and championships are only decided at the very end! I also have Thierry Boutsen to thank for that. I should have driven the last stint in the Spa 1000Kms, but Thierry stayed at the wheel, the tyres were warm, he was in his rhythm, so he drove on and brought the race home. [The race was one of the closest of the Group C era, as Boutsen narrowly held off Derek Warwick's Jaguar as they managed low fuel levels.] Of course, we were all involved. But the most important thing was the victory in Spa. We also unsettled the competition a bit, didn't we? A lot of people didn't like the fact that a Brun car simply drove right at the front. But all the drivers and mechanics contributed to the teams' world championship title in 1986. Otherwise it certainly wouldn't have been possible. The guys did a great job."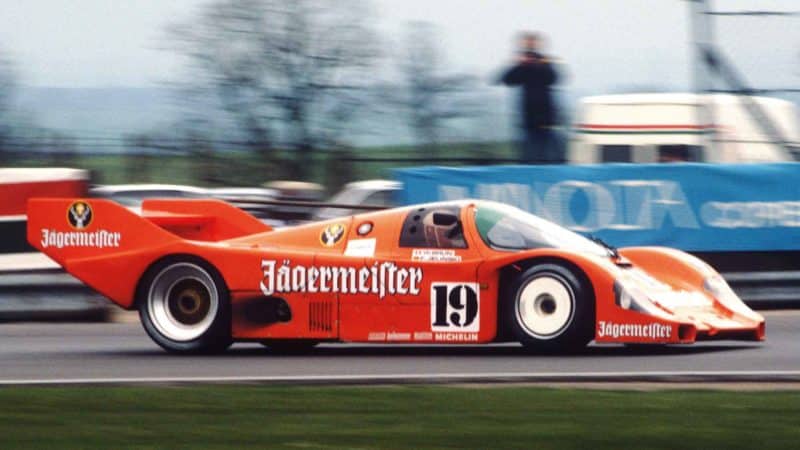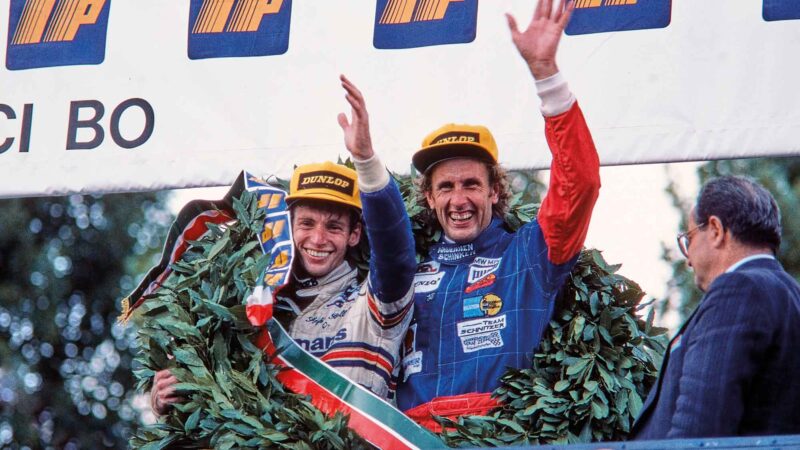 Let's go back to Bellof. How would you describe him as a person?
"Oh, we were the best of friends. I'm always joking but he was the biggest joker of all. The two of us got on famously. He also just wanted to drive for me, even though he had other offers, a lot of them in fact. I had to fly to his manager in Monaco to do the contracts. And meanwhile he kept phoning Stefan and asking him 'And you're really doing a contract with Brun?'
"Having Stefan in the car was damn good, of course. The pairing of Bellof with Hans Stuck [in 1984]! A dream. Porsche then got pissed off and took Stuck away from me because I got Bellof to join me [over the works team in '85]. That's normal business. A bit of jealousy… but Bellof was unbeatable. I dare say that Michael Schumacher would never have become Formula 1 world champion so often if Bellof had survived. He was unbeatable in the rain – what he did in the wet was unbelievable. Only Ayrton Senna drove like that. For me, they were on the same level."It's interesting you mention Bellof/Stuck rather than Bellof/Boutsen…
"Well, we had Bellof/Stuck in 1984 [when Bellof regularly drove with Derek Bell in the factory Porsche team], and it was a pairing that worked sensationally. The two of them won the first world championship race for Brun Motorsport at Imola. Stefan was fast as hell – when he went to the limit, he was so fast that nobody could keep up. That's fair to say. For 1985 he needed a reliable, fast partner who could bring the car back time and again. Thierry was exactly the right partner for Stefan."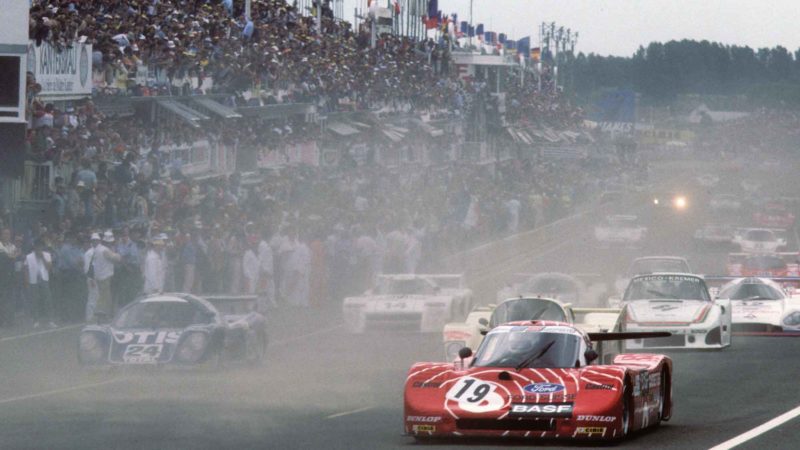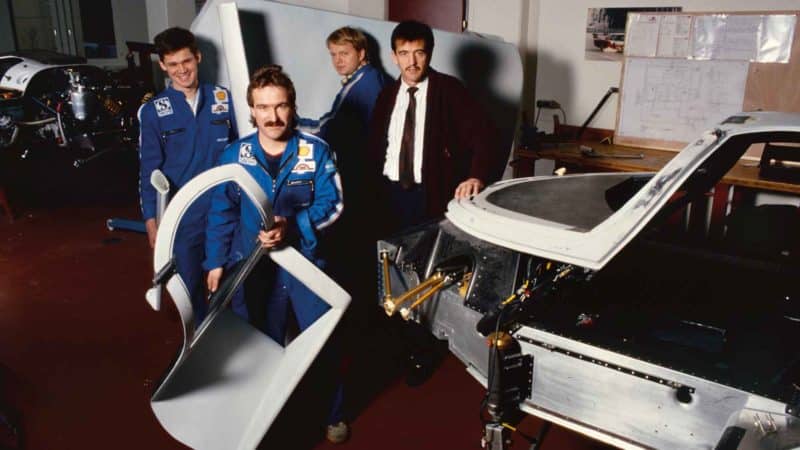 Is it true that Bellof had a Ferrari contract practically in his pocket when he died?
"Of course he was being talked about. I don't know about the contracts, but he said, 'It's probably the last year I'll drive for Brun.' Unfortunately, that's what happened. But F1 drivers were no longer allowed to drive sports cars after 1987 anyway. Formula 1 was already totally jealous and Bernie Ecclestone was to blame. He had his own interests at heart, first and foremost [despite his FIA role also covering the World Sportscar Championship]. He ruined the WSC."
You also raced a great deal with Oscar Larrauri. How would you describe him and what was your relationship like with him?
"A crazy guy. But we were always a family at Brun – from the mechanics to the kitchen staff, to the drivers. We were all on a first-name basis. Oscar and I… how can I put it? He broke a lot of things, but he was fast as hell."
Do you also count his Formula 1 stint for EuroBrun in that statement?
"In Monaco in 1988 he crashed the car, and if he hadn't we might still have got sponsors [who Brun claims still owe him millions of dollars]. They had a wonderful time, but they never paid. I financed the team until I said, 'This is the end.' Otherwise I would have gone bust. I was 50 years old and had debts of 20m francs. And I paid it back in full. First I sold all my racing cars, then a few houses. Finally, I sold my wine cellar. I had a Château Mouton Rothschild collection from 1897 to 1986. Everything that made money was sold. And that's how I paid off my debts. There are three choices in life when you're in the mess I was in. One is to commit hara-kiri, the second is to emigrate and the third is to look in a mirror, look at yourself and say, 'Boy, we can do it.'"
And your passion for motor sport didn't suffer from that experience?
"No, but I took a break. I had to. And then at 57 I went back to Le Mans and competed again [driving a Chrysler Viper for Team Goh in 2000]. And I wasn't the slowest. When I came to the Daytona 24 Hours, the team said they wanted to use another driver because I hadn't driven for so long. But of course I know Daytona inside out, and I was three or four seconds faster than the other guy [Hans Hugenholtz]. After that we finished seventh overall [also sharing with Toni Seiler and Erik Messley] despite a midnight breakdown that cost us one hour."
"Formula 1 was totally jealous of sports cars. Bernie Ecclestone ruined the WSC"
Walter, it's been good to hear your story.
"You have good times and bad times in life. Only dreaming about the good things, that doesn't help. And lamenting the bad times and saying I should have done things differently, that doesn't help either. You have to live today and think about what you will do tomorrow. I have experienced it. I'm 80 years old now, so I'm allowed to say that."