Jordan: "I was so upset when I learned I hadn't got Camel that I went to see some old contacts from Marlboro. They told me it was last-chance saloon for Andrea de Cesaris, and asked whether I'd take him, while Bertrand Gachot was also a Marlboro driver. Signing them didn't bring a huge amount of money, but it was a useful chunk."
***
Jordan had also been courting soft-drinks brand 7UP, which is where Michael Jackson played a fleeting – but crucial – role. "Before the start of the season," Jordan says, "Bertrand was supposed to come with me to give a motivational talk to 600 7UP executives, to explain a little bit about F1. I spoke for 45 minutes and it seemed to go down quite well, but I was hugely pissed off that Bertrand didn't show up. What I didn't know was that he'd been arrested in the immediate aftermath of his infamous altercation with a taxi driver [which later led to Gachot's incarceration, creating a vacant F1 seat for Michael Schumacher]. Afterwards, one of the 7UP marketing guys stood up to thank me, said they wouldn't be able to do anything immediately in F1 but that we should keep in touch. 7UP was due to sponsor Michael Jackson's world tour, but that was cancelled when he overlacquered his hair and somehow set it on fire.
"I then received a call saying that perhaps 7UP would have some funds available, after all. I had so much luck along the way…
"Because I'd first thought the car would be Camel yellow, I'd also been talking to Kodak – whose logo had a similarly coloured background. When I told them the good news about 7UP, however, the marketing director pointed out that we'd be running in the colours of Fujifilm, Kodak's main rival, so we wouldn't be getting any support. I then jumped on a flight to Japan and went to see Fuji. I didn't have an appointment, but had done lots of driver deals in Japan and my name was reasonably well known. I got a bit of help from local contacts, was able to see the right people and Fuji bought into the F1 project."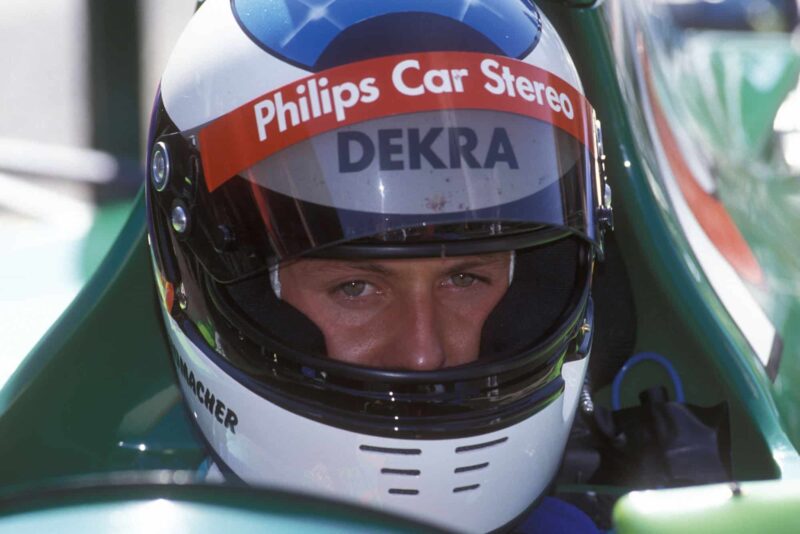 Back at base, meanwhile, the design team wasn't certain its labours would ever become carbon reality. "Lotus had been struggling," Anderson says, "and EJ had been chatting to them about a possible partnership. We were never really sure whether the rug was going to be pulled or whether our car would ever be used, but the Lotus/Jordan thing never happened and then one day Eddie just walked in and said, 'Right, I think we're going to do this.' I'd probably have been happy to set Michael Jackson's hair alight myself if I'd known we were going to get some sponsorship from it…"
The new car was initially called the 911, until Porsche complained. "The number didn't mean anything to me," Jordan says, "and I realised the following chassis would be a 921, so I offered to change the name to 191 if Porsche would give me a car. They didn't exactly agree, but I had one on loan for 18 months."
It was also originally drawn to take a Judd V8, but… "One day Andy Green and I stopped for lunch at the Royal Oak [since closed] on the old A43 through Silverstone," Anderson says.  "It was quite busy and we asked a chap if we could share his table, after which we began chatting. He asked what we did, so we told him and he seemed to know a bit about our team. He asked which engine we'd be using. When we said 'Judd' he produced a business card and mentioned that he might be able to do something for us. It was Bernard Ferguson from Cosworth. The change came quite late in the day, but if we hadn't stopped for that sandwich it might not have happened."
***
The Jordan-Cosworth ran for the first time on November 22 1990, with John Watson at the helm. "I'd known John since my days as an F1 mechanic with Brabham and McLaren," Anderson says. "I recall chatting to him about our plans in the Silverstone car park, at the British GP in July. He asked what the hell any of us knew about F1! I knew John liked to race with a bit of understeer in a car that had a stable rear end and strong brakes – something that inspired confidence. I told him that's what we were trying to build. After he'd done that first run, he came in and said the car reminded him of our earlier conversation. It wasn't really very adjustable, but the basic structure seemed to be quite good.
"Later we went to Paul Ricard with all the big boys and we weren't too far off. OK, we might not have had the same fuel load as some of the others, but we knew things weren't too bad – that we could be in there fighting."
Gachot came to the project after two seasons in F1 – the first with Onyx, a new team that had a solid structure, and the second with Coloni, a new team that hadn't [in 1990, he didn't qualify for a single race]. "I had a few reservations about driving for yet another newcomer," Gachot says, "but with Jordan I could see from day one that there was something special. Eddie had a really good bunch of people, with Gary, Andy and so on. I felt very confident and totally trusted them. The whole attitude was different from what I'd been used to and the car had been designed using a windtunnel, rather than wild guesswork. It was on a completely different level to what I'd had even at Onyx."