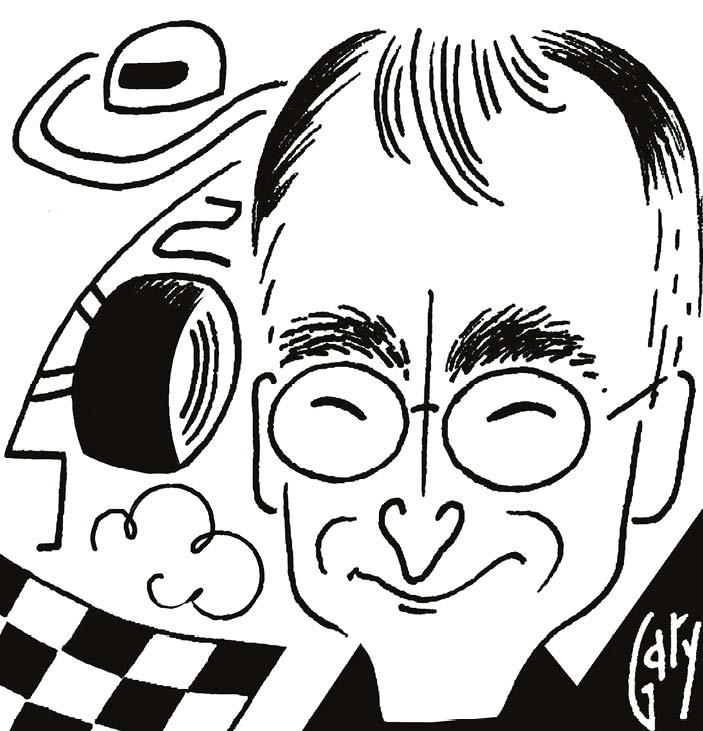 Robert Kubica's Formula 1 comeback from his serious right arm injury wasn't quite a fairy tale – at least during the first chapter, in Melbourne. It isn't just that his Williams is disastrously slow and is likely to remain so for the rest of the season. It was also the fact that he qualified more than 1sec adrift of his rookie team-mate George Russell. Hitting the Turn Nine wall through a simple misjudgment on his final run hardly added sheen, neither did losing his front wing at Turn One of his first race start for eight years on his way to a solid last place. But he isn't seeing things like that. He's a remarkable character, trying to do something no one's ever done before and he's dug into reserves most people would never dream of trying to access. He's also surrendered a significant insurance payout, and nor does he see it as bleakly as the outside picture might present.
Johnny Herbert suffered devastating feet injuries on the eve of his F1 career and, although he wasn't the driver he could have been, he was good enough to win three grands prix. Talking to him recently about Kubica, he said something quite eye-opening: "As a driver if you were to give me the choice of my feet or his arm, I'd take his arm every time. It will not have anything like as big an impact upon his driving as my feet did. That was how I felt the whole car, through my feet under braking into the corner. Robert always had that lovely feel for that, and I think that will all still be there. With paddle gearshifts and power steering, I don't think the physical aspect of the driving will be a problem. The only compromise might be in qualifying where you are having to make a lot of steering wheel switch-changes from corner to corner. The second/third/fourth gear acceleration of a current F1 car is particularly brutal and you'll be making those upchanges within half a second. Trying to do a switch-change in the middle of that might not be feasible for him, and might cost him a tenth or two, but in a race it wouldn't be an issue. You aren't doing the number of switch-changes."
"Even with a withered arm, he radiates confidence, and not vulnerability"
He qualified well down on Russell, but was using a damaged floor and was not seated properly – the latter point a contributory factor in him hitting the wall. "I complicated my life with a silly mistake there," he said. "I wasn't even overdriving, it was only about the evaluation of the space – which is a bit embarrassing, but at least I now have a better overview for how much pace I will find when I get the seat placement…"
Even with that withered arm Kubica radiates confidence, not vulnerability. He faces three points of difficulty: 1) the uncompetitiveness of his car and the team's general unpreparedness for the season; 2) the adaptation he needs to make after eight years away; and 3) his own physical situation.
He desperately needs miles to adapt, and/or relearn, but he didn't get in more than 15 consecutive laps during winter testing. He claimed he had answers only to about 20 per cent of what he needed from testing. The three points are of course interconnected, but he sees them very much in that order. Some sense of the challenge can be illustrated by his observation after his race-run simulation during Friday practice. "I was overtaken by more cars in 45 minutes than in the whole of my previous four years in F1."
But even he has inner doubts, as he admitted after the race. "Today was complicated, but from the things I could control I think I did a reasonable job and am quite confident I can do it. Probably most people had doubts about the physical aspect, the first corner and the start. The standing start was my first in eight years and actually it was quite good. I had a bit of a panic when I lined up because I couldn't see the lights. The rear wing of the McLaren was hiding it, so I had to move to the left, but it was OK.
"Into Turn One I took it very safe, moved a lot over to the inside of the kerb and I was thinking 'OK I'm through' but then – from what I see on the replay – Gasly moved quite a lot to the right and there was contact with Sainz and he damaged my front wing. Soon after I lost the whole wing, which damaged other parts of the car and we had to pit. The car was not feeling great, then on lap three I lost a mirror which made it even more difficult with the blue flags. But once I was in clear air I was told the pace was not bad. For the state the car was in, it was good and at one point I was nearly laughing at how bad it was.
"It was an important day. Eight years and four months after my accident. Yes, I've been hiding the emotion a bit."
Team-mate Russell was meanwhile making a brilliantly accomplished debut in such a poor car. Using him and his undamaged Williams as a reference, Kubica's pace in his damaged car in each of the first two stints compared as follows. Stint 1 (mediums) 0.34sec slower average on comparable laps. Best lap 0.6sec slower. Stint 2 (softs): Kubica 0.12sec faster on comparable laps. Best lap equal.
That's not definitive, for we don't know how hard Russell was pushing given that he was not racing anyone, but let's assume this was as quick as either of them could go. It suggests that Kubica's case isn't quite as hopeless as the numbers made it look.
---
Since he began covering Grand Prix racing in 2000, Mark Hughes has forged a reputation as the finest Formula 1 analyst of his generation
Follow Mark on Twitter @SportmphMark