F1 in the 1990s: New order - tech revolution
A flurry of teams came and went, technical freedom led to constant innovation and one of the all-time greats earned his breakthrough. Simon Arron asks if the 1990s was Formula 1's golden era
Few things evolve at the same speed as motor sport, but for once the wider world was almost keeping pace. The 1980s had concluded with the collapse of the Berlin Wall, and the global political landscape continued to evolve.
In February 1990, Nelson Mandela was released after almost 30 years of unwarranted incarceration, the first step of his journey towards the South African presidency, and by the year's end Margaret Thatcher had been toppled following more than a decade as Britain's first female prime minister. In technology, the internet – and email – began to change the way the world operated. (Slowly at first – remember electronic handshakes and a baud rate of 9600 bits per second?) And while America's musical new wave – Nirvana, Pearl Jam, Soundgarden – lamented the plight of the disenfranchised youth, their UK counterparts – Oasis, Blur, Suede – responded by remodelling some of the best ideas from the 1960s and sprinkling them with a little extra attitude. Welcome to Britpop.
Period Formula 1 was equally brash and unquestionably louder. The 1990s were bookended by four McLaren world titles – two for Ayrton Senna at their dawn and a brace for Mika Häkkinen as they ended – with the gaps between filled by Williams-Renault (Nigel Mansell, Alain Prost, Damon Hill, Jacques Villeneuve) and upstart Benetton (Michael Schumacher with a double).
Schumacher got his break ahead of the 1991 Belgian Grand Prix after Jordan driver Bertrand Gachot was jailed for actual bodily harm (ABH) in a confrontation with a London cabbie. Such was the level of Schumacher's performance – qualifying an impressive eighth before starting seventh due to a penalty for Riccardo Patrese – that Benetton had snaffled him one race later. But F1 was to be denied the prospect of seeing how established maestro Senna would deal with the German's ruthless pragmatism – the two were cast from similar moulds – in the longer term.
Senna died from injuries sustained in an accident during the opening stages of the 1994 San Marino GP, one day after Austrian rookie Roland Ratzenberger had perished while trying to qualify for the same race. It was the first time since Belgium 1960 that two drivers had been killed during the same grand prix weekend, the first since Canada 1982 that any such incident had occurred during an F1 race event. By now, under the stewardship of former racer-turned-team principal Max Mosley, the FIA reacted swiftly with a safety crusade that has continued ever since, and in time spawned taller cockpit shrouds, head-and-neck safety (HANS) restraints and the Halo.
For the moment, though, cars often still looked like cigarette billboards. The brand names might have been removed in markets sensitive to smoking's stupidity, though there was little mistaking those logos, yet tobacco cash didn't equate to uniform stability.
More teams came and/or went during the 1990s than there are on the grid at present. For some, the short shelf life was inevitable. Italian team Life experimented with a W12 engine that seldom managed more than a few laps at a time, though its car proved to be just as hopeless with a conventional Judd V8 in the back. The Coloni C3B-Subaru won't ever be recalled fondly by those who drove it or ran it, but the fact it ever existed is surely a cause for celebration. It was the unlikely fusion of a successful Italian junior team and a Japanese industrial giant with a hefty, underpowered flat-12, but there was nothing in the rules to say that engines had to be made a certain way.
"More teams came and/or went during the 1990s than there are on the grid at present"
The Coloni project embers were purchased by Italian shoe designer Andrea Sassetti, whose Andrea Moda team did everything badly – though Roberto Moreno somehow managed to qualify its car in Monaco in 1992. It eventually achieved the distinction of being barred by the FIA. Andrea Moda's crime? "Failure to operate a team in a manner compatible with the standards of the championship." When its trucks turned up for the Italian GP at Monza, they were turned away at the gate never to be seen again. The main beneficiary of the whole charade was probably Moreno's team-mate Perry McCarthy, who has still to make his grand prix debut but at least came away with plenty of material for a decent book.
Other period casualties included AGS, EuroBrun, Forti, Lamborghini, Larrousse, Scuderia Italia, Leyton House, Pacific, Onyx/ Monteverdi and Osella, but bigger names weren't immune to failure.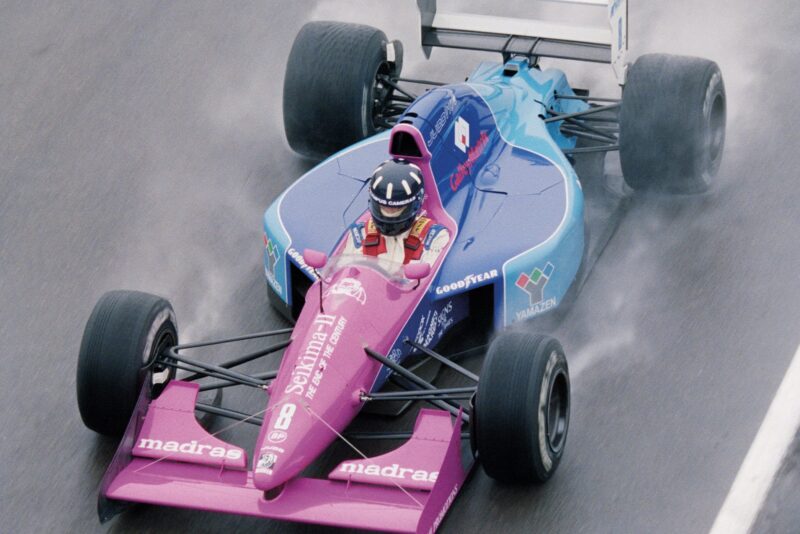 Winless since 1983, one-time champion team Tyrrell was absorbed by British American Racing for 1999. It failed in its pledge to win on its debut, but it did provide the title-winning backbone for what later became Brawn GP and then Mercedes. Sold by Bernie Ecclestone in the late 1980s, Brabham never recovered its mojo and folded during the summer of 1992. And even Lotus, seven times a champion constructor and winner of 79 championship grands prix between Monaco 1960 and Detroit 1987 (a figure today that's beaten only by Ferrari, McLaren, Williams and Mercedes), also turned to dust.
But there was scope to dream. Eddie Jordan and the Stewarts, father and son Jackie and Paul, started new teams, the former with a fusion of optimism, a PhD in bluster and an eye for a deal, the latter with the financial clout of Ford at their shoulders. Both would win grands prix before the decade was out – and the roots of both teams endure. After mounting an outside title challenge with Heinz-Harald Frentzen in 1999, Jordan's star waned, and the team passed through several phases of ownership before morphing into Racing Point and a future from 2021 as Aston Martin. At the end of 1999, the Stewarts sold control to Ford, which spent five years making a complete hash of things before passing the team on to Red Bull, which didn't…
"Eddie had been talking to me about his F1 plans," says his first technical director Gary Anderson, "then one day, out of the blue, he phoned and said he was ready to go, so did I want to join him? Of course, Eddie's version of 'ready to go' differed from mine. I turned up at the factory in February 1990 expecting everything to be in place and found absolutely nothing! I spent quite a bit of time browsing catalogues for nuts, bolts, shelves – that kind of thing…"
What was the difference between somebody like Jordan and his Pacific counterpart, Keith Wiggins? Both had run successful teams at junior level – winning British Formula 3 and F3000 titles – so why did one succeed at the top tier while the other struggled to survive for two seasons at the back of the grid? Later managing director of Cosworth, Mark Gallagher worked for both on the commercial side.
"In some ways, Eddie and Keith are very similar," he says. "They'd had a lot of success on the way up and were both fiercely ambitious, but where they differed was that EJ was a deal maker whereas Keith was more of a race team operations guy. Eddie needed technical people to deliver for him and got Gary Anderson to lead that, whereas Keith felt he could do the technical and operational side and needed commercial people to find the money. But he never had enough to deliver a good car. Bertrand Gachot saw an opportunity with Keith to build an F1 team together, and he worked very hard to bring in money, but it proved impossible for him to be a driver and run the business side.
"Ten minutes later, the door to Pacific's office was kicked open by an irate Ayrton Senna"
"I became involved after Bernie Ecclestone would not release Pacific's cars and race equipment from freight after just the second race in 1994, at Aida. Keith owed him about $250,000 (£195,000) and called to ask whether I knew anyone with that kind of cash available at short notice, so I put him in touch with [businessman and future Lola Cars owner] Martin Birrane, who effectively bought the F1 cars in order to settle Keith's bill. From then on they had an 'owned by Martin Birrane' plate inside the cockpit. It was not the only time he helped."
That Aida weekend was memorable for other reasons, too. "I accompanied Keith to the circuit one morning," Gallagher says. "It was a single-track road, and Keith always drove flat out, but we were caught by this Honda Accord. Keith decided there was no way the guy was getting past, so he weaved and blocked all the way, and we got the last spot in the official team car park while the Accord was sent to the overflow. About 10 minutes later, the door to Pacific's office was kicked open by an irate Ayrton Senna, who started yelling about being blocked – and then burst out laughing. He stayed for a chat, asked how everything was going, and said he'd be happy in the future to put in a good word for us with potential sponsors. That summed up Ayrton, and also Keith's reputation."
The loss of Senna one race later opened the door to an F1 race seat for David Coulthard, who had been an F3000 title contender with Pacific but whose single-seater career risked losing impetus as he was struggling to find the funds to continue. He had, however, been kept busy as Williams' official test driver.
"I'm sure many drivers look back on their own era with rose-coloured spectacles, just because they have fond memories of being out there," he says. "This might sound ironic, given the circumstances in which I got my racing opportunity, but I feel I was lucky to have competed at a time when F1 had generally become much safer. And having cut my teeth as a test driver at that time, developing active suspension, anti-lock brakes, power steering and all the electronic aids that were later taken away, it really was a great period for innovation.
"Today's cars are much more advanced, in terms of aerodynamics and engine efficiency, but I have to defer to people like Adrian Newey, who feel there are ever more restrictions on designers in terms of the scope they have for being creative. I always believe great designers will find an edge, whether we're talking about a Formula Ford car, with its limited tech, or a more sophisticated grand prix chassis, but when somebody like Adrian says there is less scope for a technical challenge then it must be relevant. The 1990s were a great time to be involved – and for a short while, when Bridgestone came in against Goodyear, we had a tyre war, too. I still get on my high horse about this single supplier thing – a tyre war, to me, represents a purer form of F1. We have battles between drivers, teams, chassis and engines, yet we have control tyres. It just doesn't make any sense…"
Chris Murphy would be the last man to spearhead Team Lotus's design department, having joined during 1991, and he echoes many of Coulthard's thoughts. "I think it was definitely a golden period for F1," he says. "That was partly because of the technical freedom we had, plus the big engines, big tyres, big downforce… They were properly fast cars, really nice things to work on.
"At Lotus, one of the things that drove us forward was an understanding that we had less of a budget than many other teams. In 1994, our last season, we had 12 million quid and I think the biggest teams, which at that time were Williams, McLaren and Ferrari, had about twice that. As we didn't have as much money, our philosophy was that we had to try to be more inventive. That was the thinking behind our approach to active suspension. It wasn't a completely new thing – Ayrton Senna had won the 1987 Detroit GP for Lotus with the active 99T – but things had moved on. Where rivals went for reactive systems, Lotus – with an R&D team headed by Peter Wright working in conjunction with some guys from Cranfield University – went for a fully synthesised predictive system driven by algorithms. In retrospect, it was hugely ambitious, but the regulatory freedom allowed that kind of thinking. That idea of having to be 'cleverer' opened all our minds, and we had some fantastic brainstorming sessions.
"It wasn't just the freedom of thought, either. Nowadays you see a line of mechanics on the grid, shielding certain parts of the cars from view, but it used to be much more relaxed. At one race, I remember being on my hands and knees before the start, trying to get a look at the Williams diffuser. I noticed a pair of brogues next to me and realised they were attached to Patrick Head, who said, 'There's no point looking down there, Chris – the interesting stuff is in the big grey space between the gearbox and chassis…' When I think back, even the paddock was more open – there was none of the current electronic swipe card bollocks, which means the place feels almost empty. It used to be bustling, and full of interesting people…"
At Monza in 1994, equipped with the latest Mugen Honda V10 for the first time, Johnny Herbert qualified Murphy's Lotus 109 on the second row – a shot in the arm towards the end of a campaign that had thus far yielded no points.
"Johnny said the car felt really good and went into the race believing he had a genuine shot at victory," Murphy says, "but then Eddie Irvine used him as a brake at the first corner and that was that. The very next day, we learned that Team Lotus was entering administration. That weekend we really thought we were on the cusp of something good, ready to pick up the pieces and move forward, but as soon as the administrators came in Honda reduced its support and things fizzled out.
"I'd always regarded Team Lotus as an institution, like The Albert Hall or the monarchy. The idea of it disappearing seemed ludicrous, but I guess it just went to underline that nothing was sacred if nobody was prepared to pay."
---
1990s as it happened
1990 Ayrton Senna complains (rightly) that pole for the Japanese GP is on the wrong side of the track. When the organisers do nothing, he reacts (wrongly) by torpedoing Alain Prost's faster-starting Ferrari to take both out of the race and clinch his second title.
1991 Extra point awarded for the race winner with the top six now earning 10-6-4-3-2-1. Senna takes the title. Max Mosley is president of the FIA's sporting arm FISA, two years before assuming the same role with its parent body.
1992 Nigel Mansell is imperious in Williams FW14B; wraps up championship in August after finishing second in Hungary.
1993 Mansell exits; Prost joins Williams and takes fourth title. Senna gets five wins in McLaren with customer Cosworth engine. His finest season? Discuss…
1994 Refuelling returns. Senna and Roland Ratzenberger killed at Imola. Michael Schumacher wins the opening four GPs, but is sidelined from four in the wake of infractions. In an Adelaide showdown, Schumacher takes the title controversially.
1995 Engines go from 3.5 to 3-litres. Ferrari runs a V12 for the last time. Benetton switches from Ford to Renault, but Schumacher continues winning. Cue title number two.
1996 Hill becomes the first son of a World Champion to emulate his father, following a season-long tussle with Williams team-mate Jacques Villeneuve. Schumacher switches to Ferrari; F310 chassis isn't terribly good, but he scores three wins – the best of them in a Spanish deluge.
1997 Villeneuve takes title after surviving a clash with Schumacher in the Jerez finale. The German is stripped of second place in the championship as 'punishment', though his victories stand.
1998 Grooved tyres introduced in a further bid to contain cornering speeds. Mika Häkkinen takes title in Mercedes-powered McLaren MP4/13, the team's first Adrian Newey-influenced car.
1999 Ferrari forced to switch priorities after Schumacher breaks a leg at Silverstone. Häkkinen eventually sees off Scuderia number two Eddie Irvine.