In September 1964, famed Honda engineer Michihiko Aika and rider Jim Redman climbed aboard a BOAC VC10 at Tokyo's Haneda airport, bound for Monza, via Hong Kong, Calcutta, Karachi and Rome. Sitting next to them was their new motorcycle, laid across three passenger seats and hidden beneath a blanket. The decision to race the bike at the season-ending Italian Grand Prix had been last minute, too late to freight it to Italy.
The machine was Honda's RC165, a six-cylinder 250cc four-stroke created to defeat Yamaha's twin-cylinder RD56 two-stroke, which had proved too much for Honda's four-cylinder RC164.
The RC165 was Honda's most famous weapon during its 1960s war with the burgeoning two-stroke force, led by Yamaha and Suzuki. The 250 six and its lesser-known stablemates the RC148 125cc five and RC115 50cc twin were also important symbols of Japan's new industrial might and perfect examples of the nation's fascinating technology of miniaturisation. The 250 six had a bore and stroke of 39 x 34.8mm, while the 125 five and the 50 twin measured 34 x 27.8mm. Pistons like espresso cups.
The engineering concept behind these shrieking engines was straightforward: a two-stroke fires twice as often as a four-stroke does, therefore the four-stroke must rev twice as high. The 250 six revved to 18,000rpm, the 125 and 50 went to 21,000, compared to Yamaha's 11,000rpm RD56.
Remarkably, these engines, and Honda's first Formula 1 engine, the RA270, were mostly designed by one man, the brilliant Shoichiro Irimajiri, who was only 24 in 1964.
Irimajiri had wanted to design jets, but Japan was banned from engaging in such activities after the Second World War, so he joined Honda instead.
Honda itself was emblematic of Japan's new role in the world. Metallurgist Soichiro Honda had established his company in 1948, by buying a job lot of Second World War army radio generators and installing them in bicycles to create low-cost powered transport. By 1965 Honda was the world's biggest motorcycle manufacturer, producing 1.25 million units annually.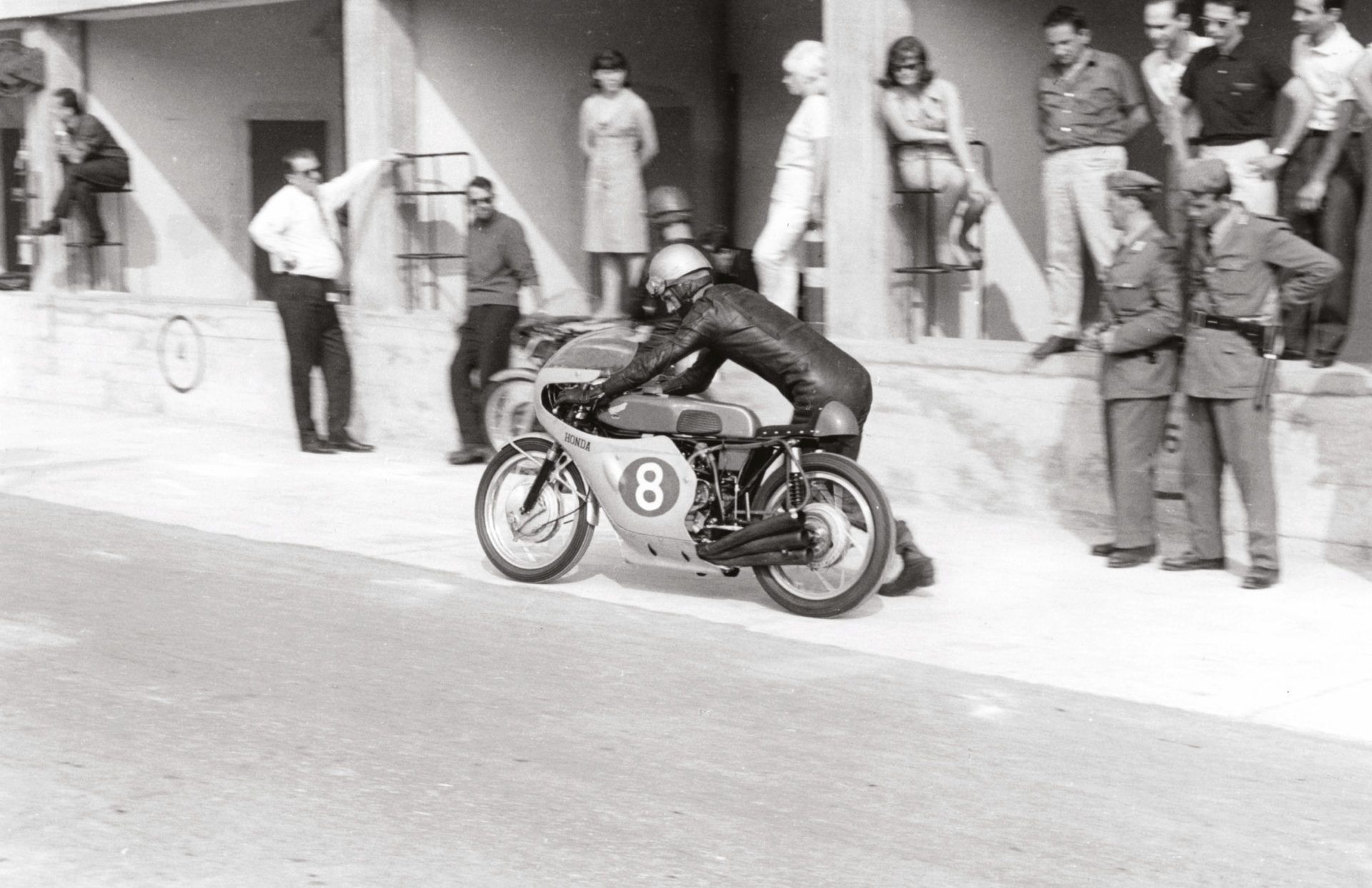 Honda's stunning growth was part of a greater Japanese economic boom that had been largely precipitated by the Korean and Vietnam wars, for which the US needed a supply and repair base close to these new theatres of war. During the first 18 months of the Korean conflict billions of dollars flowed into the Japanese economy, the Tokyo stock market leapt 80 per cent and numerous US-Japan licensing agreements were signed. Irimajiri was one of many Japanese engineers who took advantage of this new relationship between his country and the USA.
"When we had trouble with materials, we went to General Electric or Pratt and Whitney in the USA," he recalls. "They asked us, 'what problems do you have?' We explained, and they introduced us to a very special steel, a new material they were using for turbine shafts. In those days American companies were kind to us; they showed us everything so we could overcome these problems. We took samples home, went to Daido Steel or Nippon Special Steel, who analysed it and then made the same for us."
With his innate genius and imported knowhow, Irimajiri revolutionised four-stroke technology. His engines made up to 280 horsepower per litre, about the same specific power output of a 2019 MotoGP bike; although modern grand prix engines are restricted in bore size, specifically to rule out any Irimajiri-style flights of fancy.
No doubt many other four-stroke race departments learned from Honda's engines. BMW certainly did. The details of Honda's 1960s marvels were required reading for engineering students of that era, according to ex-BMW Motorsport head Mario Theissen.
When Aika and Redman arrived in Italy for the last race of the 1964 season their hand luggage caused a sensation in the Monza pit lane. "My heart sank when I saw its fantastic speed past the pits," remembers Yamaha's Phil Read, Redman's rival for the 250cc world title. And the bike was so loud, with a shrieking exhaust note that sounded like the end of the world, that Dunlop tyre technicians refused to check its rear tyre while the engine was running.
When the race started Redman charged into the lead, but not for long. The six was far from fully developed, so its carburettors suffered a vapour lock, the mighty six slowed and the championship went to Read and Yamaha. It was another year or so before the bike was fully sorted, just in time for Mike Hailwood to arrive at Honda from MV Agusta. 'Mike the Bike' became synonymous with the six, taking the 1966 and 1967 250cc titles and the 1967 350cc championship, using a bored-out 297cc six.
Hailwood enjoyed these successes and many more despite his famous lack of technical nouse.
"Mike's mechanical knowledge was practically zero – he didn't have the remotest idea," said fellow Honda rider Ralph Bryans, speaking before his death in 2014. "I was there when he jumped aboard the 250 six for the first time at Suzuka. He came back in and they asked him what it was like and he said, 'bloody awful'. But as for what it was doing and what could they do to fix it – absolutely no feedback whatsoever. It was lucky there wasn't much set-up to do in those days – there was only one tyre choice and we'd set the suspension at the start of the year and never touch it again."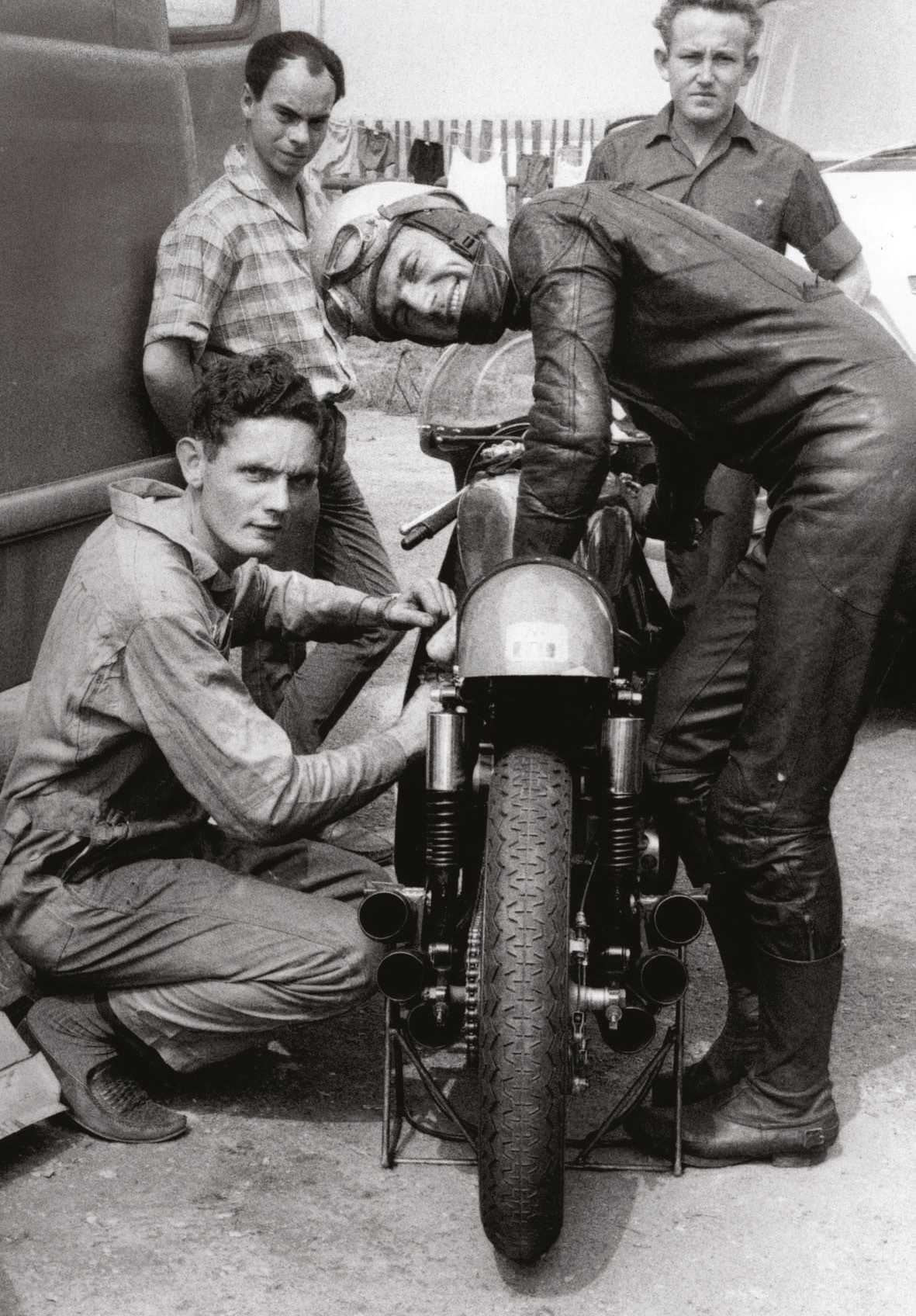 At the Spa-Francorchamps track in 1966 Hailwood's team-mate Redman suffered career-ending injuries. His place was taken by up-and-coming Brit Stuart Graham, who had sparked Honda's interest with some brave rides aboard a single-cylinder Matchless G50 in 500cc grands prix. Honda approached the youngster at the East German GP, asking him to ride the 250 six in the quarter-litre class.
"Talk about jumping in at the deep end – going from a single-cylinder four-speed Matchless that revved to 7000rpm to a six-cylinder seven-speed Honda that they warmed up at 13,000rpm!" recalls Graham, who later raced saloon cars, enjoying great success in a Chevrolet Camaro. "It was pretty traumatic. Just riding the six out of the pits was a problem – it really had no flywheel, so it was very easy to stall. The power delivery wasn't user-friendly – it was all way up at the top end and it came in with a big wallop at 15 or 16 thousand. And the handling was interesting, to put it mildly, because in those days all the emphasis was on the engine; the chassis was just somewhere to put the engine. All in all, it was pretty hairy."
Irimajiri's leitmotifs were high revs, low friction, lightweight materials, compact design and very clever combustion, using very shallow valve angles with almost vertical intake ports. The six was a stunning design – no wider than its four-cylinder predecessor – with tapered double-overhead camshafts that drove 24 valves, with sparks provided by special miniature NGK
spark plugs. The crankshaft ran with one-piece conrods and tiny flywheels, with most of the mass concentrated towards the centre and drive taken between cylinders two and three, effectively halving the crank's vibrating length.
Although Graham found the six intimidating he is still in awe of the engine: "The engineering world should acknowledge the pioneering work that Honda did with its high-revving, multi-cylinder engines that set things up for the next few decades. When George Beale [a British collector] built a few replicas of the six a while back he took an original to Mecachrome, who pulled it apart and couldn't believe what they found, like all the tiny oilways they could only find with x-rays. And this was 50 years later."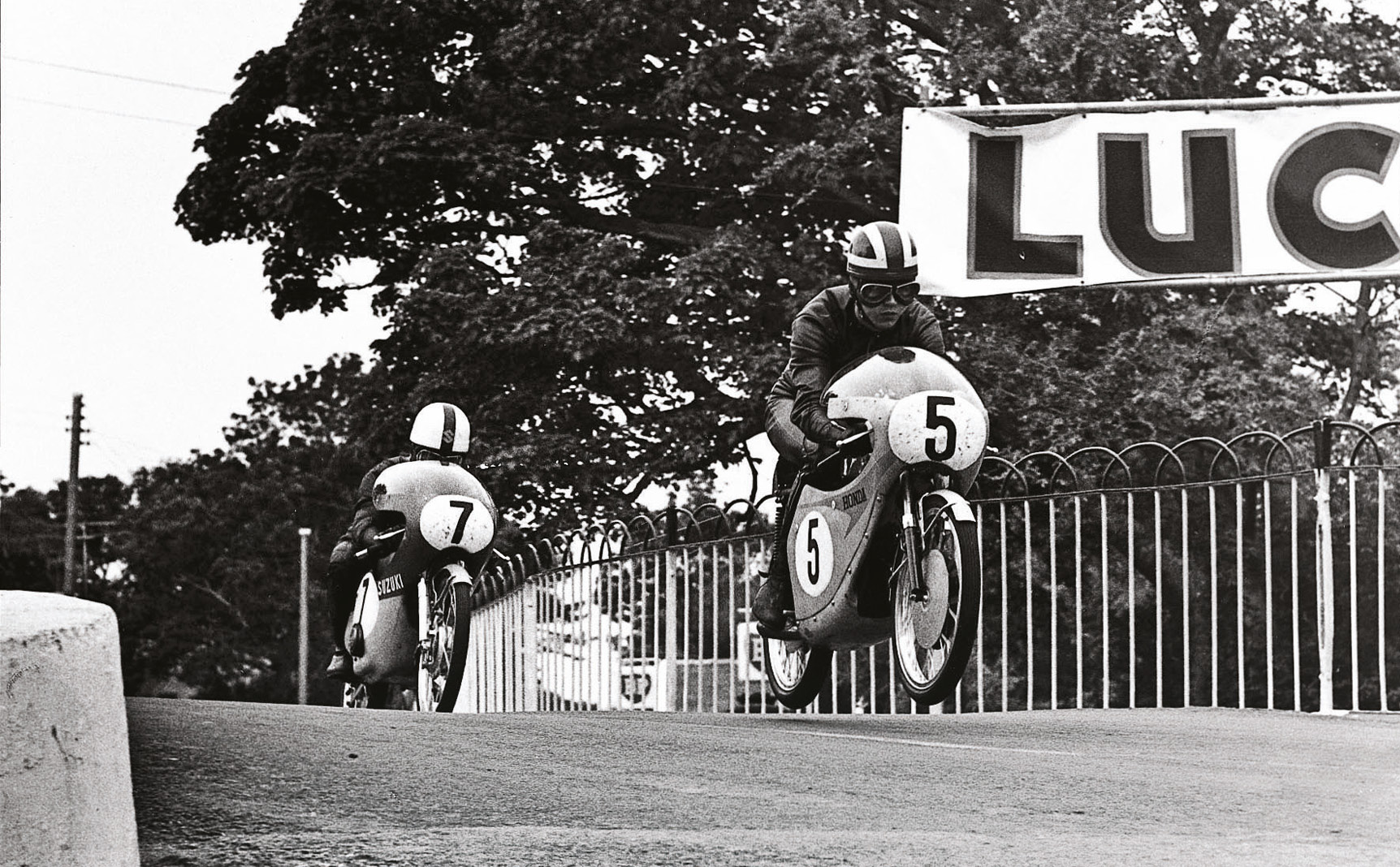 In 1965 Irimajiri unleashed his next creation, the RC148 five-cylinder 125. He based this new engine on the twin-cylinder 50 that he had designed alongside the 250 six.
"My idea wasn't to make a normal five-cylinder," he says. "Instead I made a six-cylinder 150cc and took off one cylinder. I was also working on the 250 six, so that was very simple. If you look at the 125 five engine you can see that it started out as a six cylinder. I took out one cylinder and put in the gear train. Then we used parts from the 50cc twin, so that design was very smooth."
Swiss rider Luigi Taveri rode the 125 five to world championship success in 1966, when Honda achieved a unique full-house of constructors' titles in the 50cc, 125cc, 250cc, 350cc and 500cc classes. However, these were heady times, with Honda and its two-stroke rivals involved in a mad technology race. The following year Yamaha got revenge, reclaiming the 125 crown with its wild RA31 V4 two-stroke – which boasted 17,000rpm and a nine-speed gearbox
Honda's 125 five was even more of a handful than the 250 six. "Even when you got it right the carburation was absolute s**t at low revs," said Bryans, Taveri's 125cc team-mate. "If it wasn't above 18,000 it wasn't going anywhere. At slow tracks like Montjuïc Park it was practically unrideable."
"They revved so hard that if they blew up you'd just have shrapnel"
The diminutive Ulsterman won four grands prix on the RC148 during 1966, after winning the 1965 50cc world title aboard the 13-horsepower RC115, which used bicycle-style stirrup-brakes to reduce brake drag. Bryans, a technical illustrator at shipbuilder Harland and Wolff, got to learn more about the 125 five and 250 six than most Westerners. When Honda quit GPs at the end of 1967 the company loaned him one of each to ride in non-world championship events. And it was up to him to service the bikes.
"With Honda it was always the same – the engine parts just kept getting smaller," he added. "Looking after the 250 six was a piece of cake compared to the 125 five. The small size of the parts and the tiny clearances made things so difficult. I had to use tweezers on the valve collets.
"Before Honda signed me, I raced Manx Nortons. You could have a single-cylinder Manx in bits in a few minutes, you could probably rebuild two in a day. With the 125 five it took two days just to do a cylinder head and a week to do the whole engine.
"Setting up the cylinder head was an absolutely mammoth job. Valve clearance was only six to eight thou, but the tappets had no screw adjusters. You had to measure them with a micrometer to work out where you were going to put each one, then you'd grind them down on an abrasive stone according to how each valve was opening and closing. The margin for error was very, very small.
"Each piston had to be handcrafted to suit. I did that by placing four blobs of plasticine on the piston, turning over the motor, then measuring the plasticine with a micrometer to check the valve clearance. If there wasn't enough clearance I'd scrape aluminium from the top of the piston until it was right. I didn't have to bother with that on the 250 six but on the 125 five the clearances were extremely small and it was very critical that they were correct because a valve clouting a piston was catastrophic. The things revved so hard that if they blew up all you'd be left with was a load of shrapnel."
Getting the carburation right was a similarly labyrinthine job: five carburettors with five jets each – main petrol and air jets, intermediate petrol and air jets and a slow-running air jet – plus three different lengths of inlet rubbers.
By the late 1960s the four-stroke versus two-stroke conflict was getting out of control. In 1967 Suzuki engineers designed the RP66 for the following season. The RP66 was a three-cylinder 50cc two-stroke, created to defeat Honda's rival four-stroke twin. The RP66 made 18 horsepower at 19,000rpm – 380bhp per litre – delivered through a 14-speed gearbox.
But the RP66 was banned before it reached the racetrack. The governing body of bike racing, the Fédération Internationale de Motocyclisme, decided to call time on this weapons race. From 1968, the 50cc class was limited to single-cylinder machines, the 125 and 250 categories to twins and the 350 and 500 classes to fours, all with six-speed gearboxes. What many people still believe to be motorcycle racing's golden age was over.
---
DIGITAL EXTRA