He was its biggest fish when motor sport's pool was small but vitally fertile: the first American renowned purely for his skill and daring at the wheel. With trademark unlit cigar clamped – for both cushioning and moistening purposes – in his mouth, and hair ruffled by the Speed Age's slipstream, he raced on beach, board and brick, and in dirt-oval sprints and cross-country slogs on dirt roads, against 'planes, trains and automobiles.
His colourful personality and cars – Red Arrow, Green Dragon, Blue Streak and Golden Submarine – caught the public imagination and he starred in Broadway's bright lights and on Hollywood's silver screen as well as at the Indianapolis 500. There were better, but there could only be one master driver of the world: Barney Oldfield.
The original outlaw, often at odds with a starchy governing body sniffy about unsanctioned exploits and unashamed professionalism, Oldfield placed a high value on his time and talent. Blue-collar working poor not blue-blooded idle rich, this former Toledo hotel bellboy and elevator operator was more interested in his position in society than that on the track. Those occupational thrills had worn thin quickly, but a swelling bank balance was needed to fund his high-rolling lifestyle: a customised rail car/mobile workshop adorned with banners and slogans – Oldfield pretty much invented commercial sponsorship – plus a fancy for diamonds: rings, pins and badges.
He also part-owned a (failing) Colorado goldmine and ran a saloon in downtown Los Angeles, where he was his own best customer, as well as his own worst enemy. His was the template for 'Babe' Ruth, the force-of-nature genius who enshrined baseball as America's National Pastime in the 1920s.
Oldfield was born on January 29, 1878 in a rural township on the outskirts of Wauseon, Ohio, and christened Berna Eli after his father's infantry bunkmate during the American Civil War. The family relocated to Toledo in 1889 and Oldfield, dropping out after the eighth grade, worked as a water boy, waited tables and assisted in a mental asylum's kitchen to raise money for a bicycle: an Advanced Traveller on pneumatics. He began racing on banked wooden velodromes, aged 16, and placed second in the state championship. By 1896 he was being paid to race as an 'amateur'. For which he was blacklisted. Fast, but he was learning quickly.
His life changed forever when a rival contacted him in Salt Lake City, where Oldfield was demonstrating an Orient motorised tandem. Fellow racer Tom Cooper had persuaded his latest collaborator – a 'poor mechanical inventor' by the name of Henry Ford – that there was no reason why his friend's balance and elbows-out attitude could not be applied to new-fangled motor cars. He was right.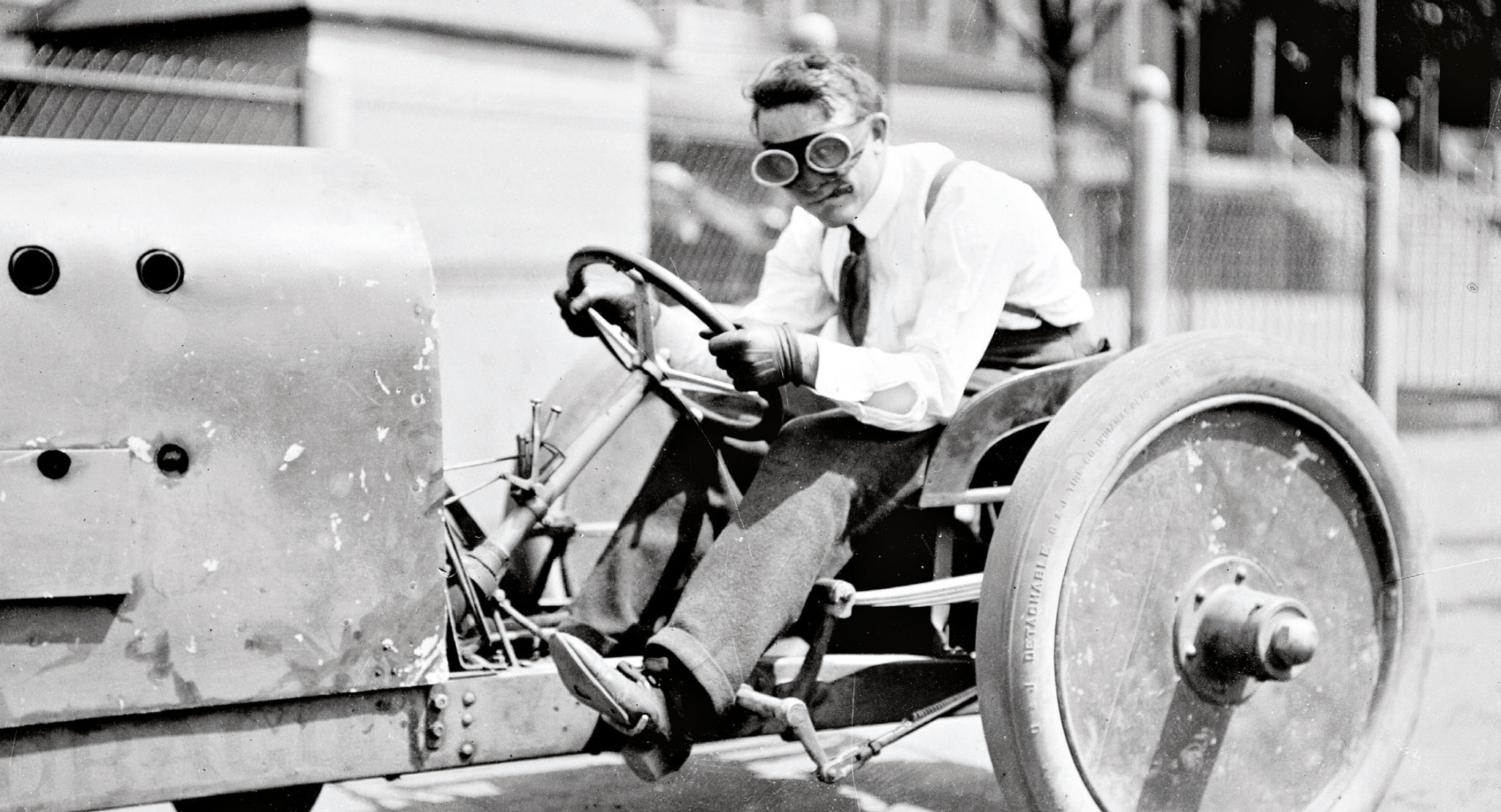 Despite having zero driving experience, Oldfield won on his debut at the wheel of a car, beating the field in the Manufacturers' Challenge Cup at Detroit's Grosse Pointe horse track on October 25, 1902 by a half mile. In doing so he invented drifting and opposite-lock. He did it at the wheel of a single-speed racer called the 'Ford 999'. It had a timber frame and lacked a differential, universal joints and rear suspension; its wooden-block clutch was operated by an iron lever and the exposed valve-gear and crankshaft of its 18.9-litre 'four' churned oil into the swirling muck and dust. Cooper had bought the 999 for $800 from Ford prior to the race on the condition that this recalcitrant test vehicle no longer use Ford's name as its inventor became fearful that it stood no chance against the more experienced Alexander Winton and his proven 'Bullet' – the first car to win a sanctioned race at Daytona Beach.
But now, flushed with success, Ford offered Cooper and Oldfield a $5000 stake in his company. Oldfield considered it a bad risk and declined. Ford never let him forget this missed opportunity; and his friend would spend the rest of his career bidding but failing to compensate for it.
Having spent the winter wondering why he was known nationally – "You know me?" would become his catchphrase – and yet having to hold down a $2/day garage job and cycle to work, Oldfield emerged an older, wiser railbird in 1903. His car improved by mechanical valves in place of suction-type, he became the first man to travel at 60mph – or a mile a minute – on a circular track, at Indiana State Fairgrounds on June 20. Having been ridiculed for bold predictions, he reckoned this was his greatest triumph. He lowered the mark to 55.8sec two months later – and promptly signed to drive Winton's eight-cylinder 17-litre Bullet 2.
Oldfield was suddenly a gun for hire, automobile racing's Buffalo Bill. A full-time professional on a $2500 retainer, he had his expenses paid by Winton and kept his winnings. Yet the relationship did not last long. Confidence soaring after defeating the newly imported Mercedes of millionaire enthusiast William K Vanderbilt at Florida's Daytona Beach in January 1904, Oldfield began behaving much as he pleased. His Scottish-born boss Winton, who felt that racing was becoming too professional too quickly, was not sorry when mid-season his star employee crossed Cleveland to join Louis Mooers' Peerless Motor Company.
Oldfield was suddenly a gun for hire, automobile racing's Buffalo Bill.
This partnership began his time with Peerless's Green Dragon cars, but it started with a bump when Oldfield, blinded by dust, took out 100ft of rail and two unfortunate spectators before wrecking against a large oak at the St Louis World's Fair in August. By late October, however, he was upstaging France's Léon Théry – winner of that year's Gordon Bennett Cup and deemed Europe's finest driver – at Empire City in New York to lay legitimate claim to being the world's best… at dirt-oval sprints, at least. He did so in a replacement Green Dragon built to his preferred spec: lighter, lower – 3in between flywheel and road – more streamlined and with 60hp thanks to an overhead valve engine layout rather than a T-head. He sat above its rear axle in a drilled, unpadded bucket seat and crouched in what little space the torpedo-shaped bonnet provided. His feet dangled below and often beyond the chassis rails. Racing at its most raw.
America's sports writers voted him national champion in 1905 after victories at Hartford, Buffalo, Readville, Providence and Poughkeepsie. But accidents had hardened Oldfield – and he'd met his second wife
in hospital. He bought the Green Dragons – there was a later 90hp version – when his contract with Peerless ended in 1907, and went barnstorming on his own terms. It would be audits over plaudits for a few years.
Yet this daredevil with an eye for detail had a caring side. He would contest benefit races for injured rivals; press for better insurance and safety; drive the first racing car with an integral protective roll bar (see below); and use his vast experience – tyres were always his main concern – to advise friend Harvey Firestone: Oldfield tyres would win the 1920 Indy 500 without a single change. His shrugging aside of danger and jaunty slogans – 'My only life insurance, Firestone tires' – were for public consumption. Reporters who looked Oldfield in the eye remarked on facial ticks and ageing creases; and often he spoke of retirement – as early as 1905 – in a blend of hype and fear. His behaviour was becoming erratic, too: he had to be talked down from a Portland hotel's window ledge in 1907, his drunken response to accusations of fraud.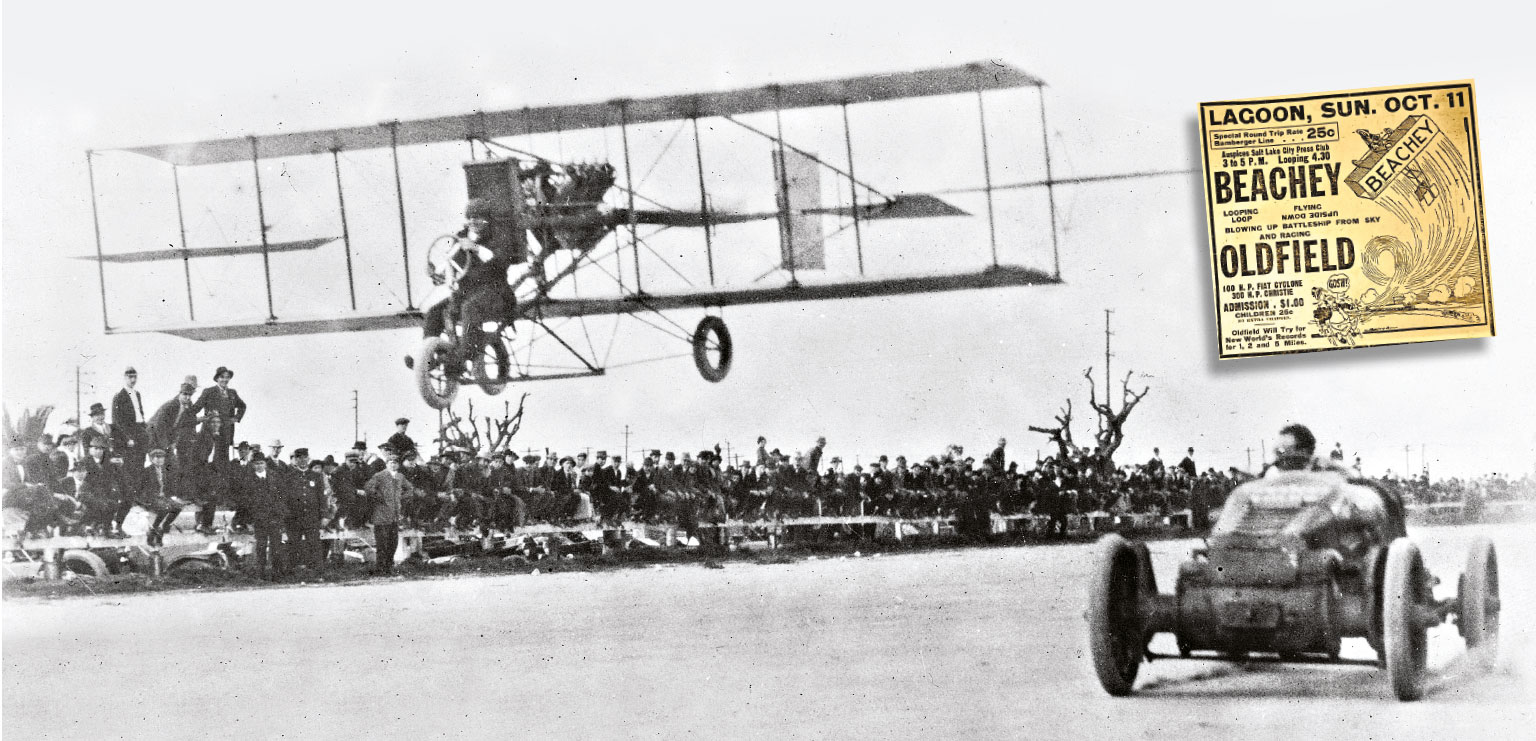 Probably the first racing driver to suffer burnout reckoned that record-breaking – he claimed every mark from one to 50 miles – to be more dangerous than racing, because it required running full-out throughout; and he considered invitational match rather than all-comers scratch races the safest of all. He could control the latter while earning more, allowing a local hotshot his moment before inevitably winning, best-of-three. Many spectators had never seen an automobile in action before so there was no need to run at the ragged edge in order to impress.
But it was difficult to replace the buzz. For a time – 143 shows in 1906 – Oldfield contented himself by revving Green Dragon on treadmills in front of a whirling backdrop as stage hands scattered clods of earth over gawping theatre audiences to pep up a musical comedy titled The Vanderbilt Cup. And after his wife Bess injured her back in a fiery accident while surveying the Lowell Road Race of May 1908, Oldfield again considered his options – and the lure of the world's fastest car was too great. On 16 March, 1910 he steered a 21.5-litre chain-driven Blitzen Benz at 131.7mph through the flying mile at Daytona. It wasn't ratified as a Land Speed Record, but Oldfield and his fans couldn't have cared less; Kaiser Wilhelm II sent a congratulatory telegram.
Then came the stunt too many. Oldfield was a close friend of undefeated former heavyweight champion James J Jeffries, who in 1910 returned to the ring as The Great White Hope and lost to controversial incumbent Jack Johnson. When the latter then challenged Oldfield to a race – on a $5000 bet – there could be no backing down despite the looming threat of a long ban from the American Automobile Association, for whom Johnson's skin colour was even more problematic than Oldfield's disobedience. This widely publicised and filmed event took place at Brooklyn's Sheepshead Bay Raceway on October 25. They rolled dice for pole position, Oldfield in his Knox and Johnson crammed aboard a Thomas Flyer, and the former showed no mercy on this racially laden occasion, winning the first five-mile heat by a wide margin before slowing by fully 30sec in the second to taunt his mismatched rival. Oldfield would regret the day and later express remorse for this Pyrrhic victory. He sold up for $13,500 – his cars were banned, too! – and barely touched competition machinery for 18 months. By which time it was dawning on the sport's grandees and its enfant terrible that perhaps they could benefit each other.
Oldfield was not entirely reformed. In 1912 he rescued a fearsome front-wheel-drive Christie from a Long Island barn in order to go racing again. Its transverse 20.3-litre V4 was canted steeply – its back row of cylinders just 8deg from horizontal – to shift weight rearward and lower the bonnet-line. There were better cars but none so spectacular for the money ($750), Oldfield killing its engine to quell understeer in the corners before letting rip, snorting through the stubbiest of exhausts and scrabbling for grip the entire length of the next straight. In 1913 he starred in a Mack Sennett silent comedy, driving 15 miles in 15 minutes to save a demure damsel tied to a railway track by a dastardly villain. And his staged Championship of the Universe of 1914 against aviator Lincoln Beachey – Fiat Cyclone vs Curtiss pusher biplane – was said to have netted both $250,000.
"That Oldfield and DePalma both died of natural causes, after 2000 races apiece, is wondrous"
Oldfield's career path straightened as the sport of racing became increasingly structured following Ford's democratising of a booming car industry. It was also illuminated by an increasingly bitter rivalry with a younger man just as hungry for success. The public relations war was no contest: Ralph DePalma was dark, brooding and studiously understated, whereas Oldfield, gruff, profane and full of jokes, was inclined to embellish stories in no need of adornment.
Nevertheless Oldfield, after the embarrassment of early defeats, knew that he would have to up his game in order to stand any chance against a rival so eminently capable and fiercely competitive. That slam-bang reputation had to take a back seat as he proved himself a secure strategist when he put his mind to it.
Oldfield finished fourth in the 1912 American Grand Prize in a Fiat which had been repaired after its practice crash that had claimed the life of Ivy League ace David Bruce-Brown. DePalma, who had won the Vanderbilt Cup on the same Milwaukee road course just three days prior, crashed his Mercedes while bidding to take the lead. Upon his return in 1913 DePalma assumed the captaincy of the Mercer team only to resign when Oldfield – still a big crowd draw if now lacking the last tenth of speed – joined without his say-so. Thus their relentless battle in the 1914 Vanderbilt Cup had an even sharper edge. It's said that DePalma, in the six-year-old Gray Ghost Mercedes, outfoxed the old fox by signalling for new tyres.
Oldfield had his moments that season, too: a maiden appearance in the Indy 500 resulted in fifth place, his Stutz, relief-driven by Norwegian Gil Andersen, the first American car home. And he won the west's biggest event: the three-day Cactus Derby in November. The event's 672 miles of unmade roads from LA to Phoenix crossed 7000ft mountains in terrible weather and Oldfield's low-slung Indy Stutz had been given no chance. But the 'Master Driver of the World', having been towed from a river by a team of mules, prevailed, soggy cigar jutting from smiling, mud-caked face.
During a busy 1915, and now driving for Maxwell, Oldfield won AAA races at Tucson and Venice in March. He did not tackle May's Indy 500, however, after turning down Bugatti and failing to strike a deal with Sunbeam. America's most famous driver had a hot-cold relationship with its most famous circuit, which was odd given that its founding father 'Crazy' Carl Fisher, a man fond of stunts, was an old bicycling buddy and a former press agent of Oldfield's. Having recorded the first sub-2min lap on the original crushed rock-and-tar surface during practice for the maiden car meeting of August 1909, Oldfield's race debut at Indianapolis would end in injury when the bonnet of his National Old Glory blew off during the ill-fated Wheeler-Schebler Trophy for stock cars. He then missed the inaugural 500 of 1911 due to his AAA ban and had a dig – too many miles for too many cars – in his newspaper column for the Indianapolis Star.
But in 1916 he was central to Indy's story. Allowed a record attempt in the otherwise ineligible Christie, by now on its last legs, he coaxed the track's first 100mph lap: 102.63mph. And that year's main race – in which Oldfield finished fifth in a Delage – was noticeable for its reduction to 300 miles and the absence of the defending champion. DePalma had asked for special terms and conditions and withheld his entry. He backed down two days too late and unanimous approval among rivals had to be sought. Oldfield blocked it. No doubt they saw it differently, but this rivalry was good for both of them and their subsequent sequence of match races, during which Oldfield more than held his own, were well attended. They are buried in the same Culver City cemetery in California. That they both died naturally, after a reputed 2000 races apiece, is wondrous.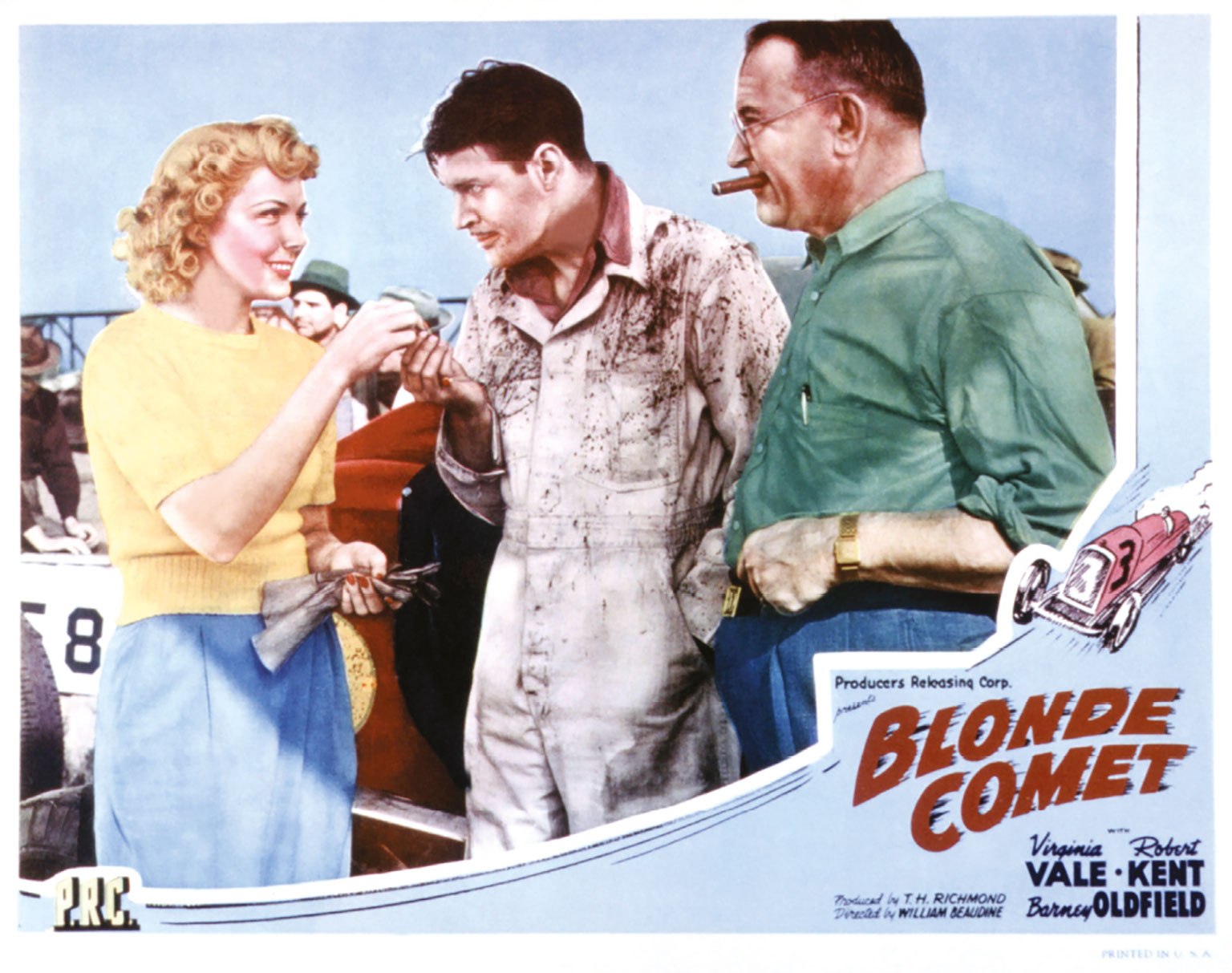 America's entry into WWI finally halted Oldfield's racing career in 1918; he felt no urge to return to the cockpit after the Armistice. He continued to be a marketable name, however, and worked with/for Firestone. In 1924 Kimball Truck Company of LA built the only Oldfield road car. And during the 1930s he became a test and development driver for the Hudson Motor Car Company. But never would he reform entirely: in 1933 he ran 64mph on an Allis-Chalmers tractor to promote pneumatic rather than solid tyres. Also he announced a land speed record bid, in conjunction with Miller, using a 26ft
car weighing 6500lb and powered by a supercharged 3000bhp 24-cylinder. A wind tunnel model was assessed but the project floundered due to a lack of funds.
And in 1942 he couldn't resist appearing as himself in the melodrama Blonde Comet, proffering hard-won advice amiably to a beautiful speed queen. This was Oldfield's final film appearance before a heart attack brought down the curtain on the 'roaring road I travelled'. He died on October 4 1946 in Beverly Hills. He had come a long way.
---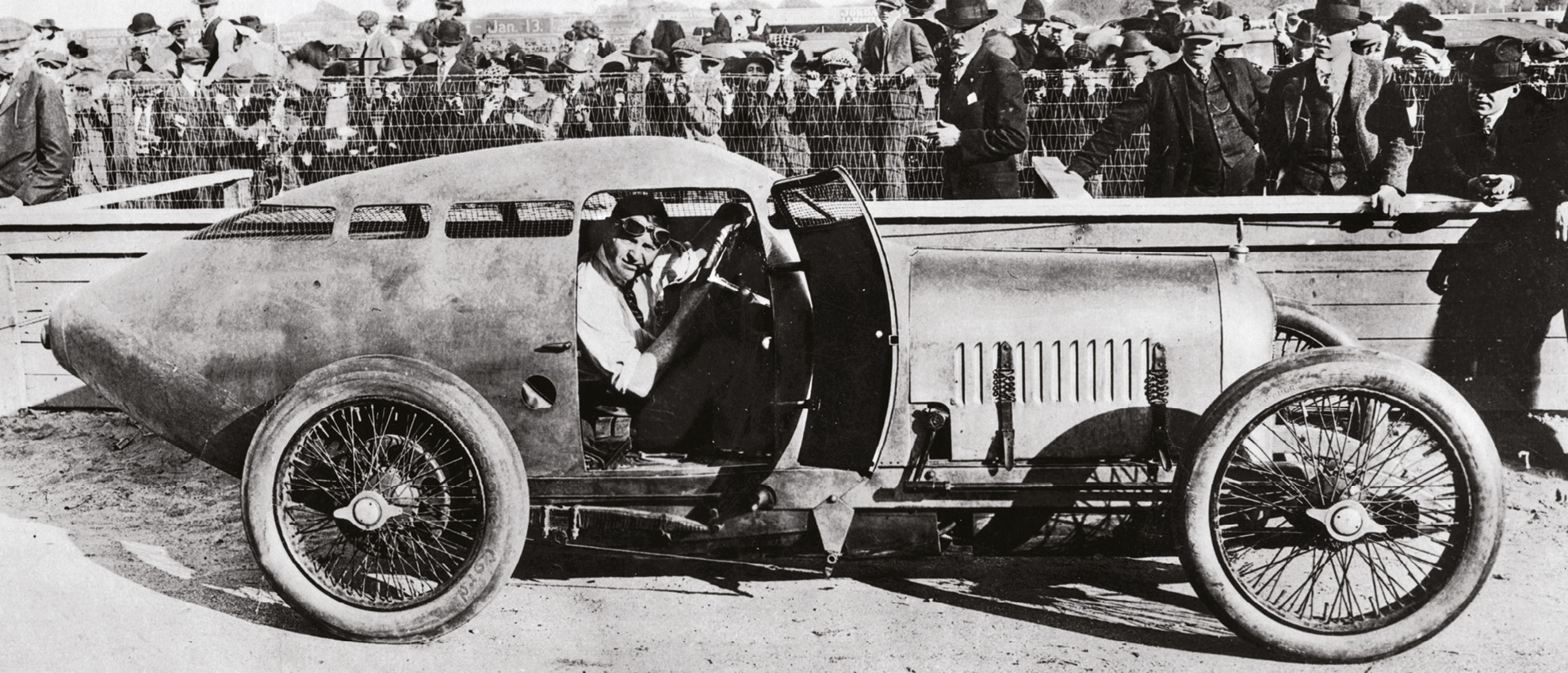 The dawn of safety?
It may have had a roof, and a crash structure, but the enigmatic Golden Submarine also had its drawbacks
Oldfield concluded his career driving the most sensational competition car of its generation: Golden Submarine. Harry Miller's first full-blown racer was triggered by the tumbling death of 'Wild' Bob Burman at Corona in April 1916; Oldfield, fearless without being foolhardy, commissioned a car with a roof supported by a tubular frame. Though its teardrop body and bronze-lacquered appearance grabbed the headlines and the crowds' attention, what lay under its handsome and imposing bonnet was equally remarkable.
Miller was familiar with the best of Europe having rebuilt/modified Peugeot racing engines. But though he drew inspiration, he incorporated many of his own ideas. This 4.7-litre long-stroke eight-port 'four' featured four desmodromic valves, actioned by a single overhead cam, plus two spark plugs per wet-lined cross-flow cylinder with pent-roof combustion chamber. Light (186kg), due to extensive use of Alloyanum – Miller's original blend of aluminium, nickel and copper – its barrel-type arrangement allowed for a sturdy one-piece crankcase and head. Generating 155bhp at 2900rpm, it founded the Miller/Offenhauser/Meyer-Drake dynasty that dominated the Indy 500, where it was still winning, in turbocharged form, in 1976.
Oldfield talked the car up, saying that he could actually smoke his cigar now, there being so little draught and eddy within its cockpit. That he shared that space with the exhaust, which exited via the 'stinger' tail, plus a riding mechanic who would have to scramble out through the driver's door in the event of a crash, were 'safety features' glossed over. He also disliked the restricted view through slits filled with wire gauze.
Its debut in Chicago on June 16 1917 was short due to a broken valve spring after 10 miles. But the following week Oldfield beat DePalma's Packard V12 over five, 10 and 15 miles – genuine grudge matches, these – at Milwaukee.
Golden Submarine, with its three-speed gearbox, was competitive on dirt ovals but struggled on the faster banked board tracks. (Its driver's preference, experience and technique might have had something to do with that.)
Eventually the rear bodywork was removed prior to a race at LA's Ascot Park in January 1918 and Oldfield, crouching behind the scuttle, won. It was Green Dragon all over again.
But perhaps this enigmatic combination's greatest achievement was the setting of new dirt-track marks from one through to 50 miles at St Louis in August 1917: "To convince myself that I wasn't getting old," said Oldfield.
---
DIGITAL EXTRA