1960 Portuguese Grand Prix race report: Brabham's quintet
Jack Brabham benefits from misfortune of Phil Hill and John Surtees to make it five wins in a row; Bruce McLaren second with whilst Jim Clark takes first podium
This year it was the turn of the Portuguese Grand Prix to go north to the town of Porto, where the race was held in 1958, and the same 7.407-kilometre circuit was used, unchanged from two years ago. I then considered it a true road-racing circuit and I still do, being fast (over 110mph average) and containing all the hazards of a true road race, especially Portuguese roads, with hills, kerbs, tram-lines, cobbles, houses, trees, and just about everything. Anyone who has driven about in Portugal will know that the Porto circuit is just typical of normal road conditions in that country.
The entry list was very select, the Automobile Club of Portugal preferring to seed the entries on application rather than suffering the nonsense of qualification, and naturally the two works Cooper-Climax cars headed the list, driven by Brabham and McLaren. A third 1960 model has now been completed and it was there as a spare for Brabham to use.
The Yeoman Credit Team had three cars, Brooks with one fitted with a Colotti five-speed gearbox, Gendebien with a Cooper four-speed gearbox and wire wheels on the rear, and Taylor with a standard Cooper, all three, of course, having the latest Climax 2½-litre engines.
Stirling Moss was making a welcome return to Grand Prix racing after his crash in the Belgian Grand Prix, now being fully recovered as his injuries were not as serious as the popular press would have us believe. He was driving RRC Walker's blue rear-engined Lotus-Climax, it having been completely rebuilt and had a sensible modification on the front suspension. The anti-roll bar which is normally coupled to eye-bolts in the top wishbone pivots, and which have twice given trouble on works Lotus cars, had been re-made to be coupled to the lower wishbones by short links, thus obviating a known source of trouble in the Lotus design. The Walker team also had an old Cooper-Climax with them as a spare car and spare engine.
The Lotus works entered three rear-engined cars, Clark having the one with the canted engine and enclosed carburetter, and Ireland and Surtees having the cars with the upright engines and Weber carburetters sticking out in the air stream, neither having the long intake tubes from the nose used previously. Ireland's car was fitted with the rear disc brakes mounted on the wheel hubs instead of the usual arrangement of inboard brakes, though as this was purely an experiment the inboard brakes were still there though not coupled up.
"Stirling Moss was making a welcome return to Grand Prix racing after his crash in the Belgian Grand Prix"
The BRM team were entered in full force with their rear-engined cars driven by Bonnier, Graham Hill and Gurney, and there was a fourth car as a spare. The Scuderia Ferrari entered only two cars, both Dino 246 front-engined cars, and the drivers were Phil Hill and von Trips.
To complete the entry the Scuderia Centro-Sud entered two of their Cooper-Maserati cars, one having been lowered at the rear, and was driven by Gregory, and the second car was loaned to the Portuguese driver Mario Cabral, in place of Trintignant, who expected to be driving a works Aston Martin, but at the last minute no entries were forthcoming from Feltham, so Trintignant was without a drive.
Qualifying
There were only two practice sessions, but they were each of two hours duration, which was reasonable enough, and the first took place on the Friday evening from 6pm until 8pm, starting in warm sunshine but ending in a biting wind that made most people shiver. Naturally, with two years' progress in design since the Porto circuit was last used, the old lap record was going to be surpassed, it standing to Mike Hawthorn with a Ferrari in 2min 32.37sec, the watches used by the Portuguese club being of a high degree of accuracy, unlike some of the primitive things that have been happening this season at other circuits.
The BRM team were a driver short as Bonnier had caught a fever and was confined to his hotel, but Gurney soon made up for this by lapping well below the old record time, the tram-lines and cobbles not worrying him at all. Graham Hill tried out his own car and also Bonnier's, while Gurney took the practice car round for a few laps as well as his own car.
Once again Brabham and McLaren set off in close company to learn the way round and gradually went faster and faster until McLaren began to lose ground, and then we knew that Brabham was trying, but he was not all that much ahead of his team-mate on times, and he then took the new works Cooper out for some laps.
The Lotus team were not getting on too well, having the wrong gear ratios, and were in the pits for a time swapping the gears in the gearbox through the quickly detachable rear end, while Ireland and Moss were altering fore and aft braking ratios. Surtees was having trouble with his gear-selector mechanism and spent most of the evening waiting around while the Lotus mechanics tried to find the trouble. Moss was not overjoyed with his Lotus so went out for a few laps in the old Cooper, while Ireland tried the Walker Lotus to compare it with the works car and all was well.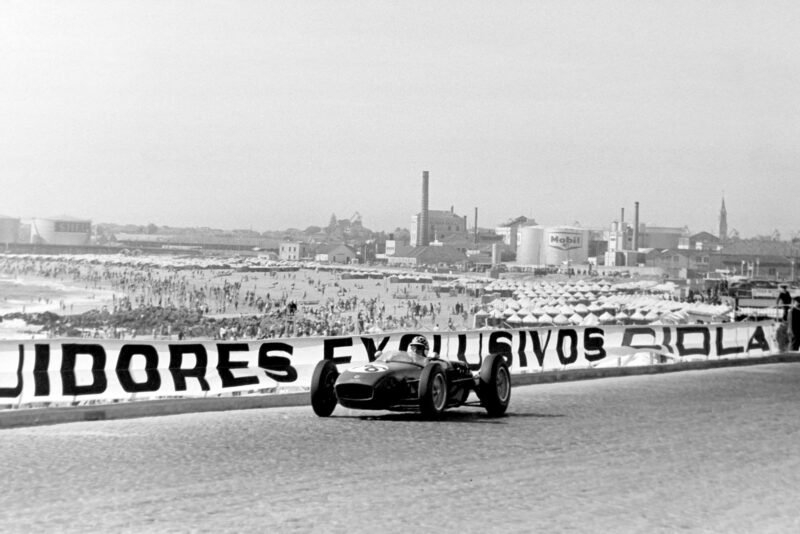 The Yeoman Credit Team were not getting on very fast and received a nasty setback when Henry Taylor lost control as he crossed the open space after the pits and headed for the narrow Avenue Boavista. The car hit a kerb and crashed heavily, being well and truly bent out of shape, while the driver was very lucky to escape with a slightly damaged arm and fingers.
Brabham had been sorting himself out and had set a fastest lap with 2min 28.43sec, closely followed by McLaren with 2min 28.97sec, but towards the end of practice Gurney was out again in his own car and beat Brabham's time, driving the BRM hard and looking very determined, with a time of 2min 27.81sec. Just when some people were wondering whether Moss had lost his touch since his accident, or whether he had restarted too soon, he went out again in the dark blue Lotus and beat Brabham's time but could not beat Gurney's, doing 2min 28.32sec.
The two Ferraris were going quite well for a change and were by no means being left behind, their times being almost identical, while Clark was the only works Lotus driver to be doing much practice, getting down to 2min 28.36sec, though in between brake adjustments and gear ratio changes Ireland was right behind him with 2min 28.68sec.
Poor Surtees was out of the picture, waiting for his gear-selector trouble to be solved, and it was not until practice was nearly over that he tried again, but did not get far as the crown-wheel and pinion broke up. It was discovered later that bits had been coming off the crown-wheel earlier and it was these that were jamming the selector mechanism. In the last few minutes of practice there was a lot of excitement, for Brabham was out in the new Cooper and spun on a slow corner and hit the straw bales, bending the nice new nose, and Ireland came to rest out on the circuit when his fuel system packed up when changing over from one tank to the other.
Next day practice was from 3pm to 5pm and the weather was not unduly warm, while the wind had changed and was not helping the cars up the long straight. Everyone started off comparatively slowly compared to the previous day, with times most by over 2min 30sec, and practice had not been going on for many minutes when Jimmy Clark went into the corner past the pits trying an entirely new line to avoid the tram-lines. This made the corner much sharper and for that he was going too fast, got sideways on, fish-tailed, clouted the left-hand kerb with a rear wheel which flicked him across the road and through the straw bales, he being completely unhurt but the car being very bent.
Bonnier was risen from his sick bed and essaying a few laps in his BRM, but was still feeling pretty rough, and Yeoman Credit were in more trouble, for this time Brooks failed to come round. A main shaft nut had become unlocked, allowing the shaft to move and the gears to come out of mesh, leaving no drive to the wheels, luckily without doing any damage but the car was stranded out on the circuit, so they were left with only one car, that of Gendebien, which was going all right but the driver was not trying very hard.
"Clark clouted the left-hand kerb with a rear wheel which flicked him across the road and through the straw bales"
The wind was now more favourable and Brabham and McLaren went out together again and this time the Australian really left his team-mate behind after they had warmed up, and he recorded 2min 27.26sec, and then 2min 26.05sec, and decided to leave it at that. Almost immediately Moss was off in the Walker Lotus and was soon below 2 min 27 sec, ending up with 2min 26.19sec, which was a good try but not quite quick enough to beat Brabham.
Meanwhile Gurney had been going round steadily, and seeing that Surtees had tucked in behind him, for having missed most of the first practice period he still had to learn the way round and obviously reckoned Gurney was the one to learn from, he having been fastest on the first day. Round and round they went together, going faster and faster, Gurney trying to get rid of the Lotus and Surtees hanging on and learning all the time. Their lap times were coming down and down, until everyone was shaken when Surtees recorded 2min 25.56sec and Gurney 2min 25.63sec, making the times of Brabham and Moss look a bit sad.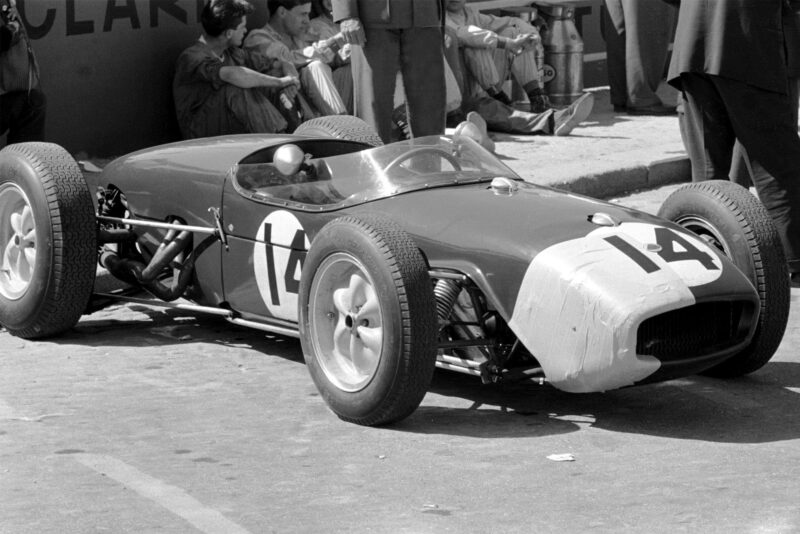 There was no doubt about the times as most of the people in the pits agreed to the first place of decimals. Before anything could be done about it by the top drivers a drizzling rain began to fall and that was that, but while most people packed up, Gurney went out again to run-in some new tyres, splashing his way through the rain and not looking at all happy. At the other end of the field the two Ferraris were still virtually equal and both were faster than the day before, and Masten Gregory was very happy with his Centro-Sud Cooper-Maserati as he was faster than all the Yeoman Credit Coopers had been, doing 2min 29.16sec, and he almost had the two Ferraris in his sights.
To allow the local lads to let off steam some National GT races were held after this practice period, thus keeping Sunday completely clear for the Grand Prix, which was due to start at 4pm. Although Sunday morning was cloudy and ominous a wind got up from the Atlantic ocean and the sun came out, and by 2pm, when the cars had to be presented for a final scrutineering and official filling of the tanks with 100/130 Avgas fuel, there was not a cloud in the sky and every bit of shade was being occupied and Portugal was its normal self at last.
The Lotus mechanics had worked all night on Clark's car and got it straightened out, the very bent chassis frame being straightened with the aid of blow-lamps, torniquets, screw jacks, blocks of wood and wild cries from Colin Chapman, who directed the operation like the conductor of an orchestra, while the Portuguese garage owner and his mate stood by shaking their heads and saying it would never work.
Jimmy Clark had been sent to bed in readiness for the race and by lunch time the renovation was completed, the splits in the fibreglass body being bound up with masking tape, and apart from a slight stiffness in the steering and a tendency to oversteer on some corners and understeer on others, the car was in fine fettle and Clark drove it to the scrutineering while the Lotus mechanics wiped their hands and prepared for the race.
Race
The cars were lined up at the pits, the sun beat down, and a swarm of Vespas toured the circuit, but the start had to be held up for some minutes as a contractor had optimistically built a footbridge of Dexion and it was beginning to sag and twist, so there was a delay while it was rendered harmless. Finally the 15 starters were assembled on the grid, with Henry Taylor in the pits as a spectator, with his arm in a sling, and the grid line-up was as follows, with three different makes on the front row, ready to start this 55-lap race.
As the 30-second signal was given Graham Hill began to creep forward from the second row and as his nose appeared between Gurney and Brabham, they began to edge forward, so Surtees went along with them. The poor harassed starter had the flag raised and four cars in the front row, all of them moving, and the rest of the field beginning to close up.
"The drivers were practically looking over their shoulders at the starter, who still had the flag raised but was beginning to weaken, and suddenly he could stand it no longer and with a roar the whole field made a wild rush to the first corner"
With some seconds still to go, the front row, consisting now of Surtees, Gurney, Graham Hill and Brabham, were more than a whole car's length beyond the start line and the drivers were practically looking over their shoulders at the starter, who still had the flag raised but was beginning to weaken, and suddenly he could stand it no longer and with a roar the whole field made a wild rush to the first corner, with Gurney slightly in the lead.
However, Brabham from the outside took a wide sweep at the bottle-neck and neatly cut-off the BRM, to lead the race up the long Avenue Boa Vista. Gurney had little difficulty in passing the Cooper on braking and as they came down the winding hill back onto the sea front Gurney was still leading from Brabham, Moss, Surtees, Ireland, Phil Hill, Graham Hill, McLaren, Bonnier, Brooks and Clark, the young Scot having been given strict instructions not to appear in the first ten for at least six laps, until he was sure the unbent car was handling all right.
Gregory, Cabral and Gendebien brought up the rear, and it was seen that von Trips was missing and almost half a lap later he appeared with the nose of the car all bent and twisted, having run into some straw bales, but was now going as well as ever. The first eight cars were in a tight bunch and on lap two, as they went up the tram-lines and braked heavily to turn left into the twisty section of the circuit, Brabham overdid things and had to run wide, which let six cars get past him, so that the order was now Gurney, Moss, Surtees, Phil Hill (who really had the bit between his teeth for once), Graham Hill, Bonnier, McLaren and Brabham, and already Brooks was being left by this leading pack. Ireland was overdue and arrived at his pits after everyone but von Trips had gone by, and his trouble was fuel feed, the engine cutting right out at times, while juggling with the tap between the front tank and the cockpit tank only made things worse.
On lap three there was no change among the leaders but on lap four things broke up into groups, with Gurney still out in front and looking very comfortable with a 4sec lead over Moss, who had Surtees and Phil Hill pressing him hard. Then came Bonnier, Graham Hill, McLaren and Brabham all nose-to-tail or side-by-side, while Ireland was back in the pits twice more. On the next lap Surtees slipped past Moss, but Phil Hill was still chasing them, and Bonnier had to drop out of this little foursome as his engine went rough, and Brabham passed McLaren.
On lap six Gurney had a 6sec lead over Surtees, who still had Moss right on his tail, and Phil Hill was really driving now and showing that the front-engined Ferrari could still keep up. Bonnier drew into the pits with steam coming out of the exhaust pipe of his BRM, and when oil was seen coming out of the carburetters the car was wheeled quietly away. Ireland was still at his pit having his fuel system rebuilt so that only the scuttle tank was in use, and the leader was just about to lap von Trips.
Up the long straight Brabham and Graham Hill were running side-by-side, the maximum speed of the Cooper-Climax and the BRM being absolutely identical. On the same straight on lap nine Hill was being challenged by McLaren when there was an awful noise from the back of the car and the BRM was out with a broken gearbox.
On the next lap Gurney had a slide on what he thought was oil, and then again on another corner and thinking it might be oil from his own car, he eased up so that he was leading by only 1¼sec at the end of the lap, from Surtees, Moss and Phil Hill. At this point Ireland rejoined the race and von Trips, who had been lapped by the leaders, was getting inspiration from them and keeping up their pace, so that he was gaining rapidly on the tail-enders.
On lap 11 Gurney was still worrying about whether he had slid on his own oil when he eased off again, and Surtees, Moss, Phil Hill and Brabham went by him, while a lap later McLaren went by, so that instead of leading the race he was now sixth, with Brooks beginning to close up on him. On lap 13 Surtees led Moss by 1sec, and Phil Hill had his Ferrari right on the tail of the dark blue Lotus, while Brabham was only 10sec in arrears, but seemed unable to do anything about it. The Ferrari lost a little ground and on lap 16 the two Lotus cars seemed to be running in formation, Surtees looking extremely relaxed and comfortable in spite of having Moss very close in his rear-view mirror.
Gurney's engine was now going sick on him and Brooks passed him to take sixth place, and von Trips had caught and passed both Centro-Sud Cooper-Maseratis and was closing on Gendebien, while right at the back of the field Ireland was now running all right but too far back to do anything but finish the race.
At the end of lap 18 there were 12sec covering the first four cars, still in the order Surtees, Moss, Hill and Brabham, and a condition of stale-mate seemed to have set in, but on lap 19 Surtees came by on his own and Moss pulled into his pits firing on three cylinders. The bonnet was up and the plug leads checked for being in place, and he was off again, still on three cylinders, and Hill, Brabham, McLaren and Brooks had all gone by. Surtees now had a 10sec lead over Phil Hill, but Brabham was beginning to appear in the Ferrari rear-view mirrors.
Moss did one misfiring lap and returned to the pits and all the plugs were changed, and he eventually rejoined the race in ninth place, behind von Trips and a lap behind the leaders, but his engine was still not running cleanly on four cylinders. Gregory now disappeared from the scene when his transmission gave up, and Brabham was now set to pass Phil Hill, but for once Hill was not impressed by the World Champion and kept him at bay for two laps, playing it as rough as the Australian wanted. On lap 24 they were side by side, and Gurney stopped at his pit with a sick engine.
"Phil Hill scratched by into second again, giving Brabham something to think about"
On the next lap Brabham was in front of the Ferrari and Moss was back in the pits, and Gurney too, having completed a slow lap, and the BRM was withdrawn. Having got in front Brabham was sliding his corners so that the Cooper filled the whole road, but Phil Hill still was not impressed and scratched by into second again, giving Brabham something to think about. Surtees was still a comfortable 10sec in the lead and seemed quite unassailable, and Moss rejoined the fray in exactly the position he had left it, right behind Surtees on the road, but two laps in arrears, so that anyone who had been away to the bar at this juncture would have been hard put to believe anything had happened at all.
Phil Hill led Brabham on laps 26, 27 and 28, and then Brabham came round alone, for the hydraulic clutch actuation on the Ferrari had given up, Hill missed a gear change ran wide on a corner, and clouted the straw bales. Having settled this dispute Brabham seemed unable to do anything about Surtees and eased off, so that the works Lotus increased its lead, always with the blue Lotus of Moss just behind it, but two laps down in eighth place. The Yeoman Credit team had not had much to do other than watch their two cars circulate steadily, gaining places as others ran into trouble, as had been doing Jimmy Clark, whose patched-up car was going extremely well.
On lap 29 Brooks came into the pits with gear-change trouble and almost immediately afterwards Gendebien pulled in with a broken gearbox breather which was letting oil blow up onto the plugs. There was no need for Surtees to hurry now and he let Moss go past, and on lap 33 he had a 22 sec lead over Brabham, who had given up trying, and 39 sec later came McLaren, now third, followed over a minute later by Clark in fourth position, these being the only ones not lapped by Surtees.  The pits were still busy, for Hill had got restarted and arrived with a crumpled nose cowling and bent steering, Gendebien was in again, this time with only third and fourth gears, and Moss was back, unable to make his engine fire really properly on four cylinders.
On lap 36 Surtees had began to ease up and almost since the start of the race he had been pointing at his front fuel tank as he passed the pits, but no obvious reason could be seen. What had been happening was that the tank had been leaking from a cracked seam and he had been trying to keep his pit crew alert to the question of fuel in case he ran short. The leak had been getting steadily worse and dripping onto his feet and the pedals, making things very slippery, and as he approached the turn off the cobbles into the narrow twisty section of the course his foot slipped off the brake pedal. It was only a fraction of a second before he took another prod at the pedal but by this time he was too deep into the corner and instead of taking the escape road he tried to get round, and struck the kerb and straw bales.
While Surtees was getting restarted Brabham went by and led the race once more at the end of the 36th lap. Surtees did not know he had damaged his radiator and as he went up the long straight on the next lap there was a shower of water and steam and his race was finished, and he had to abandon the Lotus by the roadside.
We now had the very familiar picture of Brabham securely in the lead, followed by his team-mate McLaren safely in second place, and depending on whose side you are on you describe it as good-luck or bad-luck. Whichever it is it is an undisputable fact that Brabham and McLaren have a wonderful record this season.
"It is an undisputable fact that Brabham and McLaren have a wonderful record this season"
With 18 laps still to go the two Cooper works drivers were able to tour round at their own pace, and the worried look on John Cooper's face disappeared at last. Jimmy Clark was in third position more than a minute behind McLaren and fourth was von Trips, just over a lap in arrears to the leader. He was followed by Moss, going well once more but not out to set any records, and then came Brooks, occasionally coasting into corners in neutral in a frightening manner when his gear-change played-up, and finally came Ireland, having stopped to refuel, and Gendebien in last place with only two gears left.
After looking at the steering Hill's Ferrari was about to be withdrawn when he decided he might as well qualify as a finisher, so he started off from the pits and drove round to the finish line and waited there for Brabham to reel off the laps. After a while the organisers decided they would not allow that and told him to move on. Hill started pushing, hoping to restart and drive halfway round the circuit and wait at some quiet downhill point until Brabham had finished and then restart and complete the lap. After a long push he eventually jumped in, crammed it into gear and got the engine running, but with his clutch operation not working he stalled as he tried to take off, and by this time he had run out of flat road and energy so was forced to retire.
Shortly before the finish Brabham eased right off and von Trips, who had never been far behind him on the road, although a lap behind in fact, now passed him to get on the same lap. Since his slight crash on the first lap he had contrived to drive as hard as he could and was now fourth and during the closing laps actually got within sight of Jimmy Clark, but the Lotus pit were not sleeping and urged their man on.
The excitement and interest was still not over, for Moss failed to complete his 51st lap, having locked his front brakes on the fateful sharp left-hand bend where everyone had been having trouble and had stalled his engine while taking the escape road. While Brabham was completing his last two laps Moss was vainly trying to restart the Lotus uphill and when he realised the race was over he turned the car round and restarted downhill in the reverse direction of the track and then drove round in a big loop and completed his 51st lap.
Brabham had won his fifth Grand Prix in the World Championship on the trot, McLaren was second, Clark third after an excellent drive in a car that was expected to last only a few laps, von Trips was fourth, having worked really hard all day and, on the face of things at the pits, Moss was fifth, but later it was discovered he had contravened Article 6 of the regulations, about driving in a reverse direction to that of the race, and he had to be disqualified, thus giving fifth place to Brooks.
Portuguese Ponderings
Surtees looked very much at ease in the lead of the Portuguese Grand Prix, but being out in front of the field is something he has been doing for years on motorcycles.
It was good to see the same old Stirling Moss in a Grand Prix again, driving as well and as smoothly as ever.
What a splendid record Graham Hill is getting: run into at the start of Reims, left behind at the start of Silverstone, and now starting at Porto almost before the front row had got into gear. Wonder what his next trick will be?
What a fine reward Clark gave the Lotus mechanics after their all-night work by bringing the car home in third place.
If the works Coopers continue to dominate racing we can expect them to put on a show at the last race of the season by staging a dead-heat between Brabham and McLaren. It would be the only way to improve on their present best of starting two cars and finishing first and second.
It was good to see the Ferraris going so well. It has seemed for a long while that all they really wanted was a strong "needle" for the drivers. With Gurney leading for 10 laps and Phil Hill really hitting back, it began to look as if the American drivers might at last justify some of the claims made for them last winter.