Motor Sport Top 10 Christmas gift ideas 2021
- Last updated: November 3rd 2021
Motor Sport shop gift guide
There are hundreds of motor racing-themed gifts available at the Motor Sport shop, including books, art, collectibles and clothing. But if you're not sure where to start searching for the perfect gift, then you've arrived at the right place. Below, you'll find ten brilliant suggestions that are sure to please any racing fan, from the latest books to unique memorabilia that's touched by genius.
For more recommendations, click below to view our full Christmas gift guide, or for the full range of products available from our shop.
---
Top 10 Christmas gifts 2021
Murray Walker: Incredible!
£20
Murray Walker was the voice of Formula 1, not just for millions watching on TV in their living rooms, but for those in the motor racing industry too. In a new book, to be published later this month, his friend Maurice Hamilton, has collected tributes and memories from drivers, friends and racing industry figures that offer an even greater appreciation of a truly legendary man.
Murray Walker: Incredible! is available to pre-order now, ahead of publication on November 11, in plenty of time for Christmas.
---
Racing at the Movies 2022 calendar
£29.99
The intense rivalries, outrageous skill and life-or-death moments throughout racing history means that there's no need for Hollywood to make up stories — although they might be embellished just a little…
The 2022 Motor Sport calendar celebrates racing on the big screen, in giant A2 format. Each month celebrates a legendary film with a picture of a famous moment or an iconic poster. The 12 pages feature recent blockbusters including Rush, Ford vs Ferrari and Senna, along with earlier fictional films, such as Le Mans and Grand Prix.
---
Bluebird cufflinks
£175
Own a part from one of the most revolutionary speed machines ever built, with these Bluebird K7 cufflinks that are made with some of the original aluminium from the multiple record-breaking boat.
Donald Campbell set seven water speed records in his jet-engined Bluebird and was attempting to push the benchmark even higher when a crash on Lake Coniston claimed his life in 1967. The wreckage was raised 34 years later, and has been restored to its previous record-breaking glory.
As part of that process, a portion of the metal was reclaimed and has been used to create this limited edition run of cufflinks that commemorate the British speed hero and his pioneering craft. Cast in the original aluminium, combined with sterling silver, each of the 100 pairs produced come with a certificate of authenticity signed by Campbell's daughter, Gina.
---
Car model advent calendar
From £65
Begin the giving early — to somebody else or yourself — with an advent calendar that'll please any car fan. Behind the 24 doors are the parts required to build a model car complete with stand and sound module for an authentic engine noise. As well as the 1:43 scale Porsche 911, you can choose a Mercedes 300SL; Volkswagen Camper van; or impressive 1:24 Porsche 911 Carrera RS
---
Jackie Stewart replica signed helmets
From £250
It's not as if you need any extra excuse to celebrate a triple Formula 1 World Champion, but these half-scale helmets are more than just tributes to a great driver. The replicas also pay tribute to Sir Jackie Stewart the safety crusader, whose early switch to a full-face lid was emblematic of his drive to raise the standards of driver protection. Each of the models will also contribute to Sir Jackie's latest campaign, with proceeds going to his charity, Race Against Dementia, which was set up following his wife, Lady Helen's diagnosis of the disease.
The open-face model, based on a 1969 design, is available signed. The full-face version can be bought either unsigned or (click below) signed on the visor
---
Motor Sport subscription
From £69
Subscribe to Motor Sport for a year and receive three limited edition Scalextric models free of charge: a Christmas gift with a triple bonus.
Along with 12 issues of the Magazine delivered to your recipient's door, plus full digital access to the website, our Archive and app, you'll receive a limited edition François Cevert Tyrrell 002 and two BTCC Ford Sierra RS500s, modelled on the track warriors driven by Steve Soper and Robb Gravett.
Alternatively you can opt for our 2022 diary and pen subscription bundle, or a package that includes a year's Motorsport UK Trackside membership
---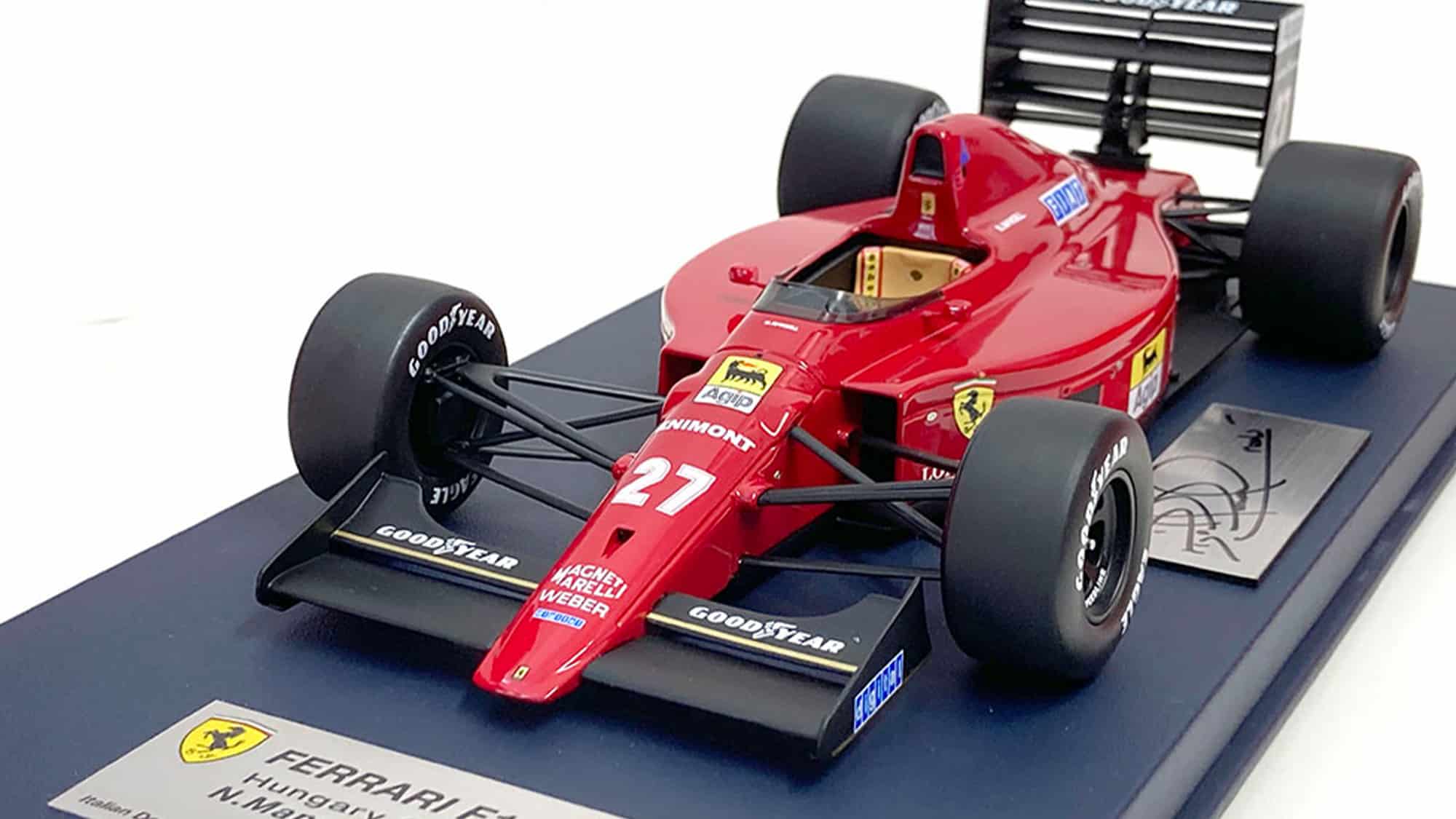 Nigel Mansell signed 1/18 Ferrari F1-89 model
£499.95
Feted by the Tifosi as il leone (the lion), Nigel Mansell's flat-out, fearless driving style won the hearts of Ferrari fans during his two years with the team. Mansell won on his Ferrari debut in 1989 and followed it up with a magnificent second victory in Hungary, fighting past Ayrton Senna to lead and then fending off the Brazilian champion expertly.
This 1/18-scale model commemorates that victory and comes with a plaque signed by Mansell, as well as a certificate of authenticity.
---
Formula Helmet book
£115
They are a driver's sole identity once in the car, so no wonder crash helmets can evoke strong memories of heroic drives and otherworldly talent. This 288-page book tells the story of Formula 1 between 1969 and 1999 through the perspective of crash helmets, with contributions from 18 drivers, including Jacques Villeneuve and Mika Häkkinen, accompanied by stunning photography and interviews from some of the most accomplished helmet designers.
There's a choice of two covers, featuring either Ayrton Senna's distinctive yellow helmet or Alain Prost's blue and white design, marking one of the most celebrated duels of the era.
---
James Bond Aston Martin DB5 Gift Box
£99.95
The Aston Martin DB5 racks up yet another James Bond appearance in the latest 007 film and its collaboration with the super-spy is celebrated in this anniversary edition which contains a model car fitted with working 'Q branch' accessories, including ejector seat, front-mounted machine guns and rar bullet-proof screen. The set also comes with collectible trading cards, a casino chip and Goldfinger counter pin badge.
---
Tyrrell T-shirt
£18.50
From our range of official Tyrrell merchandise, this T-shirt pays tribute to the team that conquered Formula 1 from a wooden shed in Surrey.
The 100% cotton tee commemorates Tyrrell's 1970s heyday, with its trademark blue colour and elf sponsorship livery on the sleeve. order in sizes from small to XXL.
This 1:2 scale model tribute to Jim Clark won't just preserve his memory on the recipient's mantlepiece: each sale includes a donation to the Jim Clark Trust.
---
View our full selection of gifts at the Motor Sport shop by clicking below