On race-day morning there was a riot. I went to see what was going on. Hundreds of fans were at the circuit gate, refusing to pay for admission because none of the stars were riding. Fair enough, but the security men weren't having it. I watched as the crowd pushed forward, finally overcoming the security contingent and flattening the circuit gate and fencing. They were in.
There was much excitement in our own camp. We were confident that Chris and his Suzuki RG500 had a good chance of finishing on the podium with the factory riders absent. But he ran into problems in the race and came home eighth. The race was won by Swiss Michel Frutschi, who lost his life 12 months later during the French GP at Le Mans. Frutschi died when he hit a catch-fencing post, ironically there to increase safety. His girlfriend was pregnant with their first child.
Frutschi was the second rider to lose his life that weekend. Japanese rider Iwao Ishokawa died following an accident in practice, when he was T-boned by Loris Reggiani, whose brakes had failed. There was no medical helicopter at the track and when the ambulance eventually left the circuit it took Ishokawa to the wrong hospital. He died hours after the accident, without having received hospital treatment.
In 1988 I got my first full-time job in the paddock, covering GPs for Motor Cycle News. My first GP as a full-time reporter was that year's Japanese GP at Suzuka, the 375th, which heralded the arrival of Wayne Rainey and Kevin Schwantz on the scene, the start of another golden era. Schwantz won the first race of his full-time GP career, beating reigning champion Wayne Gardner, who ran off the track and onto the circuit helipad during the height of their duel for victory.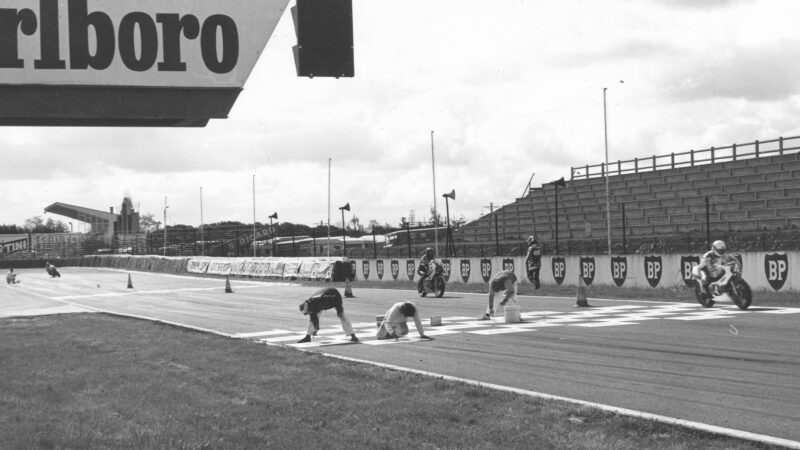 Twenty-five races later, the 400th, Eddie Lawson won his first GP for Honda, the 1989 Spanish GP at Jerez, the first success in a historic season that made him the first rider to win back-to-back 500cc titles with different manufacturers.
And 50 races after that Schwantz beat Rainey at the 1993 Spanish GP, halfway to 900 premier-class GPs and eight races before Rainey's career was ended by that horrible crash at Misano.
Now we're getting into the modern age, which we'll save for later, but just to complete the centenaries: Mick Doohan won the 500th 500 GP at Imola in September 1996; Sete Gibernau won the 600th at Le Mans in May 2003, beating Valentino Rossi by 0.165 seconds; Jorge Lorenzo won the 700th at Motegi in 2009 and the 800th at Aragon in 2014; and Miguel Oliveira took Portugal's first MotoGP win on the occasion of MotoGP's 900th.
Here's looking forward to the 1000th, which should happen in the summer of 2025 or thereabouts. Covid permitting.
Remembering all those who lost their lives in grand prix world championship racing, from 1949 to now:
Ben Drinkwater, Edoard Bruylant, David Whitworth, John O'Driscoll, John Wenman, Chris Horn, Dario Ambrosini, Gianni Leoni, Sante Giminiani, Dave Bennett, Ercole Frigerio, Frank Fry, Norman Stewart, Thomas W. Swarbrick, Harry L. Stephen, Les Graham, Geoff Walker, Ernie Ring, Laurie Boulter, Simon Sandys Winsch, Gordon Laing, Dennis Lashmar, Rupert Hollaus, Ricardo Galvagni, Derek Ennett, Charlie Salt, Josef Knebel, Roberto Colombo, John Antram, Desmond Wolff, Adolfo Covi, Peter Ferbrache, Bob Brown, Marie-Laure Lambert, Ralph Rensen, Ron Miles, Tom Phillis, Colin Meehan, Johan Schuld, Brian Cockell, Laurence-Peter Essery, Roland Föll, Karl Recktenwald, Vernon Cottle, Norman Huntingford, Toshio Fuji, Brian Duffy, Alf Shaw, Werner Daubitz, Ian Veitch, Johan Attenberger, Josef Schillinger, Rolf Schmid, Arthur Lavington, Bill Ivy, Frantisek Bocek, Rob Fitton, Les Iles, Mick Collins, Dennis Blower, Santiago Herrero, John Wetherall, Brian Steenson, Maurice Jeffery, Christian Ravel, Günther Bartusch, Gilberto Parlotti, Hans-Jürgen Cusnik, Renzo Pasolini, Jarno Saarinen, Billie Nelson, Phil Gurner, Rolf Thiele, Otello Buscherini, Paolo Tordi, Walter Wörner, Les Kenny, Hans Stadelmann, Giovanni Ziggiotto, Ulrich Graf, Malcolm White, Patrick Pons, Michel Rougerie, Sauro Pazzaglia, Alain Béraud, Jock Taylor, Iwao Ishikawa, Michel Frutschi, Rolf Rüttimann, Peter Huber, Norman Brown, Kevin Wrettom, Alfred Heck, Ivan Palazzese, Noboyuki Wakai, Simon Prior, Daijiro Katoh, Shoya Tomizawa, Marco Simoncelli and Luis Salom.