"I don't know what happened," he said, after losing the front at the tricky negative camber Turn 2 right-hander on lap eight of 20. "I never lost the front all the weekend, then in the race, when I was in total control, I crashed. I'm very angry. Not with myself but because I'm 100% sure this wasn't my fault today."
Then Bagnaia – who had easily won Saturday's sprint race – got interesting, suggesting that maybe the Desmosedici is too good. This is not something I've ever heard a motorcycle racer say, but only recently I spoke to rider from a rival factory who had tested a radical aero update.
"Through this fast corner the bike was incredible – total grip and totally solid – but then I realised I didn't know why and I couldn't feel why…"
Bagnaia's comments sounded similar. "I feel unbeatable, I feel like I can do everything. Like today, I was going fast. But without taking any risk, without crazy things. I was entering Turn 2 very calm because I know it's the most slippery. And I still crashed.
"So… I really hope my team will help me on that. The potential and the performance of the GP23 is incredible, the best bike I've ever ridden. But… for the race we have to understand what happened."
What motorcycle racers – unlike car racers – need more anything is feel and feedback, so the bike, the chassis, the suspension and the tyres can say to them: you are getting close to the limit, unless you listen to us you're going to crash.
Bagnaia never got that warning.
"We have the best bike on the grid but if you crash and you don't know why it's useless. Maybe I'd prefer a more unstable bike, to go one-tenth slower and understand everything better. Maybe this bike has too much filter, because it's so stable…"
That may be true, but it's also true that Bagnaia needs to have another word with himself. He needs to find some kind of happy medium between Mr Perfect and Mr Mistake. His record recovery from 91 points down last year was something else, but he really won't want to do that again.
Whatever the reasons for Bagnaia's demise, Álex Rins didn't care. He had led very briefly then settled into second place, chasing the Ducati, keeping the world champion under pressure from a few tenths back. Somehow it seemed unlikely he had what it took to get back in front, but then…
Rins' win was richly deserved, proved his talent to many unbelievers and made a lot of people happy: himself, who must've wondered what the future held when he signed on the same HRC dotted line that Jorge Lorenzo and Pol Espargaró had signed, for team owner Lucio Cecchinello, who hadn't won a race in five years, for the entire LCR crew, and for the HRC staff, who had finally brought to an end Honda's biggest losing streak since 1981.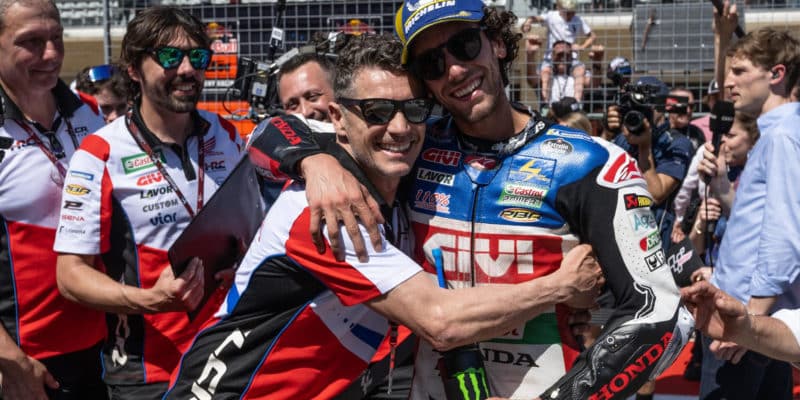 Rins goes well at COTA. He's won in Moto3, Moto2 and MotoGP, famously beating Valentino Rossi there in 2019, for his first premier-class success.
The 27-year-old admitted that even cycling around the circuit on Thursday he had a big grin on his face. He therefore already knew something was possible and he certainly wasn't scared of riding the RC213V around MotoGP's rodeo racetrack, its maddest, bumpiest circuit.
And the RC213V loves the place too – it's won eight victories from MotoGP's ten visits: one to Rins, seven to Marc Márquez, who this time was absent from injury.
LCR crew chief Christophe 'Beefy' Bourguignon has worked with Rins since last November, so he wasn't too surprised by Sunday's success either.