Rossi first stood on a podium at Austria's A1-Ring – now Red Bull Ring – on August 4, chasing Honda riders Ivan Goi and Dirk Raudies over the finish line. The following weekend he took his first pole position and first victory, after a ferocious duel with Jorge Martinez at Brno. The veteran Spaniard – winner of 37 GPs and four world championships – was stunned by his teenager rival's aggression
"After my win Martinez gave me his hand and said, 'F**k, you were strong!'," remembers Rossi.
In fact, Martinez wasn't happy with Rossi's riding, and not for the first time. Five months earlier the pair had been fighting for position in the closing stages of the Shah Alam race when Martinez clipped Rossi's rear wheel and crashed. The old-timer had no doubt who was to blame.
"After the race Martinez came to see me in my box with a lot of anger," Rossi remembers. "He wanted to kill me!"
Martinez was 33 years old at the time, more than twice the age of 16-year-old Rossi. He had made his grand prix debut in 1982, when he shared the paddock with the Rossi family: father Graziano, contesting his final GP season, mother Stefania and three-year-old Valentino, no doubt already making a nuisance of himself among the tents, caravans and campervans of the Continental Circus.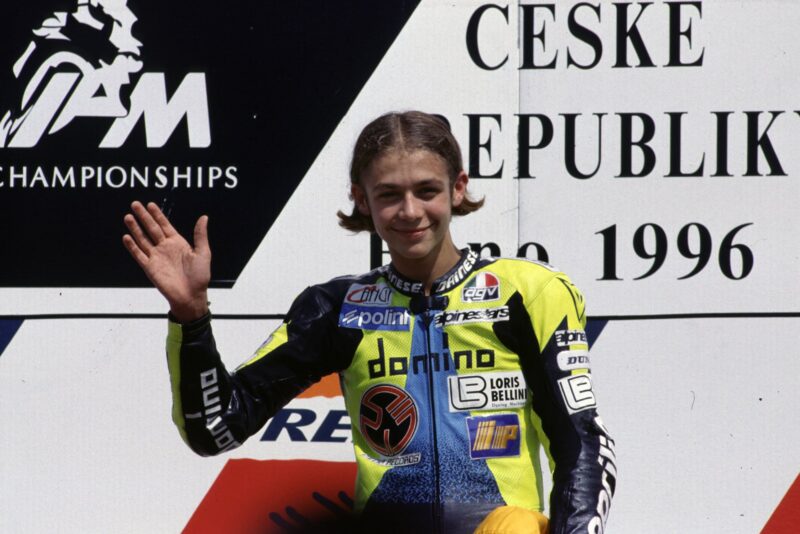 Following his defeat at Brno, Martinez muttered to a journalist friend, "I wish I'd taken my chance and run him over then!".
Thankfully he didn't.
In more normal times Rossi would be spending his 24th GP birthday on an aeroplane, flying to Austin, USA, where he would contest his 405th grand prix this coming Sunday.
No one in the history of motor sport has contested so many grand prix races, not even in Formula 1, where drivers are looked after like kings and go to work inside survival cells, protected by deformable crash-protection structures, carbon/Zylon armour and much else. Despite all the advances in bike racing safety Rossi still goes to work wearing a helmet and a suit fashioned out of several dead kangaroos.
Brazilian F1 driver Rubens Barrichello holds the record for the most F1 starts – 322 races between 1993 and 2011 – which at the end of this year would've put him one hundred races behind Rossi, if the 2020 season had gone ahead as usual. No other bike racer comes close – Loris Capirossi rode 328 GPs before he quit at the end of 2011 and Andrea Dovizioso has so far contested 313 GPs.
But these aren't normal times. Rossi is locked down at his home on a hillside outside Tavullia, waiting for life to return to normal, while a few miles up the road Italy has become a warzone.
It's not easy to imagine how someone who has possibly pumped more adrenaline through his veins than any other human being is coping with life under lockdown.