Honda takes its 800th grand prix victory
Honda reached another landmark at Aragon on Sunday – here's the story of the company's eight centennial grand prix victories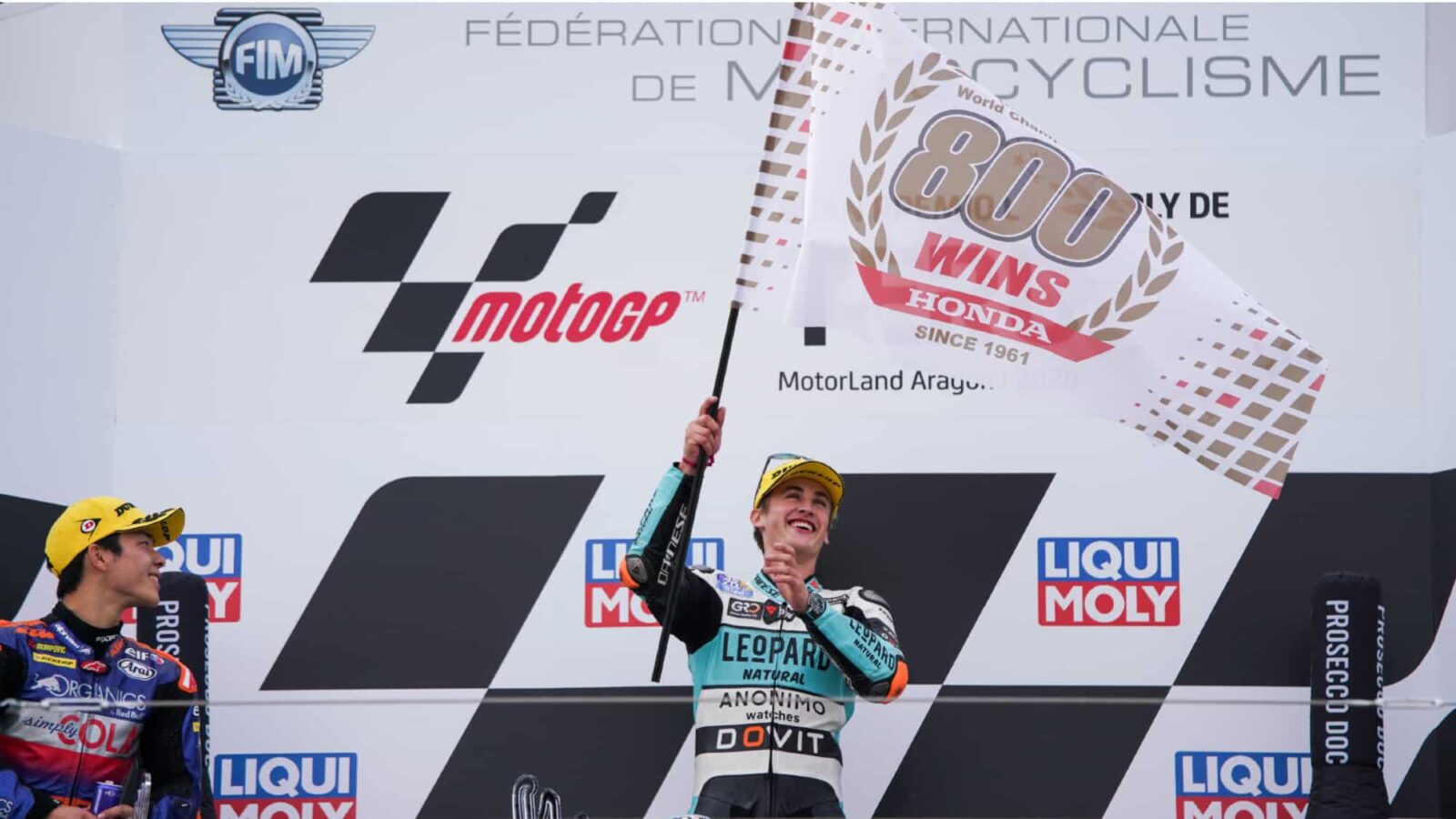 Honda won its first grand prix at Montjuic Park, Barcelona, in the spring of 1961, with Aussie Tom Phillis riding a 125 four-stroke twin. Jaume Masia's Teruel Moto3 victory was number 800 for the company, which changed motorcycle racing forever when it became the first Japanese brand to race in Europe in the summer of 1959.
GP racing's next most successful constructors are Yamaha on 510 wins, Aprilia on 294, MV Agusta on 275, Suzuki on 159 and Kalex on 122.
Honda's 100th Grand Prix victory
Luigi Taveri, 1966 Dutch 50cc TT, Honda RC116
Diminutive Swiss ace Luigi Taveri enjoyed a battle royal at Assen with team-mate Ralph Bryans, revving their tiny twins to 22,500rpm every time they shifted gears in the 116's nine-speed gearbox. Another feature was bicycle-style caliper brakes, to reduce brake drag.
The RC116 was a wonder of 1960s engineering, designed by Shoichiro Irimajiri, who also designed Honda first Formula 1 engines. The engine produced 280bhp per litre, about the same as a modern MotoGP bike.
Taveri never won the 50cc world title, but he took the 125cc crown on three occasions, which perfectly illustrates the evolution of Honda technology during this amazing decade – in 1962 he won the title with the 2RC143 twin, in 1964 with the 2RC146 four and in 1966 with the RC149 five.
Honda's 200th Grand Prix victory
Jimmy Filice, 1988 US 250cc GP, Honda NSR250
This was a fairy-tale. American Jimmy Filice was a dirt-track rider who started roadracing late. By 1988 he had decided to return to full-time dirt-track duties, until he got a call from pit-lane guru Erv Kanemoto, who had guided Freddie Spencer to three world championships.
Filice substituted for the injured Masahiro Shimizu at Laguna and won his debut GP race, beating fellow Honda riders Sito Pons and Dominique Sarron.
Honda's 300th Grand Prix victory
Alex Crivillé, 1992 Dutch 500cc TT, Honda NSR500
Former 125cc world champ Alex Crivillé took his first 500cc victory after Mick Doohan, Wayne Gardner, Eddie Lawson and Kevin Schwantz had crashed out at Assen.
This was a significant victory because Honda introduced its game-changing big-bang NSR500 in 1992. The big-bang's kinder power delivery allowed European riders to compete with the former dirt-trackers from the USA and Australia who had dominated the previous decade.
Honda's 400th Grand Prix victory
Haruchika Aoki, 1996 Brazilian 125cc GP, Honda RS125R
Haruchika Aoki dominated the 1994 and 1995 125cc World Championships on his RS125. This dirt-cheap single-cylinder two-stroke was one of most significant grand prix machines of all time because its helped thousands of riders across the world compete, in everything from club racing to GP racing. Other top riders who rode RS125s during their careers include Loris Capirossi, Carlos Checa, Jack Miller, Dani Pedrosa and Casey Stoner.
Honda's 500th Grand Prix victory
Valentino Rossi, 2001 Japanese 500cc GP, Honda NSR500
This was the first race of Valentino Rossi's second season in the premier class and the day was probably Honda's greatest race day of all time. The company needed to win all three races – 125, 250 and 500 – to reach the magic number at Suzuka, its home circuit that Soichiro Honda built in the early 1960s.
This seemed unlikely because Honda hadn't won all three classes in more than a year. The biggest problem was the opening race of the day, because Aprilia's disc-valve 125 had considerably more power than Honda's reed-valve 125.
"It was a Honda fantasy that they win their 500th race on that day," Rossi recalls. "It was incredible – we watched the other races on TV and I said, 'For sure Honda won't win the 125,' but f**k, [Masao] Azuma won the race, then in the 250 [Daijiro] Kato won, so f**k, I must win the 500!"
This was that unforgettable contest, during which bitter rival Max Biaggi pushed Rossi onto the dirt exiting Suzuka's 120mph, guardrail-lined final corner. The next lap Rossi dived past Biaggi's Yamaha at Turn One and gave him the finger. He went on to beat Garry McCoy's Yamaha by less than a second
Honda's 600th Grand Prix victory
Dani Pedrosa, 2005 Australian 250cc GP, Honda RS250RW
The little samurai was sublime on a 250 – rider and bike made for each other. On this day Pedrosa secured his second consecutive 250 crown with his seventh victory of the year, then revealed he had ridden the last four races with a fractured shoulder.
Pedrosa is Honda's second most successful rider of all time, with 54 wins achieved on RS125, RS250, RC211V, RC212V and RC213V machines.
Honda's 700th Grand Prix victory
Marc Márquez, 2015 Indianapolis MotoGP, Honda RC213V
Márquez is a bit of a god on anti-clockwise racetracks, which, unlike Europe, is the most common configuration in the USA. This is why he's only lost one of the 11 MotoGP races he's ridden at COTA, Indianapolis and Laguna Seca.
Indy 2015 was the venue's last race before it was removed from the MotoGP championship. The track features Márquez's favourite corner – the 110mph Turn Five
"I like a lot corners where you go with gas and you're sliding. You try to make a good balance through there. You need to push though the footpegs because the corner is bumpy, so you push with your legs to try to be more on the bike. In most corners you don't push, because you are looking for grip, but in that corner you need to find a compromise. You try to find the grip but at the same time you try to be on the bike to try to be stable."
Honda's 800th Grand Prix victory
Jaume Masia, 2020 Teruel Moto3, Honda NSF250RW
Spanish teenager Masia switched from KTM to Honda in 2020 and it took him a while to get the hang of the NSF250RW. Although the bike had dominated the previous three seasons it's mostly struggled to match the KTM this year.
Masia finally got his first Honda victory at Aragon One and followed it up with another at Aragon Two, taking the wins after blasting past his rivals on the track's long back straight on both occasions. No wonder because he weighs only eight and a half stone/55kg.