Silverstone to resurface after MotoGP fiasco
- Last updated: December 5th 2019
British MotoGP venue Silverstone brings in Italian racetrack specialists to resurface the circuit, using high-tech Japanese machinery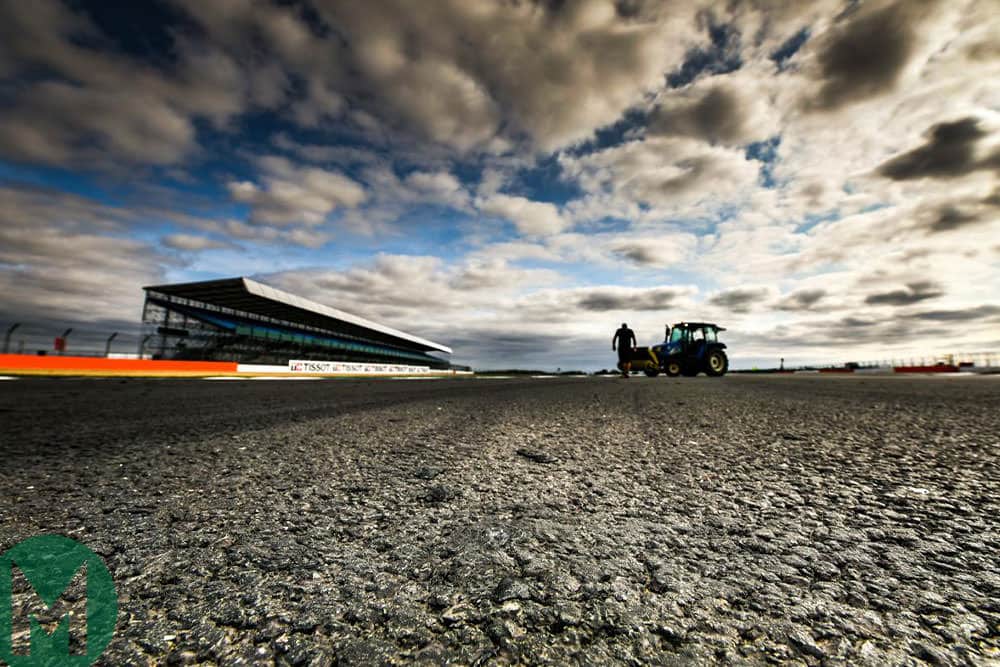 Image: Motorsport Images
Silverstone will commence its long-awaited resurfacing on June 10, using a completely different team to that which undertook last year's work, which resulted in the abandonment of the 2018 British MotoGP round due to poor track conditions.
The new work will be carried out by Tarmac, directed by Italian racetrack specialists Dromo. As a result, Dorna has extended Silverstone's British GP contract by one year to the end of 2021.
"It's been frustrating that we've not been able to get to this point more quickly, but in fact we wouldn't have done the work any earlier because we know that low temperatures and bad weather are not friends of laying asphalt," says Silverstone managing director Stuart Pringle. "It's far from ideal having to resurface the track twice in two years, but if anyone doubts our commitment to motorcycle racing and to MotoGP in particular I'd point them to our resurfacing of the track not once but twice.
"Dromo has very exacting standards and Tarmac are well up for this – they are very aware that the eyes of the world are on them. Dromo's Jarno Zaffelli has a very precise methodology and his approach to the design of the asphalt mix is very scientific. Tarmac want to get it right and even they are learning from Dromo."
Dromo designed the Termas de Rio Hondo circuit and has been involved with resurfacing, reprofiling and safety upgrades at Sepang, Mugello, Misano and Imola. The company's biggest job at Silverstone is to improve drainage, via improved profiling and the correct asphalt aggregate and mix.
During practice for the 2018 British GP a downpour created standing water around the track, especially at the end of Hangar Straight, where riders experienced aquaplaning that caused three riders to crash at high speed. Spaniard Tito Rabat was the worst injured, breaking a femur in two places, putting him out of action for the rest of the season.
Puddling has long been a problem at this part of Silverstone, where the downhill Hangar Straight leads into the uphill approach to Stowe Corner.
"Jarno is building in more gradients, specifically at the end of Hangar straight, where he will build a slight crown in the track, because there's a point where four gradient angles come in – two longitudinal falls that meet two cross falls," adds Pringle. "Creating a slight crown will reduce the distance water has to run off from 15 metres to 7.5 metres in either direction. There will also be more drainage, especially at that point, and the asphalt mix for the whole track will be different. The mix will have a slightly more open texture, which water can permeate."
---
More
---
​Silverstone engaged Dromo immediately after the 2018 British GP was abandoned, following lengthy race-day delays that sent the crowd home without seeing a wheel turn in anger.
"We had Jarno at the track at nine o'clock on the Monday morning," explains Pringle. "He was already at Silverstone because he had been at the race advising one of the teams which had engaged him to help them with tyre choice, because no one had data on the new asphalt."
During the resurfacing work Dromo and Tarmac will use high-tech machinery from Japanese company Topcon, which uses laser- and GPS-guided positioning systems never before used in this country.
"This new kit uses static scans to model the current surface, then that data is loaded into Jarno's software, which provides the camber and profiling data for the planing machine that lays the asphalt. The essence of what they're doing is very accurate planing, so you don't have to fix vagaries of camber, fall and so on when the asphalt is laid."
After the resurfacing Silverstone will remain unused for two weeks before the Formula 1 car Grand Prix in mid-July. Once the work is finished MotoGP safety officer Franco Uncini will visit to re-homologate the circuit.
The disaster of last year's British GP has had an effect of 2019 ticket sales, but not as much as Silverstone feared.
"We are behind sales compared to last year, which is no surprise, but we're not that far behind," says Pringle. "We hope we will get a bit of a bounce once this news about Tarmac and Dromo comes out. Last year was a nightmare for everyone, but we refunded all general admission and grandstand spectator tickets and car parking costs by the end of September."
Pringle won't reveal the exact costs of ticket compensation and the latest resurfacing work, but it's likely to be between £5 and 10 million.