After Miyazaki, KTM took chassis designer Marco Bertolatti from Aprilia and at the end of 2019 it poached suspension technician Peter Bergvall from Öhlins. KTM's in-house WP suspension engineers were working hard to catch up Öhlins, unbeaten in MotoGP since 2007, but KTM needed a breakthrough, especially in front-fork performance, so the company made Bergvall head of the WP racing operation. There's no doubt Bergvall played an important role in KTM's first MotoGP victories last year.
There are several other former HRC employees working at KTM. The factory team manager Mike Leitner joined the company in 2015, a few months after he had been dropped by Dani Pedrosa, whom he had guided to world titles and MotoGP race wins. In 2017 mechanics John Eyre and Mark Lloyd also switched from HRC to KTM.
There's not a factory on the MotoGP grid that hasn't bought brains from a rival, because buying brainpower is the best way to turbocharge development. And however much that brain costs it's usually a bargain, not only in pure engineering terms but also in terms of cost to the brand and its image. Getting beaten is bad for your image, so you must do whatever it takes to avoid defeat and you must do it quickly.
In 2010 HRC signed Yamaha electronics engineers Carlo Luzzi, Andre Zugna and Cristian Battaglia. In 2014 Ducati took Gigi Dall'Igna from Aprilia. The same year Ducati data engineer Claudio Rainato defected to Suzuki. At the end of 2019 Yamaha took Marco Frigerio from Ducati. Last year Suzuki signed electronics development expert Andrea Agostini from KTM, which had taken the Italian from Honda's Formula 1 programme. At the same time Aprilia signed an electronics engineer from Suzuki, which a couple of years earlier had taken him from the Noale factory. These are just a few recent manoeuvres in MotoGP's never-ending brains race…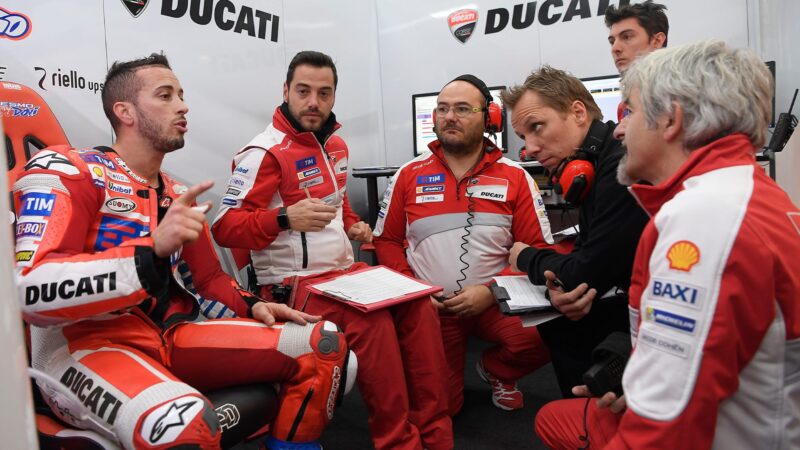 It should come as no surprise that data engineers get headhunted more than other engineers, because electronics is still the main growth area in MotoGP, despite the spec ECU and software, because while engines, chassis, tyres and suspension have been around for more than a century, electronics that control machine dynamics is still a new science.
Half a century ago – when manufacturers focused most of their energies on finding more horsepower – it was those with intimate knowledge of the internal combustion engine that were most in demand.
Italian engineer Piero Remor designed MotoGP's first great engine and first inline-four – the Gilera 500 which dominated the first decade of world championship racing. But Remor fell out with Giuseppe Gilera, which gave Count Domenico Agusta the chance to sign him to his stable. Remor's first MV engine was basically a rehash of his Gilera design, but with two ill-advised changes: shaft final drive and two gear levers – left foot for upshifts, right foot for downshifts.