How to make a hash of Suzuka: Goin' up & down at the Japanese GP
- Last updated: March 2nd 2023
Drivers, fans and viewers were overjoyed to return to Suzuka for the first time in three years, so what went wrong? There's one overriding factor...
The Japanese Grand Prix is an unfailing source of "wholesome content": F1 fanatics showing their devotion in elaborate forms of cosplay, fans bringing gifts for their favourite drivers, and racers eulogising about the best track on the calendar.
Suzuka offers reward for the brave, pitfalls for the unwary and an opportunity to race. So why, with all of that promise, has the weekend ended in terms such as "farce", "chaos" and "confusion".
We've identified one key factor in this instalment of goin' up/goin' down or, as it's informally known, goin' up/FIA.
Goin' down
FIA race control
There are few subjects in F1 more sombre than recovery vehicles on track at Suzuka in the rain.
No wonder the sight of Pierre Gasly's AlphaTauri blasting past a mobile crane that was partly on the circuit provoked indignation amongst drivers.
Cue a review of the FIA's rules, when — not for the first time — more common sense appears to be the remedy.
FIA cost cap committee
Just the phrase 'accounting loophole' is enough to make you realise that an F1 cost cap was never going to be straightforward.
The cracks appeared early when some teams were rumoured to be in trouble with unexpected mid-season costs — unkindly dubbed the 'Mick Schumacher effect'.
Then came suggestions that Red Bull had overspent, while punishments remained vague: penalties seem to range from Max Verstappen losing his 2021 title right down to an errant team being put at the smellier end of the Barcelona pitlane.
So the FIA's number one priority for this crucial regulation was to instil confidence. It chose to do this by postponing publication on the evening it was due — ten months after the end of last season.
Now it has been published, we're not really any the wiser.
FIA rules committee
Never again, declared the FIA, would points be awarded for a safety car parade, nor for a three-lap race, following last year's farcical Belgian Grand Prix. It said as much when it announced a change to the "treatment of short races" in February.
"If the leader has completed more than two laps but less than 25% of the scheduled race distance, the top five finishers will be awarded points as follows…" began a report from the F1 commission, the melting pot of officials, team bosses and race promoters.
As it set out different points bands, nowhere was any mention that the rules only applied if the race ended after a red flag.
And that was what fans, the teams — and F1's own social media staff — thought until Sunday when we all discovered that the rules had been written differently. So short races are fine, as long as they finish with a chequered flag. Got it?
FIA communications committee
When a new set of regulations is about to come into play for the first time, a helpful governing body might issue a reminder to teams and fans about how they work.
When the wrong interpretation of new regulations is being repeatedly broadcast around the world, a switched-on governing body might step in and have a quiet word.
But then, why prevent confusion reigning when it has brought us gems like: teams not knowing if last year's Belgian GP had started or not, Abu Dhabi's creative use of the safety car or, in the case of Suzuka, a newly-crowned double world champion not realising he had won the title?
F1 media
It's easy to kick the FIA — and it really doesn't help itself — but let's not forget that, as Crofty and co. excitedly marked race distance thresholds and points tiers, nobody paused to wonder why F1 was displaying full points projections.
Not the finest moment for us in the F1 media pack.
Full wets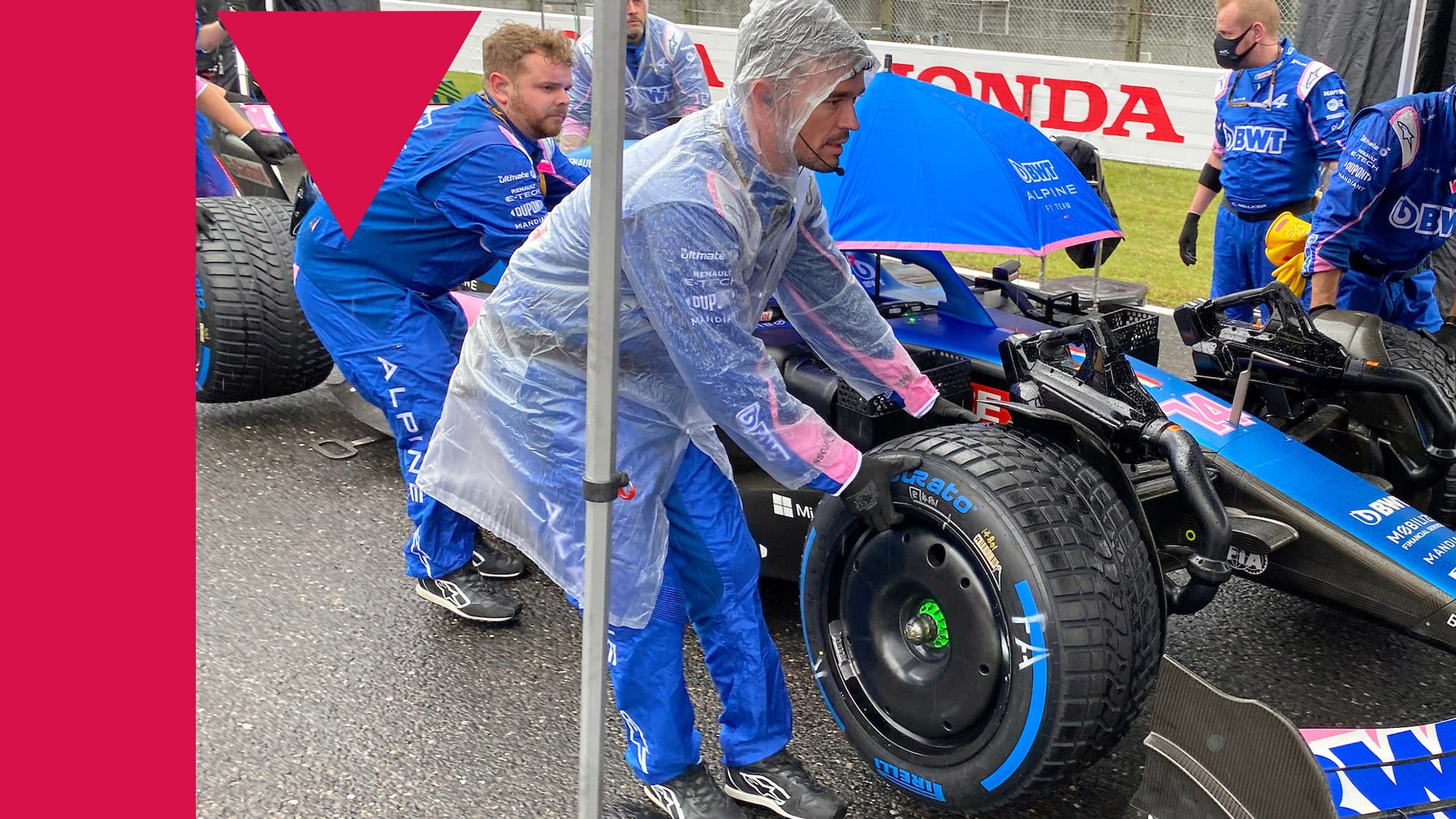 There's nothing an F1 tyre dreams of more than proving itself in the heat of a grand prix battle, whether it's clinging on by the sidewall during an audacious pass, or clamping down on the asphalt during a late-brake.
Sadly, for Pirelli's full wet, its prodigious grooves are usually seen as part of a safety car procession, flinging water off the surface before they are ditched for faster racing rubber.
But Japan brought the prospect of a starring role as the race resumed while rivers still flowed across the Suzuka circuit. It would go to the ball! Until Nicholas Latifi and Sebastian Vettel ruined the party by pitting at the restart and proving that the intermediate tyre was faster.
Back to the broom cupboard for the blue-walled tyres.
Goin' up
TV volume
It was the moment we were all dreading: Max Verstappen crossing the line to secure his second title and the radio graphic popping up.
Without lightning mute button reactions, your ears would be condemned to a hoarse Christian Horner, bawling through his headset: "MAX VERSTAPPEN YOU ARE A DOUBLE WORLD CHAMPION!"
Fortunately the points confusion spared millions from shouty Horner.
Rainmeister Button
Master of the weather that comes between wet and dry, Jenson Button showed that he hasn't lost his inner Tomasz Schafernaker, as he commentated for Sky.
I'd "definitely" be pitting for intermediates said Button as the race resumed from behind the safety car, and was quickly proved right as the drivers who had done just that lit up the timing screens.
Later in the race Button's bullishness on a two-stop strategy was vindicated by Fernando Alonso who pitted from seventh and ended the race inches away from Vettel in sixth.
Button was quietly confident that he'd have done better: eight-and-a-half minutes before, he said that Alonso had stopped a lap too late.
Fan engagement
It's the race where fan engagement means more than the number of social media likes on spreadsheet.
We saw a family meeting Lewis Hamilton after writing a message on a placard, replica race suits abounded and — of course — plenty of homemade headwear par excellence.
Suzuka atmosphere, we have missed you.
Aston Martin
Extraordinary! 🤯

What a start by Lance Stroll 💪#JapaneseGP #F1 pic.twitter.com/GtoPtB3LFg

— Formula 1 (@F1) October 9, 2022
Aston Martin's form has given Lawrence Stroll plenty of excuse to deploy his hangdog expression but he'll have been forced to grin after Japan where the green cars had an extra a pinch of wasabi in their tanks.
Firstly it was Lance Stroll launching off the line and rocketing fearlessly into the midfield tussle, courtesy of finding the only strip of vaguely dry asphalt.
Then it was Sebastian Vettel who qualified ninth, spun after contact with Fernando Alonso and then made an early stop for intermediates. That eventually lifted him to a sixth position coveted by a certain Fernando Alonso. The battle was intense and thrilling but Vettel — voted driver of the day — clung on by a hundredth of a second.