Abt Cupra
Renowned racing squad Abt, winner of five DTM titles (two with Ekström) joins forces with Cupra, SEAT's sport brand, to form their own Extreme E team.
Abt will run with the number 125, to celebrate their 125th birthday this year.
Drivers
Claudia Hurtgen 1997 Daytona 24 Hours class winner, German GT champion
Mattias Ekström two-time DTM champion, 2016 World Rallycross champion
Acciona/Sainz
WRC legend Carlos Sainz SR has linked up with Acciona, the first all-electric car company to complete the Dakar Rally, to form their own Extreme E team.
Also driving will be accomplished off-road bike rider Laia Sanz.
Drivers
Carlos Sainz two-time WRC champion, three-time Dakar winner
Laia Sanz 13-time Trial World Champion, 5-time Enduro World Champion
Andretti United Extreme E
Legendary US team Andretti Autosport sport go into partnership with Zak Brown's United Autosports to form their own Extreme E squad.
2019 WRX Champion Timmy Hansen is partnered by up-and-coming British rally driver Catie Munnings, who made her WRC debut in 2020.
Drivers
Timmy Hansen 2019 WRX champion
Catie Munnings 2016 European Rally Championship Ladies' Trophy champion
Hispano Suiza Xite Energy Team
The Hispano Suiza name returns to motorsport a century after its first race. The historic automotive-engineering group is now looking to light up electric racing, employing British WRX driver Oliver Bennet and rally driver Christine Giampaoli Zonca.
Drivers
Oliver Bennet
Christine Giampaoli Zonca 2017 Spanish Gravel Championship champion (women's category)
JBXE
2009 F1 champion Jenson Button has been bitten by the EE bug and joined fellow champs Rosberg and Hamilton in forming his own team. JBXE will also work with Extreme E to promote the issues the series hope to promote.
Drivers
Jenson Button 2009 F1 World Champion, 2019 Super GT Champion
Mikaela Åhlin-Kottulinsky Scandinavian Touring Car Championship race winner
Rosberg X Racing
2016 F1 champion Nico Rosberg has been big on the environment and green energy since he left the World Championship, and now takes this interest further by starting his own F1 team.
The outfit is an evolution of his father Keke's Team Rosberg squad, founded in 1994.
Rosberg has gone for one of the best by hiring 3-times WRX champion Johan Kristoffersson to drive for him. The Swede will be partnered by Australian Rally champion Molly Taylor.
Drivers
Johan Kristoffersson 3-times WRX champion
Molly Taylor 2016 Australian Rally Championship champion
Chip Ganassi Racing
Legendary American racing institution Chip Ganassi has also dived into the Extreme E pool. Fresh from winning a 13th IndyCar title with Scott Dixon, the team, which also races in NASCAR and IMSA, will field six-time Lucas Oil Off Road Racing Series Kyle LeDuc and X Games medal winner Sara Price, who currently works as a stunt driver.
Drivers
Kyle LeDuc six-time Lucas Oil Off Road Racing Series champion
Sara Price 2012 X Games medal winner, 19-time national dirt bike champion
Veloce Racing
Veloce Racing makes history as the first esports team to cross over into the real world. Adrian Newey has joined as 'Lead Visionary' (whatever that is), with Jean-Eric Vergne as one of its other masterminds.
W Series champion Jamie Chadwick is the female driver hired, whilst her team-mate will be none other than former F1, WRC and Le Mans driver Stephane Sarrazin.
Drivers
Jamie Chadwick W Series champion
Stephane Sarrazin former F1, WRC and Le Mans driver
X44
The most successful F1 driver of all time, Lewis Hamilton, enters the world of team ownership with his X44 squad, which will be run by Prodrive.
"Extreme E really appealed to me because of its environmental focus. Every single one of us has the power to make a difference, and it means so much to me that I can use my love of racing, together with my love for our planet, to have a positive impact," he said.
Who has the most successful on the road hired? The most successful off it, of course – Sébastien Loeb.
The eight-time WRC champion joins Hamilton's team and will be partnered by experienced Dakar driver Cristina Gutiérrez.
Drivers
Sébastien Loeb nine-times WRC champion
Cristina Gutiérrez four-times Dakar finisher
Who makes Extreme E cars?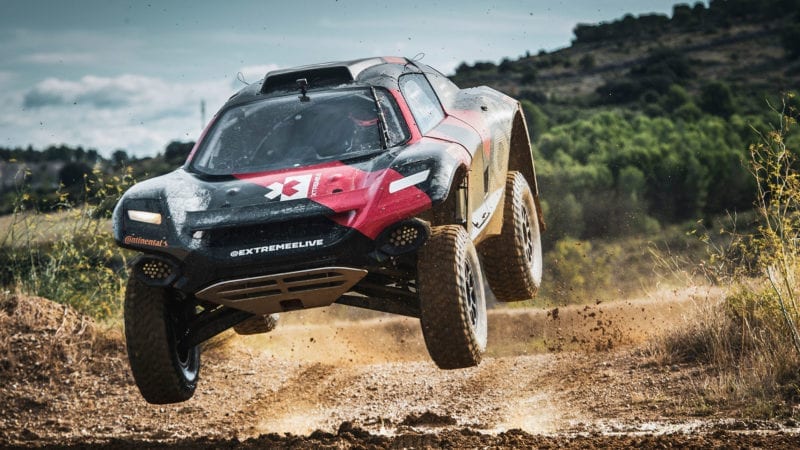 French firm Spark has manufactured the bespoke Odyssey 21 E-SUV. It's mandatory for all Extreme E teams to use this car. In future seasons participants will be permitted to develop their own powertrain technology, similar to Formula E.
Nicknamed 'The Beast', the E-SUV has steel alloy tubular frame, whilst Williams Advanced Engineering made the battery. Combined with the mid-mounted motor, this will have an output of 400kw – approximately 550bhp, enabling the 1650kg to go from 0-62mph in 4.5sec. The SUV's torque means it can do this on gradients of up to 130%.