2019 French Grand Prix qualifying: Hamilton on pole with time to spare
- Last updated: December 5th 2019
Ferrari pins its hopes on a first-corner miracle after Mercedes comfortably locks out the front row of the grid during qualifying at the 2019 Formula 1 French Grand Prix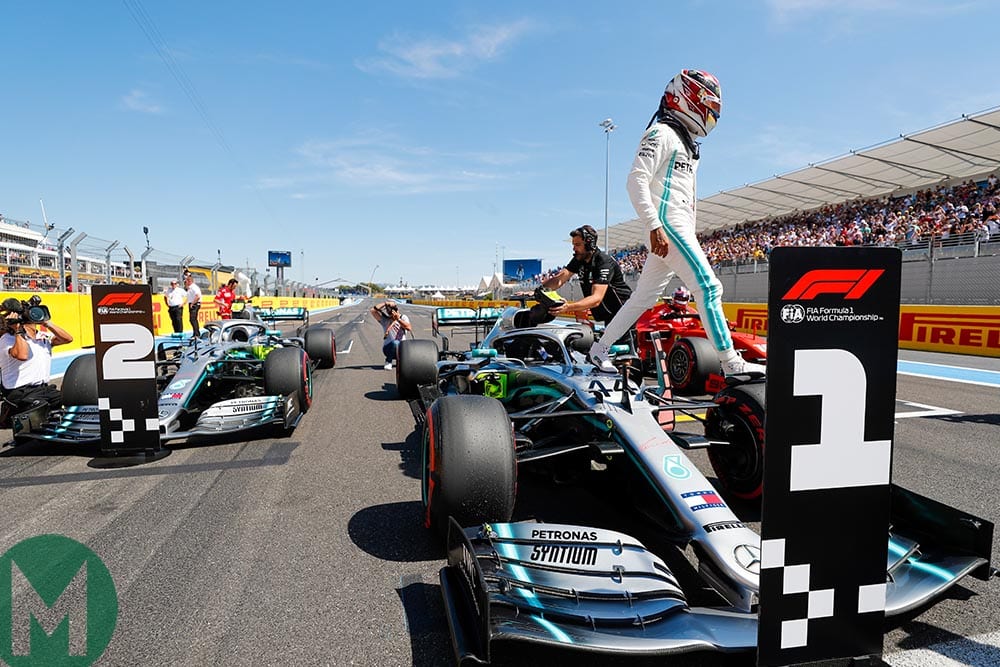 Hamilton on pole despite a less than perfect lap Photo: Motorsport Images
The records and milestones continue to fall to Lewis Hamilton and Mercedes. A fine lap from Hamilton at Paul Ricard moved his own record F1 pole tally to 86, his 60th for Mercedes. And the three-pointed star posted a 63rd F1 front row lock-out, moving one clear of Ferrari/Williams/McLaren.
For the second time in three races, Toto Wolff gave Lewis special dispensation to miss media day on Thursday. The 90-minute 'Karl for Ever' memorial to fashion guru Karl Lagerfeld, who died back in February, at Paris's Grand Palais, unfathomably proved a bigger draw to the five-time champion than being asked his opinion on 'the Vettel incident' for the umpteenth time at Paul Ricard.
When he did arrive, Lewis had a nice line on the trepidation he might have been feeling over the possible reversal of his Canadian win as Ferrari's sporting director Laurent Mekies whetted appetites with the promise of "overwhelming" new evidence.
"It was a bit odd coming here with Ferrari spending time on that," Hamilton admitted, "but when I heard that Karun Chandhok's (Sky analysis) was the new evidence, I was pretty relaxed…"
---
Don't miss Mark Hughes' post-race report; sign up to our F1 newsletter
---
While Vettel was not surprised he didn't get his on-track win back, he had a valid point to make: "The problem is, we (the sport) are hurt with these things. I think they started a long time ago: 'Did he cross the white line, or use too much kerb?'
"Let us do what we want. If you're unhappy with how we race and how we drive, then build different tracks. It's as easy as that. We have car parks with lines and kerbs on.
"And there are too many paragraphs (in the rule book) but what do you change? I hope they just burn the papers…"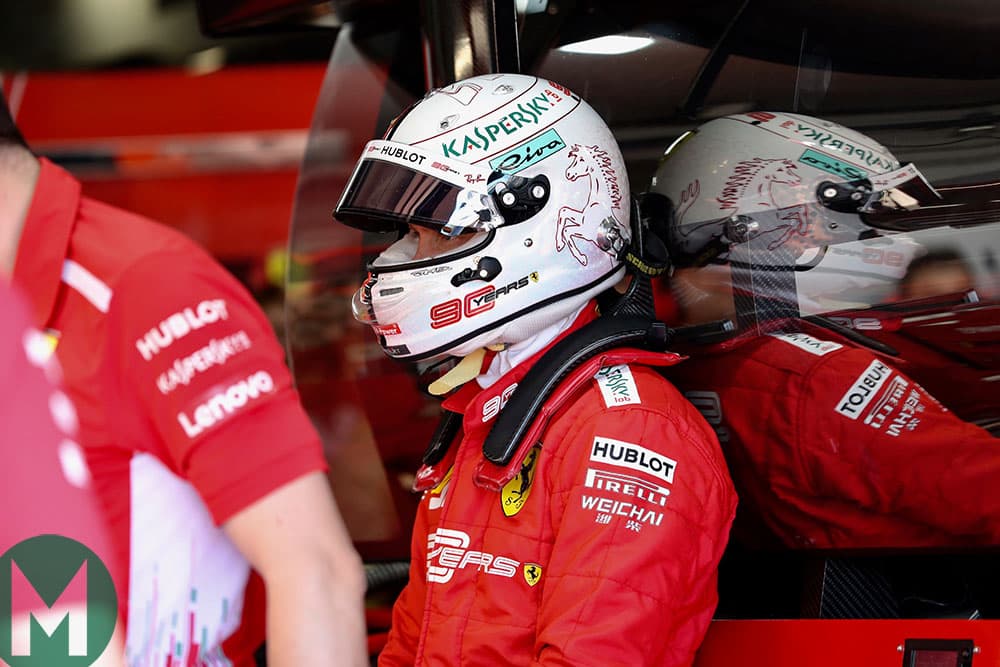 Vettel's body language reflected his poor qualifying performance Photo: Motorsport Images
It was slightly ironic that here we were in France, almost exactly 40 years on from one of the most memorable duels ever witnessed, between Rene Arnoux and Gilles Villeneuve at Dijon. Back then, neither Rene nor Gilles were unduly concerned by the manner in which they rejoined the circuit after going off. If the other happened to be there, tough…
So have we gone backwards in four decades?
Yes and no. It's worth pointing out that although Mario Andretti brushed off Arnoux/Villeneuve as "just a couple of young lions clawing at each other," even back then they were hauled before a GPDA committee, chaired by Jody Scheckter. They were admonished for dangerous driving with Niki Lauda, Emerson Fittipaldi and Clay Regazzoni (hardly a saint) all on the same page.
---
Related content
---
If Vettel's body language seemed a little depressed, it wasn't helped by the degree of Mercedes superiority on the stopwatch.
The rumours of Ferrari finding an aero mapping error had raised hopes that they might suddenly be able to take the fight to Mercedes more decisively. But, with Ricard largely replicating the circuit characteristics of Barcelona, Maranello still needed to find considerably more than the hoped-for three tenths if they were going to close the 0.87sec chasm that separated Valtteri Bottas's Spanish pole from Sebastian Vettel's third place.
At Ricard, they were losing more than a couple of tenths to the Mercedes in the sectors where the road turned (S1 and S3), but were in the ballpark in the straight-dominated second sector. On Friday morning the Turn 11 apex speed difference between the Mercedes and the Ferrari was a mind-boggling 8mph.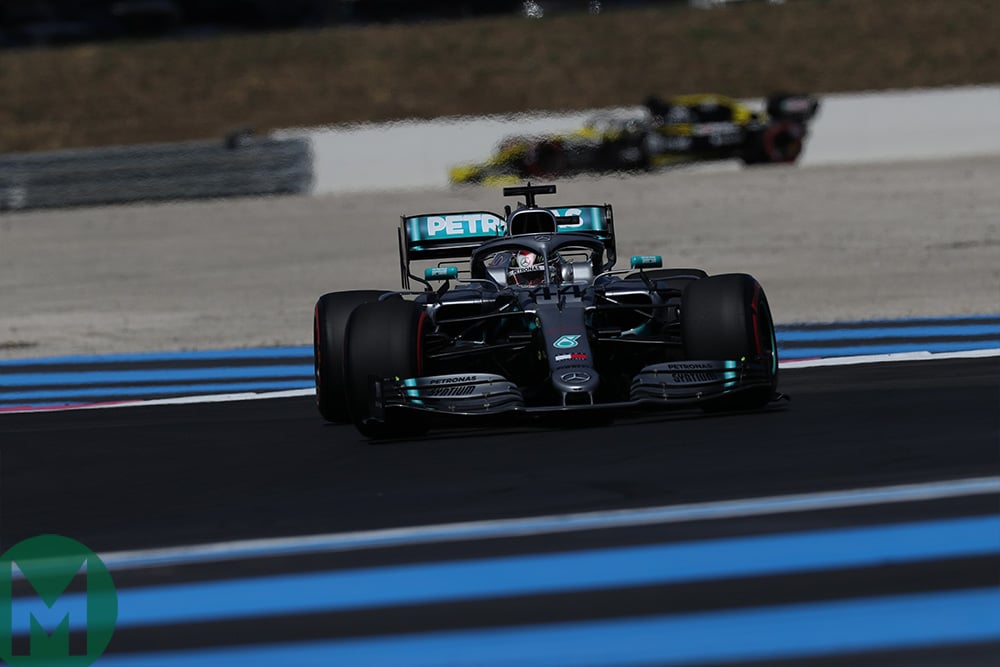 Mercedes untouchable in Q3 Photo: Motorsport Images
Sure enough, the Mercedes was still in a different league when the Q3 chips went down. Hamilton's pole was 1min 28.319sec and Charles Leclerc's third-place time a 1min 28.965sec after a lap that the Moneqasque was happy with.
How did Leclerc think the updated Ferrari had performed?
"Some of the updates were good, and some not," he shrugged, not exactly bursting with enthusiasm.
Okay, the 0.65sec margin over a longer lap was a step in the right direction compared with Barcelona. Until, that is, Hamilton told everyone he'd lost three and a half tenths when the changing direction of a gusty wind gave him a big moment at the penultimate corner. The reality then, was probably more like a full second.
Vettel's mood wasn't helped by qualifying seventh. Yes, you read that right – also behind Max Verstappen's Red Bull and the McLarens of an excellent Lando Norris, and Carlos Sainz.
"It was a scruffy session for us," Vettel admitted. "On the first Q3 run I missed the upshift to fourth out of the chicane at Turn 9 and lost all my momentum, so there was no point in completing the lap. Then, on the second, I couldn't feel the car working as before. We certainly didn't extract the maximum but tomorrow is another day and we should be more consistent."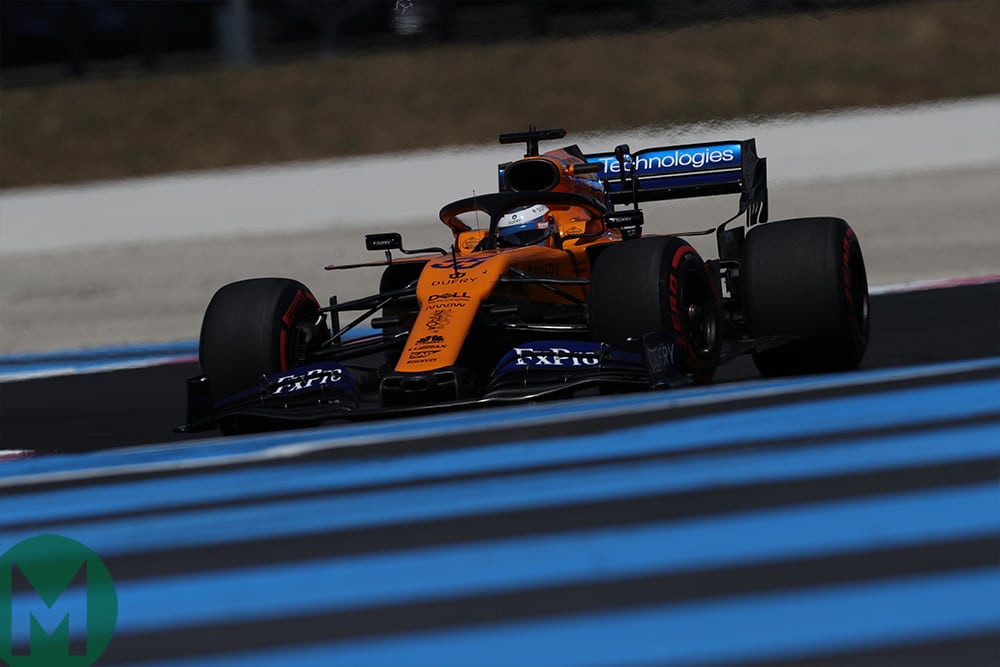 McLaren was ecstatic to have both cars on the third row of the grid Photo: Motorsport Images
It's not as if Ferrari can even hope that track temperatures approaching the mid-fifties might work in their favour over a race distance. From first thing Friday, it was apparent that the heat in conjunction with extensive Ricard resurfacing meant that the lower working range Pirelli C4 (Soft) compound tyre was barely any quicker than the C3 (Medium), even over a single lap. The upshot being that all the front-runners completed Q2 on a medium tyre and hence will start the race on the same tyres, that Bottas described as "very robust." So, not much hope of strategic variation.
Leclerc was being entirely realistic when he assessed that a good start and a challenge after the long run to Turn One was Maranello's only real hope. If he achieves that from third place things might get a little more interesting; overtaking at Ricard is not the work of a moment.
Norris, on 1min 29.418sec, was only 1.1sec from pole and missed putting a McLaren on the second row by just under a hundredth of a second as Max Verstappen and Red Bull didn't get quite as much out of the RB15 as they hoped – although substantially more than homeboy Pierre Gasly, whose struggle continued, 0.78sec and five places further behind.
McLaren achieved its best combined qualifying performance of the season, Carlos Sainz backing Norris up with sixth, just a tenth adrift. Sainz was marginally closer to pole in percentage terms at Sakhir but the delight on the McLaren pit wall was clear for all to see. Not to mention a bit uncomfortable for the works Renault team, as they contemplated their home Grand Prix from eighth (Daniel Ricciardo) and 13th (Nico Hulkenberg). Go back those 40 years to that Dijon race and Jean-Pierre Jabouille was claiming the team's first victory. Messrs Stoll and Abiteboul might be wondering just how long a similar outcome might take…

French Grand Prix qualifying results and starting grid
| Position | Driver | Team | Time |
| --- | --- | --- | --- |
| 1 | Lewis Hamilton | Mercedes | 1min 28.319sec |
| 2 | Valtteri Bottas | Mercedes | 1min 28.605sec |
| 3 | Charles Leclerc | Ferrari | 1min 28.965sec |
| 4 | Max Verstappen | Red Bull | 1min 29.409sec |
| 5 | Lando Norris | McLaren | 1min 29.418sec |
| 6 | Carlos Sainz | McLaren | 1min 29.522sec |
| 7 | Sebastian Vettel | Ferrari | 1min 29.799sec |
| 8 | Daniel Ricciardo | Renault | 1min 29.918sec |
| 9 | Pierre Gasly | Red Bull | 1min 30.184sec |
| 10 | Antonio Giovinazzi | Alfa Romeo | 1min 33.420sec |
| 11 | Alexander Albon | Toro Rosso | 1min 30.461sec |
| 12 | Kimi Räikkönen | Alfa Romeo | 1min 30.533sec |
| 13 | Nico Hülkenberg | Renault | 1min 30.544sec |
| 14 | Sergio Perez | Racing Point | 1min 30.738sec |
| 15 | Kevin Magnussen | Haas | 1min 31.440sec |
| 16 | Romain Grosjean | Haas | 1min 31.626sec |
| 17 | Lance Stroll | Racing Point | 1min 32.726sec |
| 18 | Robert Kubica | Williams | 1min 33.205sec |
| 19 | Daniil Kvyat | Toro Rosso | 1min 31.564sec* |
| 20 | George Russell | Williams | 1min 32.789sec* |
*Back-of-the-grid start due to power unit changes