2019 Canadian Grand Prix report
- Last updated: February 25th 2020
A great race "stolen" by the stewards? Full analysis from Montreal by Mark Hughes in the 2019 Canadian Grand Prix report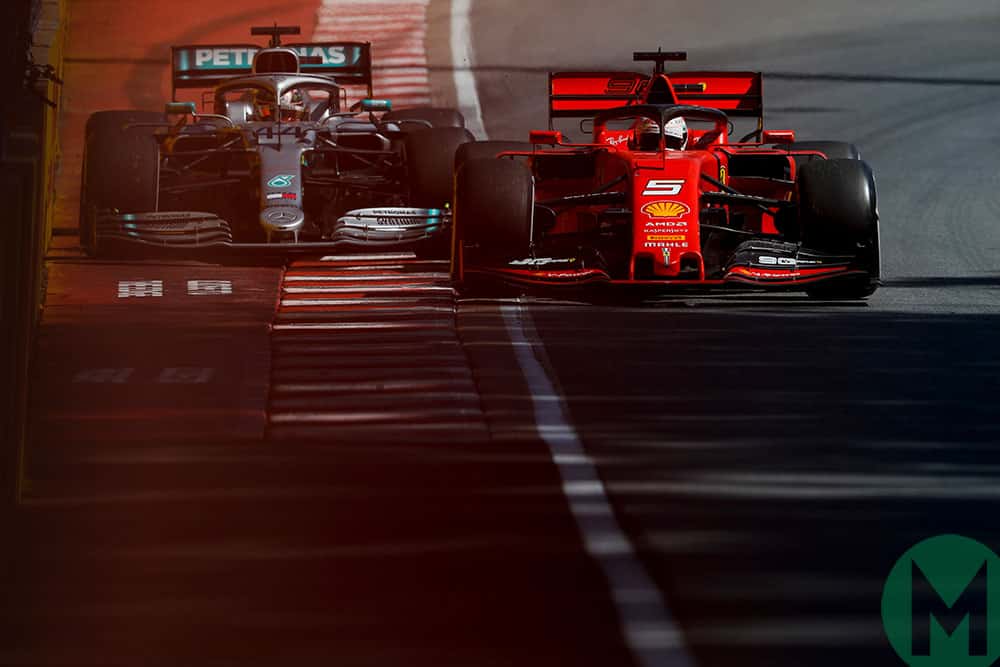 Vettel rejoins "in an unsafe manner" Photo: Motorsport Images
In the green room behind the podium there is a picture of Gilles Villeneuve and a quote: "I will drive flat out all the time… I love racing." There is no doubt whatsoever what he would have made of the race stewards' decision to add a five-second time penalty to the Ferrari of across-the-line winner Sebastian Vettel for "rejoining the track in an unsafe manner" after a trip across the Turn 3-4 grass under pressure from the Mercedes of Lewis Hamilton.
Regardless of how badly F1 needs a different winner at the moment, just as a racing decision alone it was a nonsense. As Vettel lost the rear of the car on corner entry, so he was forced to open up the steering to avoid a spin, this taking him on a ride across the grass beyond the kerb. As the Ferrari came back on track with grass on its tyres, oversteering, sliding this way and that, so Vettel needed the width of the track to collect it and keep it out the wall. Hamilton was potentially about to be between Vettel and the wall and as the Ferrari had a secondary slide, so the Merc was squeezed out, forcing Hamilton to brake.
That was it. A simple racing incident, the sort of thing that's always happened in the heat of battle. But there is a rule there, with wording intended for an entirely different situation (like how to rejoin after you've spun and not doing so into the path of oncoming cars). But because it's there, there's a stupid obligation to apply it. Did Vettel's actions impede Hamilton? Yes of course they did. Were they intended to do that? Obviously, visibly, not. He slid over there in the process of getting the car under control. He didn't drive it there trying to squeeze Hamilton out. That was a consequence.
Upon being told of the penalty, Vettel had 12 laps to pull out five seconds on a Mercedes that in race trim was every bit as fast and probably faster. It was never going to happen, especially as he was on the limit with his fuel allocation. Vettel's anger was extreme — "They are stealing the race from us" — and he was arguing the case even as he was driving. He couldn't even bring himself to take his car into the top-three parc fermé area. He reluctantly took himself up there a few minutes later and sportingly shook hands with Hamilton. As the official winner stood on the top step, the fans began booing their disapproval. Vettel stepped in, asked them to desist, pointed out that it wasn't Hamilton's fault.
Hamilton had perhaps played a small part in the drama when he'd radioed, "The way he rejoined was so dangerous," clearly for the benefit of the stewards. But that's the normal code of behaviour from competitive individuals if the wording is there to help them change the outcome. The wording shouldn't be there. It's the existence of the wording that triggers the behaviour. It's been obvious for years that trying to codify the infinity of situations arising in racing into a box of legalese sucks the very life out of the sport.
An hour or so later, Vettel was calmer but his position had not altered one degree. "We have all this wording. It's wrong. It's not really what we're doing in the car. So we all sound a bit like lawyers speaking this language. It's not the sport I fell in love with. Obviously it disappoints me today, but I think it's a bigger picture in the world."
Hamilton was more contrite once out of the car, reflecting on his second-across-the-line win. "I have a bit of an empty feeling today," he claimed. "It was a really great race between two different teams ending on a bit of negative."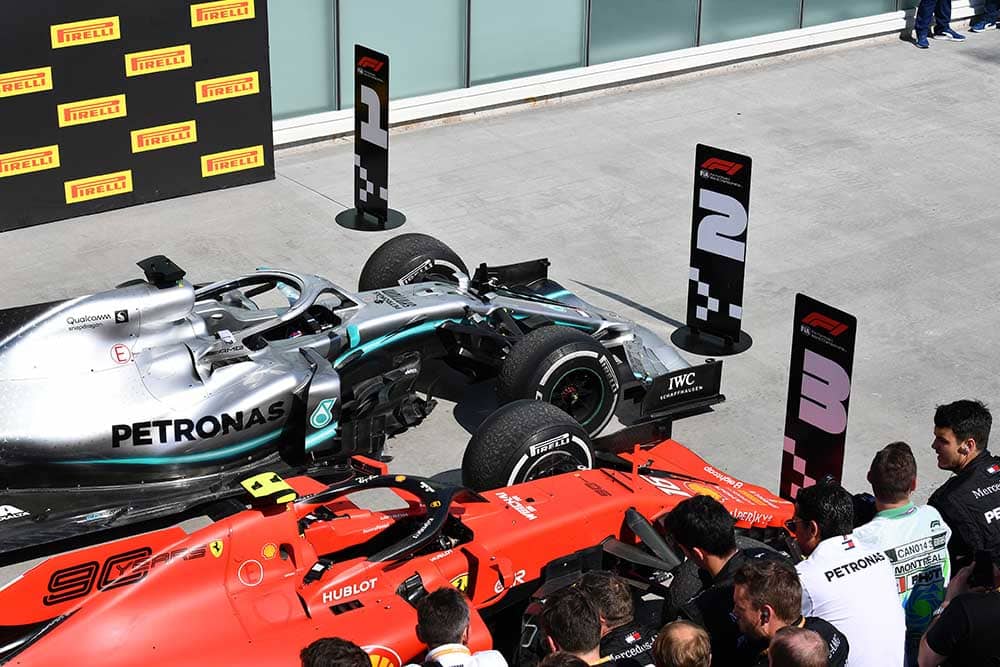 Vettel rearranged the place cards in parc fermé, en route to the podium Photo: Motorsport Images
Qualifying
"I'm still full of adrenaline! The lap was such a rush, I wish I could do it again. It was so much fun… I had to pace myself in the first two corners because getting the tyres to grip up wasn't straightforward but after that, it was just a joy. The car was shouting 'keep going, keep going'. I wasn't sure as I crossed the line where it would put me as I didn't know how much Lewis was going to improve. Then they screamed on the radio pole position. It feels very special but really for the team it's good to be able to come here and do this after a couple of races that have been quite tough for them."
That's how Sebastian Vettel described his 56th career pole. It was a vintage Seb, wall-skimming lap. The Ferrari still wasn't putting as much energy into the tyres as they were capable of taking – hence his comments about the first couple of corners and the car's ability to get two attack laps out of the delicate soft (the former hyper-soft here). But the car's lower drag could more than make up the time lost by the tyres in a way it can't at more conventional tracks. Here – where it was making up over 0.6sec down the straights on Mercedes and losing only 0.4sec in the corners – just as in Baku. Except this time the potential was delivered.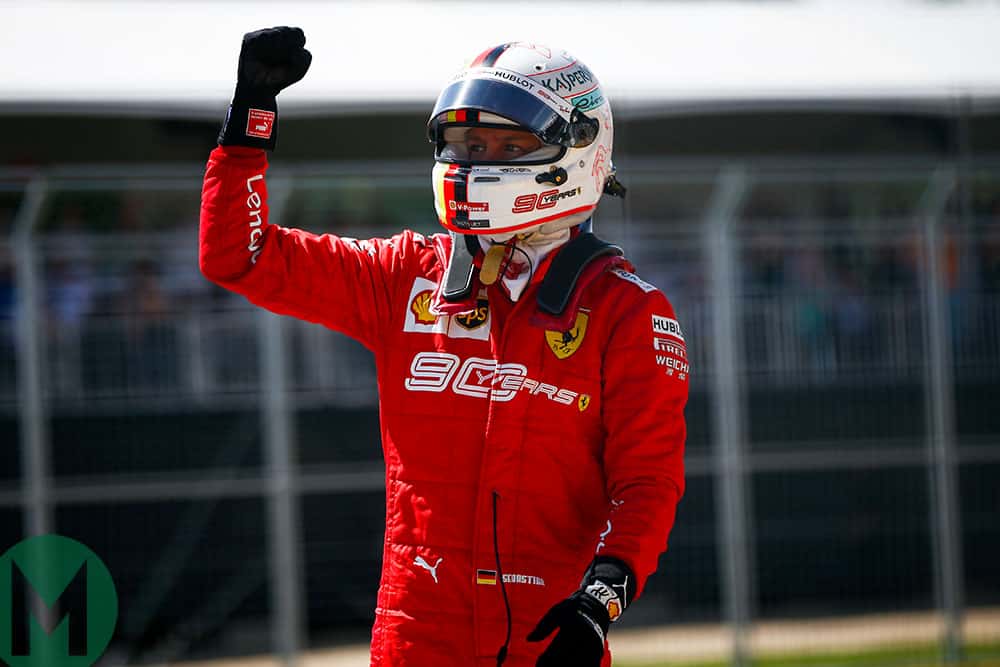 Vettel celebrates taking pole Photo: Motorsport Images
It had all boiled down to a straight final Q3 gunslinger duel between Vettel and Hamilton, as other would-be contenders fell by the wayside.
Hamilton had missed most of Friday afternoon practice after hitting the Turn Nine wall with a very uncharacteristic error. He was playing catch-up into Saturday but felt he got pretty close to the car's potential by the end. "There are always bits when you look back on it you think you could find more time. But I don't think it would've been two and a half tenths-worth." This was the margin by which the Ferrari was ahead, this despite a very significant Mercedes power unit upgrade reckoned to be worth a couple of tenths. The Mercs were going through the speed traps at around 320km/h, the Ferraris at 327km/h.
Charles Leclerc started out looking every bit as quick as Vettel but subsequently lost the feel of the car as the track grip ramped up despite the very hot conditions. "In Q1, the car felt quite good – then Q2 a bit worse and then Q3 it slipped away and I also did some mistakes… It's my fault and I need to work on it." He was eventually 0.7sec adrift, third fastest. Ferrari and Mercedes got all four of their cars through Q2 on the more durable medium tyre, so as to avoid the high-deg soft in the race.
Valtteri Bottas had an uncharacteristically scrappy Q3, having been very quick all weekend up to that point. A Turn Two spin under power – somehow without hitting anything as he skilfully locked and unlocked the brakes at exactly the right times – ruined his first Q3 attempt. His final effort was compromised by several lock-ups – and he lined up only sixth. He'd had his rhythm disrupted a little in Q2 when called to the weighbridge, which impacted upon the team run plan and perhaps that contributed to his distraction in Q3.
The problem, Kimi surmised, was "a lack of lap time"…
With Max Verstappen having been knocked out in Q2, Bottas' problems left a very high grid position on offer for someone – and pouncing on that opportunity with a truly stellar lap in his Renault was Daniel Ricciardo, who out-qualified his Red Bull replacement Pierre Gasly by 0.008sec to line up fourth. Aside from the quality of the lap, progress has been made recently with how aggressively the engine can be run and the team managed to have a good, clean run through the practices. Nico Hülkenberg in the sister car was 0.3sec slower, seventh fastest.
Gasly, just over 0.1sec shy of third fastest, was happy enough with his car and had generally been within a couple of tenths of Verstappen but with the latter not present in Q3, Red Bull could line up only fifth at a track where third was absolutely feasible. The RB15's nose was still in solid form, as introduced in Monaco, forgoing the greater underbody flow given by the previous hole in exchange for a stronger front end. The S-duct had some Alfa-like ears to boost its low-speed effectiveness. But it all counted for little as far as Verstappen was concerned. He'd looked in strong form up until the moment he tried to emulate Ferrari and Mercedes in fitting the medium tyre for Q2. His first lap on it was spoilt by traffic on his out-lap. But on his second attack lap on the same set, there was simply insufficient rear grip. There was still ample time to come in for a set of softs, and that lap was shaping up very nicely when the red flags came out, ending the session. It left him 11th.
The red flag was for a big Kevin Magnussen shunt out of the final corner as he tried to squeeze his Haas into Q3. He hit Champions' Wall, bouncing him across into another impact with the pit wall, then a final gentle impact with Champions' Wall again. The car was destroyed and another would be built up around the spare tub, obliging a pit lane start. Ironically, in preventing Verstappen from completing his lap, it allowed Magnussen to theoretically have made the top 10. Another who may have pushed him out was his team-mate Romain Grosjean who was on a good lap, having finally got the car working after a difficult time in the practices. It left him without a Q2 time on the board, thus putting him 15th.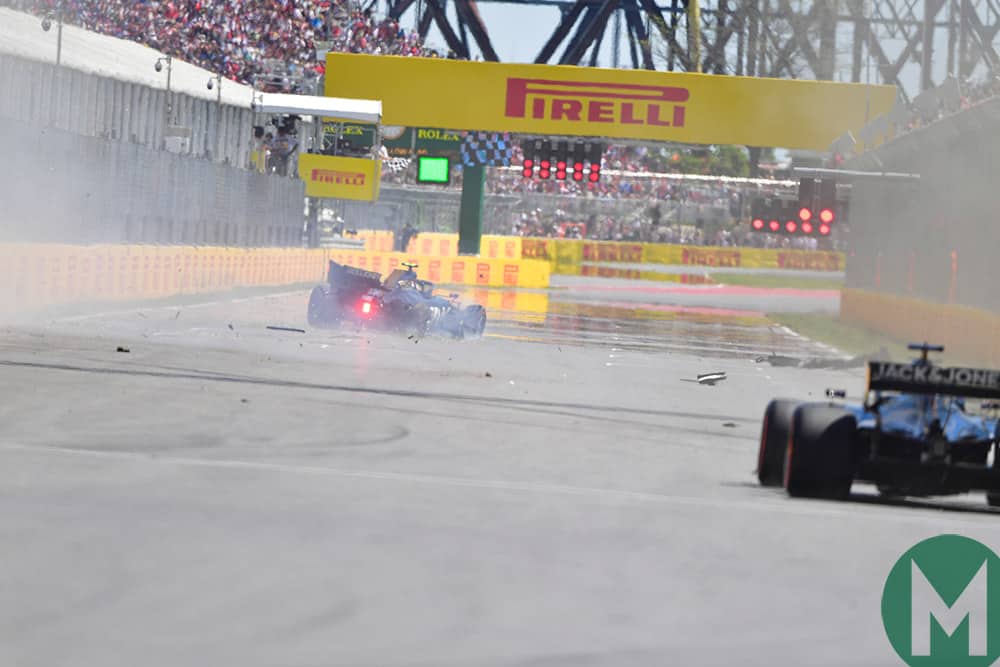 Magnussen brings out the red flags in Q2 Photo: Motorsport Images
Both McLarens made it through to Q3 where Lando Norris and Carlos Sainz went eighth and ninth respectively. The latter didn't put in a representative Q3 lap, locking up on his only new tyre run. Even had he repeated his time from the much slower Q2 he'd have been 0.3sec ahead of Norris who generally didn't have Sainz's smooth way around this tricky place on his first visit. The McLaren was working well though, aero tweaks contributing to a reduction in its usual understeer. Through Turn 3-4 it genuinely looked the second-best car. Up until his lock-up, Sainz had been vying with Ricciardo and so a similarly exciting grid position could've been on the cards. Baulking Alex Albon in Q1 cost Sainz a three-place grid drop.
With the improvements at Renault and McLaren, the Toro Rosso wasn't quite at its usual level and Daniil Kvyat reckoned his 12th-fastest – almost 0.5sec adrift of those cars – was about as good as it was going to get. Albon was a couple of tenths behind on his first visit to the place, in 14th after a compromised tyre prep lap. They were sandwiched by the only Alfa to make it into Q2, that of Antonio Giovinazzi. Its unresponsive balance wasn't well-suited to the direction changes required around here and Kimi Räikkönen didn't even make it out of Q1, in 17th. The problem, Kimi surmised, was "a lack of lap time"…
The underlying speed of the Racing Point, around a track well-suited to its low-drag traits, was not reflected in qualifying. Neither Sergio Perez (16th) nor Lance Stroll (18th) made it out of Q1. It was actually within a tenth or so of Renault and McLaren but Perez simply made a costly lock-up error on his vital Q1 lap at the end as the track grip was ramping up fast. "Just the worst feeling you can have as a driver, when you know you haven't achieved what the car was capable of," he said, crestfallen. Stroll had missed final practice after something in the new-spec Merc engine let go with fiery effect. It was touch-and-go to get the car ready with the old-spec engine for qualifying.
Williams was in its usual place on the back row, 1.4sec adrift of the penultimate pace. George Russell had 0.8sec over Robert Kubica.
Race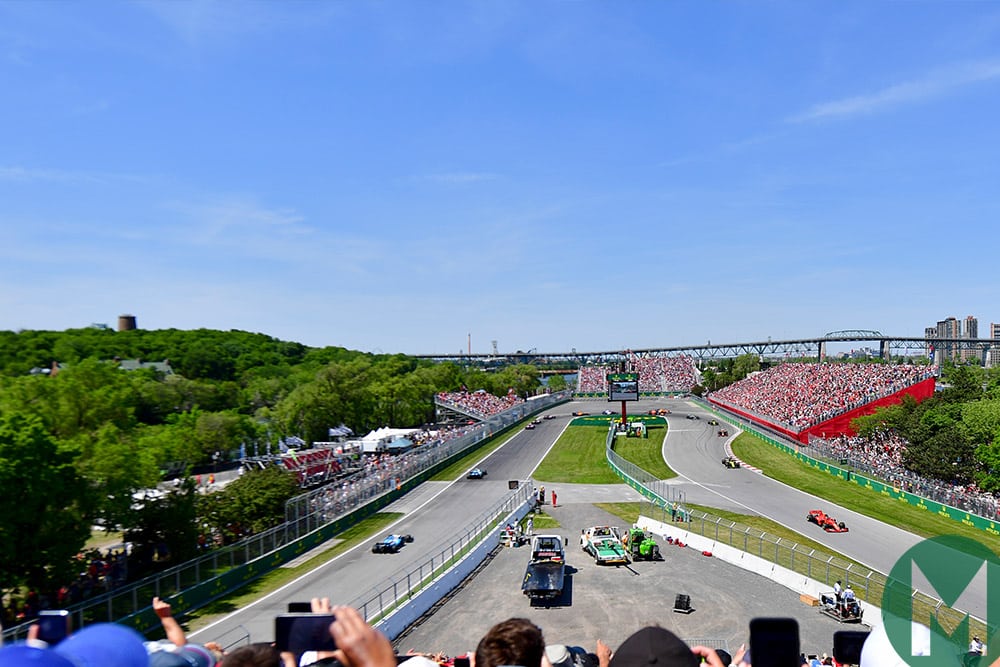 It was a scorching Montreal day, expectant crowd in place, vivid green grass framing the old-school track which had never looked more beautiful, an artificial island somehow ensconced further into its surroundings and looking ever-more natural, dissecting the blue-grey of the St Lawrence, distant picturesque bridges crossing an impossibly blue sky.
The tension built further as, on the grid, feverish work was conducted on Hamilton's front-row Mercedes. He'd not liked the feel of the brake pedal. The car had been in pieces earlier in the day as a hydraulic leak was discovered and rectified. The long-travel brake may have been a consequence of the rushed rebuild and so it was bled right there, mechanic in the cockpit pressing the pedal when required. Then it didn't take off too well from the dummy grid, anti-stall kicking in, giving the team further palpitations. Hamilton was assured no hardware problem was showing up on the data, but still, he couldn't be sure what he was going to get as he released the clutch paddle in anger. It was fine, as it turned out.
The gantry lights went out and Vettel's Ferrari was unchallenged into the Turn 1-2 sequence, with Hamilton's attention focused on keeping Leclerc behind him. Ricciardo and Gasly maintained their grid positions while behind them Bottas had his hands full fending off Hülkenberg, who ran around his outside through Turn Two and stayed there, with better momentum all the way up to Three, slicing ahead into there. This would prove to be very costly for Valtteri as he'd be stuck at the pace of a much slower car for many laps. In this time, he would be cursing the aggressive choice made by Mercedes on brake cooling levels, for he was constantly having to keep them under control rather than attacking. That was the secondary penalty of qualifying on the third row in a car configured to run at the front.
Behind Bottas ran Norris, Verstappen, Kvyat, Sainz and Perez. Into Turn One Perez, Albon and Giovinazzi couldn't find room for each other, the Toro Rosso's nose was knocked off by the Alfa, which slid out wide – forcing Grosjean across the grass, throwing bits of Toro Rosso out of his cockpit as he did so! Albon would be in at the end of the lap for a new nose, which took him out of any sort of contention. Giovinazzi kept going and led Stroll, Russell, Kubica, Räikkönen, Grosjean and the pit-lane-starting Magnussen in his newly-built car. Which he soon found handled atrociously.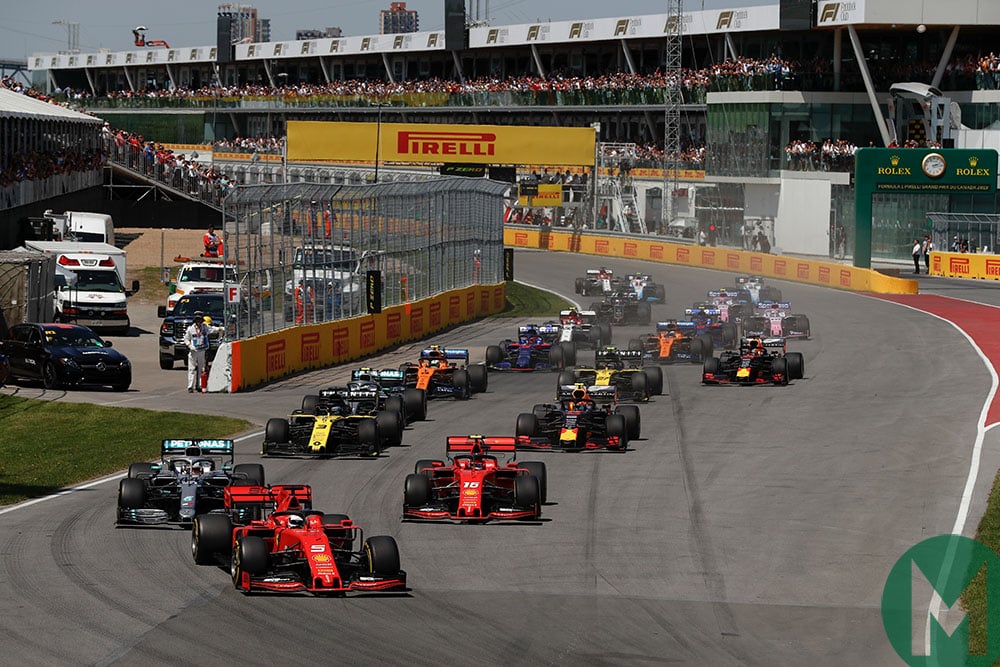 Vettel leads into Turn One at the start Photo: Motorsport Images
There was sure to be some early realignment of the positions because of the wide variety of tyre compound choices and the fact that the soft had a very high degradation rate. Outside of the top ten qualifiers, Verstappen had chosen the hard for a long opening stint as he worked his way past slower cars. It would work well for him – as did the same choice further back for Stroll. The lower Q3 qualifiers such as the McLarens were obliged to be on the softs. The hards could easily have done the whole distance but were around 0.8sec slower than the mediums which were good for 35 laps-plus (half-distance). So the advantage of the medium-starting Ferraris and Mercedes over those obliged to start on the soft was only magnified.
Vettel was in his element, running free at the front, pulling out immediate distance on his pursuers, over a second clear of Hamilton at the end of the opening lap and a further 0.4sec on each subsequent lap, thereby out of DRS reach by the time the feature was activated on lap three. This is always his preferred way of running the race if he's in front, putting everything into breaking the back of the opposition in the early laps. But he knew it was never going to be that simple with Hamilton and Mercedes on his back – and so it was to prove. The further complication were temperatures on this super-hot day, mainly of the power unit, but also of the brakes. Then there was the fuel. In the V8 and V10 days, Montreal was the thirstiest track on the calendar. Not so under the hybrid formula. The full 105kg is no longer necessary. But how far do you dare dip under? The historic 50% chance of a safety car or VSC intervention is built into this calculation. There is also the suggestion that the Ferrari power unit may be a little thirstier than the Mercedes – and so fuel was constantly an issue with the Ferraris, less so with the Mercs.
Leclerc's strategy was slightly different to Vettel's. His job was to run long – so as to give the team coverage in that period of safety car vulnerability after Vettel had pitted. So he ran a few tenths slower in this opening stint in the knowledge that he had to make the tyres last.
With Ricciardo in fourth running at division two pace, the top three were soon in a race of their own. Gasly was initially all over the back of the Renault but as soon as the brake temperatures began heading into oxidisation territory, he was forced to ease off, just like Bottas with Hülkenberg further back. It was a familiar story through the field.
Sainz's rear brake ducts were blocked with debris and it was taking the caliper into dangerous territory. He was forced to pit as early as lap three to have them cleared, committing him to a 67-lap second stint on hards. Räikkönen was called in for similar reasons three laps later.
Red Bull brought Gasly in from fifth on the seventh lap, trying to get an undercut pass on Ricciardo. It was unsuccessful as Daniel was able to maintain good pace on his in-lap next time through, and the stop was good. Both had exchanged their softs for hards. Ricciardo's stop finally released Bottas into clear air but that time stuck behind the Renault had left him over 20sec adrift of the leaders. Retiring from the race at this time was Norris who, after being passed by Verstappen, slid straight on a couple of times as his rear brakes were wildly over temperature. This eventually caused a rear suspension failure, the McLaren pulling off with the right-rear wheel at a drunken angle.
Hülkenberg did remarkably well getting his softs to last as long as 16 laps, keeping up a good pace as he did so. So good, in fact, that he rejoined right behind his team-mate, having leapfrogged past Gasly. Hulk's stop released Verstappen, whose hard tyres were still in great shape and set to go on for a long time yet. He placed himself a couple of seconds behind the distant fourth-place man Bottas and stayed there. Their task now was to make up more than a pit stop's-worth of time over the two Renaults before stopping. Behind the Renaults but ahead of the other midfield stoppers and maintaining a good pace was Stroll on his hard tyres. Team-mate Perez (on mediums) had pitted from several places ahead of him on lap 11 but by lap 20 Stroll had made up more than a pit stop's-worth of gap on him and was destined to come out well clear when he eventually did pit. Another medium runner to lose position to the long-running Stroll through an early stop was Kvyat.
---
More
---
Vettel had the gap over Hamilton out to over 2.5sec by the 20th lap, at which point they had more than a pit stop's-worth of gap to Bottas. So in theory, they could pit at any time. Hamilton began hauling Vettel back in for the next few laps as Vettel tried to look after his fuel. "The numbers on the steering wheel are correct," he was informed. "Act accordingly." But even then Hamilton would find it difficult to get much closer than 1.6/1.7sec away, as every time he did, his power unit and brake temperatures would become critical.
It looked for a time like Hamilton was trying to put undercut pressure on Vettel and Leclerc began to do the same to Hamilton. But actually, the undercut did not work with the medium-hard strategy, as the slow-to-warm hards took more than a lap to become faster than the old mediums. So staying out long was the preferred strategy, especially as that covered the safety car/VSC possibility for longer. As such, the gap yo-yoed between the three of them, Leclerc increasingly coming into the picture as the other two began to run out of rear rubber because of their more aggressive earlier pace.
Ferrari left Vettel out until his rear tyres were coming to the end of their life, bringing him in on lap 26. Rather than responding immediately, Mercedes left Hamilton out in the hope that in clear air he could find better pace than Vettel on his new hards and thereby overcut ahead. But within a couple of laps it was clear that Hamilton's tyres were every bit as finished as Vettel's had been – and he came in on lap 28, having lost a few seconds to Vettel. Leclerc led for another five laps before he too came in for his hards. In between times, Bottas had also made the switch, but he'd not been able to quite get the gap required to clear Ricciardo, now on tyres that were 22 laps old. A couple of times Bottas went to make a DRS pass on the Renault down the back straight but this was for position and each time Ricciardo made his car very wide, forcing Bottas to brake at one point. He eventually made it past.
"They definitely have another power mode that we currently don't have. So, all of a sudden they turn up the power and he pulls away massively on the straight, even if I have DRS open."
Bottas' stop had put the yet-to-pit Verstappen into a temporary third, but the Red Bull was soon devoured by the new-tyred Leclerc. Verstappen and Stroll would run for a long time yet. Verstappen was trying to ease out enough of a gap over the Renaults to clear them after he stopped but ran out of rubber before being able to do so. But on his new mediums he picked them off on consecutive laps under DRS, leaving the two Renaults to fight among themselves. Hulk's tyres were eight laps fresher than Ricciardo's and so he began challenging for the sixth place. Ultimately, this made Cyril Abiteboul too nervous. Ahead of the French Grand Prix, getting this result was very important to the team after its early-season under-performance and Hulk was called off. It isn't a policy, Abiteboul was keen to emphasise, but under the circumstances the call was made. Much to Hülkenberg's displeasure. Gasly never did find a way around them and this must count as a disappointing performance despite the extenuating overheating in traffic circumstances.
Stroll stopped on lap 45 and emerged 10th, between Sainz and Kvyat. The McLaren's tyres — on since lap three because of that blocked brake duct – were by now very tired and Stroll was able to pass into the final chicane. As Sainz slowed himself through there defending, so Kvyat got a run on him too, and passed for 10th into Turn One. Perez was just a few seconds back from there, with Giovinazzi next after a spin through Turn 1-2. As usual, the Haas cars just had no race pace at all once the tyres were three laps old, Magnussen even told on the radio to quit moaning about it by Gunther Steiner. Grosjean at least managed to stay ahead of Räikkönen and Russell. But K Mag was sandwiched between the Williams pair of Russell and Kubica. Albon's long day after his lap one pit stop was brought to a close a few laps from home to save on engine and gearbox mileage.
Still the Vettel-Hamilton struggle was not settled. The gap ebbed and flowed as Vettel was forced to keep his fuel on schedule. But even as Hamilton got into DRS range on lap 39/40 he could make no further headway. "He was so quick on the straights," said Hamilton. "They definitely have another power mode that we currently don't have. So, all of a sudden they turn up the power and he pulls away massively on the straight, even if I have DRS open."
Hamilton locked up at the hairpin at this point, losing him a few tenths and causing him to ease off and cool everything down for a few laps. He was back in DRS range again between laps 45-48 and began piling on the pressure. "Because I couldn't really get close enough to pass, I was hoping by now to try to force a mistake from him. I was quicker at that point and trying to apply pressure. It's not too often you can push a four-time world champion into making an error. But it came."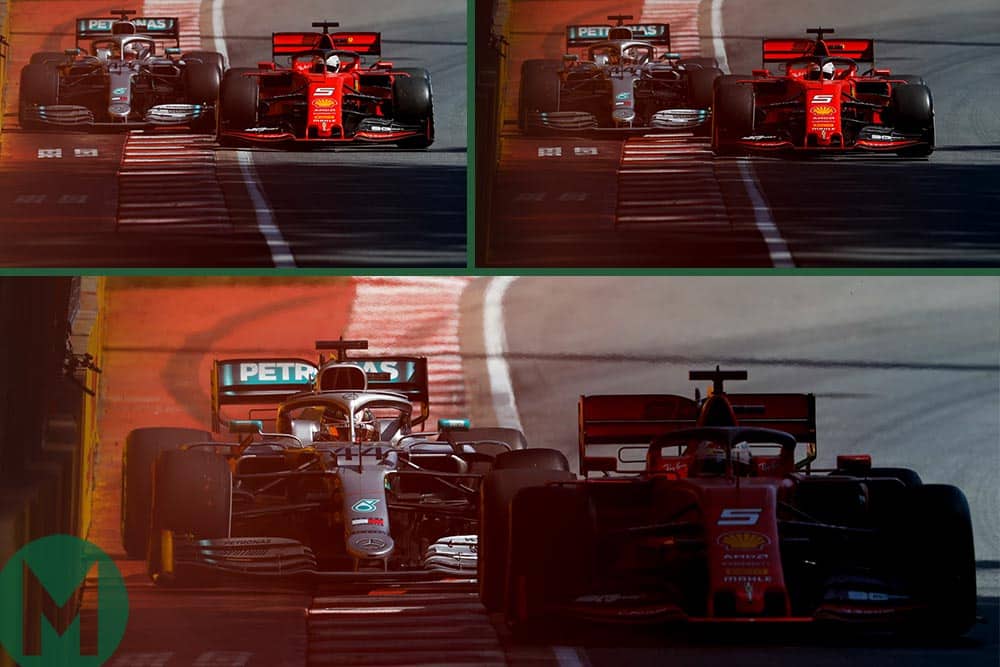 The race-defining moment Photo: Motorsport Images
Indeed it did. Turning into Turn Three on lap 49, the rear of the Ferrari stepped way out of line. There was no way he was going to stay on the track and save it and he opened out the steering and took to the grass on the left, rejoining still sliding wildly and with dust and grass on his tyres. As he was wrestling with it, trying to keep it from the Turn Four wall, so Hamilton was gaining ground fast and potentially primed to pass the slowed Ferrari on the outside. But the gap between Ferrari and wall was closing fast as Vettel slid out there – and Hamilton was forced to brake to avoid contact. That seemed to have brought Hamilton's challenge up short, and he radioed in soon after that the window [of opportunity] had gone. Possibly for the benefit of race control…
The stewards were looking at the incident, it was announced. Eight laps later, it was confirmed that Vettel would be subject to a five-second penalty. Which essentially secured Hamilton the win. All he needed to do now was stay a close second.
Vettel tried for a time to sprint clear, but he was never going to get the gap out to five seconds – especially after having to back off once more to save the fuel. In fact, even Leclerc, making a late charge on his fresher tyres, was in range to get to within less than five seconds by the end and thereby take an official second. Ferrari at this point was so concerned managing Vettel's race that it forgot to alert Leclerc to Vettel's penalty. Vettel made second place by the margin of a second over Leclerc.
Bottas took a free stop two laps from the end without losing his fourth place, had a set of softs fitted and duly took the point for fastest lap.
Vettel's Ferrari took the chequered flag. But not the victory. "No, no, no, no. Not like this," he radioed. "You need to be a blind man to think I can go through the grass and control the car. This is a wrong world."
It was all in the emotion of the moment. But even though the manner was calmer later, the belief was unchanged.
Hamilton hauls Vettel up to stand beside him on the top step of the podium Photo: Motorsport Images
Ferrari team principal Mattia Binotto tells Mark Hughes how he plans to return the team to winning ways: Exclusively in this month's Motor Sport magazine
Scroll down for full results and championship standings
2019 Canadian Grand Prix results
| | | | | |
| --- | --- | --- | --- | --- |
| Position | Driver | Team | Time | Points |
| 1 | Lewis Hamilton | Mercedes | 1hr 29min 7.084sec | 25 |
| 2 | Sebastian Vettel | Ferrari | +3.658sec* | 18 |
| 3 | Charles Leclerc | Ferrari | +4.696sec | 15 |
| 4 | Valtteri Bottas | Mercedes | +51.043sec | 13** |
| 5 | Max Verstappen | Red Bull | +57.655sec | 10 |
| 6 | Daniel Ricciardo | Renault | +1 lap | 8 |
| 7 | Nico Hülkenberg | Renault | +1 lap | 6 |
| 8 | Pierre Gasly | Red Bull | +1 lap | 4 |
| 9 | Lance Stroll | Racing Point | +1 lap | 2 |
| 10 | Daniil Kvyat | Toro Rosso | +1 lap | 1 |
| 11 | Carlos Sainz | McLaren | +1 lap | 0 |
| 12 | Sergio Perez | Racing Point | +1 lap | 0 |
| 13 | Antonio Giovinazzi | Alfa Romeo | +1 lap | 0 |
| 14 | Romain Grosjean | Haas | +1 lap | 0 |
| 15 | Kimi Räikkönen | Alfa Romeo | +1 lap | 0 |
| 16 | George Russell | Williams | +2 laps | 0 |
| 17 | Kevin Magnussen | Haas | +2 laps | 0 |
| 18 | Robert Kubica | Williams | +3 laps | 0 |
| RET | Alexander Albon | Toro Rosso | | 0 |
| RET | Lando Norris | McLaren | | 0 |
*Includes 5 second time penalty
**Includes point for fastest lap
F1 drivers' championship after Race 7 (Canada)
| | | | |
| --- | --- | --- | --- |
| Position | Driver | Team | Points |
| 1 | Lewis Hamilton | Mercedes | 162 |
| 2 | Valtteri Bottas | Mercedes | 133 |
| 3 | Sebastian Vettel | Ferrari | 100 |
| 4 | Max Verstappen | Red Bull | 88 |
| 5 | Charles Leclerc | Ferrari | 72 |
| 6 | Pierre Gasly | Red Bull | 36 |
| 7 | Carlos Sainz | McLaren | 18 |
| 8 | Daniel Ricciardo | Renault | 16 |
| 9 | Kevin Magnussen | Haas | 14 |
| 10 | Sergio Perez | Racing Point | 13 |
| 11 | Kimi Räikkönen | Alfa Romeo | 13 |
| 12 | Lando Norris | McLaren | 12 |
| 13 | Nico Hülkenberg | Renault | 12 |
| 14 | Daniil Kvyat | Toro Rosso | 10 |
| 15 | Alexander Albon | Toro Rosso | 7 |
| 16 | Lance Stroll | Racing Point | 6 |
| 17 | Romain Grosjean | Haas | 2 |
| 18 | Antonio Giovinazzi | Alfa Romeo | 0 |
| 19 | George Russell | Williams | 0 |
| 20 | Robert Kubica | Williams | 0 |
F1 constructors' championship after Race 7 (Canada)
| | | |
| --- | --- | --- |
| Position | Team | Points |
| 1 | Mercedes | 295 |
| 2 | Ferrari | 172 |
| 3 | Red Bull | 124 |
| 4 | McLaren | 30 |
| 5 | Renault | 28 |
| 6 | Racing Point | 19 |
| 7 | Toro Rosso | 17 |
| 8 | Haas | 16 |
| 9 | Alfa Romeo | 13 |
| 10 | Williams | 0 |