It's also the first chance Lewis Hamilton has to take a 92nd and record-setting victory to move one clear of Michael Schumacher, having equalled the seven-time champion in the last race.
A 69-point lead in the championship is a healthy advantage to carry into the final phase of the season, but no matter the result in Portimão, the drivers' championship will go to the next round at Imola. Another retirement for Valtteri Bottas would spell disaster for his season and turn a difficult task into borderline impossible, setting Hamilton up with the chance to win title number seven in San Marino.
At circuits F1 has not visited in recent years that have been added to the 2020 calendar, Bottas has arguably performed at his highest levels across the season, though both Saturday's at Mugello and the Nürburgring didn't translate to a race-winning Sunday performance.
Portimão might be his final chance to kick-start a late-season title resurgence.
Red Bull
Again Red Bull's drivers enjoyed/endured an afternoon of differing fortunes. While Max Verstappen kept up his record of finishing on the podium every time he has seen the flag, Alex Albon suffered a demoralising DNF after a messy race up to that point.
A more positive note for the team is the development of the RB16 and apparent solving of the rear-end instability it has put up with since winter testing.
Could the Portuguese Grand Prix be the start of a Red Bull comeback and make the final phase of the season a closely-fought affair? If that is the case it seems that Verstappen will be the only Bull fighting at the front with Albon still struggling to get on similar terms as the Dutchman.
Renault
Renault has slowly but surely been clawing itself back towards the top of the midfield since the start of the season.
A number of close calls earlier in the season finally gave way to that breakthrough podium for Renault, its first since the factory team returned in 2016.
The improvements have been clear on track as the team has overturned McLaren's early-season advantage and Daniel Ricciardo's Eifel GP podium was an overdue reward.
Ricciardo says there is more to come from the French team before the season is out and that ahead of returning to a venue where he has enjoyed past success: "We've had a couple of fourth places this year, so close to third, and it felt like it would happen. Persistence pays off and I'm really happy for the team and the hard work everyone has been putting in for a few years now. We're not finished yet, though. I think there's another one in us before the year is out.
"I actually have some good memories from racing in Portimão. The first time I raced there was in 2009 in British Formula 3, and I wrapped up the title there that year. It was the penultimate round; I was on the podium in the first race then I finished fifth in the second race, but it was good enough to take the title.
"Earlier that year, I had my first taste of a Formula Renault 3.5 car there too. It's a circuit I really enjoyed back then, so I'm sure it'll be even better in a modern Formula 1 car!"
McLaren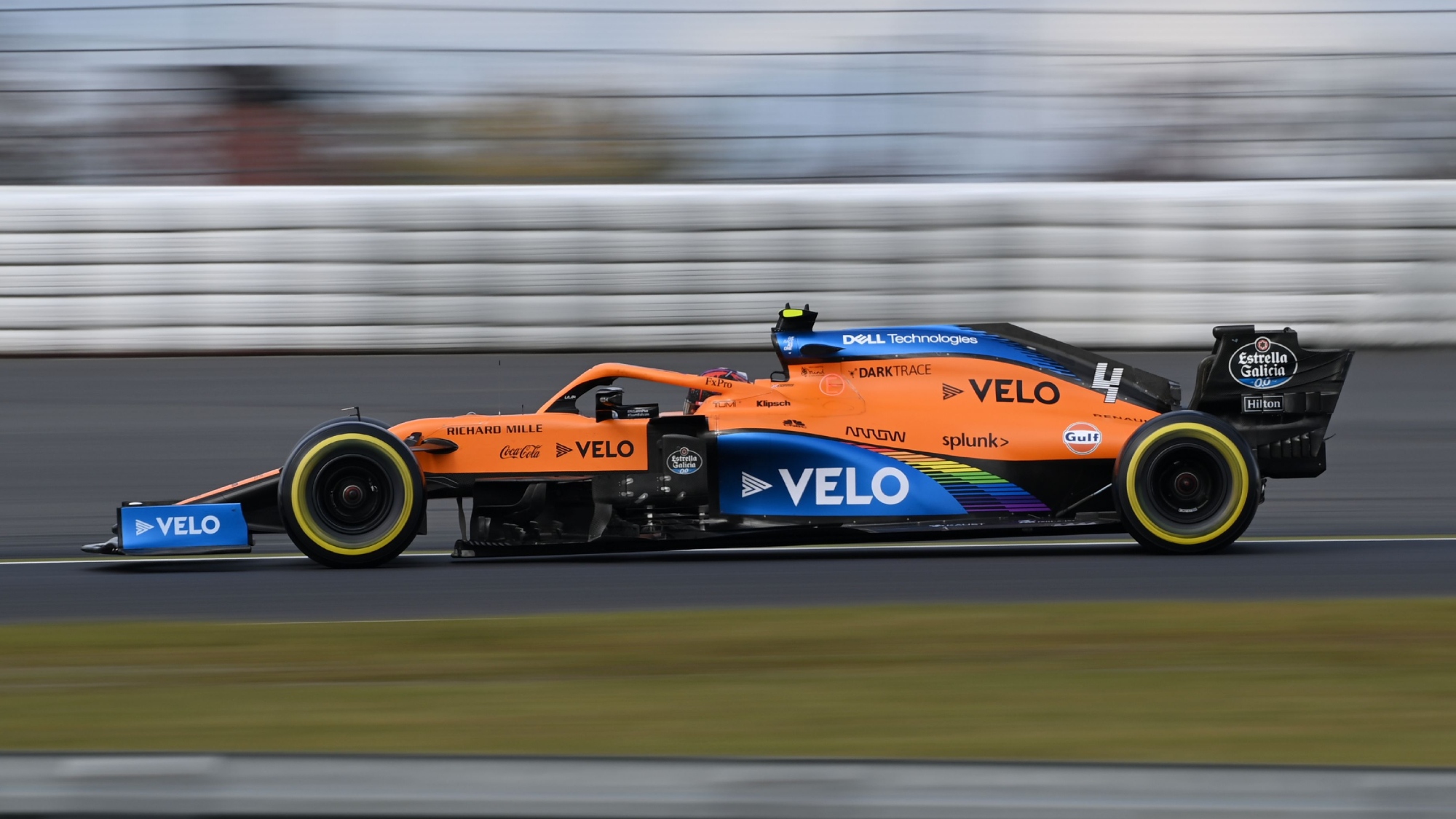 Despite losing ground to Renault in the race to third in the constructors' standings, McLaren says it will continue to persevere with its new aero concept around the front of its 2020 car.
A shift toward the Mercedes nose concept has lost the team some of the performance advantage it enjoyed earlier in the year against its closest rivals, but the Woking outfit will keep pursuing gains with the development path.
"As we prepare to head to Portugal, our focus since Germany has been on analysing and understanding the data we gathered at the Nürburgring so that we come to the right conclusions and find the best way to progress," team principal Andreas Seidl said.
"Based on that analysis we will continue to use our new nose box aero concept combined with a known competitive car configuration. We will continue to bring more new upgrades to the car to test on Friday and also further explore and quantify our new aero concept.
"It's great to be heading to Portugal and to a new track this season especially with the circumstances that this year has brought. This will be the first time that Formula 1 has raced at the Portimão circuit with it only being used for winter testing during the 2008 – 2009 season.
"Similar to Mugello, the Portimão circuit is an unknown with limited historic data on the track, so we're trying to understand how current F1 cars will perform through simulation. I'm sure it will be a good test for all teams and drivers to fully understand the track and best prepare for qualifying and the race."
Racing Point
Racing Point said that Nico Hülkenberg wouldn't be back in the car, but they may have checked his availability all the same after the Eifel GP, with Lance Stroll confirming he tested positive for Covid-19 following the race in Germany, which he missed.
Stroll has said that he will be back in the car, having recovered from the virus and posted to his social media updating fans on the situation.
"On Saturday morning I started to feel unwell and woke up with an upset stomach. I followed the FIA protocol and self-isolated in my motorhome and did not re-enter the paddock.
"I wasn't fit to race so I flew home early Sunday morning. As I was still feeling under the weather I took a Covid test on Sunday evening.
"The next day the results came back positive, so I stayed at home self-isolating for the next 10 days. Luckily, my symptoms were pretty mild.
"I was tested again on Monday this week and my results were negative. I feel in great shape and I can't wait to be back with the team and to race in Portugal."
Just six points separate the team in third from Renault in fifth place with McLaren in between. The fight between all three teams looks set to carry on until Abu Dhabi so getting to grips with the new circuit will be crucial.
Ferrari
Ferrari struggled to maximise its race in Germany and had to make do with seventh place for Charles Leclerc. It was another point-less afternoon for Sebastian Vettel in P11.
The team couldn't adapt to the colder temperatures and the relative unknown of the Nürburgring versus its rivals.
With warmer temperatures expected, the conditions are set to be more in line with what teams usually face on a GP weekend but Ferrari can't afford many more off weekends with AlphaTauri not too far behind the Scuderia in the championship standings.
"The teams have several tools at their disposal, including opting for a set-up that minimises this risk, working on brake cooling and getting the driver to adjust his driving style to suit the situation," Ferrari's head of strategy Iñaki Rueda said.
"In Germany, several drivers suffered from graining, others did not, as was the case with Sebastian in the final stint on Softs. As is so often the case, it's all about finding the right compromise."
AlphaTauri
It was a mixed afternoon for the AlphaTauri drivers in Germany, as Pierre Gasly secured another points finish while team-mate Daniil Kvyat suffered a setback after contact with Albon.
While the Russian has borne the brunt of the misfortune lately, both drivers will be going into the Portuguese Grand Prix on equal footing, with neither having prior experience of the circuit.
"I have never been to Portimão, but I have had two days in the simulator to prepare for it, as well as Imola," Gasly said.
"It will be exciting going to two tracks I don't know, even if I have driven a handful of laps at Imola. I find it interesting going to new places: already this year we have had Mugello, where I had never raced, and also Nürburgring was the first time for me in a Formula 1 car and I have enjoyed that.
"Portimão looks to be a very nice track, with plenty of elevation changes and some unusual corners, and although I think a few teams tested there many years ago, it has never really been used for Formula 1. It will be important therefore for the team to be well prepared and to do a good job in free practice. Let's see how we go there. At the moment, we seem quite strong on Sundays, managing to fight for points, even if we struggle a bit in qualifying.
"I am looking forward to it and looking forward to some warmer weather, as it was really cold at the Nürburgring, so it will be nice to return to more normal conditions."
Alfa Romeo
As rumours continue to flow about the future of Alfa Romeo's two drivers, Antonio Giovinazzi didn't do his chances any harm by scoring points at the Eifel GP while Kimi Räikkönen endured a rather untidy afternoon, considering he became F1's most experienced driver in the process.
The team has done a better job than Haas and Williams in putting itself in advantageous positions to score points in races, and the points in Germany were the second occasion in the past three events where Alfa Romeo has added to its constructors' total.
After the washout at the Nürburgring on Friday, there won't be a chance for Mick Schumacher or Callum Ilott to get an opportunity in FP1; the Formula 2 paddock is not in town this weekend.
Haas
Haas took a gamble with Romain Grosjean and it paid off with points at the Eifel GP. The team will likely need similar luck to score points again, but with a new circuit they might just get another chance immediately.
It has struggled in 2020 to find any improvements to the car and have admittedly refocused efforts on future seasons, but the Portuguese GP is another unpredictable round where, if the team gets to grips with the track quickly, they might be in with a chance on Sunday of more points.
"I think this year, with the exception of the high-speed tracks like Monza and Spa, the rest of the circuits are very similar," team boss Gunther Steiner said.
"As long as we don't have really long straights, the car is just where we are – and that's not in our best year. In general, I quite like the challenge of having a new track and the opportunity to learn new things.
"It looks like in those circumstances we perform better. With more unknowns there are more things we bring to the table which can help us. We don't have the resources of the bigger teams and the experience of having been at circuits for many years. Every new race track has new challenges, and it seems like with the new challenges – our guys react pretty quickly. Let's hope this happens also in Portimão."
Williams
Another team that could use some luck, Williams is actually the most recent winner of the Portuguese Grand Prix, taking victory at Estoril with Jacques Villeneuve back in 1996.
While it would take some miracle for the team to go on and repeat the feat in 2020, it will be a step into the unknown for all teams, and that could lead to an interesting weekend according to head of vehicle performance, Dave Robson.
"Portimão is a modern facility with an interesting layout, reminiscent of Barcelona, but with much more elevation change. The final high-speed corner, which returns the cars to the main straight is likely to become a favourite with the drivers," Robson said.
"Pirelli have brought their hardest tyre compounds to this event and have also brought more Hard tyres than usual. Depending on the nature of the asphalt and the temperature we find, this may prove to be quite conservative. However, as it is the same for all teams, then it is something that we will need to embrace and make the most of.
"The tyre grip will dictate the downforce level that teams choose to run and one of our main objectives on Friday will be to understand the trades of different rear wing levels. We have some new aerodynamic test parts this weekend and the drivers will share the programme to understand if the new components are behaving as expected.
"We have a busy few days ahead of us and are looking forward to a new venue, some warm sunshine and a productive weekend."