2020 Hungarian Grand Prix qualifying: Mercedes finally reveals its true pace
- Last updated: December 3rd 2020
Almost a second ahead of the Racing Points on the second row, Lewis Hamilton starts on pole for the 2020 Hungarian Grand Prix, as Mercedes shows its full pace for the first time this season
Hungary's Q3 classification made for sobering reading if you happened to be sat in anything other than a Mercedes; be that black, or pink.
The black ones were scary beyond measure. Well, no, that's actually quite a poor turn of phrase because the clock measured their superiority all too well. Lewis Hamilton and Valtteri Bottas were in an entirely different contest from everyone else, almost a full second clear of Racing Point.
When Red Bull looked close for race pace in the first Austrian race, some held out the hope that Budapest might even flip the margins around. Max Verstappen, after all, took his first pole in Hungary last year and was only just pipped at the death by an inspired Hamilton after a strategy gamble by his team. And, if the Mercedes energises its tyres so well, might that even translate into a handicap on a delicate soft compound Pirelli in 50-degree track temperatures so often a feature of Budapest? And Mercedes wouldn't have the benefit of more efficient energy deployment that it enjoyed on Austria's long straights.
When Hamilton topped FP1 on the hard compound Pirelli , the alarm bells started ringing.
So, what transpired to make Lewis Hamilton 1.4sec quicker over a sub-75sec lap en route to his 90th F1 pole position?
First off, who knew precisely what Mercedes had in hand in Austria? Hamilton admitted that he ran only as hard as he needed to keep his tyres in good shape. Second, with Monaco not on the 2020 schedule, Budapest is the highest downforce track on the calendar. Coming so early in the revised Covid calendar, here we would see everyone throw on all the downforce they had and show their hands.
When Hamilton topped FP1 on the hard compound Pirelli with everyone else in the top 10 on softs or mediums, the alarm bells started ringing. He was half a second quicker than the first of the Racing Points and 1.4sec quicker than Verstappen's Red Bull. Ah yes, but it was all about the high downforce Merc switching on the hards, while the softs struggled with graining in unusually low mid-twenties track temperature. Surely it wouldn't be like that on Saturday afternoon…
But it was, only worse:
1. Hamilton, 1min 13.447sec
2. Bottas, 1min 13.554sec
3. Lance Stroll 1min 14.377sec
…
7. Verstappen, 1min 14.849sec
The W11 looked absolutely planted everywhere. "Turn 11 is nearly flat, which is insane," Hamilton smiled. "It's impressive to see how the technology advances and it's particularly good in the high-speed – Turns Four, Eight/Nine and 11."
But, he added, no matter what it looked like, he was still having to work. "I'm connected with it, yes, but it's definitely not on rails! And Valtteri doesn't make it easy for me."
Already, it looks as if the Finn is the only thing that can come between Lewis and title number seven.
If a man who was bounced out in Q1 some 14 times last season is the next quickest on tomorrow's grid, you will inevitably get a bit more speculation about how much closer Sebastian Vettel might have been in a year-old Mercedes.
Which, no doubt, went part of the way to explaining why a second row starting slot did not exactly have Sergio Perez bursting with enthusiasm. He was almost a couple of tenths behind the Canadian and no doubt acutely aware that this was bad timing.
"I didn't feel 100 per cent physically," Sergio explained. "I was getting dizzy in the car and need to get checked out with my physio." On the positive side for Checo was stronger wet weather performance in the rain of FP2 on Friday, with the potential for more on race day. Anticipate a keen battle – and team principal Otmar Szafnauer will be hoping it's not too keen – between a second set of team mates tomorrow.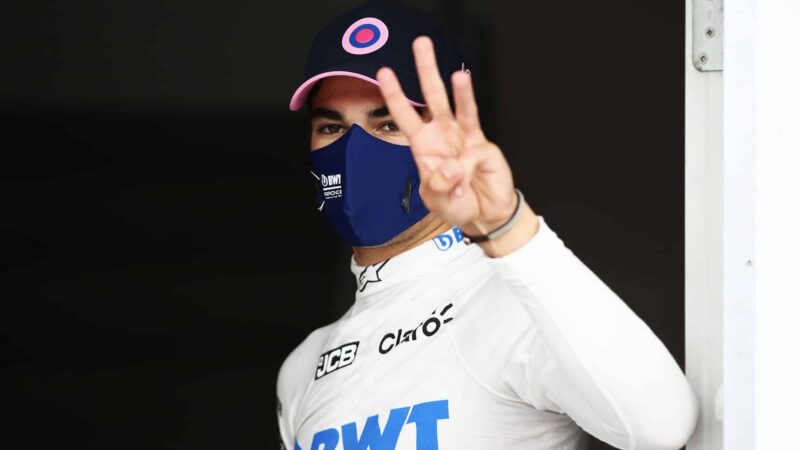 Hungaroring is not a power sensitive track and so Ferrari was not in as much Saturday afternoon trouble as in Austria following the raft of engine technical directives and its hush-hush deal with the FIA at the end of last year.
Sebastian Vettel got the first of the red cars around in 1min 14.774sec, light years away from Mercedes but only a quarter of a second shy of Perez.
"Austria didn't suit us and we lost a lot of time on the straights," Vettel admitted, "but we're much closer to Racing Point, Red Bull and McLaren."
They are, but we have to factor in that both Mercedes and Racing Point cleared Q2 on the medium compound Pirell – a bit of a gamble by the latter – and will thus start the race on the better tyre.
Charles Leclerc lines up sixth, four hundredths behind Vettel and admitted to struggling in Q1, where he was only 13th. His first Q3 run also included a tank-slapper but he pulled together a better second lap and is confident that Ferrari's race pace will be better than its one-lap speed.
After a black front row, a pink second row and a red third row, Verstappen lapped the first Red Bull 0.03sec slower than Leclerc's Ferrari for seventh on the grid, his worst Q3 result since Monza 2018.
From first thing Friday the RB16 looked tricky, Alex Albon's particularly. The team tried a myriad of set-up changes, even breaking the curfew on Friday night, but to no avail.
"I just don't know why we have no pace," Verstappen shrugged. "Something's not working. Last year we had a really good balance here [witness pole position]. We tried lots of things but still it didn't work. We'll have to wait and see tomorrow but it's hard to overtake here…"
He's not wrong there, but you've got to hope he's too young to have ever watched Thierry Boutsen holding off Ayrton Senna for half an afternoon in Budapest. If anyone can overtake, it's Max, but he will also start the race on the trickier soft tyre.
As, just behind him, will the two McLarens. Lando Norris again got the better of Carlos Sainz, this time by just 0.06sec. Neither driver was happy on Friday, finding the MCL35 unpredictable, but the qualifying balance was better, although not as benign and driveable as in Austria.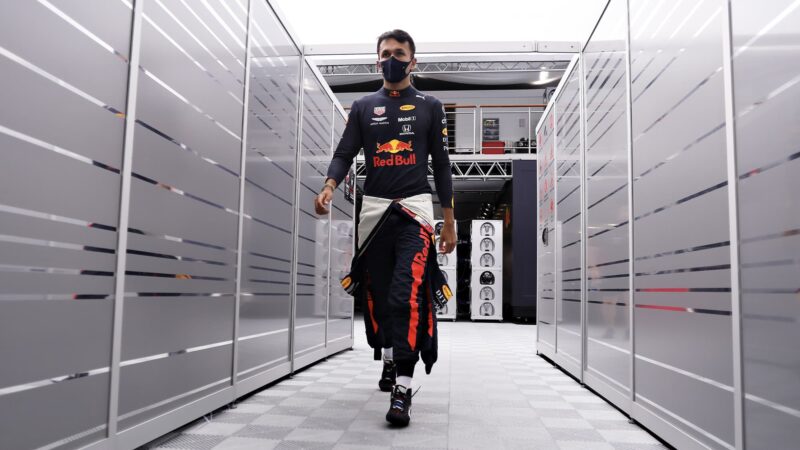 Pierre Gasly turned in another fine performance to complete the top 10 for AlphaTauri. It was particularly commendable given that Gasly had missed the entire dry FP1 session due to a Honda sensor problem and was still complaining of engine issues in qualifying. Once told over the radio that it couldn't be fixed until after the session and to just forget about it, he did just that! However, the issue prevented him from setting a time in Q3.
Ironically, it was here last year that Gasly's race pace was insufficient to keep the pressure on Mercedes, which allowed Hamilton to make a second stop and chase down Verstappen on fresh tyres. Which may have been an influencing factor in his demotion from the Red Bull senior team in favour of Alex Albon.
It is now Albon's turn to feel the heat. Not only does he have to contend with Verstappen but now also with a tricky-handling RB16 with a propensity to swap ends on him with just the slightest provocation. Or else to understeer instead.
"I don't know what's going on there…" said Albon's old mucker George Russell. "I've been in the same paddock as Alex for 15 years. He's being made to look an idiot and he absolutely isn't."
As well as the car issues, traffic also prevented proper tyre preparation for Albon's second Q3 run and he wore the countenance of a worried, frustrated driver, missing the Q2 cut by a couple of tenths.
The news that Russell himself will remain at Williams for a third season, his Mercedes dream dashed for the moment, had done nothing to dull his appetite. For the second successive race he turned in a stunning Q2 lap and will start 12th, just 0.03sec behind Daniel Ricciardo's Renault. This time though, team-mate Latifi also joined him in Q2, pipping Kevin Magnussen's Haas by 0.05sec as all four Ferrari customer cars plus Kvyat's AlphaTauri failed to make the Q1 cut.
Both Ricciardo and Ocon were happy with the Renault on Friday, fifth and 10th respectively in FP1. Like Mercedes and Racing Point, they elected to run the medium Pirelli for the first Q2 runs but had to switch to the soft, on which they still didn't quite have sufficient pace, struggling for warm-up and grip. As the first car with freedom of tyre choice tomorrow though, Ricciardo especially could be a nuisance to the Ferraris, McLarens and even Verstappen. That's if it doesn't rain…
Whether it does or it doesn't, you can't look beyond a black Mercedes for the 25 points. The smart money is on Hamilton equalling another Schumacher record and winning the same Grand Prix for the eighth time.
---
Follow Motor Sport for in-depth Hungarian GP coverage from Chris Medland and Mark Hughes
Sign up to the F1 newsletter
---
2020 Hungarian Grand Prix qualifying results
Position
Driver
Team
Time
1
Lewis Hamilton
Mercedes
1min 13.447sec
2
Valtteri Bottas
Mercedes
1min 3.554sec
3
Lance Stroll
Racing Point
1min 14.377sec
4
Sergio Perez
Racing Point
1min 14.545sec
5
Sebastian Vettel
Ferrari
1min 14.774sec
6
Charles Leclerc
Ferrari
1min 14.817sec
7
Max Verstappen
Red Bull
1min 14.849sec
8
Lando Norris
McLaren
1min 14.966sec
9
Carlos Sainz
McLaren
1min 15.027sec
10
Pierre Gasly
AlphaTauri
1min 15.508sec*
Q2 times
11
Daniel Ricciardo
Renault
1min 15.661sec
12
George Russell
Williams
1min 15.698sec
13
Alex Albon
Red Bull
1min 15.715sec
14
Esteban Ocon
Renault
1min 15.742sec
15
Nicholas Latifi
Williams
1min 16.544sec
Q1 times
16
Kevin Magnussen
Haas
1min 16.152sec
17
Daniil Kvyat
AlphaTauri
1min 16.204sec
18
Romain Grosjean
Haas
1min 16.407sec
19
Antonio Giovinazzi
Alfa Romeo
1min 16.506sec
20
Kimi Räikkönen
Alfa Romeo
1min 16.614sec
*Q2 time — did not run in Q3