At that point, it was advantage Verstappen, and it appeared to be game, set and match when Hamilton made an uncharacteristic error trying to lap Russell. The seven-time champion braking off the dry line approaching Tosa and sliding into the gravel, where he then clumsily broke his front wing and had to reverse out, losing a lap after pitting.
"There was only one dry line and I guess I was in a bit too much of a hurry to get by everyone," Hamilton said. "Came to the inside and I could see it was wet, I was trying to stop but the thing wouldn't stop and it sent me off.
"It just wouldn't go to reverse. I was holding the reverse button and it took forever to engage. I didn't think it was going to work. I tried reversing and tried to do a burnout spin to get going but ended up back in the barrier. It took a long time to get it back into reverse. When I was reversing I was like 'I've just got to keep going backwards' and work my way out in reverse. If I hadn't done that I would probably still be there. Grateful for it."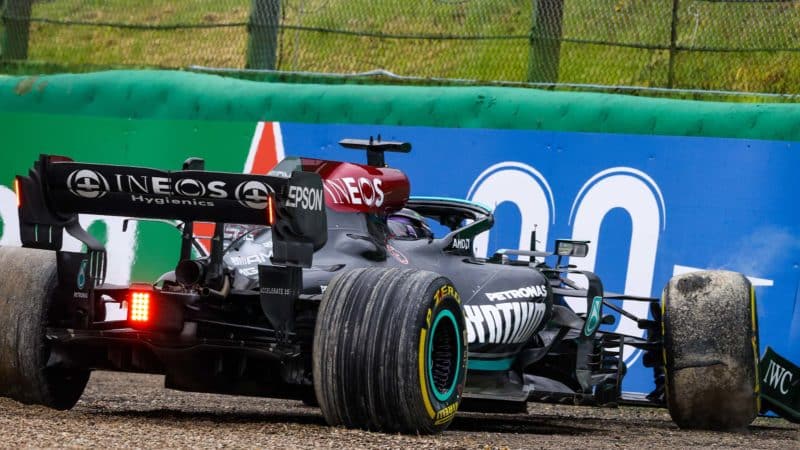 But Russell was about to become even more central to the biggest moment in the race as he tried to overtake Bottas on the flat-out run to the Tamburello Chicane. As the track kinked left, Russell went to the outside and onto the wet part of track, reacting to what he perceived to be an intentional twitch from Bottas and dipping a wheel on the grass. The crash that followed was huge as they collected each other at close to 200mph, with the red flag required to clear the debris.
Both drivers were able to climb out, but both were angry. Russell approached Bottas – still sat in his car at this stage catching his breath – and remonstrated with him.
"I was coming on Valtteri massively fast," Russell said. "I had the slipsteam, I had the DRS, just as I pulled out he jolted very, very slightly to the right, which is a tactical defence that drivers of the past used to do. The sort of (Max) Verstappen move of 2015, there's a gentleman's agreement that that is not what you do because it's incredibly dangerous.
"In completely dry conditions I would have been fine but it just put me onto the wet patch and I lost it. An unfortunate incident but we are going at 200mph you need to respect the speed and the conditions. One of those things.
"I asked him if he was trying to kill us both. We're going incredibly fast, we know the conditions… in his eyes he's not really fighting for anything, a P9 for him is nothing, but for us it's everything. I'm going for absolutely everything, the move would have been absolutely easy. There was absolutely no reason to jolt like that. It's a gentleman's agreement between the drivers because we've always said it will cause a massive collision one day and here we are."
For his part, Bottas couldn't hear what Russell was saying but duly raised his middle finger in response, leading the Williams driver to tap his helmet in frustration.