The fairytale story at Aston Martin was almost over before it began as Lewis Hamilton put a strong move on Fernando Alonso into Turn 4 to take fifth spot behind Perez and Carlos Sainz, but with Alonso turning in for a late apex his team-mate Lance Stroll was arriving far too quickly and hit the Spaniard's right rear corner.
"Really lucky, really lucky," Stroll admitted afterwards, with his broken wrists being painfully tested in the incident. "I braked late to stay in front of George [Russell]. Fernando went for it, cut back on Hamilton in Turn 4 and just really bad timing we came together. So really lucky to get away with that one."
Alonso was quickly on the radio to complain about being hit by another driver, unaware it was his team-mate who had caused it, but after losing another place to Russell as a result of the clash, he was able to compose himself.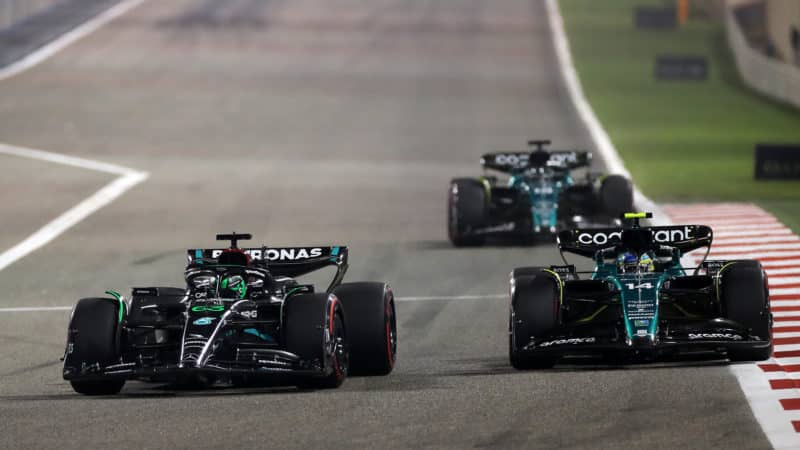 As the pitstops kicked in early with 19 of the 20 drivers started on softs – Kevin Magnussen the outlier on hards – Alonso started his fightback. Lap 13 was a busy one as the Spaniard set-up Russell at Turn 1 before getting the move done through Turn 4 and Turn 5, triggering a pit stop from Russell.
The Mercedes came in after Leclerc entered the pits from second place and Sainz followed him for a smart double-stack from Ferrari, but it was at McLaren where a tough start to the season got worse as Oscar Piastri reported a gearshift issue and came into the pits. A change of steering wheel didn't solve the problem and the rookie became the first retirement having had a solid opening to the race.
Another rookie running well was Logan Sargeant, closely matching Alex Albon in the early stages as Williams opted to stay on the soft tyres at its first pitstops and moved into points contention. It was a strategy mirrored by Red Bull, and with the rest of the field on hards it allowed Perez to easily get Leclerc down the inside into Turn 1 for a second place he would not relinquish.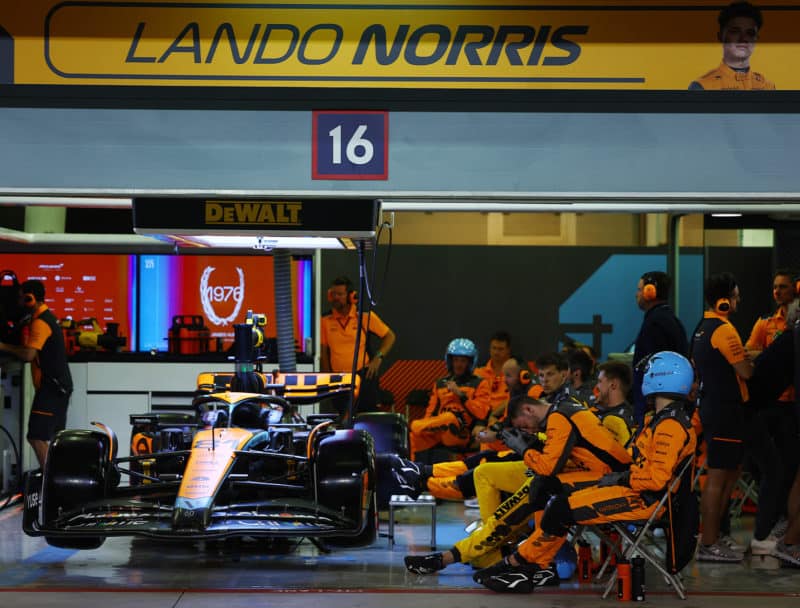 "It was a shame that we lost a position to Charles because that really prevented us to be able to fight for the win," Perez said. "Once we lost so many seconds to Max it was game over, it was more about getting Charles, because he was very strong in that first stint with his new tyres."
Verstappen by now was a dozen seconds up the road and already managing the race, but a great fight was developing behind. First, Stroll made an earlier second stop to use fresh rubber to close up on Russell, then pulled a good move around the outside of the Mercedes into Turn 4 to climb into seventh place.
"Today we were fighting for big things"
Having made his own second stop on lap 34 — four laps later than his team-mate — Alonso then also cleared the Mercedes he was chasing. Getting down the inside of Hamilton into Turn 4 on Lap 37, Alonso lit up the rears in a sign that he wasn't fully happy with his car's power delivery, and Hamilton was back through. Two laps later, though, and he positioned his Aston Martin cleverly for a number of corners before diving down the inside into Turn 10 to take fifth.
"I enjoyed it because you ended up in front!" Alonso said. "That's always the same thing in any battle. But when you fight at the front and with these great drivers, great champions, it is a little bit more intense, more adrenaline when you are wheel to wheel. I didn't want to have any mistake or any contact, because when you are P12 you lose nothing, but today we were fighting for big things."