Bottas confounds predictions with pole: 2021 Mexican GP qualifying round-up
Valtteri Bottas set a scorching pace under the Mexican sun to take pole for tomorrow's race, with Lewis Hamilton second and Max Verstappen third
Qualifying predictions for the 2021 Mexican GP were completely contradicted as Valtteri Bottas took pole, with Lewis Hamilton coming in just behind him, the Mercedes cars locking out the front row.
A Red Bull slipstream manoeuvre went wrong as Sergio Perez went off track, meaning Max Verstappen could only managed third, with his team-mate next to him on the grid tomorrow.
The Mercedes looked increasingly strong throughout the session, while Red Bull appeared to be on the back foot despite going into qualifying as favourites. Mechanics were working on the cars' rear wings as Q1 started, and Verstappen never looked comfortable with his car.
Lando Norris set tenth quickest time, but will start at the back due to an engine penalty, with Fernando Alonso making a surprise exit in Q1.
Q1
Cars were initially hesitant to head out onto the Autodromo Hermanos Rodriguez, the Haas pair and Kimi Räikkönen the first to emerge three minutes into the session.
It was the Finn that clocked a time immediately faster than the two backmarkers, a 1min 19.108sec putting him first.
Antonio Giovinazzi bested his team-mate by almost three tenths, before Charles Leclerc cleared them both – a 1min 17.991sec enough to go fastest on the soft tyre.
There was only one man the Mexican crowd wanted to see though, the grandstands erupting as Sergio Perez headed out to set a lap.
He wouldn't get a chance though, as Lance Stroll had a sizeable accident out of the final corner, losing the rear of his car on the still extremely dusty edge of the circuit and smashing into the barriers.
The Canadian emerged unscathed as marshals began the clear-up under a red flag, before the session restarted again on 10min 58secs.
The pause in proceedings had given Red Bull chance to add even more enforcements to its rear wings, as a "safety precaution", so the team said.
A gaggle of cars fought for track position as the session got back underway. One of them was Carlos Sainz, who initially struggled to find any power.
His team sent him some instructions, and his Ferrari burst back into life, crisis averted.
Once the fast times came in, it was Valtteri Bottas who went fastest with a 1min 17.516sec.
But then, the crowd got what they wanted – Sergio Perez flashed up top of the timing screens, half a tenth faster.
Ecstasy was transformed into agony in an instant though as Max Verstappen went six tenths quicker than the local hero and the only man to get into the 1min 16s.
The two Mercedes then got in between the Bulls, Bottas filing a 1min 16.959sec as Hamilton went 0.25sec slower.
"Are you having a laugh?" Nikita Mazepin asked when he was told to stay behind his team-mate Mick Schumacher, who he felt was slower. The Russian was told very firmly by his Chief Race Engineer Ayao Komatsu that he was not having a laugh.
The track began to evolve quickly towards the end of the session, affording a lot more grip. A 1min 16.748sec meant Charles Leclerc ultimately clocked the fastest time for a moment, before he was bettered by Bottas who went two hundredths of a second faster as both Mercedes attempted multiple laps.
George Russell managed to haul himself out of Q1, but eliminated were Stroll, Mazepin, Schumacher and Nicholas Latifi respectively, with Fernando Alonso surprisingly also knocked out.
Q2
The Red Bulls headed out first, before Leclerc cheekily nipped in between them in the hope of catching a slipstream. All three cars were on the medium tyre.
Verstappen clocked an astounding 1min 16.483sec as he used the Ferrari slipstream though to go quickest.
A 1min 16.499sec put Hamilton right behind in second, with Bottas in third almost half a second further back.
Leclerc and Perez were less than a tenth off the Finn, with an impressive Daniel Ricciardo within that same tenth.
Yuki Tsunoda then popped up into third with a 1min 16.701sec on soft tyres, the team hoping to use him to help give Pierre Gasly a tow..
Bottas then improved by 0.2sec as cars headed back to be prepared for the second runs.
Sainz headed out first on a new set of mediums, but a rise in track temperatures meant some drivers were struggling to improve.
But not Hamilton – a 1min 16.474 resulted in him going fastest in Q2, before Giovinazzi span off, kissing the barriers but able to continue.
Norris made it through despite not going faster on his second run, but eliminated was Esteban Ocon in 15th, with Giovinazzi, Russell, Räikkönen and Sebastian Vettel ahead of him.
Both Williams were called to the stewards after attempting to get out the pitlane at the same time as the Haas team, pushing both of the American cars over the exit white line.
Q3
The Red Bulls and Ferraris rolled out onto the Mexican asphalt first, the former stamping its authority with first for Verstappen (1min 16.225sec) with Perez a tenth off.
Then the Mercedes cars went even faster – Hamilton chalked a 1min 16.020sec, but he was beaten his team-mate as Bottas set a rapid pace: 1min 15.875sec meant he was quickest.
Norris locked up going into the first corner, skating over the grass and rounding the now-famous bollard.
Verstappen reported that his balance was "Still not good mate, just sliding on the rear".
Things came to a head as the cars went for the final qualifying run of the weekend – Verstappen was closer to Perez on his first outing, hoping to slice off a few tenths with a slipstream.
Things then went wrong for Red Bull though as Perez went off the track – apparently distracted by Tsunoda who was also in the run-off – as he tried in vain to set a faster time, so he remained fourth.
This meant Verstappen had to be wary as he went past both of them, before a lock-up en route to a 1min 16.225sec put him third in the session.
Neither Mercedes were able to improve either, which meant Valtteri Bottas will be on pole for the 2021 Mexican GP, with Hamilton possibly in the box seat as second place can provide a generous slipstream down to the first corner.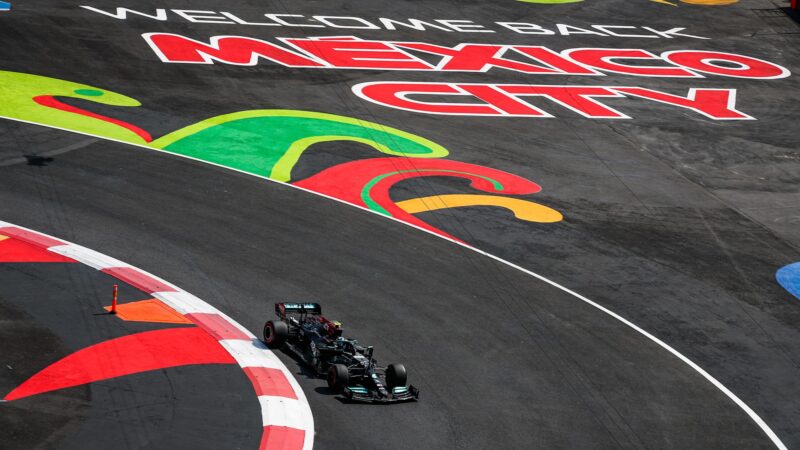 In fifth was Pierre Gasly, continuing his impressive qualifying form this year – Carlos Sainz will line-up alongside him on the grid tomorrow.
Daniel Ricciardo's 1min 16.763sec was just two tenths off the Spaniard, Leclerc another tenth back.
Tsunoda came in ninth-fastest, with Norris rounding out the top ten, however both will start at the back due to engine changes.
2021 Mexican Grand Prix qualifying results
Positions do not take into account grid penalties
Position
Driver
Team
Time (Q3)
1
Valtteri Bottas
Mercedes
1min 15.875sec
2
Lewis Hamilton
Mercedes
1min 16.020sec
3
Max Verstappen
Red Bull
1min 16.225sec
4
Sergio Perez
Red Bull
1min 16.342sec
5
Pierre Gasly
AlphaTauri
1min 16.456sec
6
Carlos Sainz
Ferrari
1min 16.761sec
7
Daniel Ricciardo
McLaren
1min 16.763sec
8
Charles Leclerc
Ferrari
1min 16.837sec
9
Yuki Tsunoda
AlphaTauri
1min 17.158sec
10
Lando Norris
McLaren
1min 36.830sec
Q2 times
11
Sebastian Vettel
Aston Martin
1min 17.746sec
12
Kimi Räikkönen
Alfa Romeo
1min 17.958sec
13
George Russell
Williams
1min 18.172sec
14
Antonio Giovinazzi
Alfa Romeo
1min 18.290sec
15
Esteban Ocon
Alpine
1min 18.405sec
Q1 times
16
Fernando Alonso
Alpine
1min 18.452sec
17
Nicholas Latifi
Williams
1min 18.756sec
18
Mick Schumacher
Haas
1min 18.858sec
19
Nikita Mazepin
Haas
1min 19.303sec
20
Lance Stroll
Aston Martin
1min 20.873sec