The performance in Portugal was a good summary of where the 39-year-old is at right now. He showed flashes of the Alonso we know: third fastest in FP3, until his time was deleted for a track limits violation. He also showed vulnerability in qualifying too – again not unknown in the past – with a spin in Q2 on his first run and a lacklustre second that left him P13, 0.9sec off the pace of Ocon, who qualified a fine sixth (which could have been fifth had he found another 0.003sec).
But the race performance was classic Alonso. OK, he lost a couple of places on the first lap when he ran wide at the hairpin, but with that out of his system, the two-time champion settled into his trademark metronomic rhythm for a long 40-lap opening stint on the medium Pirellis. He was 11th after his stops, then picked off Pierre Gasly, McLaren's Daniel Ricciardo (that must have been sweet) and countryman Carlos Sainz (arguably even sweeter) to finish eighth, just over a second off Ocon's rear wing. Classy.
"It was good, it was fun," he said. "We were fighting with one McLaren, one Ferrari – things that were unthinkable in Imola or Bahrain. So I think we made a big step forward in terms of the car performance.
"I think Saturdays are still my weakness at the moment, to extract the maximum from that one lap performance"
"Bahrain I was more careful on everything, just to complete the first grand prix. Imola I was so uncomfortable in the car with the conditions. This was really the first race where I was extracting the maximum from the car. I was upset after yesterday's qualifying, so today that anger was probably on track as well."
So what chance of some heroics from Alonso this weekend in Barcelona? In truth, probably long. He's still playing himself in after two seasons away. As Damon Hill told me before the start of the season, "If you're out of it for a bit it takes ages to get back up again, and I'm sorry to say it gets harder the older you are." That's the case even for Alonso.
"I think Saturdays are still my weakness at the moment, to extract the maximum from that one lap performance," said Fernando on Sunday. "And we know that at Barcelona and Monaco the Saturdays are key because overtaking is very difficult."
But a track overly familiar to everyone that offers high-speed corners, low-speed corners, a long straight, heavy braking and also rewards a light touch when it comes to Pirelli tyre wear, will offer another meaningful barometer for his current state of play – and it should be a place that plays to Alonso's age-old strengths too.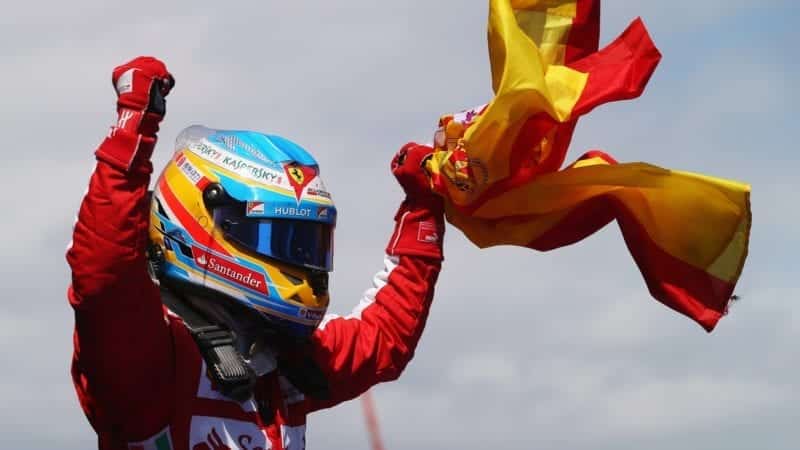 I'm thinking of 2013 here. After that landmark second place to Schumacher back in 2003, Fernando won his home grand prix in Barcelona twice during his pomp: in 2006 on his way to a second world title for Renault, in front of a full-house of 131,000 and with King Juan Carlos presenting him with his trophy. That was a pretty good day. Then seven years later he experienced that sensation again, this time with Ferrari, on a day when Pirelli's degrading rubber required him to make four pitstops. Yet he was still able to show his racing pedigree as he picked off Kimi Räikkönen and Lewis Hamilton on the first lap, undercut Sebastian Vettel for second, took the lead from Nico Rosberg on lap 13, then nursed his crumbling tyres. I'll never forget that one: 77 pit stops in total in a race lasting 99 minutes… then the cacophony of the home-crowd mania that greeted Alonso's win. It captured the very best and worst of F1 in that moment.
Along with his two victories, Alonso has finished second four times in Barcelona, including in 2012 when Pastor Maldonado beat him in a Williams. Still hard to believe that happened! In 2005, he finished a distant second to Räikkönen's dominant McLaren, but consolidated his championship points lead, and in 2010 he benefited from Vettel's braking issues and a front-wheel failure that pitched Hamilton off on the penultimate lap to follow his friend Mark Webber home. So many years, so many miles, so much history.
Right now, it's hard to imagine Alpine's ageing warrior getting anywhere near any step on the podium this weekend. That can't be the target right now. But can it ever be, even if the team delivers him a car worthy of his well-matured talent? That's the big question. He's still a force, as he's shown already – but they always say it's the final tenths when it comes to the crunch that are the hardest to find. Is it still in him to be a true contender?
For Fernando Alonso, as for us all, the clock is ticking – and not even he can ignore its incessant rhythm.