"When I got there he took me into the workshop and there was the BT46, painted in a scheme proposed by Parmalat. It looked like a fairground ride, yellow, dark green, light green, gold, light blue, dark blue. Niki [Lauda] came in and said, 'Bernie, what the f**k is this? This car looks like shit, and I'm not driving a car that looks like shit.' Bernie said, 'It's all right, Niki, this is Peter, he'll have some drawings for us by the morning.' Then he looked at me and said, 'They'd better be good.'
"I spent all night on it, and Bernie liked it. They still had the Alfa engine, so the car had to be red, but when Alfa quit we went to white and dark blue."
Stevens elaborated on why he used said colours in our April 2023 issue.
"When I started in design, the world was in black and white in terms of television," he said. "I bought myself a little black and white television to see how things looked. I did a scheme for [businessman and privateer team owner] John Macdonald in red and white for Wella hair products and it didn't show up on black and white TV at all. It was a complete disaster. Whereas black and yellow or dark blue and white did, which was one of the reasons that we did the Brabhams in those colours.
"Remember, you just get a fleeting image. Even now, it's a very quick look at an image that goes past that needs to fix in your mind. The straightforward thing which I remember saying to Bernie is that the people who are giving you millions of pounds are doing so because it's a high-profile, high-visibility sport that they want to be involved with, and also they want to have that kind of quality. That's what they bought into."
2. 1985 – Skoal Bandit RAM
RAM's 1985 03 model – if only it went as fast as it looked. The Hart-powered green machine, driven by Kenneth Acheson, Philippe Alliot and Manfred Winkelhock at various points of the season, managed just three finishes in 14 races – none of them in the points.
In the looks department though, the car scores highly. Skoal Bandit chewing tobacco sponsored this back-of-the-grid effort, making for a rather handsome green livery penned by Stevens.
3. 1991 Braun Tyrrell
A fair bit more successful was the Braun Tyrrell 020 – a car which seems to have given some inspiration to Haas's 2023 design.
On its debut at the 1991 US GP at Phoenix, the team's pairing of Stefano Modena and Satoru Nakajima would score fourth and fifth.
The former then snared a brilliant second place at Canada later in the year, the neat car designed on from Harvey Postlethwaite and George Ryton showing clear potential – with a livery to match.
Just one of many cars which allowed the privateer team, formerly run from a timber shed, to punch above its weight.
4. 1998 Benetton B198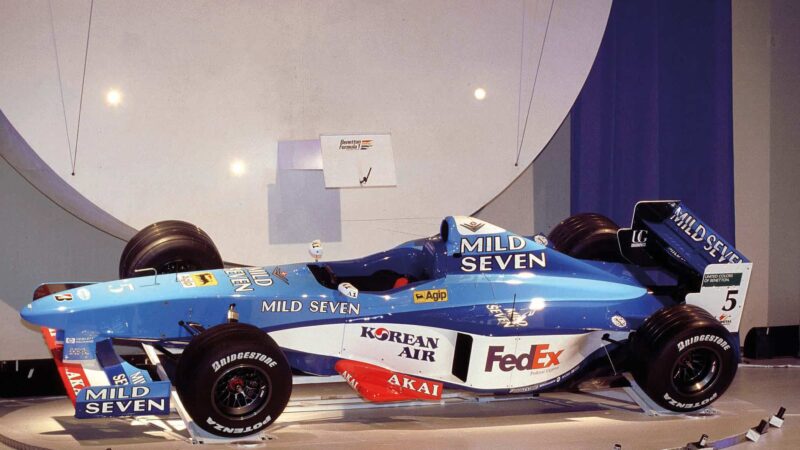 By 1998, the Enstone team was reverting back to type, with just one win to its name in the two years which had passed since star driver Michael Schumacher departed.