Russell mardily stomped away from Bottas (after probably causing the accident himself), before deciding to turn round, approach the Finn (still in car) and give him a patronising pat on the head, presumably saying "thanks for a jolly ripping good crash".
Bottas responded by indicating to Russell how many points the Williams driver deserved from that race.
After supplying said analogue telemetry to the Mercedes junior, Bottas then proceeded to tear Russell apart in the post-race interview, unbelievably saying something that was actually quite funny about a "theory" and an "aluminium tin-foil hat". Well done Valtteri, we didn't know you had it in you.
Getting rid of chicanes
Some might look back on the now-demolished Variante Bassa chicane with Ferrari-scarlet-tinted glasses, but its removal (plus the extension of the DRS zone) led to some thrilling battles into the first corner at Imola. If only they could remove a few more famous chicanes on the calendar…
McLaren's young gun revolution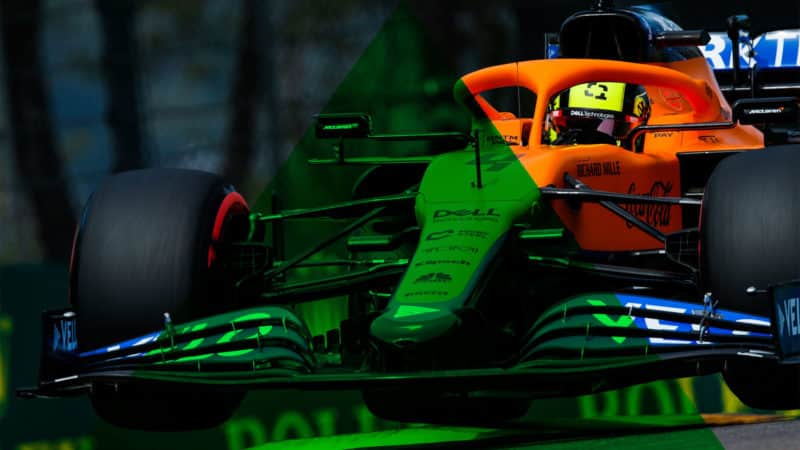 Lando Norris continued to show why Zak Brown's McLaren appears to be being built around its young talent. His incredible third fastest qualifying lap was ctrl-alt-deleted due to exceeding track limits, but from seventh the young Brit just came back even harder on Sunday. 'Old man Ricciardo' was asked to move aside in the race for Norris, who immediately dropped his team-mate and ran as high as second before valiantly losing out in a battle with Lewis Hamilton, eventually claiming the final podium place.
Meanwhile, on the other side of the pond, Zak Brown has promised meteoric Mexican Pato O'Ward an F1 McLaren test at Abu Dhabi if he can win an IndyCar race this season…
Beleaguered Bottas
Bottas might have given an improved performance out of the car, but things only seem to be getting worse in it. 'Mr. Friday' looked decent in practice, but qualified 8th and, as mentioned above, then crashed out whilst defending 9th. Jury is out on which big name will be announced for the Renault Clio Cup next.
Curse of the second Red Bull seat
What kind of spell did Ricciardo cast on the second Red Bull car? First Gasly, then Albon and now Checo. After two seasons of disaster, now 2021 has brought Bahrain self-shutdown, then complete catastrophe at Imola.
Previously dependable Perez just couldn't do right for doing wrong in Italy. He crashed into Esteban Ocon in practice, had his customary deleted lap in qualifying then span off under the afety car in the race. Then, just to make sure his race was really stuffed, did it again under the green flag. Surely something's got to give…
Formula Farmhand
There's been lot of Seb/Aston-bashing in this column so far – but it's not been great, has it? Maybe it's time for Seb to go full-time farmhand after he tried that organic bio-farm internship.
Another desultory performance, bookended by Aston over-baking its cake tins on the grille (sorry, I mean grid) and an eventual retirement.
Otmar has also suggested Aston may take on the FIA over the new aero rules – good luck with that one guys!
Tired-out Toreador?
Fernando Alonso really had a miserable Imola GP: knocked out in Q2, going off on the formation lap, trundling round at the back for most of the race and before only scoring a point after fellow old-boy Kimi Räikkönen was penalised. He could easily prove us wrong in Portugal of course…
Blue flags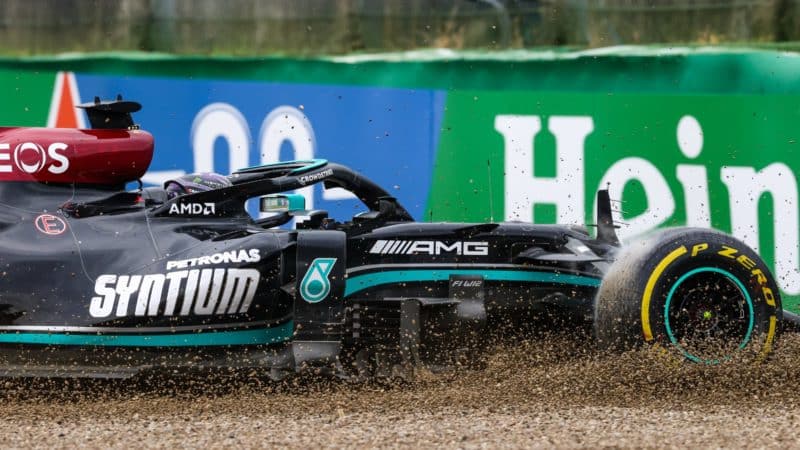 One of the best bits of the Imola GP was watching leading cars having to thread their way through backmarkers, ultimately leading to Hamilton sliding off, then deliciously biffing off his front wing at 2mph. If there'd been no blue flags, things could've been even more interesting.