"Mercedes is a great partner of ours and they are a great team, but for anyone leaving McLaren, and he wants to win, I think that's a mistake because I have faith and belief in this team," McLaren team principal at the time Martin Whitmarsh said.
"Whether you measure it over the last four races, four years or 40 years, we're a fantastic team. So I would say to any driver who wanted to win in this sport: 'Come and join McLaren and aspire to join McLaren'. I wouldn't advise anyone to leave McLaren if they want to win."
"It is his decision, although I personally don't think it is the right decision," said Hamilton's 2010-12 team-mate Jenson Button.
Those both had vested interests at McLaren, but the media were even more harsh: "A gamble", "completely the wrong time to embark on such a project", and "history relates that you do not leave a winning team in F1 unless it is to go to another proven winner…"
How wrong so many were.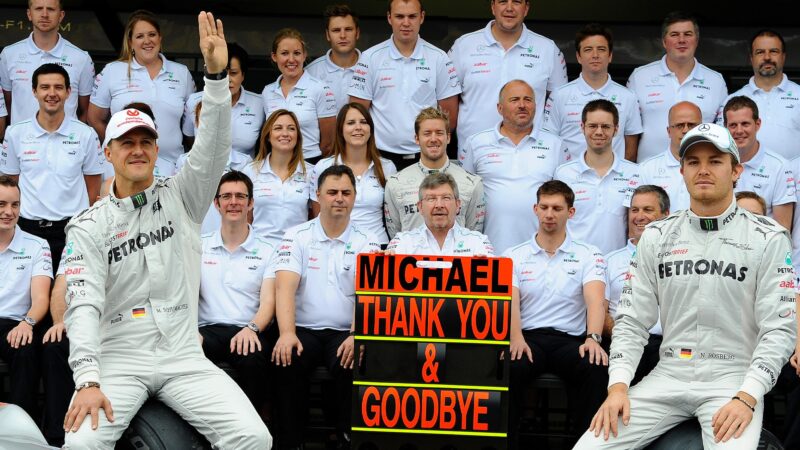 While commercial and financial aspects were serious considerations, when Hamilton came to make the decision, he reflected on what McLaren offered him from a sporting point of view. Since his maiden title in 2008, he had been handed machinery that rarely set the pace at the start of the season, but was often developed strongly. McLaren felt if it could deliver the quickest car out of the box, it would stay there, but 2012 offered that opportunity and the team fell behind.
The faith that he would have a car capable of winning another title at McLaren was fading, and – as simple as it sounds – Mercedes basically only needed the car. At the time, I wrote how Hamilton was the final piece in the jigsaw. The technical team was in place at Brackley, ready to exploit new technical regulations, but it was still early in its path to becoming a consistent front-runner.
"I wanted to be a part of a team that perhaps hadn't had as much success, was in the growing phase, and I wanted to be a part of that," Hamilton recalls. "That growing journey. Building something relatively new. That was an exciting challenge and I didn't know how long it was going to be until we got to winning ways. But I truly, truly believed that we would get there at some stage.