Heroics, duels and a tambourine solo: the best Silverstone grands prix
- Last updated: August 10th 2020
As Formula 1 celebrates the 70th anniversary of the world championship at Silverstone, we look back at the circuit's most thrilling grands prix
Formula 1 returns to Silverstone to celebrate 70 years since its first World Championship race this weekend. The circuit has hosted many a grand prix thriller through the years — both before and since.
We look at eight of the best: one from each decade of the track's existence.
1948 British Grand Prix
The Royal Automobile Club International Grand Prix was the first British blue riband motorsport event of the so-called "modern era", before the first F1 drivers' championship in 1950. The works Maserati team – consisting of Alberto Ascari and Luigi Villoresi – were delayed in making the crossing from Modena, missed qualifying altogether and both started last. Neither seemed particularly perturbed, taking just two laps to scythe past 22 fellow entrants and catch leader Louis Chiron.
Villoresi swept by on lap three and Ascari would soon follow. The team-mates then furiously fought it out until the first set of stops. From here Villoresi dominated, despite his speedometer falling off and becoming lodged under his clutch – meaning he couldn't change gear. Riotous scenes followed as a track invasion by the crowd forced the Maserati men to make a hasty getaway – by driving their Lancia rental through a potato field.
1951 British Grand Prix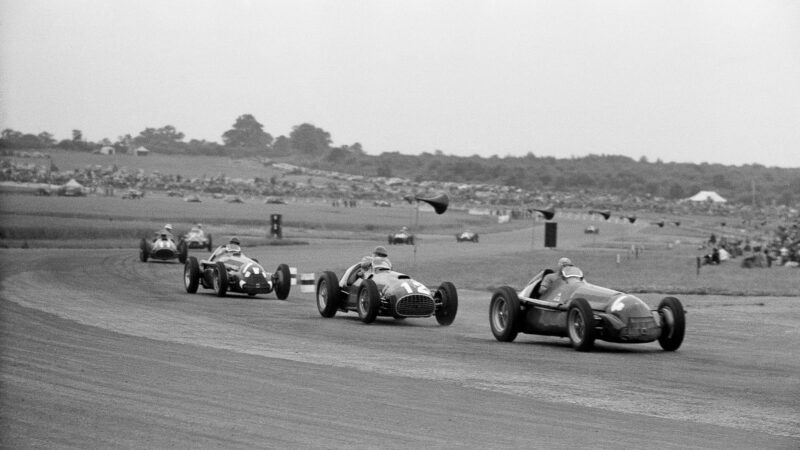 Jose Froilan Gonzalez, the sizeable "Pampas Bull", took Ferrari's very first championship win at Silverstone in 1951. Gonzalez also claimed the Scuderia's debut pole on the same weekend, in a car slightly pacier this year's SF1000. Alfa Romeo's Felice Bonetto snuck ahead into the lead upon the race start, before Gonzalez reasserted himself a lap later. Juan Manuel Fangio followed him through, before taking the lead and pulling away on lap 10. Gonzalez refused to give in though, using all his willpower in an outdated chassis to get back ahead at Becketts, just before the race's midpoint. Aided by the Prancing Horse's superior fuel consumption, Gonzalez never looked back, pulling out a lead that at one point stretched to 1min 5sec. The Scuderia's most historic win?
1969 British Grand Prix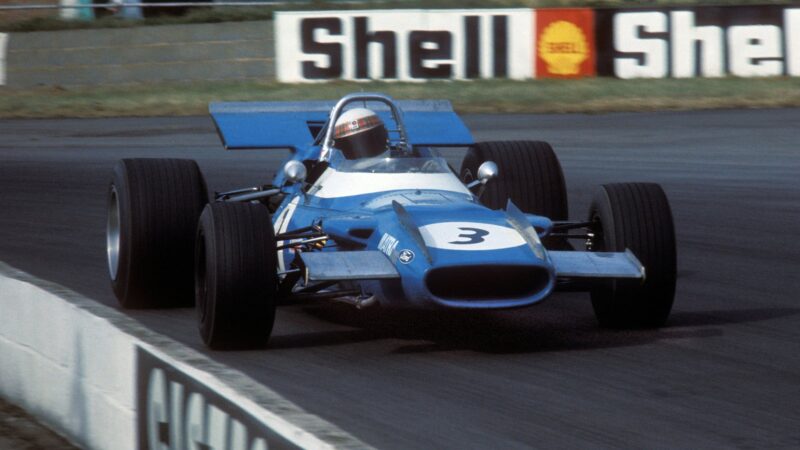 One of the all-time great grand prix battles. Jackie Stewart and Jochen Rindt traded places for two-thirds of the race, apparently running in a different class to the rest of the field. "Not only were we racing each other," Stewart later recalled, "we also knew what to do in order to pull away from the others; it never crossed our minds to block. What was special was that we were both going flat out and not making mistakes."
On the 62nd tour, in a not unfamiliar turn of events for Lotus, Rindt's rear wing decided it was time for an early bath and attempted to dislodge itself. The Austrian's tyre was cut in the process and he had to pit. Stewart had pointed out the danger to Rindt, one of the countless selfless acts in that perilous era of grand prix racing. The Scot went on to take the win by lapping the entire field, but only after being pushed to the absolute apex of his driving ability by Rindt.
1977 British Grand Prix
James Hunt's win at Brands Hatch in 1976 is the more feted, but Silverstone '77 wasn't bad either. The world's fastest budgie fancier delighted the Northamptonshire faithful by putting his McLaren on pole, but then conformed to type by fluffing his start. This allowed another Brit, John Watson, to get ahead in his Brabham, followed by Ferrari's Niki Lauda and the Wolf of Jody Scheckter. A thrilling chase ensued, as Hunt first got past the latter at Stowe, before taking Lauda at the Woodcote chicane. He next sidled up to Watson who, despite coming under huge pressure, held Hunt at bay for 26 laps. The Ulsterman's fuel system eventually gave in, allowing the McLaren driver to delight partisan attendees by taking his second British Grand Prix victory in a row.
1987 British Grand Prix
Mansell's most celebrated win and perhaps the finest demonstration of his hammer-and-tongs-as-standard driving style. Finding himself stuck behind Williams stablemate Nelson Piquet with 28 laps to go, the Brum-native rolled the dice by putting on new tyres in a bid to find pass-making pace. He duly did so, closing up a 29sec gap and pulling off one of F1's iconic overtakes, sending the crowd into raptures. Mansell's engine blew almost immediately after he crossed the finishing line, having had it in qualifying mode for the last 6 laps. He'd also pushed his Williams way beyond it's expected fuel consumption capabilities, the display indicating he was actually in minus figures in terms of laps left. In TV footage you can hear Murray Walker's scream of unalloyed delight at Mansell's winning move, whilst co-commentator James Hunt hilariously refuses to pass the mic and give him airtime.
1995 British Grand Prix
Before Damon Hill worked out that spearing off Michael Schumacher wasn't the way to win the world championship, he pulled off one of his all-time best clouts at Silverstone in '95. Although the Williams driver had converted pole into the lead, Schumacher got ahead via a one-stop strategy. Hill used his fresher rubber to close in after a second stop, but eventually took umbrage at being unable to get past. On lap 46, an over-optimistic lunge resulted in both heading towards the gravel trap, leaving Johnny Herbert to take a popular home win. Incredible scenes ensued at the post-race gig, as David Coulthard took to the stage to show off nascent maracas skills whilst Herbert was interviewed live on TV during his tambourine solo. Hill somehow found it within himself to attend to guitar duties after his mid-race mishap, something you couldn't quite see Leclerc or Verstappen doing this weekend.
2003 British Grand Prix
One of those occasions when Barrichello really felt like it, the Brazilian truly outdid himself on this day at Silverstone. Jarno Trulli sprang into the lead from second on the grid, before settling in to lead his customary "Trulli Train". Defrocked priest Neil Horan then ran on to the track to give celestial advice on pit strategy, bringing out the safety car. It was Kimi Räikkönen who saw the light as he overtook Trulli, team-mate David Coulthard and second-placed Olivier Panis in the space of two laps, before leading once Cristiano da Matta pitted.
Barrichello had been making similar progress through the field, gradually tracking down race leader Raikkonen before making a thrilling move through Bridge, a now-lost Silverstone corner which provided many a stunning overtake. Barrichello pressed on to take a popular win, whilst Bernie Ecclestone was rumoured to be considering a "Release the Priest" initiative to spice up future grands prix.
2014 British Grand Prix
2008 is frequently held aloft as Hamilton's prime home performance, but his inspired 2014 drive is another which could be considered his best. A mistimed qualifying run left him sixth on the grid with it all to do in the race. Hamilton took Sebastian Vettel and Nico Hülkenberg at the start, before scaring Kevin Magnussen off the road on lap three. One lap later and Hamilton pounced on Jenson Button, leaving only team-mate Nico Robserg ahead.
Halfway through, with Hamilton closing in, the German's gearbox failed, allowing the Brit to take a famous win and close to within four points of Roberg's championship lead. Things gradually began to turn Hamilton's way after this victory, peaking with an incredible five-race winning streak before taking the title in Abu Dhabi.