Pat Symonds (PS): "I've heard Christian Horner often quote £250,000, but I don't know if this is just so he can bump the budget cap up!
"A Marussia front wing was £33,000. To be honest there's no single part of the car that's got more complicated than the front-wing since 2016 – apart from maybe the bargeboards.
"I'd definitely go with at least £100,000."
Cost: $141,500 (£100,000)
Halo
Developed at the Cranfield Impact Centre, the halo was brought in to protect drivers' heads from wheels, broken wings and other dangerous debris sometimes sent flying during crashes.
Cranfield manager James Watson spoke about the halo's development and capabilities in an interview with Motor Sport following Romain Grosjean's harrowing Bahrain 2020 crash, where the halo almost certainly saved his life.
"We tested it to take over 100 Kilonewtons," he said (roughly the equivalent of 10.2 tonnes, or two African elephants landing on it simultaneously). "It's difficult to work out what the exact force [of Grosjean's accident] was, but the fact that it remained intact would imply that it was less than what was actually tested."
Since its introduction, the halo has protected drivers such as Romain Grosjean, Charles Leclerc and Valtteri Bottas in some of F1's biggest accidents.
Cost: $17,000 (£12,000)
Floor and bargeboards
The floor of an F1 car contributes around 60% of its downforce, making it crucial in finding performance. As a result, they have become increasingly complex and expensive to make. The FIA attempted to curb downforce levels on safety grounds for 2021 by chopping off a section of the floor near the rear wheels.
Naturally, in reaction to the rule changes, team aerodynamicists are looking for ever-more ingenious ways to generate downforce in other areas of the floor, by creating new flicks and flaps in non-restricted sections.
Additionally, F1 cars' bargeboard areas have also become incredibly complex since the aero rules that were freed up in that area in 2017. The building of these sections again costs a significant amount of money.
PS: "These days, because F1 car floor designs can incorporate the outer 100mm, which has all these intricate features in it, combined with bargeboards – which are massively expensive – floors are approaching the £100,000 mark now."
Cost: $141,000 (£100,000)
Engine
F1 has been using the same 1600cc V6 turbocharged engines (or Power Units) since 2014. These engines have been developed to maximise performance, the rules surrounding their technical specification have remained predominantly the same.
Made up of six components, the PUs feature an Internal Combustion Engine (ICE), Turbocharger (TC), Motor Generator Unit-Kinetic (MGU-K), Motor Generator Unit-Heat (MGU-H), the Energy Store i.e. batteries (ES) and Control Electronics (CE).
PS: "The regulations call for a customer to be supplied at €12m (£10.34m). The reality is that no one pays just this for their engines, because of all the other bits and pieces that come into it.
"Customers are paying something in the region of €15m (£12.92m) for one engine."
Cost: $18.32m (£12.92m)
Gearbox
F1 cars have semi-automatic gearboxes, with eight forward gears and one reverse.
All F1 cars have an automated sequential paddle-shift system, allowing for seamless shifting – taking around 0.05sec.
Some teams buy in gearboxes from others, while some make their own. Haas uses a year-old Ferrari gearbox paired with a 2021 Scuderia engine, while McLaren continues to make its own gearbox despite switching to Mercedes power units from 2021.
Cost: $354,000 (£250,000)
Fuel tank
F1 fuel tanks are almost indestructible and are made from polyurethane and kevlar.
The 'bag' of fuel is ribbed and designed to fill the space behind the driver's seat, also being attached to the seat, which prevents the bag from collapsing as the fuel drains.
Cost: $31,000 (£22,000)
Steering wheel
F1 steering wheels are constructed mainly from costly carbon fibre and also have silicon grips.
McLaren Applied Technologies supplies the standardised ECU which the steering wheel is based around, which limits each to 20 buttons, nine rotary switches and six paddles. However, every button and switch function is customisable for each team's needs.
Despite its small size, the multitude of possible technological adjustments to the wheel make it extremely valuable.
Cost: $50,000 (£35,000)
Hydraulics
An F1 car could quite simply not function without its hydraulics system, which controls nine subsystems of the car:
Power steering
Clutch
Gearshifts
Reverse gear
Differential
DRS system
Brake by wire
Throttle
Inlet valves
Turbo Wastegate
Not only is the system highly complex, implementing it is extremely difficult, driving up the cost of the system.
Cost: $170,000 (£123,000)
Brake discs and pads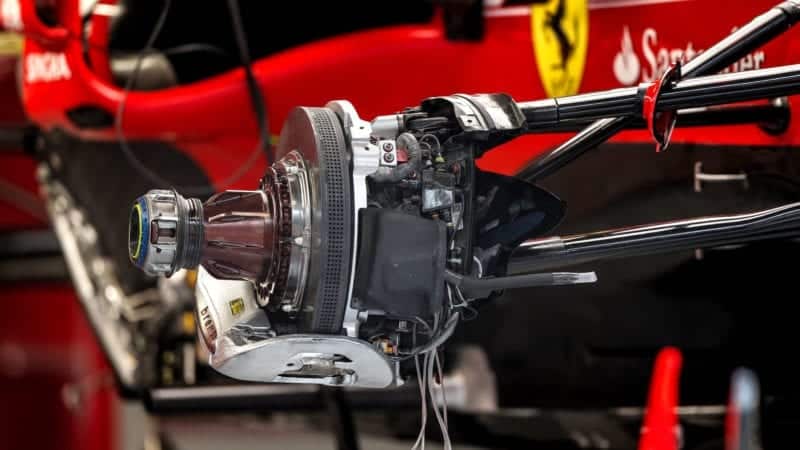 Depending on how intricate the machined cooling holes are, an F1 brake disc can cost between $2000 (£1420) and $3000 (£2120).
The pads are cheaper, coming in at $780 (£550) each.
Calipers would come in at around $5600 (£4000) each, while master cylinders – used to generate fluid pressure – would come in at $5400 (£3800) each and disc bells, which hold the disc to the axle, cost ($2800) £2000 each. The accelerator and brake pedals cost just over £7000.
A whole F1 brake system can therefore set you back as much as $66,000 (£55,000).
Cost: $78,000 (£55,000)
Tyres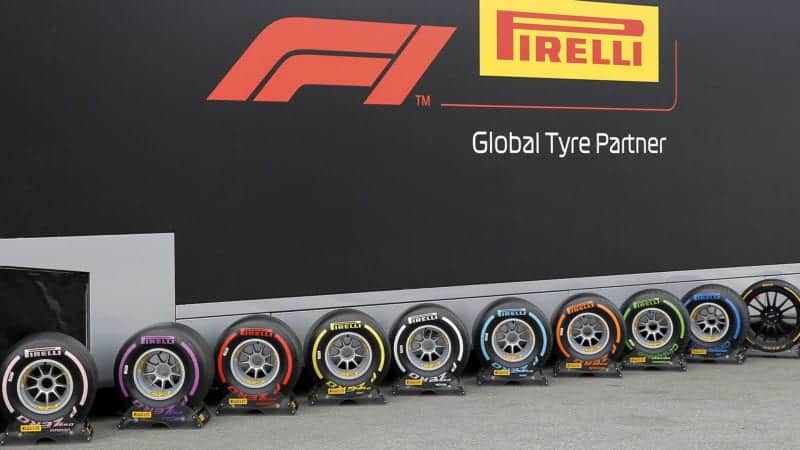 Bespoke F1 tyres are not cheap.
Designed for optimum performance for a limited number of laps, they are produced by Pirelli. The Italian firm's slick 'Dry' tyres are available in either soft, medium or hard compounds — the exact specification of which can change from race to race.
Softs offer the most grip but their performance drops off before hard tyres, which offer a slower laptime but more durability.
Pirelli also produces Wet and Intermediate tyres for damp conditions.
PS: "I was actually in a meeting with [Pirelli Head of F1] Mario Isola this morning and we were talking about costs. He said it costs €600 (£520) per tyre."
Cost: $3000 (£2080) per set
Additional costs: Wheel bearings / chassis wiring looms / driveshafts
We'll spare you the full list of ancillaries required to make a Formula 1 car run, but the long list of small components quickly adds up.
PT: "One that might surprise you is a chassis loom, that would cost £25,000. A wheel bearing would costs £1100 each, whilst driveshafts cost about £7000."
Additional costs: $51,000 (£36,000)
---
Total cost of an F1 car : $20.62m (£14.58m)
---